Ocean Digital WR230S Internet DAB Radio – It Sounds Actually Good
The concept of a DAB radio is nothing new, but at least to me, it is something I never reviewed or experienced before. WR230S is like a mini jukebox that you need to keep powered from the wall mains, and it is priced at about 170 USD. It can be found on Amazon, so the support for it will be excellent, and it can both take in an AUX cord, and drive headphones, even rather well so. It will be compared to Yamaha Music Cast 20 (WX021), AIWA EXOS 9 Bluetooth Speaker, and Edifier E25 Luna speakers.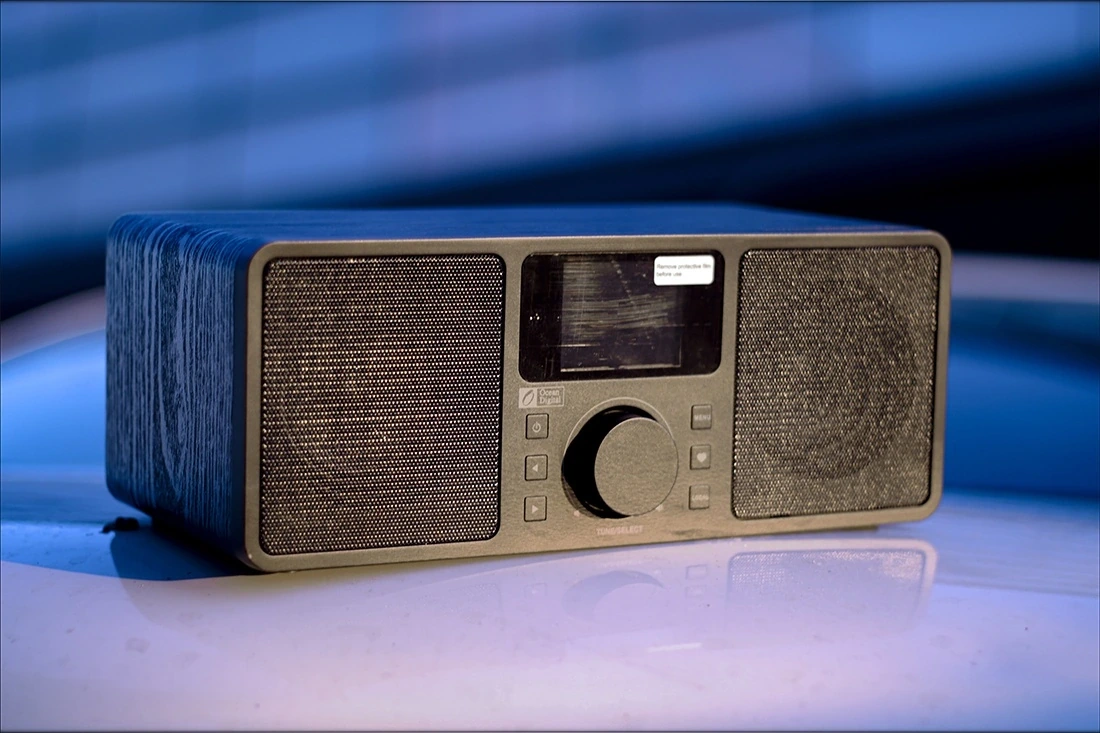 Introduction
Ocean Digital seems to be an actually big thing out there, especially for the folks interested in DAC radios and affordability. On the other hand, while they do seem to be quite big in Asia, most folks in the USA and Europe probably never heard about them, and this made it hard to identify data about the company. I do know that their products are high quality and well regarded, and that you can expect excellent overall support from Ocean Digital, and that they are selling their products on Amazon, so you are covered by excellent warranty, and won't have to worry about shipping a package overseas when ordering from them. 
It should be noted that I have absolutely no affiliation with Ocean Digital, I am not receiving any incentive for this review or to sweeten things out. I'd like to thank Ocean Digital for providing the sample for this review. This review reflects my personal experience with Ocean Digital WR230S Digital Radio. Every opinion expressed is mine and I stand by it and the purpose of this review is to help those interested in Ocean Digital WR230S DAB Radio find their next music companion. 
Product Link
You can always grab a WR-230S Radio from www.amazon.com here: https://amzn.to/3drCWXI
If you're in the UK, you can also grab a WR-230S Radio from www.amazon.co.uk here: https://amzn.to/2SDMVSs
And if you're from Europe, you can grab a WR-230S from www.amazon.de here: https://amzn.to/2TbRi7F
Packaging
First things first, let's get the packaging out of the way: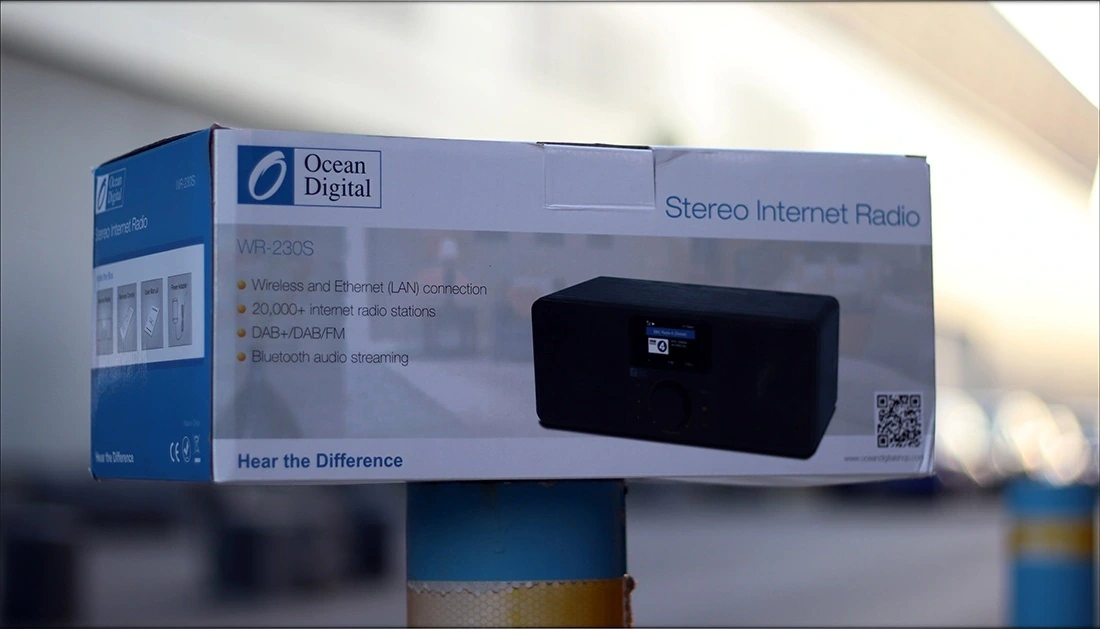 I like the package that the WR230S comes in quite a bit actually. It does come with a huge remote that will come in handy while using it. It also has a large antenna on the back, which I like as a design element, but as we will explore today, I found that the radio usage was my least favorite while experimenting with the WR230S.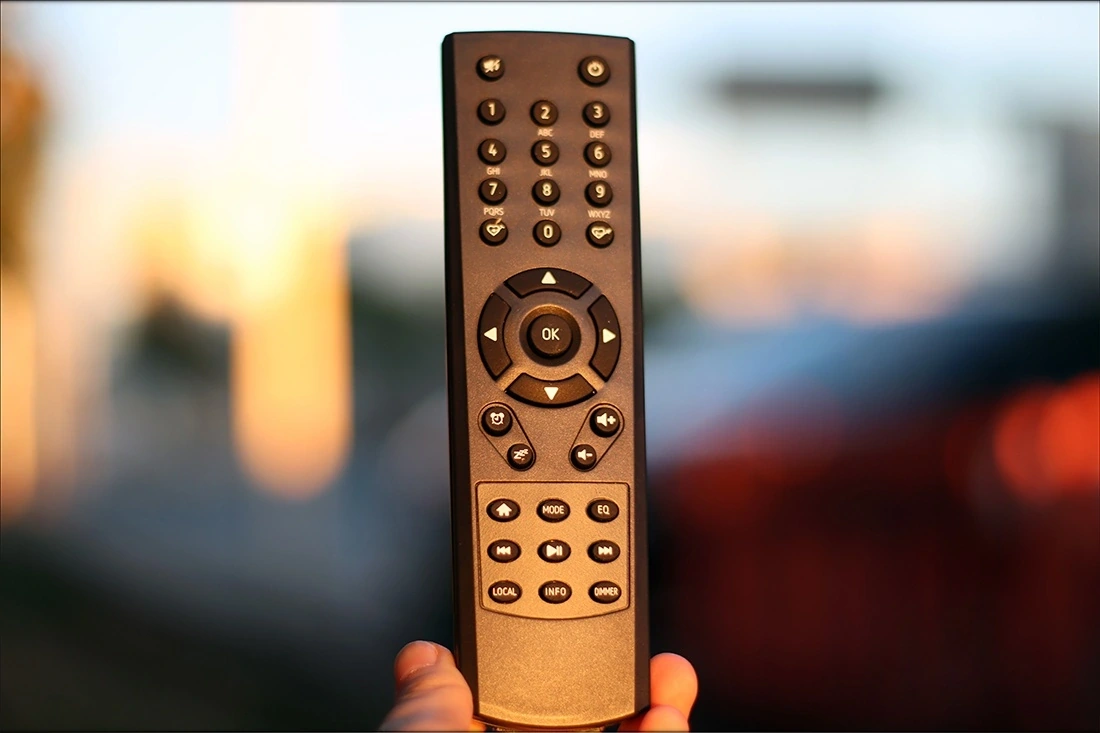 WR230S comes with its own power adapter, and you won't need an iFi iPower to use it and for it to sound good. 
Build Quality/Aesthetics/Fit/Comfort
I am not new to Boomboxes, as I've been somewhat of a ruffian back in my childhood, and I liked to make some noise. The WR230S would be the perfect thing, but it needs to be connected to a power outlet, so you can't use it as a boombox. It has tons of functions, and exploring everything it can do has been a long experience for me, but the best sound, best overall experience has been by using a small source and using its auxiliary input.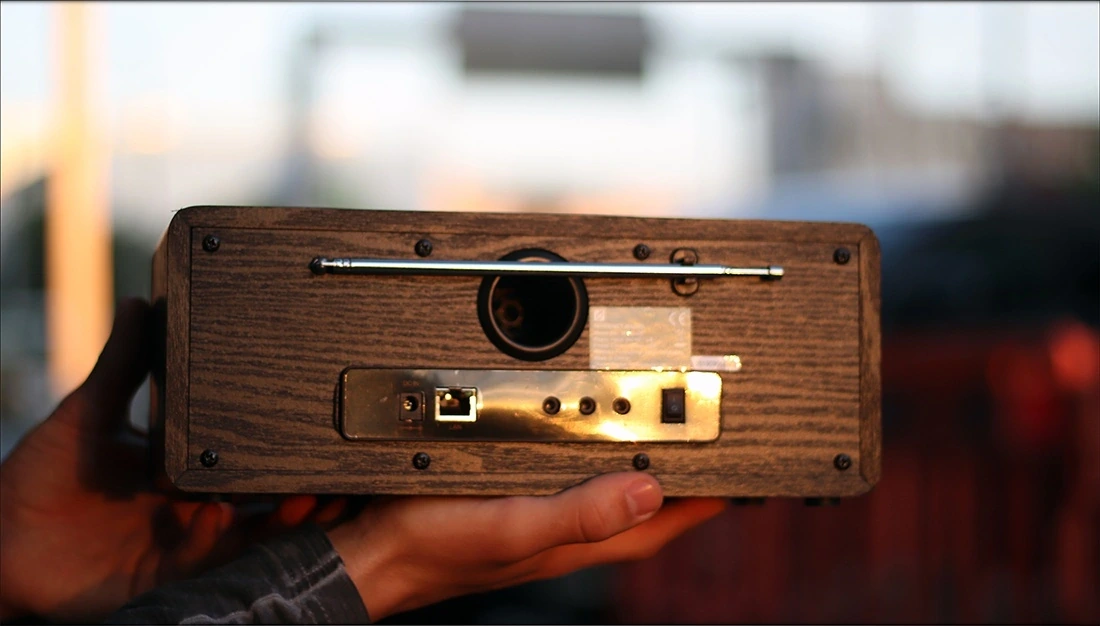 Radio tech came a long way since its birth, but it is still nowhere near good enough for most music lovers to enjoy. At least when it comes to the traditional radio, which has a very limited dynamic range and detail level. But DAB radio, well, that's a different story entirely. DAB Radio basically means digital audio broadcasting. It is also old as the world, having started in 1995, but the newer DAC+ standards allow for almost AAC quality, and even 320kbps AAC for some stations. This means that it will be much better than your typical FM radio signal. 
WR-230S has an ethernet port, and can receive DLNA and UPnP, basically making a good solution even for multi room music listening, especially if you're a fan of vintage solutions. There's Bluetooth 4.2 support too, along with an Aux input, and a headphone output. The headphone output is comedically well driven, but won't be my main choice with IEMs as there is some hissing with low impedance transducers.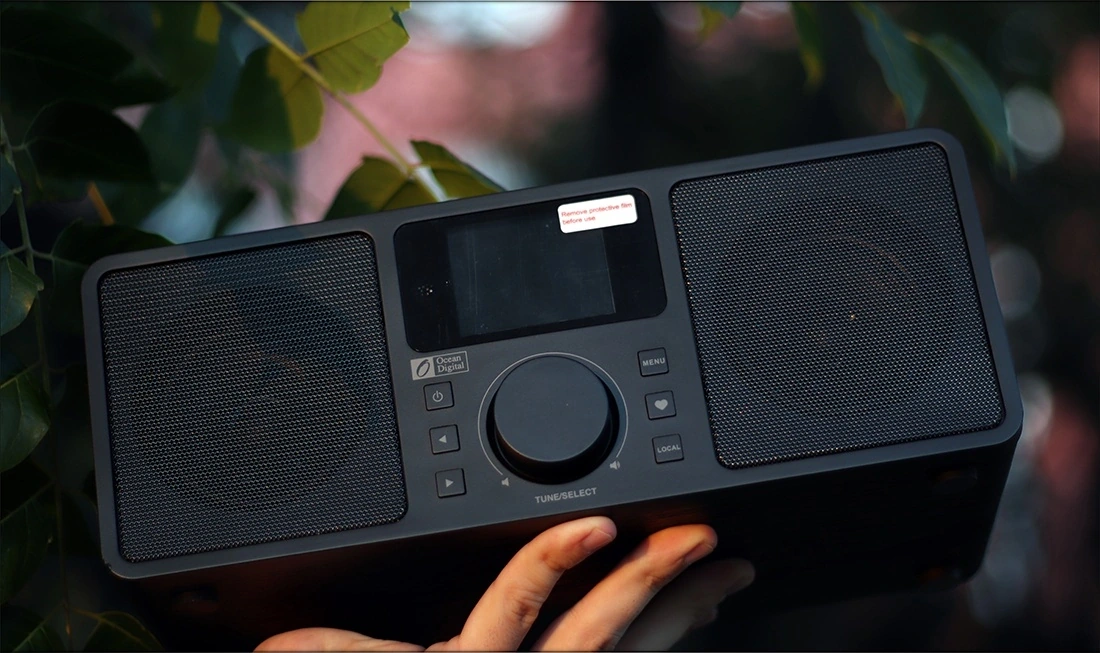 The 2.4″ display at the front is really useful to navigate the WR-230S and its menus, it also comes with a dual alarm clock, and with dual stereo speakers. The telescopic antenna is my favorite part, as it reminds me of a really old radio I used to have when I was young, and to which I used to listen to cassettes. 
The number of radio stations you can listen to using the WR230S is huge, and I'm saying this because there are websites that help with it. Of course, your local FM stations will be available too, but then again, Kiss FM probably does not ring a bell if you're not from Romania. 
Video Review
Sound Quality
It shouldn't be anyone's surprise but I recently discovered I simply can't stand mono sounds at all. This is after I've been using a Xiaomi Poco F2 PRO Smartphone for a while, and as it has a Mono speaker, I thought to myself that for ringtones and the occasional Facebook video, it won't bother me. That was not the case anymore, and I replaced it in less than 6 months, after a long time of frustration with the fact it was mono. I would sometimes go jogging with my girlfriend (all photos and video editing are made by her on Audiophile-Heaven). While jogging, I like to listen to some music, and having the stereo on the new Xiaomi Black Shark 4 made such a huge difference for me and my ears, even in such a basic situation.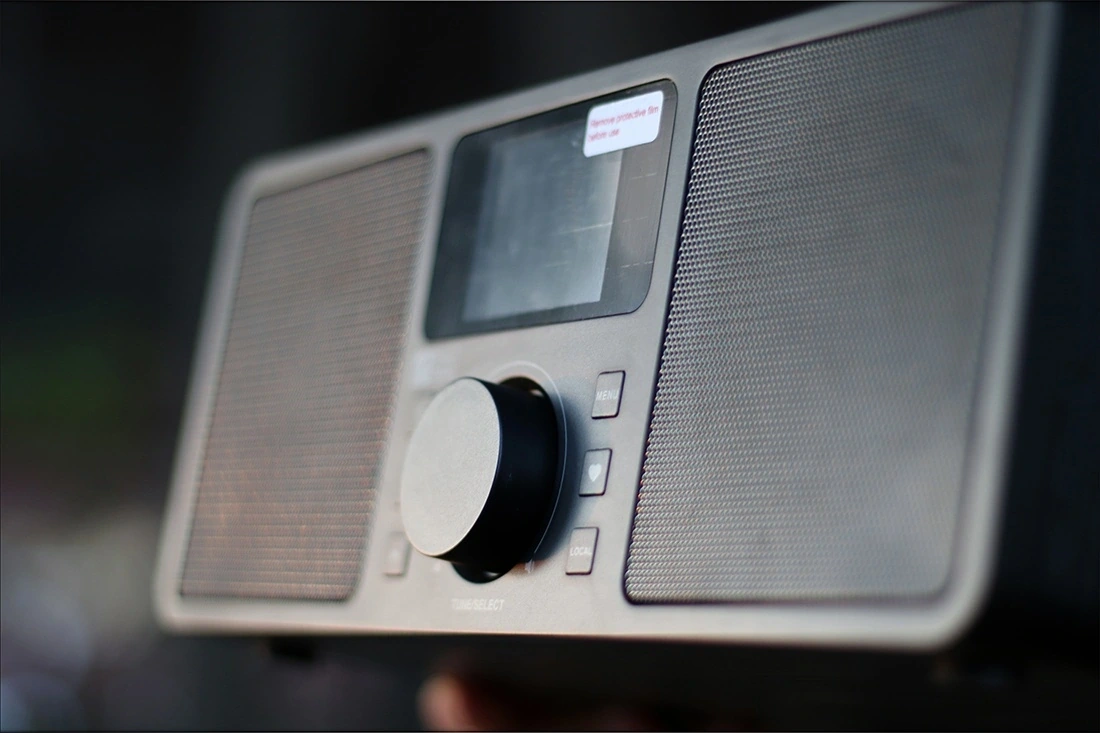 Back to the WR230S, it is stereo, and in the true sense of the word. Despite the two mini speakers being so close to each other, they are stereo and will convey something of an image. This is made to be listened to in very uneven situations, and won't require room treatment, being more of a boombox you would take with you when really budget constrained, so I won't be judging it in the perfect conditions. During the testing, I placed it in multiple likely locations users will be using it, like next to a window, glued with the back to the wall, and many other really improper locations for an audio device. WR230S can be placed almost anywhere and will still sound ok, with no huge drawbacks. 
Actually, this was a favorite thing for me, you can abuse it a bit without issues. The sound coming from the two stereo speakers is fairly clean and clear, it can be turned up really loud with zero distortions, and as I tried to provide in my youtube video review, it has some bass too. In fact, the bass is surprisingly good and undistorted, with excellent extension down to about 70Hz. 
The midrange of the WR230S is sweet, and fairly clean. As expected from the price point, it has some distortions if you want to drive it at the maximum, but even close to max it is clean and crisp. The detail level is great, considering the price. The midrange tends to have an open and brighter tuning to it, rather than being dark and lush. 
The treble is smoother, without much presence and extension in the highs. The treble extends as high as about 8-9 kHz realistically, and that is still quite good for the price point. Most of the energy is in the mids, with the bass keeping company so that the sound isn't boring, but the treble really is't the highlight of WR230S and their sound. Dynamics are ok, better than I expected from a radio, but still a bit behind competitors like multi room solutions. 
Comparisons 
The main competitors for the WR230S, at least based on pricing alone, are AIWA Exos 9, Edifier e25 Luna Speakers, and Yamaha Music Cast 20. As someone explained when I was out shopping for a car, most customers don't really know or understand what they need, but they know very well what the limit of their budget is. This means that someone looking for a solution to enjoy music may consider any of the above solutions, since they are within their budget.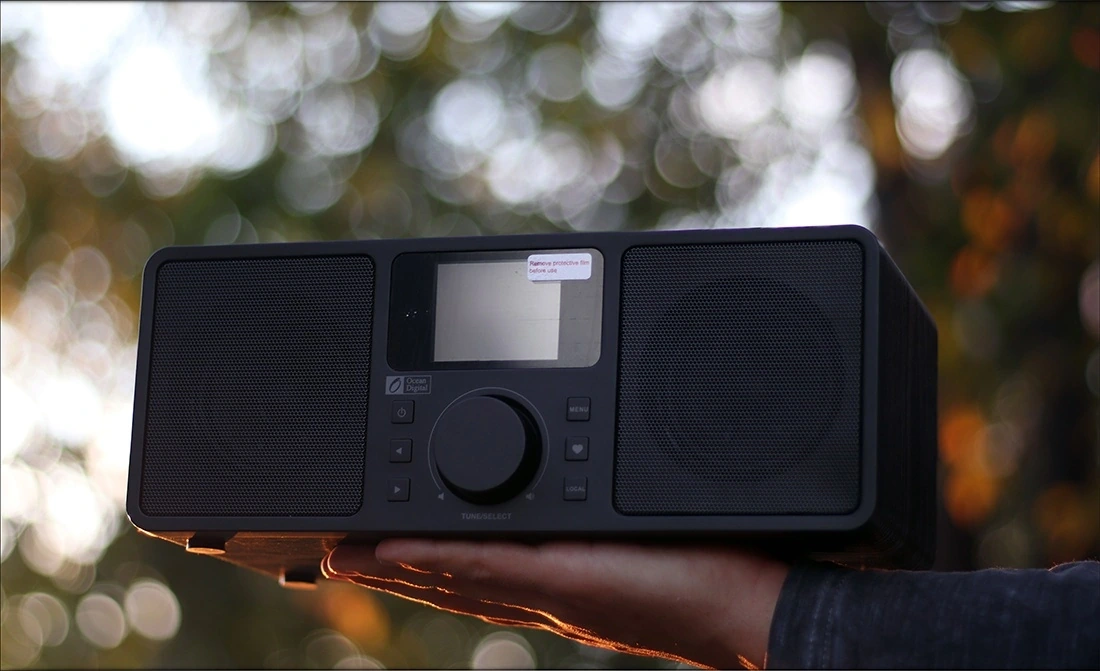 Ocean Digital WR230S Internet Radio vs AIWA EXOS 9 Bluetooth Speaker (170 USD vs 300 USD) – The first thing you will notice is that the EXOS 9 does not have Internet Radio or any of the fancy features that makes WR230 a good contender there. On the other hand, EXOS9 has a basic EQ, and has much larger drivers, and much more driving power, being able to literally rattle an entire house, and you could totally throw an outdoors or indoors party with it. The thing with EXOS 9 is that the sound is mostly focused on lows and some mids, but it is thick-ish, somewhat dark, and not very clean / crisp. WR230S has a cleaner, leaner, brighter and faster sound, which although won't work so well if you're enthusiastic about bass and rap, will be excellent if you're into some quality background music that's easy to listen to and will be enjoyable for everyone around you.
Ocean Digital WR230S Internet Radio vs Yamaha Music Cast 20 (170 USD vs 220 USD) – Speaking of good solutions for background music, Music Cast 20 is one, but its sound was more mono to my ears than that of WR230S, although Music Cast 20 also has multiple speakers. To fully enjoy it, you basically need two. You could more or less program the Music Cast 20 to take in internet radio, but it is a bit more complex to use. It is also easier to hide and will blend better with the surroundings, but will never have FM radio. The sound of the Music Cast is more aggressively V-Shaped, with a stronger treble, more bass, especially bass that reaches lower. WR230S has a fuller sounding midrange, with a sweeter tuning too. The sound is more crisp from WR230S, but at maximum volume both are a bit problematic. You could give some background sound to a party using the Music Cast 20, while WR230 is not made to party with. 
Ocean Digital WR230S Internet Radio vs Edifier e25 Luna System (170 USD vs 200 USD) – When looking for stuff that's priced close to the WR230S, you may find the E25 speaker system from Edifier. Although I had a really bad time with their S1000DB and irresponsible behavior of not offering warranty, the E25 is a fairly solid system, and I do think that most folks would be quite happy with it if going with Edifier, and I had no problems with E25 at all. The sound of E25 is darker, more lush, but rolls off in the bass quite high. This being said, the bass has a nice punchy presentation thans to the closed design with passive drivers. I would pick the E25 above WR230S if listening to punk, pop and some punchier music, and because it can sound more stereo. On the other hand, WR230S is much more clean in the midrange, has more detail, and can be about as loud as E25 realistically speaking. E25 distorts heavily at the maximum volumes, and although it tries to be hip with Bluetooth connectivity, it can mainly be used via AUX and that's about it, where WR230S won't need a source, just a connection to the internets. 
Value and Conclusion
The overall value of the WR230S is fair, and it is a good internet radio with DAB and DAB+. Surely, if you needed a pair of stereo speakers, or if you needed a Streamer, or if you needed a multi room, there are more options out there, but if you need a simpler radio that you can enjoy without much hassle, the WR230S has a really good sonic performance. In fact, it reminds me of how the AIWA EXOS 9 had a really good performance for the price, especially in comparison to the Copenhagen, which was quite a bit more pricey. 
All in all, the package of the WR230S is not quite that complete, but it comes with all the essentials, plus a nice remote. It could make a nice addition to a little shop, if you want to add some music for your customers, or something that plays in the background. You most probably won't be throwing a party with it, but you could have some undistorted clean and clear sound to enjoy in the background. 
At the end of the day, if you're looking for a high quality DAB Internet Radio, the WR230S is probably one of the best I could name right now, especially if your budget is limited to 170 USD. 
Product Link
You can always grab a WR-230S Radio from www.amazon.com here: https://amzn.to/3drCWXI
If you're in the UK, you can also grab a WR-230S Radio from www.amazon.co.uk here: https://amzn.to/2SDMVSs
And if you're from Europe, you can grab a WR-230S from www.amazon.de here: https://amzn.to/2TbRi7F
---
---
--- Please remember to stay safe, and always have fun while listening to music!---
 - If you have a dime to spare, and donate, to help us with electricity and work expenses, it would make my day much brighter, as it would help me improve things around the website and increase the frequency of my posts - 
---
Full Playlist used for this review
We listened to more songs than those named in this playlist, but those are excellent for identifying a sonic signature.  PRaT, Texturization, Detail, Resolution, Dynamics, Impact, and overall tonality are all revealed by those songs. We recommend trying most of the songs from this playlist, especially if you're searching for new music!
https://www.youtube.com/playlist?list=PL_cjBXGmwSHSdGcwuc_bKbBDGHL4QvYBu
--- Contact Us ---






---
---