FiiO X7MKII – Infinity Sound!
FiiO refined their original X7 to bring the new and improved X7mkii to the market. A DAP that promises to do more than one can imagine, from featuring interchangeable AMP modules, to a fully customized Android version, all the way to DSD and exotic media playback. 

---
Introduction

FiiO is a huge company from China, which has been in the game for years, being known for keeping their customers close to their hearts, for organizing tours for their amazing products, and for bringing some of the best innovations in the DAP world, like when they first created their FiiO X5 and X5ii models. FiiO's service has been flawless so far, and they even offered to repair DAPs that have been out of their portfolio for a very long while, as long as the buyer paid the shipping. FiiO has also been known to provide quick and effective support for all their products, all in all being one of the most fun companies to work with. 

It should be noted that I have absolutely no affiliation with FiiO, I am not receiving any incentive for this review or to sweeten things out. This review is not sponsored nor has been paid for by FiiO or anyone else. This review will be as objective as it is humanly possible, and it reflects my personal experience with FiiO X7mkii. Every opinion expressed is mine and I stand by it, the purpose of this review is to help those interested in FiiO X7mkii find their next music companion. 
Product Link
You can purcahse X7mkii and other FiiO DAPs from www.amazon.com here: https://www.amazon.com/s?k=fiio
First Impression

It was a cold day when I received FiiO X7mkii. I was just returning to Bucharest, after my prolonged leave due to my health, but as things were getting better, I was slowly returning to work and to my daily life. The X7mkii unit has been sitting for a while with the romanian postage customs as we weren't able to redirect the package to my hometown where I spent almost a month resting and recovering my health.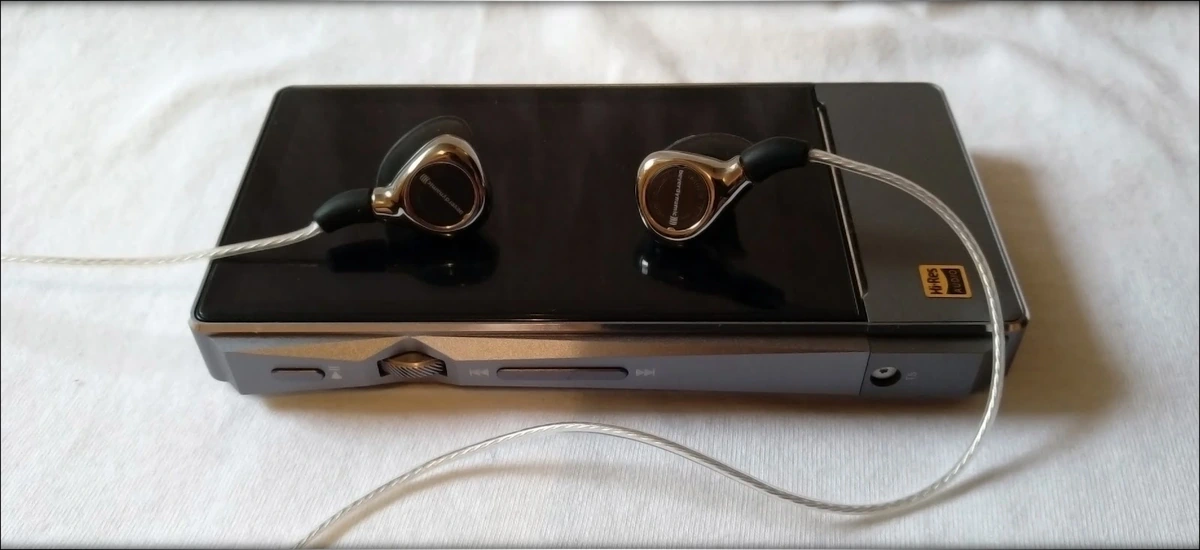 After a short but fun trip, I reached the Postage, not knowing exactly how to handle the situation, especially as the package was due for two weeks already. To my amazement, the people there were very nice and handled the package without any issues, so I quickly went on my way back home. 

Back in my room, I didn't know exactly what to expect. The package was looking very elegant, and X7mkii was looking very promising, the device was packaged with all the cool extras one could ask for, and it all felt and looked quite premium. Of course, the highlight of X7mkii is its sound, and how well it'll perform with my headphones. 

I took a deep breath, plugged in my music library card, plugged in my ie800, and started listening. The song of choice at that moment was Incubus – Deep Inside. 

For a moment, I was staggered by the amount of detail and by the sweet glimmer with each musical note that X7mkii was feeding to ie800. I knew I had to listen to much more music before I could start to write about it… 

…and so I did. I kept listening to music from the X7mkii + ie800 pair until I drained the battery entirely. It is rare that a device amazes me so much that I just forget about myself and the device, and everything else, the only thing that's important being the music I am listening to in that moment.


Packaging

First things first, let's get the packaging out of the way: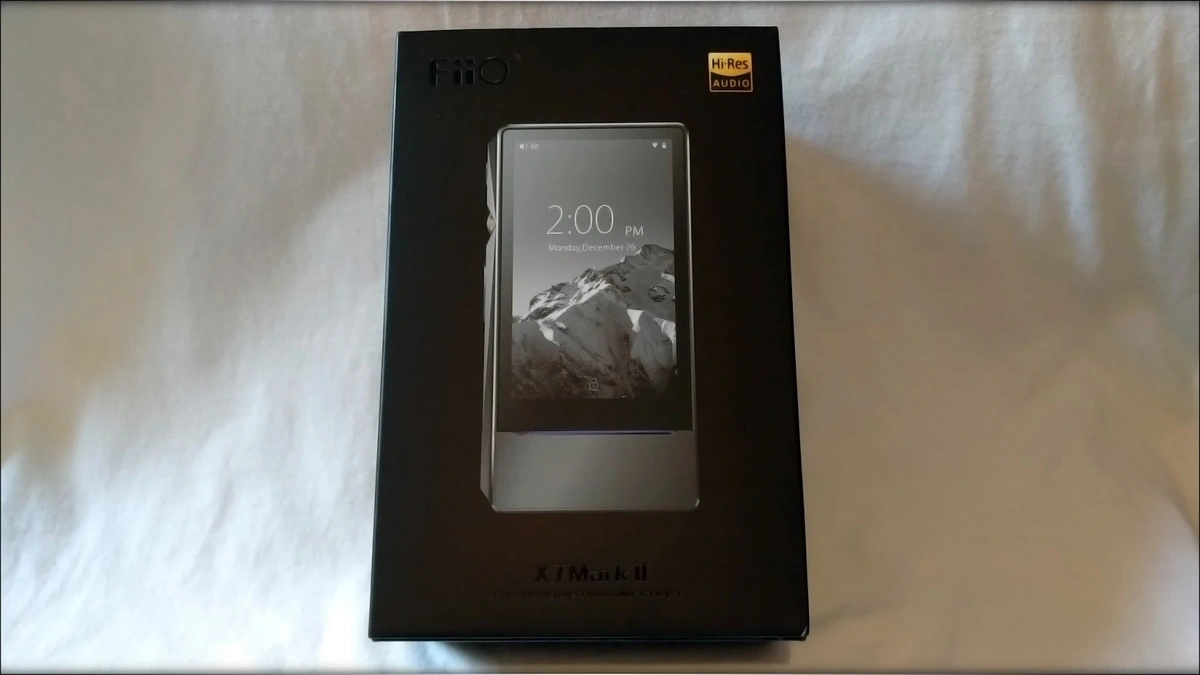 FiiO X7mkii comes in quite a nice package, with all the extras it requires. FiiO's typical packaging has always been awesome, from the packaging they include with their most inexpensive IEMs, to the packaging they include with their flagship Players, it is always fun to unravel the mysteries within those elegant-looking boxes. 
Starting with the outer looks, the box paints bautiful rendering of their X7mkii, with the specifications finely written on the back of the box, along with a few details about X7mkii. The DAP is seated in a foam cutout, inside a plastic sheet which keeps it protected. After gently removing the fine sheet protecting X7mkii, we can discover it, standing comfortably in its rubber clear-case. Under X7mkii and its foam cutout you can find a lot of rather useful extras, each hidden in a smaller box.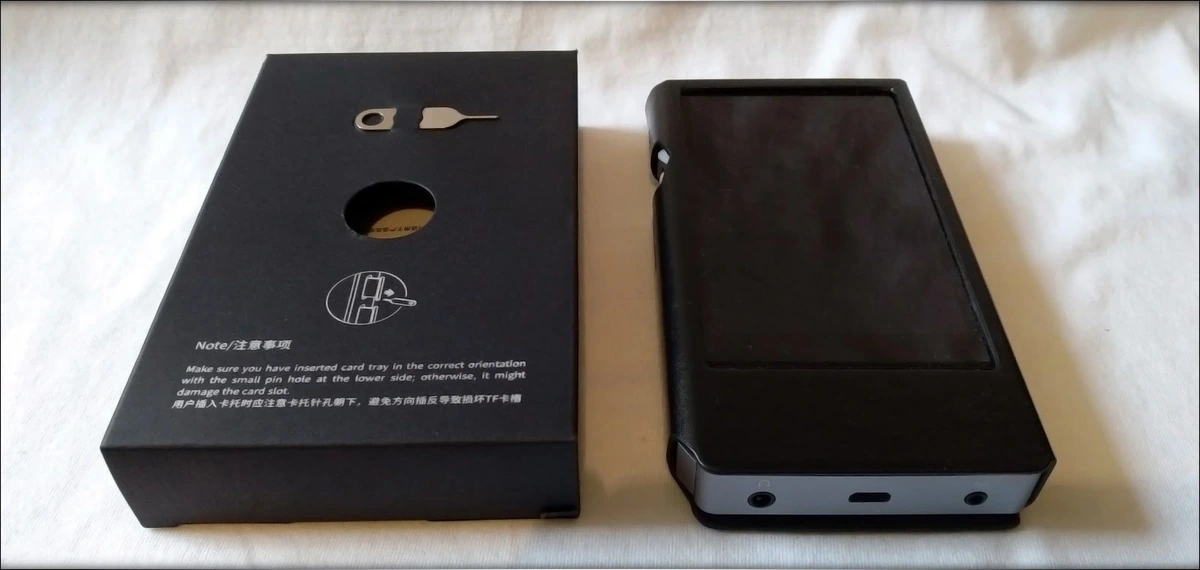 Among those, there is a pin for removing the microSD card tray, a high-quality USB cable, a Digital cable, and a beautiful high-quality leather case. FiiO also made sure to include a screwdriver for removing the AMP modules, along with extra screws and tiny wings for keeping X7mkii's shape and design coherent even when using another AMP module than AM03A. 
The unpacking experience is quite intricate and X7mkii deserves its high-end flagship DAP title. 
Build Quality/Aesthetics/UI/Firmware

I had the honor to hold quite a few flagship devices in my hands by now, like Opus #2 and iBasso DX200, so X7mkii has a lot of competition in every department.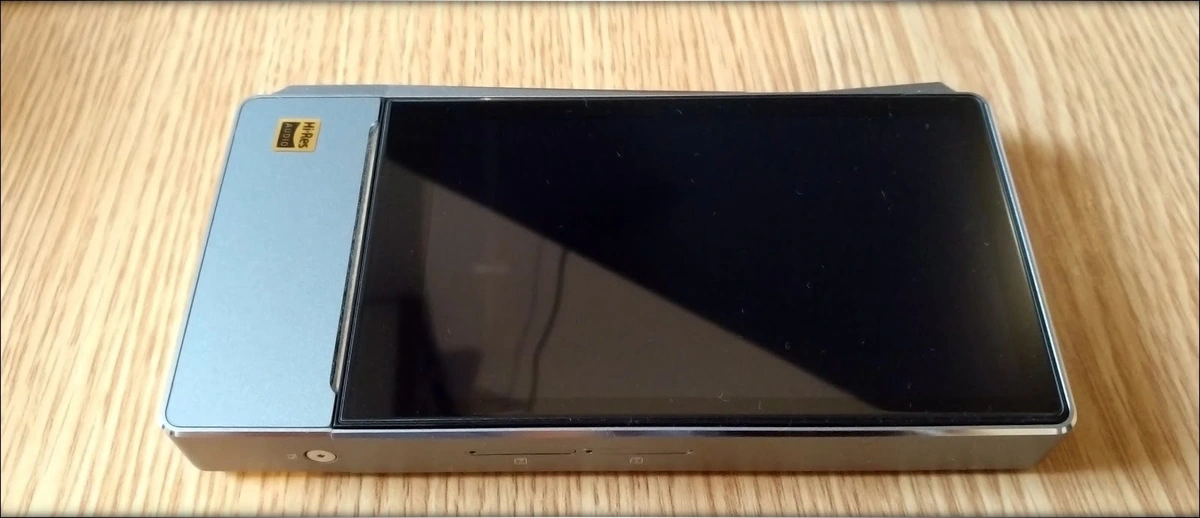 Starting with the build quality, X7mkii is not a one-piece device, being made of a main body, which is continued with an AMP module. Each AMP module has a little wing on the left side, to keep X7mkii's design coherent, as it has a somewhat industrial design, with very fine edges, a volume wheel and nice hardware buttons. 

On the top side, X7mkii has Line Out / Coaxial 3.5mm output, an on/off power button, which is also used to turn on the screen while X7mkii is already turned on, but while the screen is turned off. On the right side, there are 2 microSD slots, which can be actioned via the pin included in the package, and which are similar to most smartphone microSD slots. On the bottom, X7mkii has different configurations depending on the AMP module that is connected, AM03A having a 2.5mm Balanced Headphone output, a microUSB port for connecting X7mkii to a computer, and a 3.5mm headphone output. On the left side, X7mkii has a forward button, a backward button, a clicky volume wheel, and a play/pause button. X7mkii's buttons feel nice and clicky, while the button on the top needs to be pressed for a while for X7mkii to turn on while it is turned off, this way protecting X7mkii from unintentional "turn on and battery drain" situations. The volume wheel has clear clicks, and turns quite smoothly, while all other buttons are nice and clicky.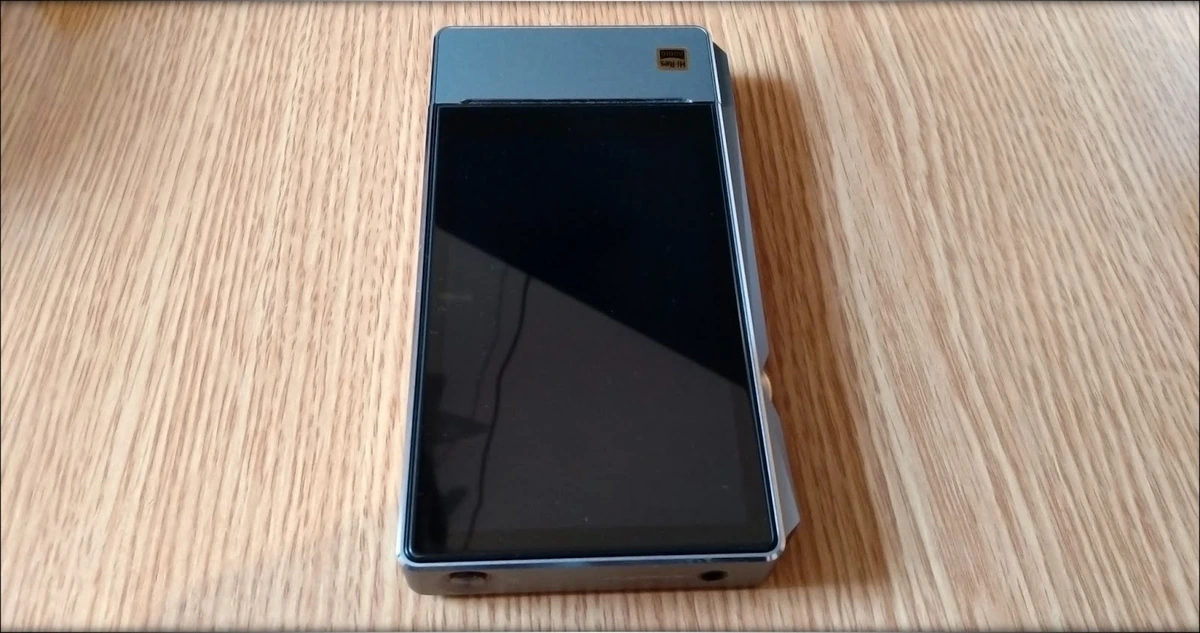 The front panel is guarded by a highly reflective edge which adds to X7mkii's elegant side, the same edge being present on the back of X7mkii as well. The back of the device is matte and has a bit of information about X7mkii written on it, including its full name and its ID. The top part of X7mkii's back is made from a different material to allow for Bluetooth and Wifi communication to go flawlessly, making X7mkii a very well-thought DAP. 

The device feels very solid in hand, and besides some minor screen aberrations while pressing on the display, it doesn't budge under pressure. 

The display is an amazing piece of art, being very bright and having excellent definition and contrast, with vivid and punchy colors, making the usage of X7mkii a real pleasure, even when it is being used outdoors. The panel seems to be different from the one used in X5-3, which makes X7mkii's display quite a bit brighter. The color temperature seems to be quite good, white being white and not presenting any major shifting towards any color. 

When it comes to the firmware, X7mkii is a truly mature and finished player, providing all the features I need for my daily usage, like folder browsing, cover art support, quick settings, and, a feature that is extremely important to me, proper play through folders play mode, which means that when the play counter reaches the end of a folder in folder mode, the first file in the next folder alphabetically will be played. 

The whole UI looks and feels quite lovely, and FiiO has improved it quite a lot from the days of their older players, the UI of X7mkii being one of the best I touched so far, and on level with other titans like iBasso and Opus at the firmware level. FiiO has Google Services and Google Play integration, which is very helpful for people who want to install a third party service for Streaming or for music listening.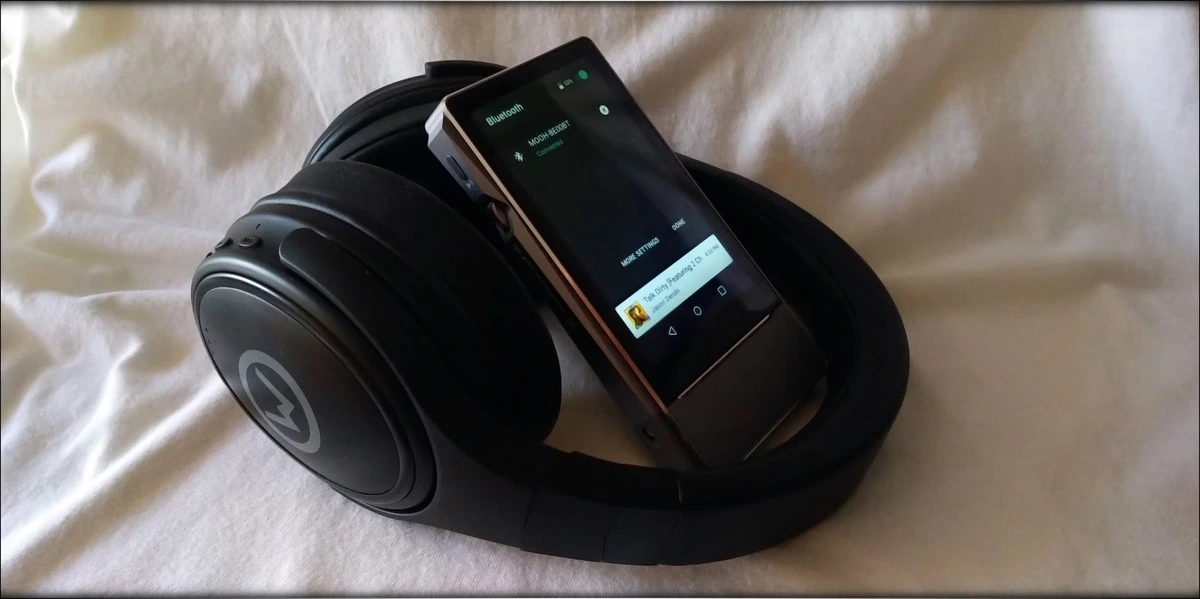 Judging from using X7mkii with its original FiiO Music App, and the latest firmware, there is no lag in my daily usage, and X7mkii even feels snappier and quicker than my smartphone, Xiaomi Mi Max 2, which is an upper midrange smartphone. X7mkii somehow manages to be even quicker, and this is probably related to the level of customization FiiO has done to X7mkii and its android firmware. 

You also get all the bells and whistles, like APT-X support, Playlist Support, VU Meter, and everything else that comes with Android Support. 

All in all, the whole device feels very nice to work with, from the moment you open it, holding it in hand, X7mkii being worthy of its flagship title. 
Sound Quality

As a few reviewers mentioned this before, describing the Sonic Signature of a DAP (Digital Audio Player) can be fairly complicated, as the ideal source should sound transparent and it should leave the coloring for the IEMs and Headphones. This being said, every single DAP out there will change the sound in some way with every headphone and IEM, some people naming this "Headphone – DAP Synergy".



FiiO X7mkii has a neutral tuning, with a very deep bass, amazing amounts of impact, a clear, vivid and well-defined midrange, and a clear, neutral and enthusiastic top end. There are very few things that are as linear as X7mkii is with AM03A, as it provides an excellent level of clarity and transparency, being much easier to describe the level of vividness it brings to music, and how good the soundstage and the instrument separation is, than talking about the signature, X7mkii being incredibly transparent and doing its job well as a DAP. 

Bass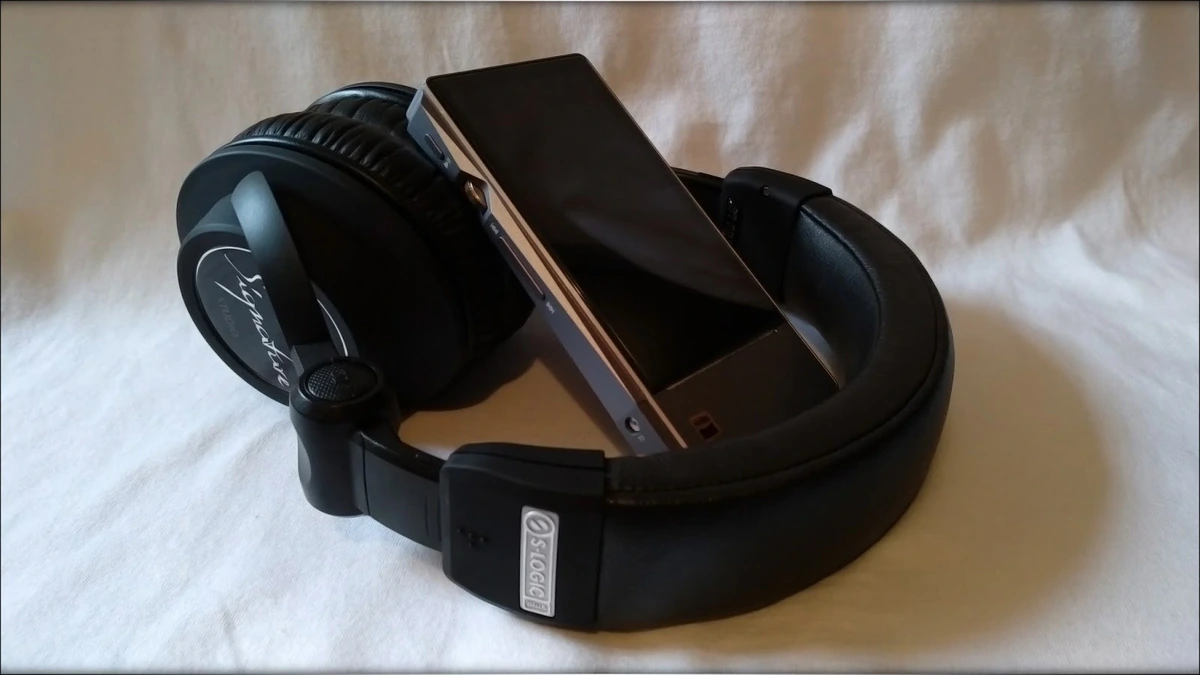 The bass of X7mkii is incredibly deep, going as low as it needs to go, down the the absolutely lowest octaves. It is a quick bass when it needs to be quick, it is a slow and natural bass, when it has to be slow, being quite transparent and good at painting the music track just the way it was recorded. AM03A can drive all IEMs I tested it with, with an excellent authority, giving them just the right type of bass they need to have. Both the rumble and the impact are oustanding when they are called for. 

Even when the volume needs to be turned all the way up, like when X7mkii is driving Beyerdynamic Amiron, it still manages to provide them a clean, clear and quick bass which is transparent, and which provides a very satisfying feeling. 


Midrange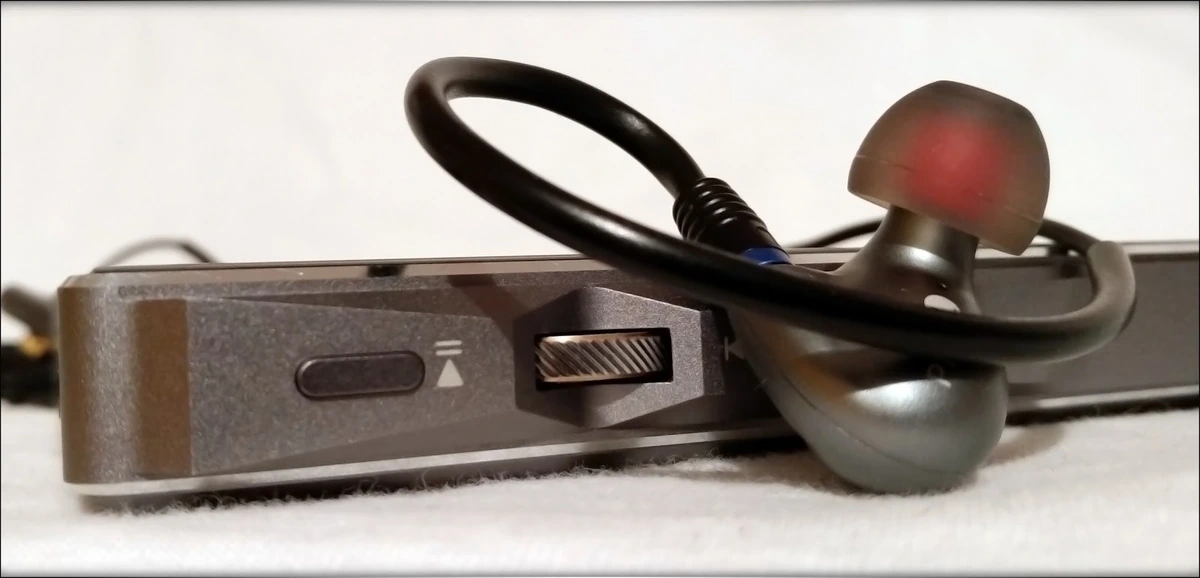 The Midrange of X7mkii is extremely clear, detailed and has a very enthusiastic nature to it, being quite vivid and giving all music a vivid edge, making things sound dynamic and well separated when they should sound like that, and making them pop out and feel lively. With slow music, X7mkii sounds slow, with fast and aggressive music, X7mkii sounds fast and aggressive, being a colorless device that lets the true nature of the music shine through it. One of the best things about the midrange of X7mkii is how clear, detailed and revealing it is, being worthy of how a true flagship should sound like. There is no tilting towards any area in particular, and the sound is generally wide, having good instrument separation and definition, along with excellent timing and dynamics. The tonality of X7mkii is natural and its timbre is quite excellent. 

Across all IEMs and headphones I tested it wih, X7mkii + AM03 manages to hold its ground and to stay clear and well-defined, providing an excellent window to explore the music within. 



Treble




The treble of X7mkii is like the rest of its signature, extremely clear, vivid, and in its nature, very transparent. It is not bright nor smooth, instead letting the music and the headphones do the coloring of the music. The top end has the right amount of shimmer and glimmer when it has to and can sound quick, as well as well behaved when it has to, X7mkii being one of the most transparent DAPs in the treble department out there, reaching even the highest octaves possible, letting the treble shine when the IEM / Headphone can shine, and making it tame and quiet when the music or the headphone paints it as such. 



Soundstage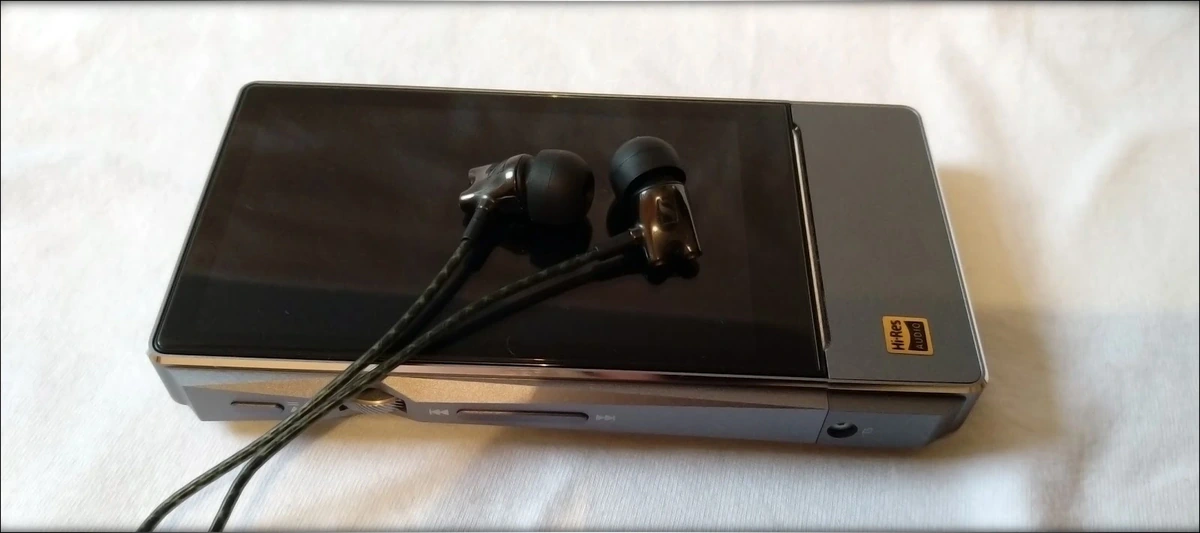 The Soundstage size of X7mkii is very well-extended in all directions, being very wide, deep and having an excellent spatial positioning at the same time. The instrument separation is quite excellent as well, X7mkii having one of the best instrument definitions there are, and providing an excellent insight into how many instruments are in a track, giving them not only enough air to breathe, but even a very good definition for every musical note there is. 



ADSR/PRaT




The ADSR / PRaT of X7mkii with AM03A is quite excellent once again, AM03A being very quick and snappy, defining all textures and small movements very well, and providing an excellent insight in the music X7mkii is playing. Music through X7mkii feels vivid and dynamic, to the point where it sounds realistic and natural.



Portable Usage

X7mkii is not the largest device out there, nor the smallest one, being somewhere in between. When it comes to its portable usage, it can drive any IEMs you might throw at it, without issue, and even most full sized headphones are driven without issue. The device size is actually good for one hand usage since it is taller than it is wide, making it easy to hold in one hand and to interact with the display using only the thumb. 




The blind usage is also quite excellent, being easy to adjust the volume using just one finger, or to press the forward / backward buttons while X7mkii is inside a pocket. It should be noted that the forward button is towards the bottom of the device, this being a bit strange the first time one sees it, but it is very easy to get accustomed to. 

The device is sturdy enough to allow for portable usage, and the headphone jacks are also well-built. X7mkii has Bluetooth abilities, even APT-X abilities, along with Wifi abilities and many other bells and whistles for those who want to have a wider usage scenario with it. 
Select Pairings

Please note that for any pairing, the IEM has more impact on the final sonic result than the DAP, the best DAP being one that is as transparent as possible. Since X7mkii is one of the most transparent devices out there, it provides a clear window, looking at the true signature of every IEM and Headphone.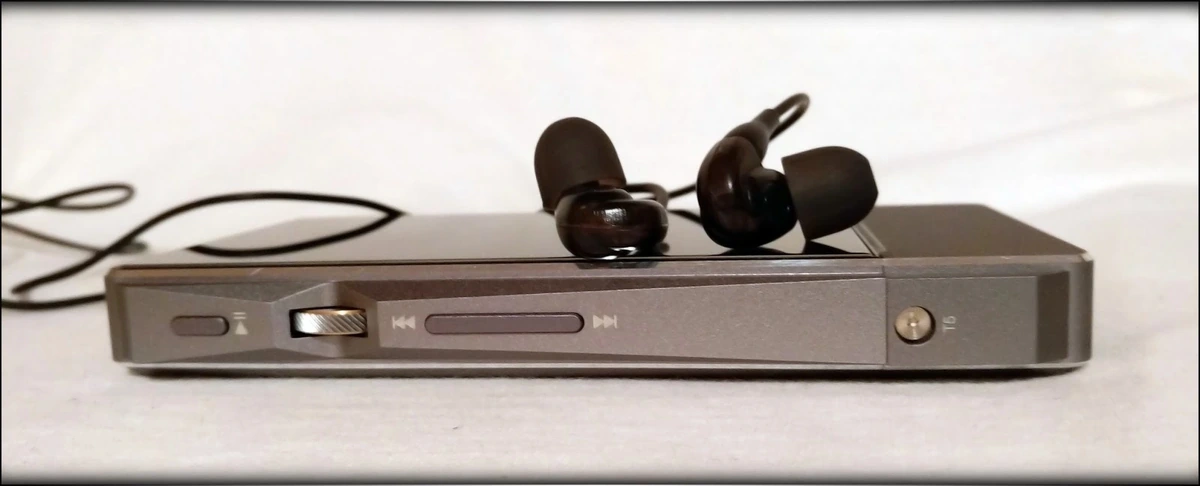 FiiO X7mkii + Dunu DK-3001 – FiiO X7mkii makes Dunu DK-3001 sing with excellent ability, making the bass sound natural, with a natural decay, the midrange being presented with a light yet somewhat smooth nature, and the treble being smooth and relaxing, yet keeping a lot of detail. The soundstage is fairly wide with this pairing. 

FiiO X7mkii + FiiO F9 – F9 driven by FiiO X7mkii is quite an excellent pairing, as X7mkii gives F9 a deep and clear bass, a resolving and enthusiastic midrange, and an enthusiastic top end with good presence and detail. The soundstage is fairly wide with this pairing. 

FiiO X7mkii + FiiO F9 Pro – F9Pro is the bigger brother of F9, providing a much better result than F9 when driven by X7mkii, as they tend to have a more vivid midrange, a clearer overall sound, and a better extension in the treble, where F9Pro extends up to the highest octaves. The soundstage and instrument separation are both very good with this pairing. 

FiiO X7mkii + Unique Melody Martian – X7mkii makes UM Martian sound as they are, a very tight and precise IEM, with an extremely resolving sound, a tight bass, a clear and slightly pushed back midrange, and a clear and glimmering treble, making them both an excellent tool to study the intricacy of music, as well as a very enjoyable IEM. The soundstage is good, while the instrument separation is excellent with this pairing. 

FiiO X7mkii + Sennheiser ie800 – X7mkii is one of my favorite sources for driving ie800, as X7mkii makes it sound deep and impactful in the bass, slightly recessed, yet clear and very detailed in the midrange, and enthusiastic and very resolving in the top end, where ie800's treble is a unique presentation of life-like cymbals. The soundstage size is very good, and the instrument separation is insanely good. 

FiiO X7mkii + HIFIMAN RE2000 – RE2000 is presented with excellent resolving abilities, having a deep and very resolving bass, a slightly thick yet vivid and slightly pushed back midrange, and a well-extended and enthusiastic top end. The soundstage size is good, while the instrument separation is outstandingly good. 

FiiO X7mkii + HIFIMAN RE800 – RE800 is powered to sound very clean and clear, with excellent acoustic abilities, rendering music with excellent dynamics and impact, having a tight and precise bottom end, a slightly recessed midrange, and a forward treble that makes acoustic music really shine. RE800 becomes one of the best for listening to a ballad. The soundstage size is good, while the instrument separation is amazingly good. 

FiiO X7mkii + Beyerdynamic Xelento – Beyerdynamic Xelento is presented with a full and thick bass, a clear yet thick and meaty midrange, and a smooth and relaxing top end. The soundstage size is large, while the instrument separation is good. 

FiiO X7mkii + Ultrasone Signature Studio – Ultrasone Signature Studio is presented with a deep yet somewhat tight bass, a slightly recessed but very clear and wide midrange, and a bright yet fine treble. The soundstage size is out-of-this-world amazingly good, while the instrument separation is very good. 

FiiO X7mkii + Meze 99 Classics – Meze 99 Classics sounds very full and satisfying, with a very deep, clear and powerful bass, a clear yet enthusiastic midrange, and a smooth and relaxing top end. The signature feels natural, and the top end is quite open-sounding. The soundstage size is amazingly good, while the instrument separation is good. 

FiiO X7mkii + iBasso IT01 – IT01 is presented with excellent dynamic range, with a deep and precise bass, an enhanced midbass, a clear and vivid midrange, and a slightly enhanced top end. The soundstage size and instrument separation are both very good. 

FiiO X7mkii + MO MZero – MO MZero sounds quite good with X7mkii, sounding very full with a powerful bass, a thick midrange, and an open-sounding top end. The soundstage size and instrument separation are both quite good. 

FiiO X7mkii + Astrotec AM850 – AM850 is presented with an open-sounding midrange, a deep yet well-placed bass, and a brighter top end that is enthusiastic enough to provide a vivid presentation to music. The soundstage size and instrument separation are both very good. 

FiiO X7mkii + ER4-XR – ER4-XR is presented with a tight and clear bass, a forward midrange, and a smooth top end. The soundstage size is not very large, but the instrument separation is quite good. 

FiiO X7mkii + Kinera H3 – Kinera H3 is presented with a deep and full sub-bass, a clear and enthusiastic midrange, and a very bright and open-sounding treble. The soundstage size is not the largest, but the resolution and instrument separation are quite good. 

FiiO X7mkii + Beyerdynamic Amiron – X7mkii is able to power Amiron well when the volume is turned a bit louder. The pairing presents the music with excellent depth, with a full and very satisfying bass, a clear and vivid midrange, and a natural treble. The soundstage size is very good, and the instrument separation is very good as well.  

Comparisons

Most comparisons have been taken with RE2000, Signature Studio, RE800, ie800, and DK-3001. Hiss is usually very hard to notice and I tend to not notice it at all, but I tried my best to compare how DAPs perform relative to each other in this aspect, as well as other aspects that might come off as relevant.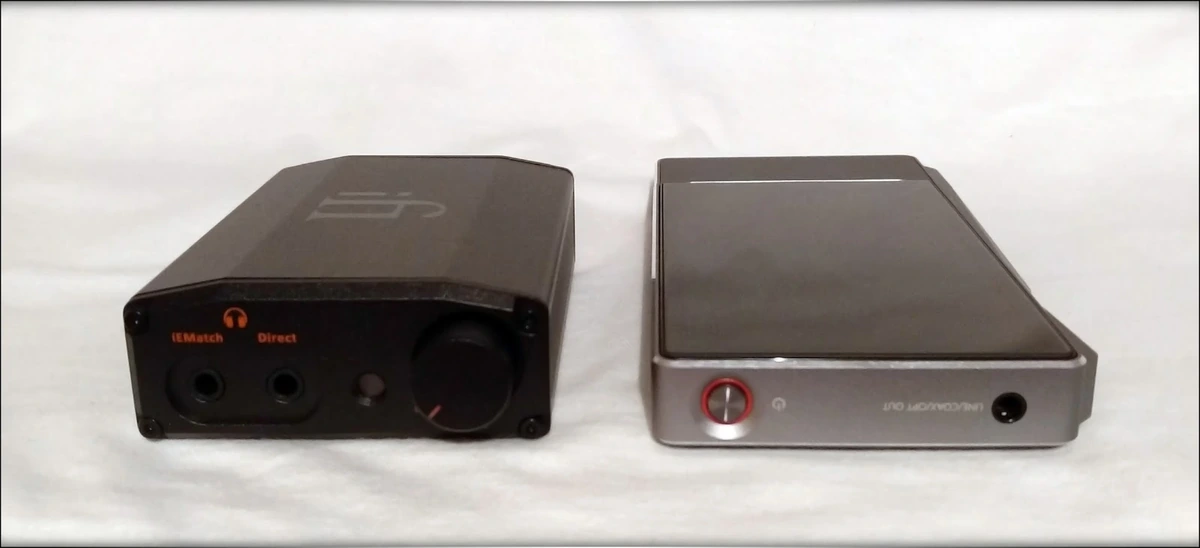 FiiO X7mkii vs Opus #2 – We reviewed Opus #2 here: https://audiophile-heaven.com/2018/01/opus-2-magic-of-music.html Opus #2 is quite a bit more expensive than X7mkii, but the comparison feels fair since both are the flagship devices from each company, X7mkii being FiiO's flagship, while Opus #2 is TheBit and Opus's flagship. Starting with the overall device, Opus #2 is a bit larger as a device, with a similar display. Opus #2 has only one microSD slot, but it has 128GB of integrated memory. Both devices can run third party apps, both devices have Bluetooth, Wifi, and other amazing abilities. The battery life is similar between the two. Opus #2 tends to have a similar driving power when compared to X7mkii, but as long as X7mkii is loud enough it keeps a good enough control over the headphone / IEM it is driving. The soundstage is similar, with Opus #2 and X7mkii both being quite wide, Opus #2 being, a bit deeper in the soundstage, and having a bit better instrument separation. The sonic signature is quite similar between the two, both being very transparent, Opus #2 having maybe a bit more revealing and resolving ability, but it should be noted that the difference is not night and day, and both are amazing devices. In the long run, Opus #2 has a slightly more organic sound, with a slightly warmer presentation, while X7mkii tends to be a bit more neutral and transparent.  

FiiO X7mkii vs iBasso DX200 – We reviewed iBasso DX200 with AMP1 here: https://audiophile-heaven.com/2017/12/ibasso-dx200-reference-flagship-from.html iBasso DX200 + AMP5 review will be presented soon. iBassso DX200 is similar as an overall device, having similar abilities as X7mkii, with the device feeling similar while in hand. DX200 has a slightly larger and maybe even brighter display, providing a larger space the cover art. To support the same third party apps as X7mkii, DX200 requires Lurker's mod, a software mod that is easy to obtain and install. The sonic signature when using AMP5 is a bit more vivid on DX200, with a slightly more forward presentation, an even better extension on both ends, and slightly better resolving and revealing abilities. It should be noted that DX200 is more expensive, and the AMP5 module adds to this cost, and that the difference is not exactly night and day, the dual ESS PRO DACs in DX200 adding to the cost, as well as the larger display and different internals, but it does advantages in the music presentation department. This doesn't make X7mkii any lower than amazing though, both being truly outstanding flagship devices. 

FiiO X7mkii vs iDSD Black Label – We reviewed iDSD Micro Black Label here: https://audiophile-heaven.com/2017/05/ifi-idsd-bl-pinnacle-of-dac-and-amp.html iDSD Black Label Micro is a DAC/AMP priced a bit lower than X7mkii, having the entire device dedicated just for the sound, without having to worry about the software, display and many other components that X7mkii employs. The sonic signature is similarly transparent, iDSD Micro BL presenting music with a bit more depth in the soundstage, and having a bit more sparkle in the treble, and maybe a thicker bass and larger bass impact. iDSD BL Micro has a considerably better driving power than X7mkii + AM03A, so it will be interesting to compare it to X7mkii + AM5 for larger and harder to drive headphones. 

FiiO X7mkii vs FiiO X5-3 – We reviewed FiiO X5-3 here: https://audiophile-heaven.com/2017/04/fiio-x5-3-fiios-smooth-android-dap.html Both devices FiiO, but from different price areas. I loved X5-3 back when I reviewed it, and considered that it set a new standard for its price range. I still consider that true, and I think that besides its signature which is a bit too smooth, it is an outstanding device. X7mkii takes everything X5-3 does good and does it even better, providing a sound with excellent dynamics, an even better transparency, a wider soundstage, and a more vivid general presentation. The top end is especially better with X7mkii which is more transparent, and which brings a better sparkle in the treble, where X5-3 is quite smooth. The software support is great on both, and the device construction quality is outstanding on both Players, FiiO doing an amazing job with both X5-3 and X7mkii.  



Value and Conclusion

At the end of the day, X7mkii is indeed one of the best flagships out there, and one of the most transparent devices as well. The device feels solid in hand, provides excellent one-handed usage, and the firmware feels quite complete and useful. X7mkii also has APT-X Bluetooth abilities, along with Wifi, and two microSD slots, so with this little jewel, one had access to a wide array of usage scenarios. 
The sound matches the rest of the device, as X7mkii sounds extremely good, being very dynamic, vivid and punchy, having a soundstage that is very wide0, an excellent instrument separation and providing good authority over a wide array of IEMs and headphones. 

There is good reason to think that X7mkii is one of the best devices, if not the best device FiiO created so far, and it is beautiful to see how much they learned and improved from their first DAPs, now reaching X7mkii, which is an amazing resolution.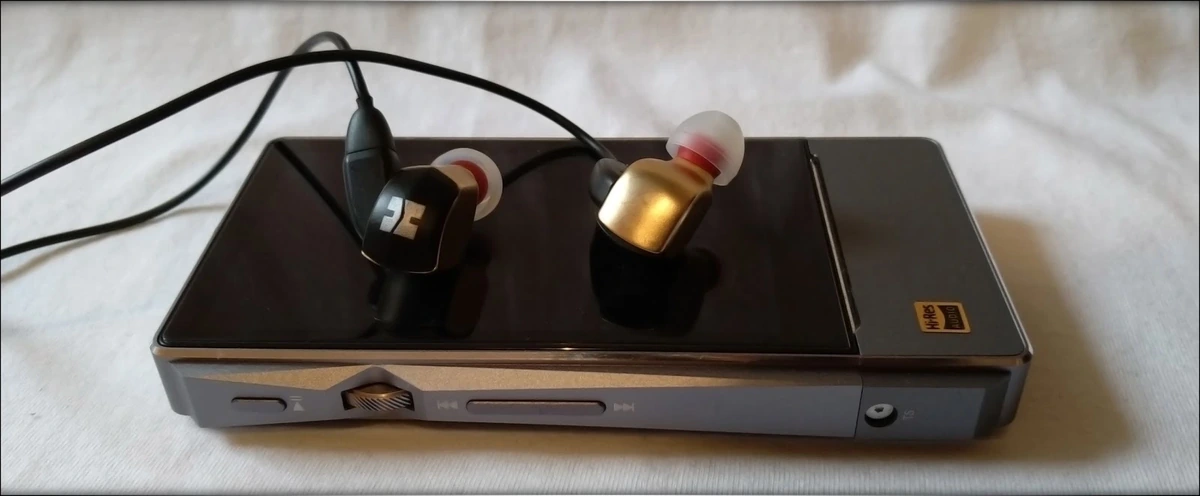 If you're looking for one of the most transparent DAPs out there, which bears an amazingly clear and vivid sound, with a very dynamic and wide presentation, X7mkii is surely winking at you, being one of the devices you can't go wrong with. Whether you are a basshead, or a treble lover, X7mkii will let your headphones or IEMs do the coloring and let you enjoy what you already have, providing an excellent experience for all music lovers out there.
Product Link
You can purcahse X7mkii and other FiiO DAPs from www.amazon.com here: https://www.amazon.com/s?k=fiio
---
---
--- Please remember to stay safe, and always have fun while listening to music!---
 - If you have a dime to spare, and donate, to help us with electricity and work expenses, it would make my day much brighter, as it would help me improve things around the website and increase the frequency of my posts - 
---
Full Playlist used for this review
We listened to more songs than those named in this playlist, but those are excellent for identifying a sonic signature.  PRaT, Texturization, Detail, Resolution, Dynamics, Impact, and overall tonality are all revealed by those songs. We recommend trying most of the songs from this playlist, especially if you're searching for new music!
https://www.youtube.com/playlist?list=PL_cjBXGmwSHSdGcwuc_bKbBDGHL4QvYBu
--- Contact Us ---






---
---