Sleek Performer – FiiO M3K Ultraportable Player Review
FiiO M3K is the most affordable entry from their new M series, and it is surely pretty interesting, with a good battery life, full metallic build quality, and a warm price point of just 70 USD. 
Introduction

I think everyone has heard at least once about FiiO, and I need to do a little bit on this part for every review, so this time I'm going to tell you something you probably haven't heard about before. Besides being some of the best in terms of providing warranty, and helping their customers, FiiO have been one of the first audiophile portable companies to get popular in Romania. Back when they began gaining traction around here, there were very few companies that provided the kind of quality FiiO did, and I'm happy to see they are still doing now, being one of the most popular brand audiophiles here own. 

It should be noted that I have absolutely no affiliation with FiiO, I am not receiving any incentive for this review or to sweeten things out. This review is not sponsored nor has been paid for by FiiO or anyone else. I'd like to thank FiiO for providing the sample for the review. The sample was provided along with FiiO's request for an honest and unbiased review. This review reflects my personal experience with FiiO M3K. Every opinion expressed is mine and I stand by it, the purpose of this review is to help those interested in FiiO M3K find their next music companion.
Product Link
You can purchase your M3K from www.amazon.com here: https://www.amazon.com/FiiO-M3K-Recorder-Expandable-Independent/dp/B07GPPC7BS/
Packaging

First things first, let's get the packaging out of the way: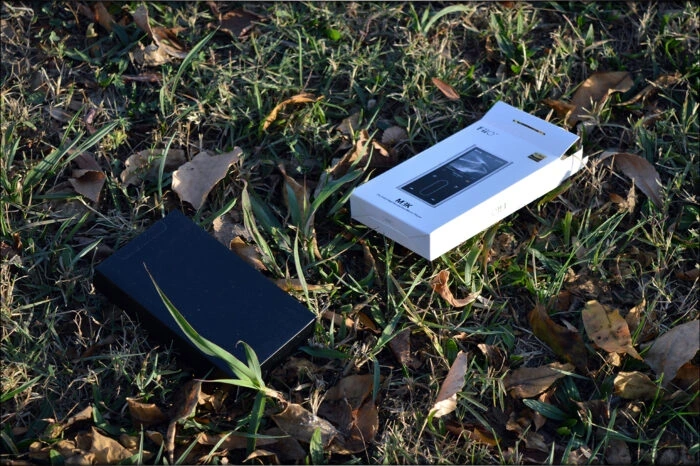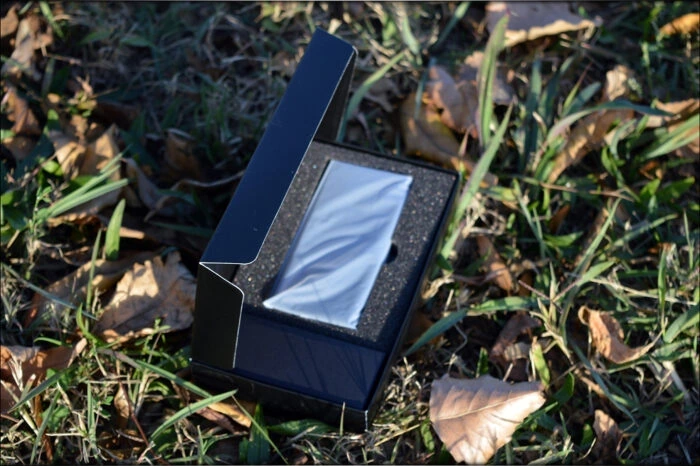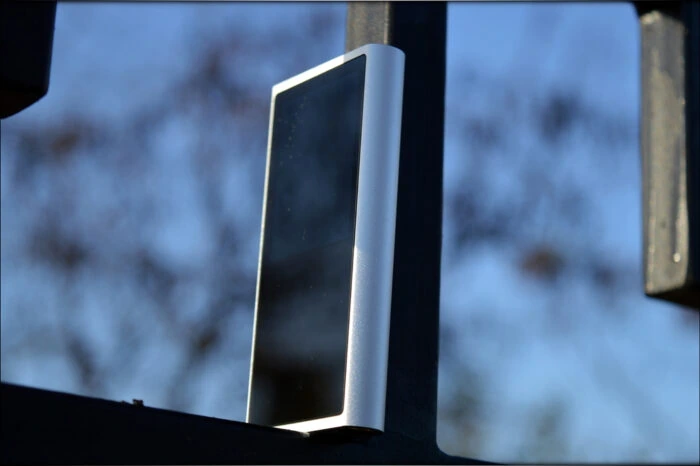 FiiO M3K comes with a black rubber case, and a USB cable. For 70 USD, I have no complaints, and given its inputs, outputs and overall design, there's not much else I could have wished for, like it was with K3. 
Technical Specifications

FiiO is always plentiful with offering Technical Specifications, and I'm happy for it.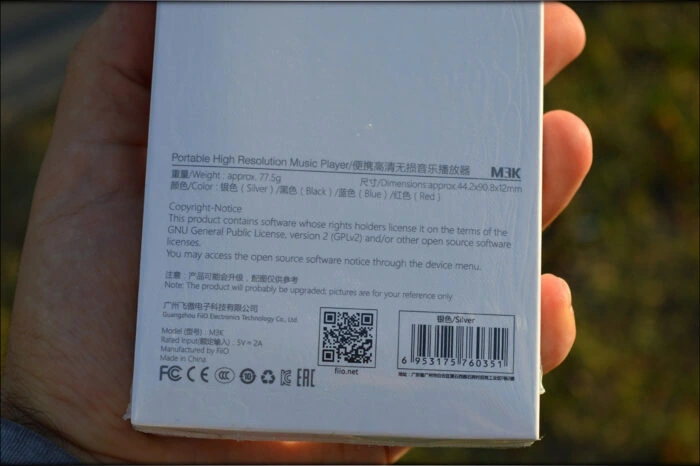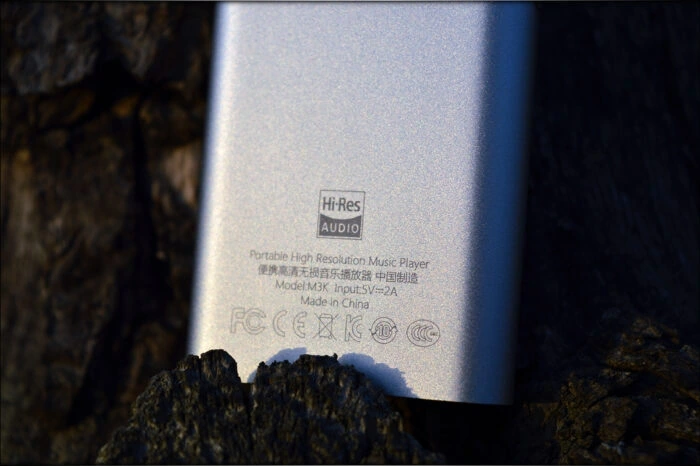 Build Quality/Aesthetics/UI/Firmware

FiiO M3K is a fully metallic device, with a glass front, and a larger vertical touch bar in the middle. 

There are play, volume, and power buttons on the left side of the device, and there is a 3.5mm Single Ended Headphone Output at the bottom, next to a microSD card reader, and a microUSB USB Port.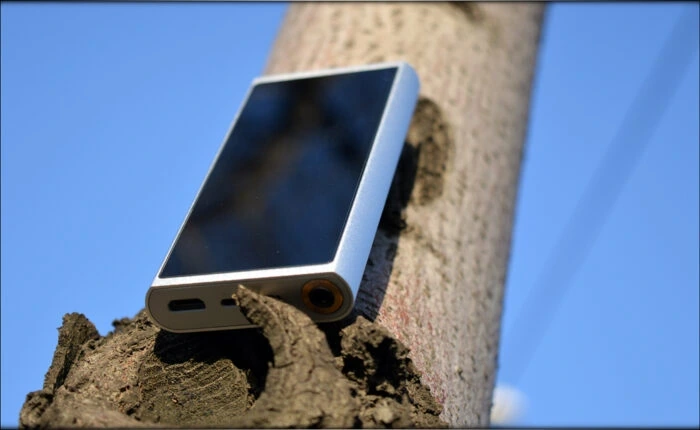 The overall aesthetic is pretty basic, and I'm okay with that, for a 70 USD DAP, this is absolutely okay. The main touch feature works really well with my hands, and the display is both bright enough and readable enough for daylight usage. Since it is a mini-DAP (ultraportable), it doesn't have a large display, but that is all the better, since they managed to keep its size down.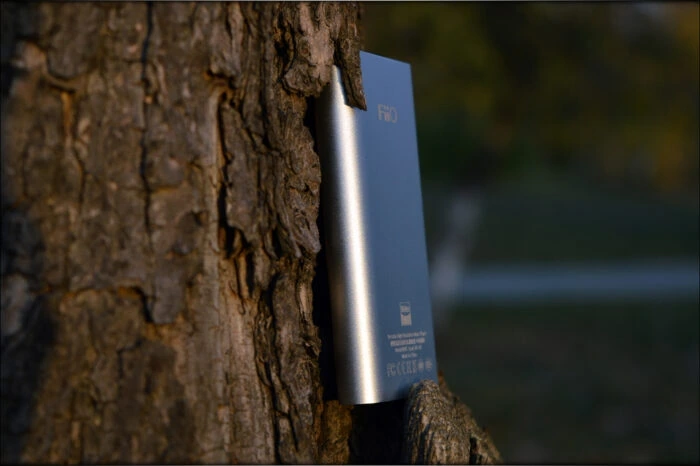 The EQ is very basic, and it won't be useful for most people, since it doesn't offer custom profiles. There are Forward, Backward, Menu and back buttons next to the larger touch bar, and all of those are capacitive touch buttons as well, so nothing to press, just touch. 

I love the way the headphone output looks very serious, and as a device, M3K has excellent handing, it isn't too light, it doesn't feel uneasy, it has rounded edges, and quite honestly, it is excellent. Taking the friendly price point into account makes me think that FiiO did a good amount of market study before releasing M3K.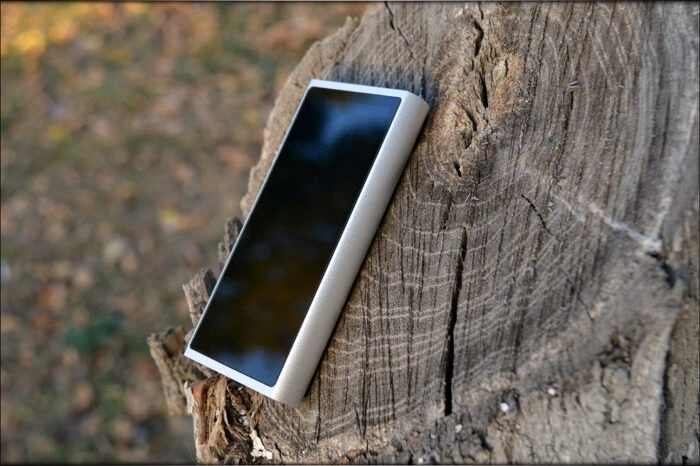 There is not much fluff besides the main music playing ability, but I can say that browsing music on M3K has got to be one of the most natural experiences I have ever had, on a non-touch screen player. It most certainly beats ultraportables with touch, where the display was too small and my fingers couldn't control them. 

Having the volume buttons on the site is a great idea, like this I'm not afraid of breaking a volume wheel, and I can throw M3K in a bag, or in a pocket while doing some jogging. Furthermore, having the silicone case included in the package helps as well.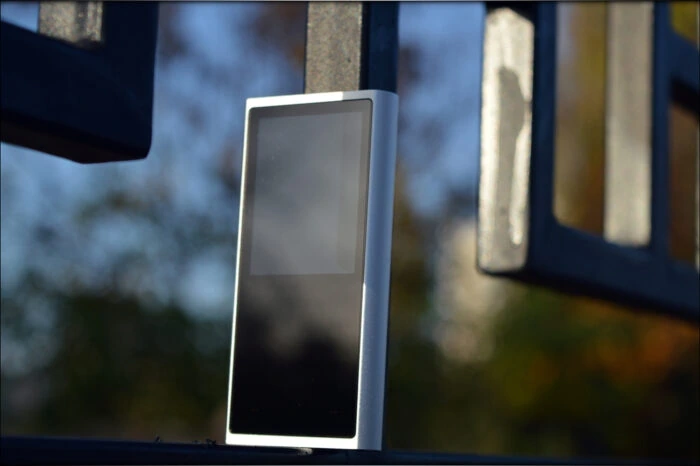 The battery life of M3K is not to be underestimated, this is one of the best battery standby lives I've seen in a Player, being able to stay alive for almost a week in stand-by. The play time is close to 12 hours with loud volumes and FLAC files, so amazing overall design. You won't be hindered by M3K if you want to go on a mountain trip and have some music with you. 

M3K sports a very strong CPU inside, and its entire operation is lightning fast, and a pleasure really. 

The power abilities of M3K are extremely low, 42mW on high gain, basically being able to power a 64 OHM headphone at most, my recommendation being to try to use it mostly with 32OHM or less headphones for best results, if you like to listen really loud. 



Sound Quality

The sound of M3K is one of those really neutral and reference sounds, but with a really sweet and musical gently bright treble, neutral and quick bass with a very solid hit, and a very neutral and natural midrange.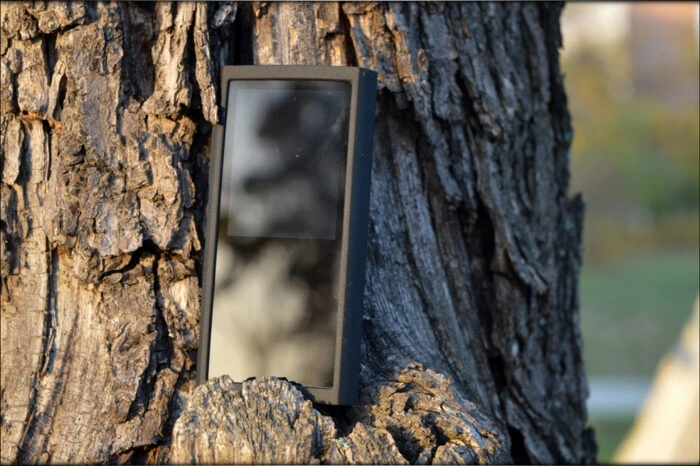 The bass can reach very low, and it has a very solid hit, being one of the more punchy types of sounds. It is able to keep up with death metal when using IEMs, like FiiO F9Pro. 

The midrange is sweet and also very neutral, and what's best, it has a really good way of portraying the soundstage exactly as it was recorded, when a song was recorded in an intimate setting, M3K plays it that way, while when a song was recorded in a grand location, M3K is very capable of playing a wide sound. The details are simply unbelievable for a 70 USD Player, and of course, as other reviews have pointed out, M3K is a more neutral type of device, not overly smooth, which really helps with rendering fine details better. 

The treble is a sweet glazing for the whole sound, finely bright, but not shouty, nor rolled off. Basically, a neutral kind of treble, but which has a sweet tinge to it, everything being sweet and airy, instead of hot or metallic, or rolled off and too smooth to be neutral. 

Overall, I find the signature of M3K to be perfect for someone who wants a transparent DAP that acts as a clear window to your music, and which can give you countless pairing options, with IEMs with any sonic style. 



Portable Usage

The small shape, low weight, and great battery life all make M3K an excellent portable player. Furthermore, it is able to drive most IEMs with an impedance lower than 64OHM, and this includes some heavy weight ones, like HIFIMAN RE800 Silver.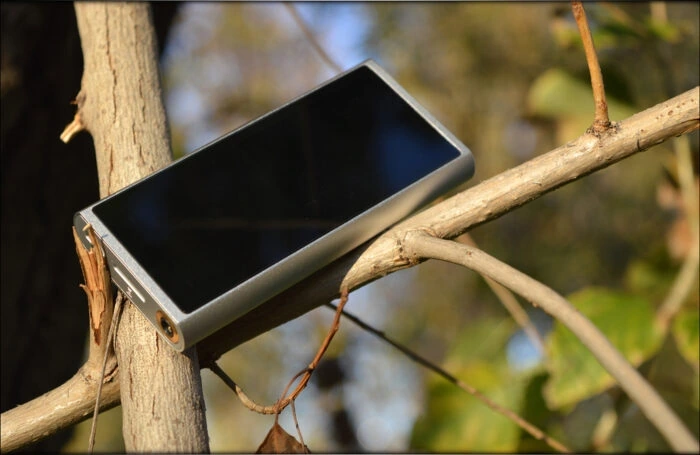 Furthermore, M3K is both light, can be used in direct sunlight, and also has an ergonomic shape, making it very simple to take with, especially when going out and about. You can throw it in a bag, and nothing will happen to it. 

Taking into account how quick the CPU inside is, and the fact that I haven't run into any issue with it while using it, I can recommend it as a trusty portable device. 



Select Pairings

Given its really friendly price, I tried finding a few more pocket-friendly IEMs to pair with M3K. FiiO F9Pro, Shozy CP, and FiiO FH5 are the IEMs of choice for this review. 

FiiO M3K + FiiO F9Pro – FiiO F9Pro was already a fairly neutral IEM, and M3K is fairly neutral as well, resulting in a very reference and neutral sound, which is very revealing, very clear, crisp, punchy and quick, with good impact. The dynamics aren't its forte, but the detail and textures are. The bass is quick, but reaches low, and the soundstage is wide. The treble is fairly sweet and not fatiguing, yet has enough sparkle to be fun and engaging. 

FiiO M3K + Shozy CP – Shozy CP is a mid-forward IEM, which pairs quite well with M3K, as M3K is able to highlight its true beauty, CP being a really sweet IEM in the mids, and M3K bringing that to an even better level. The bass is low in quantity, and M3K respects Shozy CP's original signature and tuning. The treble, pretty smooth and non fatiguing, keeps some of M3K's sweet character making this pairing very easy to recommend for those in love with a more forward midrange. 

FiiO M3K + FiiO FH5 – FiiO FH5 is quite a bit more expensive than M3K, but M3K is still very capable of driving it, and to give very good results with it. FH5 is known for a larger and slower bass, and this is where M3K comes in handy, as it speeds up FH5's bass a bit, makes it a bit smaller in comparison to the midrange, and makes the whole signature more balanced. Furthermore, the treble gets more even, as FH5 is known to have a bit of an upper midrange / lower treble emphasis, and M3K helps with that as well. The soundstage also gets a touch wider, which complements FH5's more intimate signature well to create a more natural and even experience for the listener. 



Comparisons

Given its price point and design, M3K mainly competes with Ultraportables, like Shanling M0, Shanling M2s and HIFIMAN Megamini.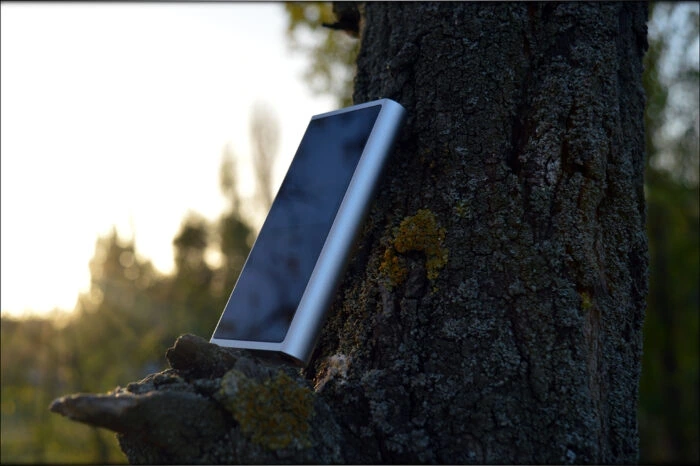 FiiO M3K vs Shanling M0 – Shanling M0 is quite different from M3k, as it has a touch screen, comes with cases, and is smaller physically. This being said, M3K has a larger battery life. M0 has more functions and features. In terms of sound, M0 is much smoother, M3K has better detail, quicker overall speed to its entire sound, a more solid bass, and a brighter treble, where M0 is considerably smoother and has less treble bite. They both can drive pretty much the same IEMs, and you should make your decision based on which you want more, a touch screen ultra portable, or a more classical one, and also on whether you want a more reference and neutral DAP, like M3K, or a smoother, warmer one like M0. 

FiiO M3K vs HIFIMAN Megamini – HIFIMAN Megamini is still very interesting, especially now that it often goes on sale. Megamini is more minimalistic, and honestly, harder to browse and use in practice, but the sound is considerably better than M3K, better driving power, more vivid, more forward, more aggressive, more detailed and more clear overall sound. This being said, M3K has the sweeter treble, more natural, more gentle, yet more airy treble. Megamini feels very wide, but not overly deep, where M3K is both wide and deep when the music has the soundstage cues inside. Between Megamini and M3K, your decision should be made based on whether you want a warmer, smoother in the treble DAP, like Megamini, which can be very minimalistic, and a bit harder to browse through, or a much easier to browse through DAP, with a more natural sound, like M3K. 

FiiO M3K vs Shanling M2s – Shanling M2s is an older model from Shanling, now to be replaced by M2X soon. The price of M2s is a touch higher than M3K, but either way, many people consider M2s or M3k, since they are similar in shape and design. Now, both are fully metallic device, but M2s uses a little volume wheel for browsing, where M3K has that middle touch stripe. M2s from Shanling has Hiby Link and a few features that M3K doesn't. Both devices handle well in practice, but I feel more secure with the touch strip of M3K in the long run, as the wheel of M2s can be broken while in a backpack. The sound is much smoother on M2s, with less refinement and detail, M2s is more wooly, and has a much thicker sound, has a deeper sound, with more weight and impact, can be considered more musical, and has much less fatigue. M3K feels much much more neutral, has a much better overall detail revealing ability, is quicker, punchier, more nimble, and has a much better treble extension with a more sweet and clean treble. 



Value and Conclusion

I spoiled the surprise about the price from the beginning of this review, but man, it is refreshing to see a DAP (Digital Audio Player) in the 70USD price point do so much for the listener. Of course, with M3K, I'm not talking about features and fluff, but rather about a pure listening experience, tuned and tailored for the purist.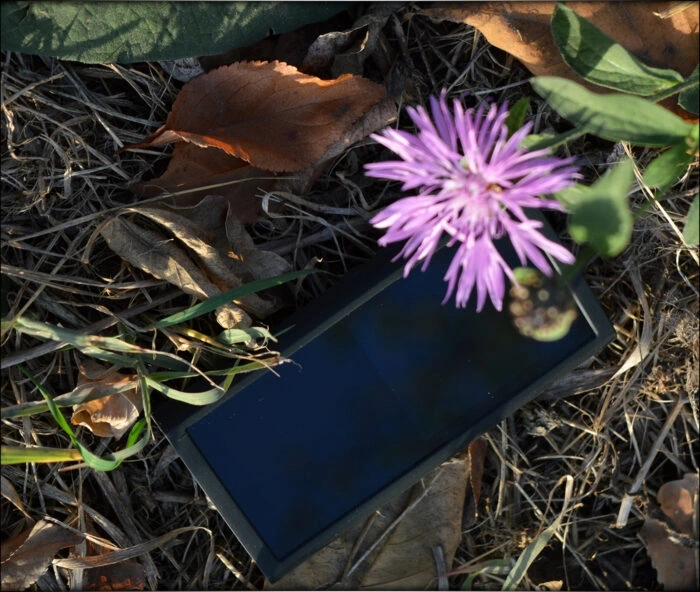 Starting with the package, you get a rubber case and a USB cable, but that's more than enough for the price point, and the rubber case may actually come in handy for an ultra-portable. 

The build quality is still excellent, a full metallic body, a good CPU underneath, and an excellent battery in the house. Furthermore, the touch operation is pretty flawless, and I found M3K to be very natural in navigation. 

The sound is very neutral and clear, clean, and transparent, yet the treble somehow manages to be very sweet, the bass is very solid and punchy, while the midrange is really well fit in its place, making M3K a truly magic experience, especially for a budget DAP.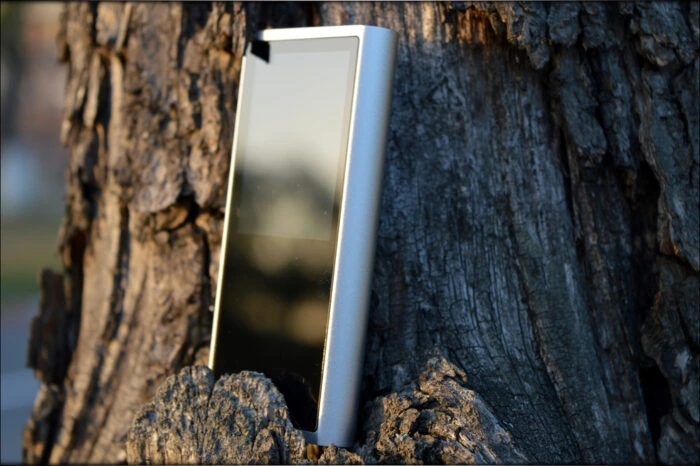 At the end of the day, if you're looking for a clean and clear ultra-portable, with a neutral tuning, clear sound, good detail revealing abilities, excellent battery life, and an ergonomic, metallic build, then you should totally check out M3K, an outstanding budget ultraportable DAP. 
Product Link
You can purchase your M3K from www.amazon.com here: https://www.amazon.com/FiiO-M3K-Recorder-Expandable-Independent/dp/B07GPPC7BS/
---
--- Please remember to stay safe, and always have fun while listening to music!---
 - If you have a dime to spare, please donate, and help us! It would make the day brighter for me and my wife- 
---
Full Playlist used for this review
We listened to more songs than those named in this playlist, but those are excellent for identifying a sonic signature.  I recommend trying most of the songs from this playlist, especially if you're searching for new music! The playlists are different for Spotify, Tidal and Youtube, and based on the songs I enjoy and are available on each!
https://www.youtube.com/playlist?list=PL_cjBXGmwSHSdGcwuc_bKbBDGHL4QvYBu
https://open.spotify.com/playlist/5J3oloz8Riy9LxEGenOjQ0?si=979ba4f082414be7
https://tidal.com/browse/playlist/330fd544-8e5b-4839-bd35-676b2edbb3d5
--- Contact Us ---





---