ddHIFI C2022 Case – Transporting Music Sources
ddHIFI C2022 Case is a carrying solution / fashion bag designed by ddHIFI, with a price tag of 45 USD, made for the audiophile on-the-go, but useful for basically anyone who has a set of electronics to carry, like a recorders, small pocket cameras, or even a wallet + smartphone during the summer, when you don't want to stuff your pockets with all those extras. 
Introduction
ddHIFI is a rather novel company from China, having started as a minor spin that produced accessories and cases for FiiO products, now having escalated to having their own DAC, AMPs, IEMs, cables and even nifty accessories. Their products are awesome, and they are sold on Amazon, Linsoul, Aliexpress, and sometimes even available locally. The overall company has good quality for their products, and they usually have great overall price / performance ratio too, making them the most recommended company for getting this kind of accessories. 
It should be noted that I have absolutely no affiliation with ddHIFI. I'd like to thank ddHIFI for providing the sample for this review. This review reflects my personal experience with the ddHIFI c2022. Every opinion expressed is mine and I stand by it. The purpose of this review is to help those interested in ddHIFI c2022 find their next music companion. 
Product Link
You can grab one from www.amazon.com here: https://amzn.to/3ybrxVj
If you're in the UK, you can grab one from www.amazon.co.uk here: https://amzn.to/3Ibbw6l
And if you're from Europe, you can grab one from www.amazon.de here: https://amzn.to/3uH7bT9
Packaging
First things first, let's get the packaging out of the way:
The package includes the case and the straps, as seen in most photos available on Amazon and Linsoul. There's not much else, but for the price that is not a problem.  
Build Quality/Aesthetics/Functionality
We have a pretty beautiful design for C2022, as it comes with multiple pockets and a design that allows it to be used for basically carrying all your daily extras like keys, microSD cards, spare batteries and such. The strap allows you to wear it like you'd do with a side bag, and the inner volume is enough for both carrying a DAP or Digital Audio Player, a pair of IEMs, or a pair of TWS and other normal accessories.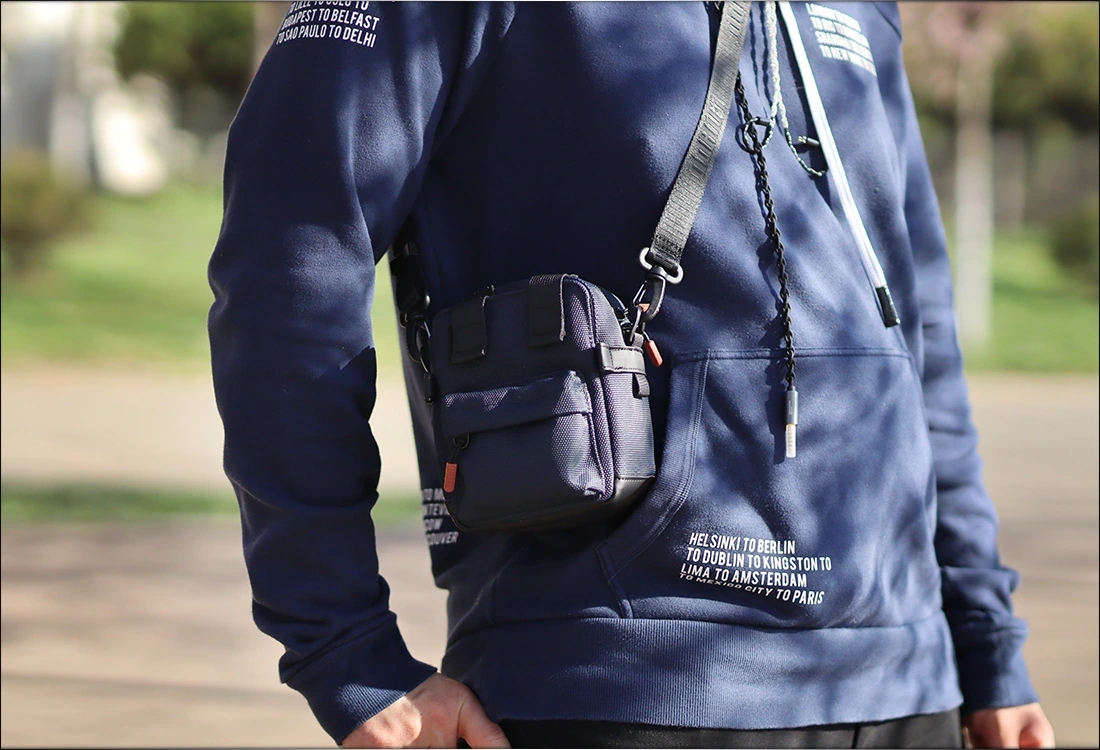 I usually go out using a music player like FiiO M11 PRO, Astell & Kern SE180, Lotto PAW6000 or iBasso DX300, but I actually have been using c2022 for carrying many other extras. Recently, I had to wear sunglasses, and figured that I'd need to carry a support for them too, including some wet glass napkins to clean them, as well as my smartphone. The summer can be rather fierce in Romania, and C2022 has been a great partner bag for me, offering enough space for my Polaroid glasses, and their support. 
It even has a separate frontal pocket that has enough space for keys, microSD cards, and I even carried a little bit of candy there once. I actually am the kind of audiophile who's into using side bags, and if you check some of my very early reviews on Audiophile-Heaven, I had a stack being carried in a bag from Kenvelo, a local shop here. The C2022 is better for audiophiles, as it offers more space, and has better compartmentation for audiophile accessories. 
The design allows you to connect it to your belt, but I feel that would come in handy for those who are into extreme sports, or motorcycles, and for me the side bag wearing has been ideal so far. It is even better if you use a normal bike, because you really don't want to use pockets to carry your audio stuff, or smartphone, and risk losing it while cycling away. This has been a big issue for me in the past, and it is one of the main reasons I was so excited to review the new C2022. 
Value and Conclusion
C2022 has a great value and priced at 45 USD, it is in line with what you can find at the mall and local shops as far as high quality side bags go. I noticed no wearing signs on mine, despite having used it for quite a while, so I'm happy to report that ddHIFI did a great job at choosing a high quality fabric, and good manufacturing process with high quality stitching. I don't think that C2022 is waterproof, so you're on your own if a shower catches you off guard, but it will offer good protection. To avoid getting scratches on new DAPs I'm reviewing, I've been carrying them in C2022, and it has done a superb job at protecting them so far! 
At the end of today's review, I want to apologize if my review sounded like a mockup of my usual work, but I actually wanted to review ddHIFI C2022, I like it as an audio carry solution, and I think you should check it out if you like to go portable often, it is a perfect solution for a very common audio problem. 
Product Link
You can grab one from www.amazon.com here: https://amzn.to/3ybrxVj
If you're in the UK, you can grab one from www.amazon.co.uk here: https://amzn.to/3Ibbw6l
And if you're from Europe, you can grab one from www.amazon.de here: https://amzn.to/3uH7bT9
---
---
--- Please remember to stay safe, and always have fun while listening to music!---
 - If you have a dime to spare, and donate, to help us with electricity and work expenses, it would make my day much brighter, as it would help me improve things around the website and increase the frequency of my posts - 
---
Full Playlist used for this review
We listened to more songs than those named in this playlist, but those are excellent for identifying a sonic signature.  PRaT, Texturization, Detail, Resolution, Dynamics, Impact, and overall tonality are all revealed by those songs. We recommend trying most of the songs from this playlist, especially if you're searching for new music!
https://www.youtube.com/playlist?list=PL_cjBXGmwSHSdGcwuc_bKbBDGHL4QvYBu
--- Contact Us ---






---
---