Tronsmart Force 2 – Portable Troublemaker
Force 2 is a portable Bluetooth speaker with a price tag of just 50 USD, but promises for a clean and powerful sound, with a big stage and a deep bass. Since I have not reviewed anything that comes close to its price yet, I am going to focus on describing Force 2 and its overall sound, plus whether it is easy and convenient to use. 
Introduction
Tronsmart is that one Chinese company that does their best to overtake the world of entry-level, and almost all their products are entry-level products with good price / performance ratio, good build quality, and great reliability. The company is sold through many stores, so make sure to get their products from the store that offers the best warranty conditions, and which feels the most trustworthy, like Amazon. 
It should be noted that I have absolutely no affiliation with Tronsmart, I am not receiving any incentive for this review or to sweeten things out. I'd like to thank Tronsmart for providing the sample for this review. Every opinion expressed is mine and I stand by it. The purpose of this review is to help those interested in the Tronsmart Force 2 Bluetooth Speaker find their next music companion. 
Product Link
You can grab one from www.amazon.com here: https://amzn.to/3saf3Mh
If you're in the UK, you can grab one from www.amazon.co.uk here: https://amzn.to/3m8qwbe
And if you're from Europe, you can grab one from www.amazon.de here: https://amzn.to/320GUE1
Packaging
First things first, let's get the packaging out of the way: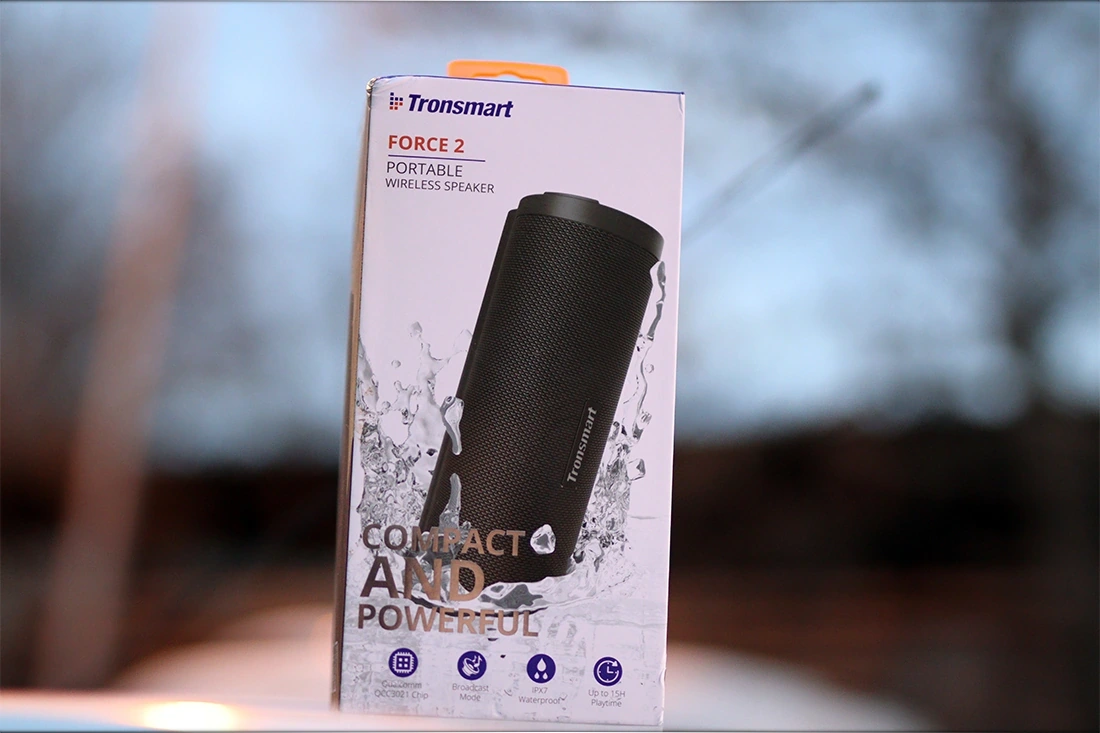 The package is actually quite minimalistic and mainly includes the Bluetooth speaker, and two cables, one 3.5mm to 3.5mm aux cable, and one USB Charging cable. This is excellent for a speaker priced below 50 USD, since an Aux cable can be as much as 10 USD. 
Build Quality/Aesthetics/Fit/Comfort
Tronsmart is generally known for decent build quality, and Force 2 actually looks good, it has some weight to it, and has a little strap attached to it from the factory. This being said, you can see the extra glue on the sides in almost every photo I have taken of it. The tech inside actually includes IPX7 Waterproofing, and the back part is covered in a thick silicone flap, to protect the circuits. Of course, you won't have any water protection if you're using the Aux Cord or if it is currently charging. The rated playtime is rated at over 15 hours, but I mainly got around 8 hours in my typical usage. Force 2 features a Type-C USB port, and takes around 3 hours to go from 0% to 100%.  
We have a Qualcomm QCC3021 Chip taking care of the Bluetooth input, and it is only able to work only with the AAC and SBC codecs. The speaker has a dedicated power of 30W RMS, and it has a voice assistant function. Tronsmart made sure that if you and your friends get some of those speakers, you will be able to party, as you can pair over 100 of those speakers for a party. One thing I noticed which is quite inconvenient is that the speaker has all notifications spoken at its maximum volume, and you can't really control this, so when it turns off, or disconnects, it is spoken extremely loud.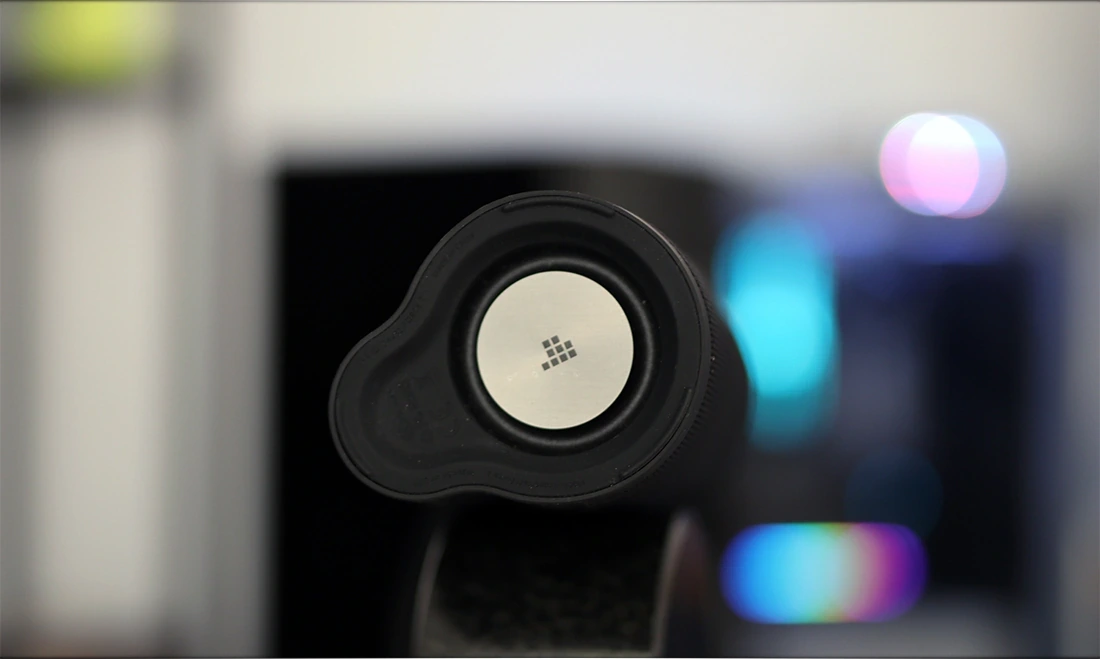 Physically, you can find all the buttons on the back of the speaker, with a POwer button, Vol-, Vol+ and a Play/Pause / Bluetooth pairing button. The sides of the speaker have two passive radiators, and the whole speaker has a closed design, to offer the clearest bass with the least boominess possible. Although it only supports SBC and AAC, it has Bluetooth 5.0, which helps with the connection stability and range. I actually have had an excellent overall experience with the Bluetooth signal strength and overall connection reliability. 
The speaker is rated to have sound between 60Hz and 20kHz, and has a weight of 627 grams, being slightly heavier and less portable than smaller options, but promising better sonic performance. I initially wanted to make a funny video about how I'm using it, but I realized we don't have the budget for it, so we switched to making a full written review.  
Sound Quality
I actually am able to enjoy the speaker in its default state, but I find it much better with some drastic EQ. Happily, it can take some EQ and the headroom is not quite that limited, but in its default state Force 2 sounds quite midrange-forward and is focused sounding, has a strong treble, and good overall detail. The sound has the typical Bluetooth compression applied, but you most probably won't notice it much, as much as the bass roll-off. There's a certain background hissing audible most of the time, especially at loud volumes, but the tiny speaker can actually convey not just a stereo sound, but a soundstage, if you keep it about one meter away from you, and mostly placed in front of you. While this may sound like an unlikely setup, for someone riding a bike, it can be a nice way to add some fun to your ride.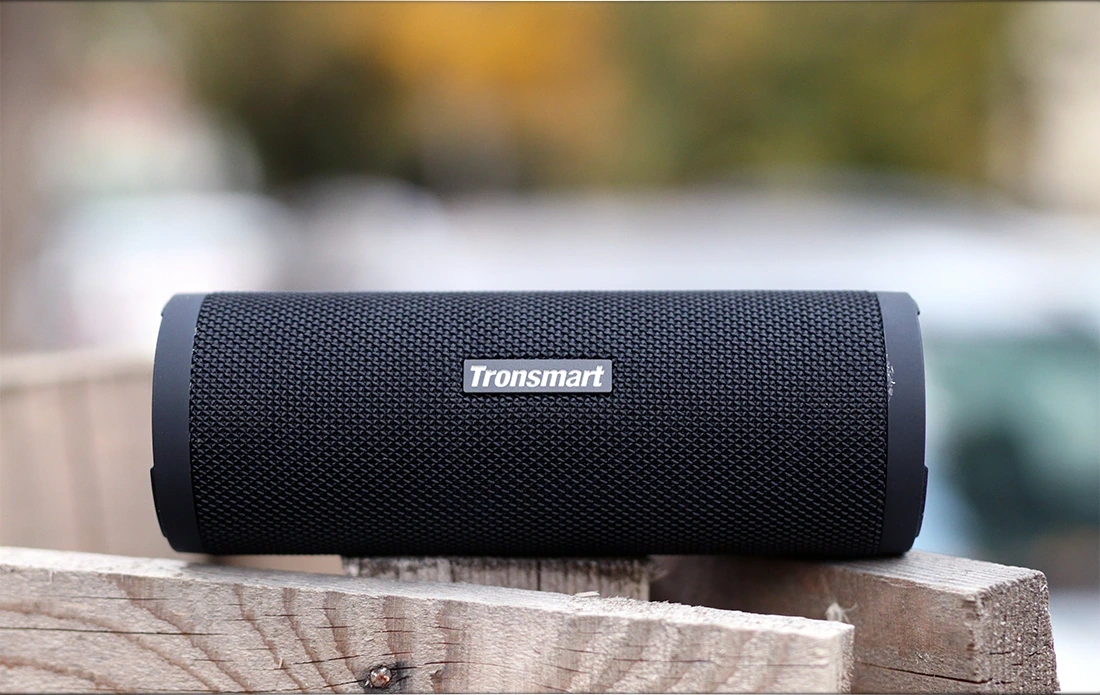 The main problem with a small portable Bluetooth speaker is the bass, and this is generalized for all Bluetooth speakers, except for really large and heavy ones. The bass on Force 2 rolls off audibly around 100 Hz, and there's not much presence downwards of 100 Hz. I tried to EQ it, since it has a very loud maximum volume, and that is a possibility, but it will color the entire sound to be dark and veiled, like most commercial Bluetooth speakers sound. I actually kind of prefer Force 2, because although you don't hear much in terms of lows, you do hear good detail, and a speedy sound. 
The midrange is fairly musical, and J-Pop, J-Rock and general Anime-based music sounds really nice. Force 2 does not render male voices very well, but renders female voices really nicely, in a sweet, musical way. It works best with EDM, Pop and softer music, and I would not recommend it with Metal music, rather rock and prog at most. There is a soundstage and a stereo imaging to speak about, if you have the speaker placed about a meter away from you, and mostly in front of you. The overall detail level is pretty good, and in line with most ~100-150 USD Chifi IEMs. This means that you can hear some background elements in music, as well as macro detailing fairly well. I am talking about all of this while listening to Force 2 in my listening room, you can expect some detail and clarity loss, plus much less background information to make it to your ears if you're out and about, and the music is mixed with outdoor noise. At any rate, the sound is fairly engaging and dynamic.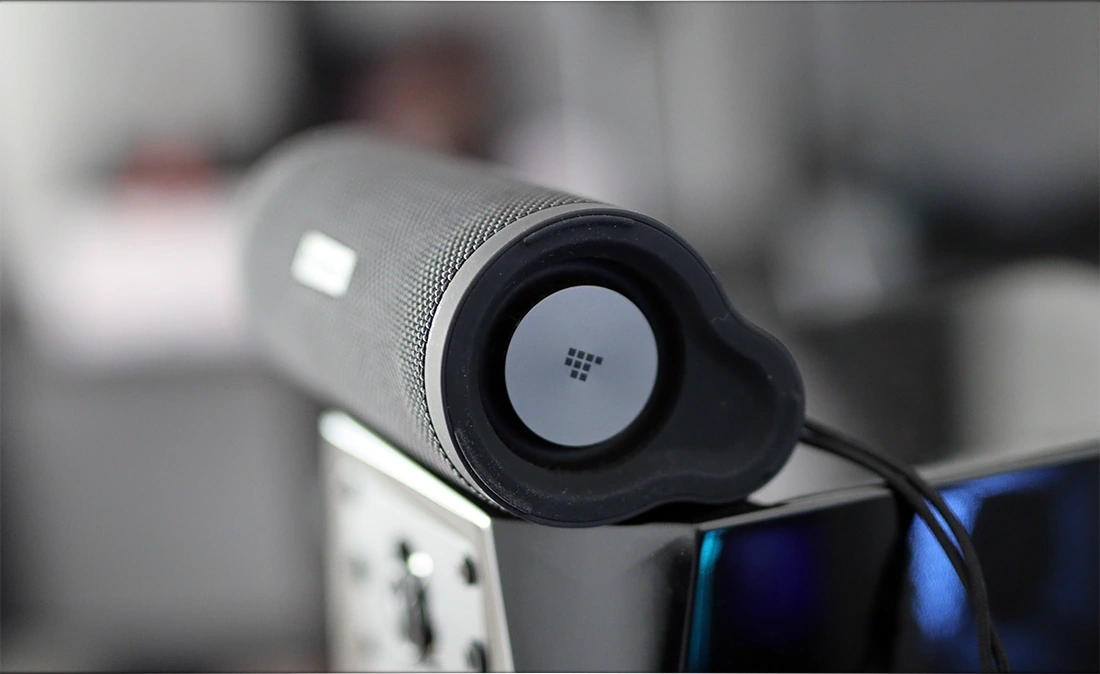 The treble of Force 2 is on the slightly aggressive side of things, with a good amount of impact, and the tiny speaker can totally play some cymbal crashes. Sadly, this means that the louder you push it, the more highs you're going to hear, and this is the main reason I recommend it for any music, except for metal, where the more aggressive sound can be a bit much. The overall tonal balance is bright, and you will hear more treble than bass, and the sound is not overly thick. Somehow, I find perfect comfort with Asia-Based music, including Chinese Pop, Japanese Pop, and other female-led music, including Katy Perry and Lady Gaga.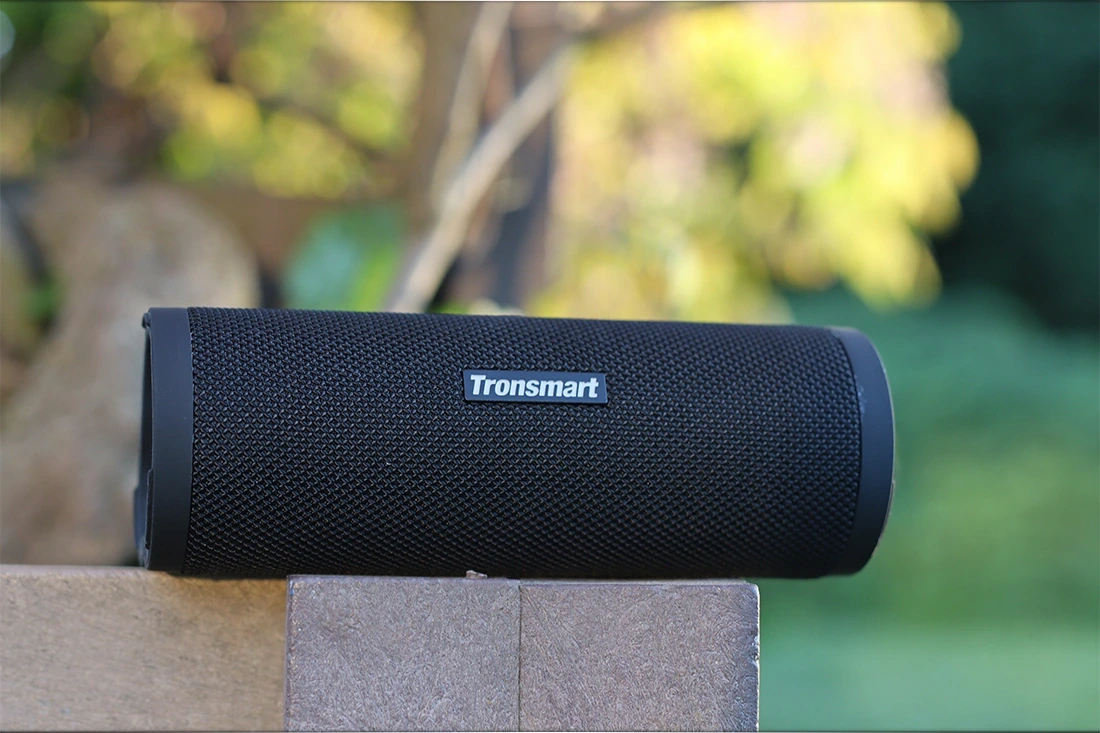 Overall, Force 2 is really pleasing, as a tiny bluetooth speaker with a sweet sound. There's not a lot of bass, but the midrange is clean, clear, and crisp. It can get hot if the music is too aggressive, and has a slight overexpression of textures, but at around 50 USD, there's literally nothing else I could recommend. Force 2 is much clearer, has an actual stereo sound, and can do macro detail well, compared to any veiled, dark and bloated sounding stereo speaker you typically find in your local supermarkets. 
Value and Conclusion
The price of Force2 is the main reason to go for it and purchase it, as you will have an easier time affording it than most similar products. This ain't your audiophile Bluetooth speaker, but it is an awesome speaker for having some background music while on a trip, having background music for an outdoors workout, or a speaker to play some music while you're working in your workshop and assembling furniture. I even use it while cleaning the dishes, as my girlfriend / photo artist of Audiophile-Heaven calls for me sometimes, and using TWS while doing the dishes is a bit out of the question. 
The overall package is good, the build quality is good, and Force 2 has IPX rating, so it shouldn't be a problem, even if you splash it with water. The battery life is great, and this tiny Bluetooth speaker can totally deal some damage in terms of maximum loudness.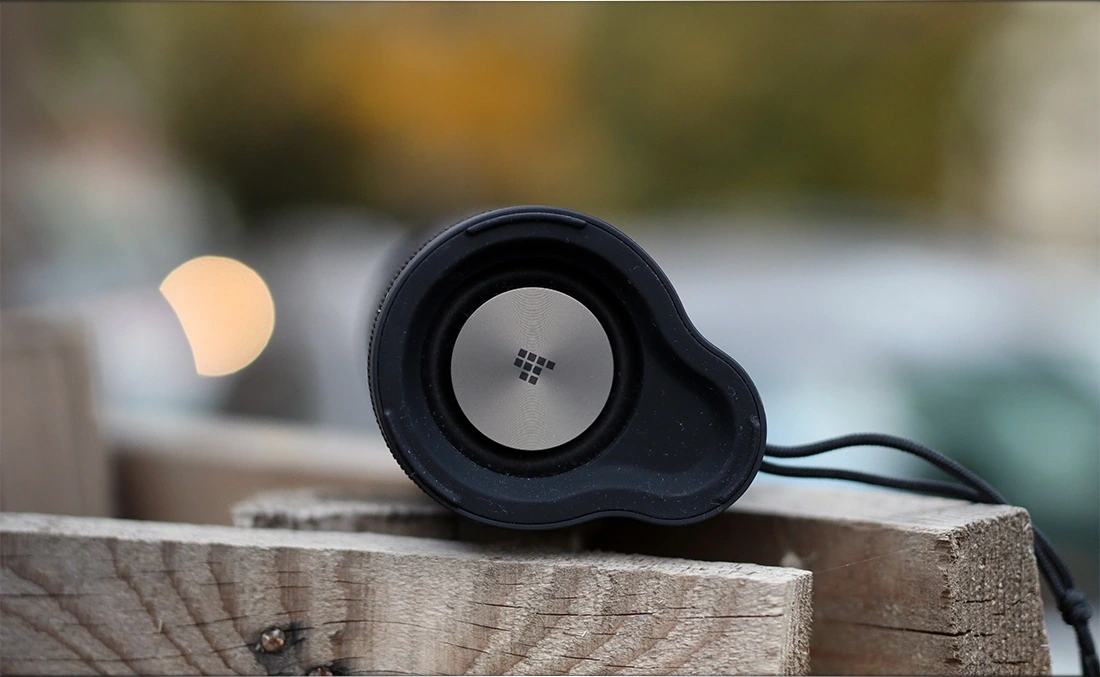 At the end of the day, if you're looking for a high quality, low-cost Bluetooth speaker to play some music while you're on a trip, or doing work around, or even while you go for a bike ride, Tronsmart Force 2 is an awesome option and fully recommended. 
Product Link
You can grab one from www.amazon.com here: https://amzn.to/3saf3Mh
If you're in the UK, you can grab one from www.amazon.co.uk here: https://amzn.to/3m8qwbe
And if you're from Europe, you can grab one from www.amazon.de here: https://amzn.to/320GUE1
---
---
--- Please remember to stay safe, and always have fun while listening to music!---
 - If you have a dime to spare, and donate, to help us with electricity and work expenses, it would make my day much brighter, as it would help me improve things around the website and increase the frequency of my posts - 
---
Full Playlist used for this review
We listened to more songs than those named in this playlist, but those are excellent for identifying a sonic signature.  PRaT, Texturization, Detail, Resolution, Dynamics, Impact, and overall tonality are all revealed by those songs. We recommend trying most of the songs from this playlist, especially if you're searching for new music!
https://www.youtube.com/playlist?list=PL_cjBXGmwSHSdGcwuc_bKbBDGHL4QvYBu
--- Contact Us ---






---
---