Light Spring Audio – HIFIMAN TWS 600
HIFIMAN TWS600 is the latest earphone from HIFIMAN, and it is the bluetooth version of their well-known RE-600 series, having been launched at 200 USD, but now being found at 70-80 USD in most stores. In this review, I will be comparing them with Lypertek Tevi, 1More Stylish TWS IEMs, Master & Dynamic MW07, Jays M-Six, and RHA True Connect. With a Neutral sound, and good connectivity, comfort, and with lots of headroom for EQ, TWS600 promises to be the audiophile TWS IEM to get if you're tired of those that are too thick or muddy. 
Introduction

HIFIMAN is one of the greatest audio companies in the world at the moment of making this review, and no joking, they have a huge selection of products on the market, and from their HE6SE Headphones, which are now legendary, all the way to Arya, which became one of the best sold Planars in the world, and all the way to the Sundara, and more recently, Deva, they always strived to offer the best price / performance ratio possible, and in the past they sometimes went with more industrial and spartan designs, that would be awesome, if you weren't a fashion aficionado. Nowadays, they have even the aesthetics nailed down, and HIFIMAN products in general are the ones I can recommend the most to anyone looking for reliable build and warranty, great comfort and awesome overall sonic abilities. 

It should be noted that I have absolutely no affiliation with HIFIMAN, I am not receiving any incentive for this review or to sweeten things out. I'd like to thank HIFIMAN for providing the sample for this review. This review reflects my personal experience with HIFIMAN TWS600. Every opinion expressed is mine and I stand by it, the purpose of this review is to help those interested in HIFIMAN TWS600 find their next music companion.
Product Link
You can always get TWS600 from HIFIMAN, from the www.amazon.com store here: https://www.amazon.com/HIFIMAN-Waterproof-Noise-Isolated-Earphones-Bluetooth/dp/B07TR4C9L2/
Packaging

First things first, let's get the packaging out of the way: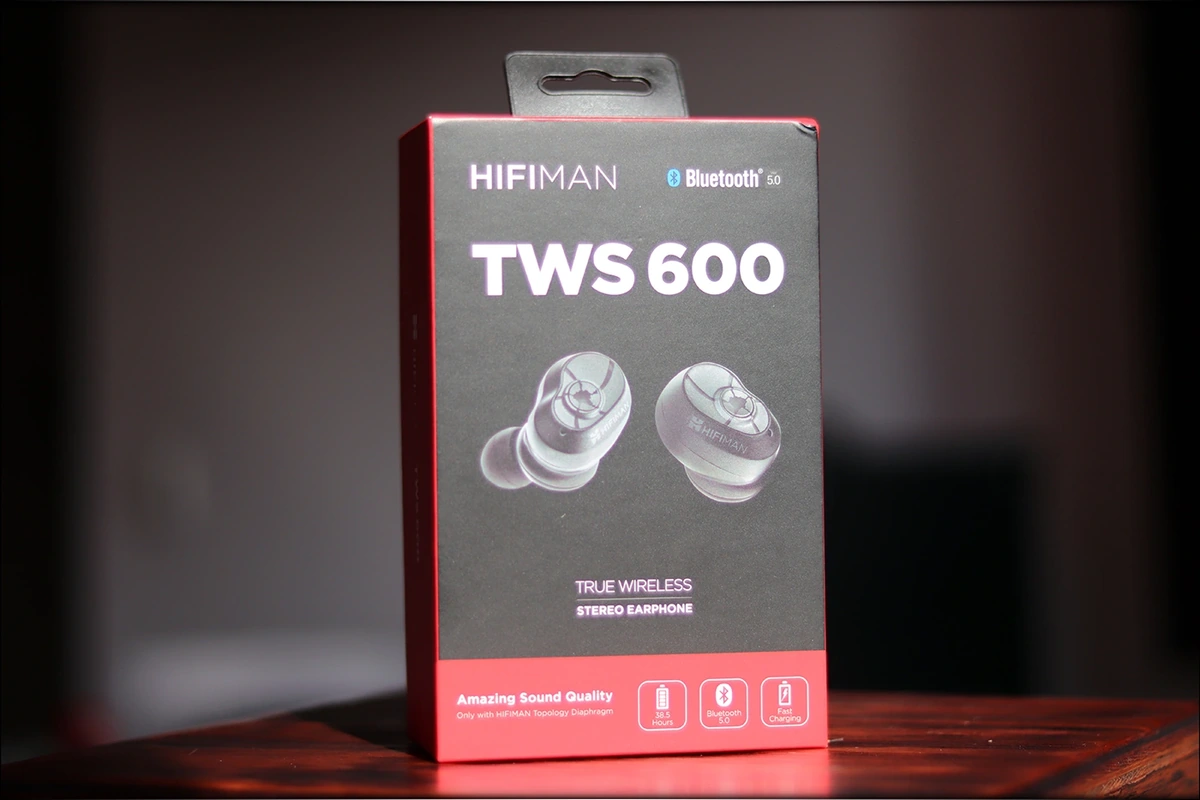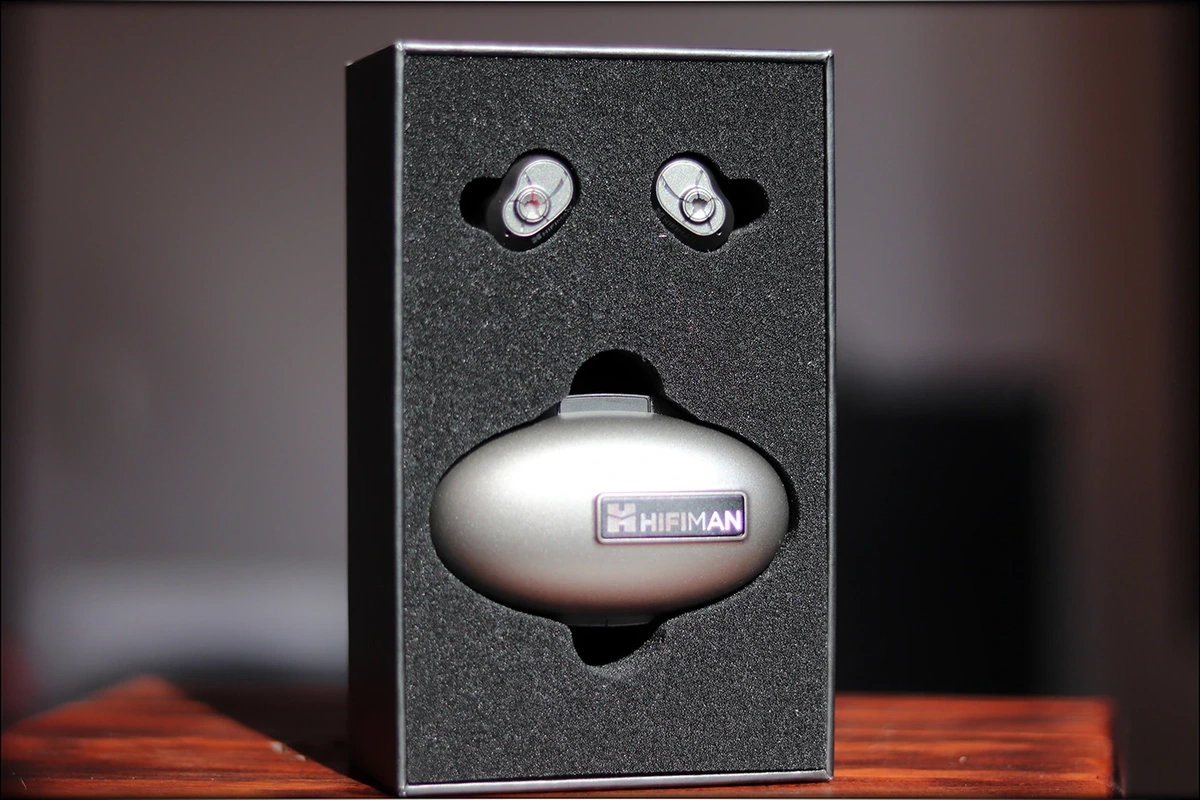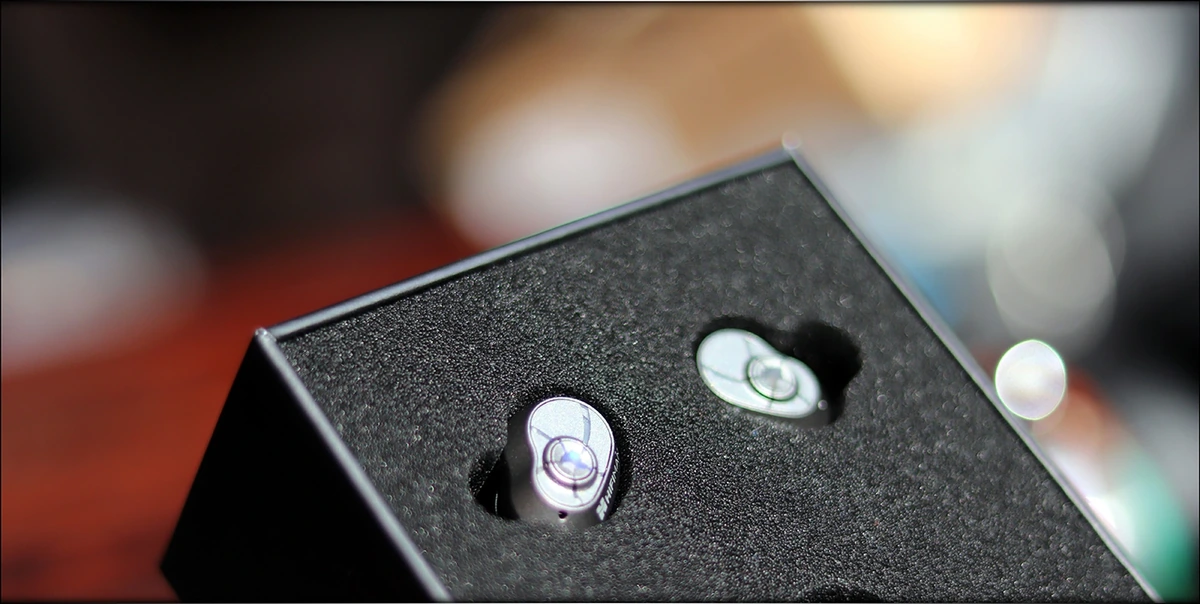 The package is not quite that complex this time around, but you still have everything you need. From the first product I reviewed from HIFIMAN, the package has always been a hit-and-miss, and for anyone who remembers RE2000, the golden IEM, the package was as awesome as they come, but it lacked some essentials, like the Spinfit tips I always used with them. 

Then, there was Sundara, which was just perfect, but then Arya was also great, and did not lack a thing. HE6SE also had a beautiful large case. So, back to TWS 600, when HIFIMAN decided to make a TWS Earphone, they actually included a large number of tips with it, and the only thing that may be missing is the Spinfit, which, one again may have been useful. Also, you may want to get some foamies, even if they are not your favourite, because they really help with the sound of TWS600 and make it more balanced. 

This being said, if you're concerned about the fit, eight pairs of tips should be enough for most people. The other thing I love is the Type-C cable included with TWS 600. 
Build Quality/Aesthetics/Fit/Comfort

There's not quite that much fluff about the build quality, the TWS 600 is a pretty normal-looking TWS earphone, although if anything really makes it remarked when you're wearing them, it is the fun LED lights, and they way they are designed to look like they're out of a terminator movie. Since at the point at which I'm writing this review I already tested and am working on the reviews for over 10 different TWS Earphones, I can tell you that the case for the TWS 600 is actually pretty awesome. It doesn't have quite that strong magnets to keep the IEMs inside, so if you're the type that may open it in an odd position, you should take care not to drop the IEMs from the case. On the other hand, the IEMs themselves have a unique gamer flair to them, and I enjoy gaming products, being quite into gaming, so I love the retro-modern, with touches of gaming looks of TWS 600.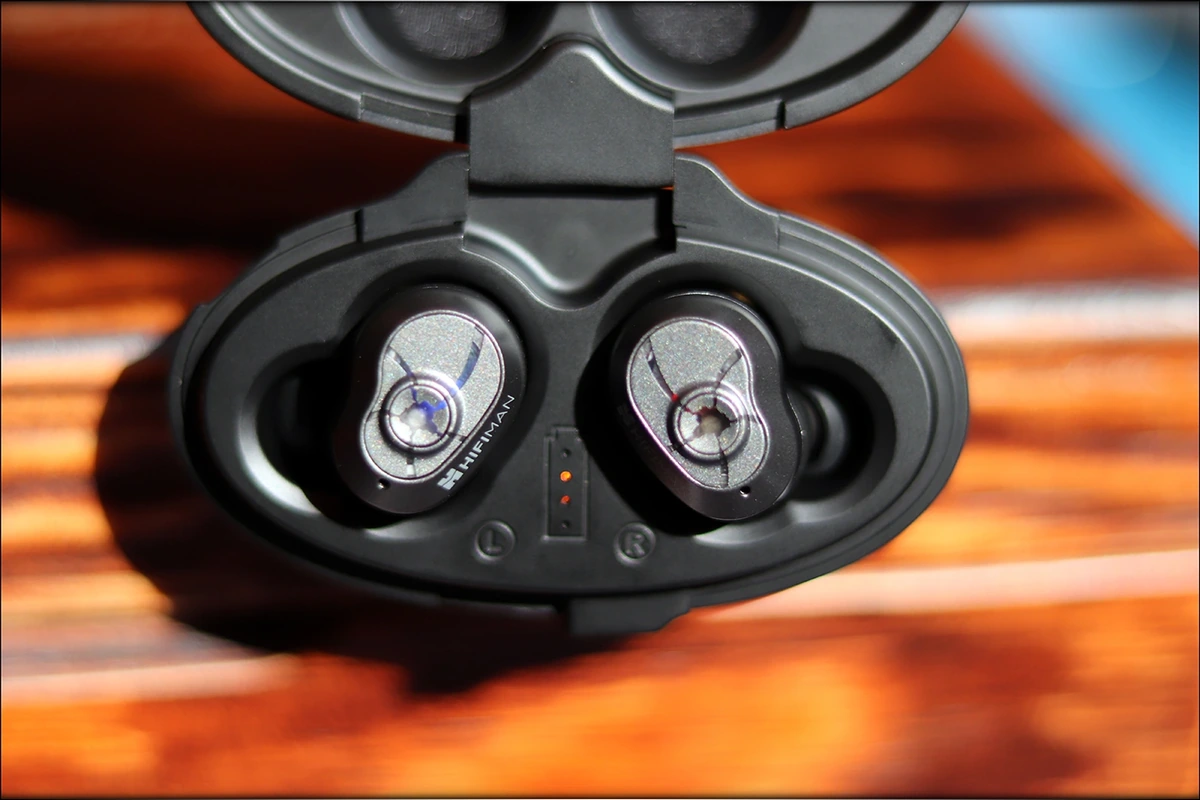 The case may not have enough space for the IEMs, if you're using larger tips, but it should be okay with either medium or small tips. With the sonics of TWS 600, you're most likely to use some foam tips, like Comply. There's a power / battery indicator on the case, right between the earphones, and it has multiple LED lights, showing how much battery the case still has. 

The Earphones also show their own battery and how much they still have while they are connected to your smartphone. You may not have expected this, but HIFIMAN has been one of the first companies to jump on new tech, and they always do it nicely. They did back when releasing the Ananda Bluetooth, and included Type-C connectors, and now with TWS600, they included both Bluetooth 5.0 and Type-C, both of which are great features to have on a newly released product.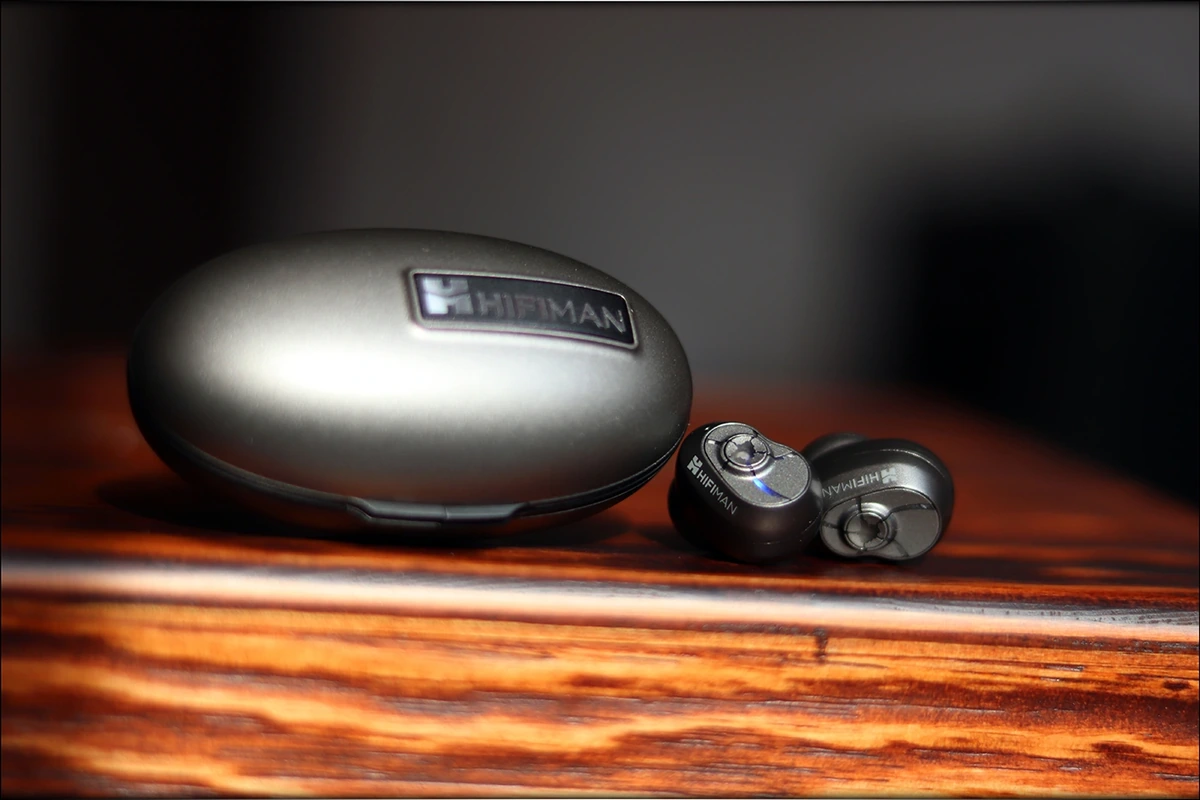 The Buds are IPX-4 rated, so both dust and water resistant, so you can safely take them for a jog. This doesn't mean they will resist being submerged in water, so from all the sports you could use them for, just don't take them swimming or canoeing. The microphone is okay, not the best, not the worst, it is about where most TWS earphones are, but you should know that it works well if you're in a silent area, but noise around you will drown out your voice quickly, as the ambient noise increases. 

At the center of the earphones, there are physical buttons for controlling them, and I love this from the bottom of my heart, since the touch based earphones are sometimes really prone to accidental touches and can be annoying, especially if you're doing something that has sport in it, and you don't want to keep touching your ears every ten seconds with sweaty hands.  

One serious drawback is that they only have AAC and SBC codecs, so you won't be able to use the TWS-600 with anything like the mighty codecs, like LDAC, HWA, aptX or aptX HD. Since they are an entry-level audiophile earphone, the main reason I can see for them having only SBC or AAC is that those codecs, paired with a power transmitter that has lower power, will have a secured connection more than having LDAC and other fancy codecs. Since HIFIMAN made the sound of TWS 600 match the codecs and optimised the sound, it won't be an issue, and should in theory be good for sport, mobility, and for keeping a secure connection even in pretty hard conditions. 

It pays off, because the IEMs have a HUGE battery life, of about 35 hours of tested battery life, of mixed usage, mostly at high volumes. This is more than excellent, and the connection is also rock stable, even when doing sprinting, and especially for an IEM priced at 80 USD it makes sense that HIFIMAN would prioritise the battery life and connection stability, for our sporty friends. As a little bonus, they even have fast charging, and take very little to charge. 



Sound Quality

Where most TWS IEMs of this moment go for either warm signatures, that are smooth and where the bass bleeds a bit in the midrange, or V-Shaped signatures that create a nice balance and engagement, HIFIMAN decided to focus on those fans who really love some good clean mids, that are really forward so the TWS600 is a neutral – to mid centric IEM, with a good clarity, and a forward treble, with good extension, but thanks to a wet character, doesn't cause any fatigue by being harsh.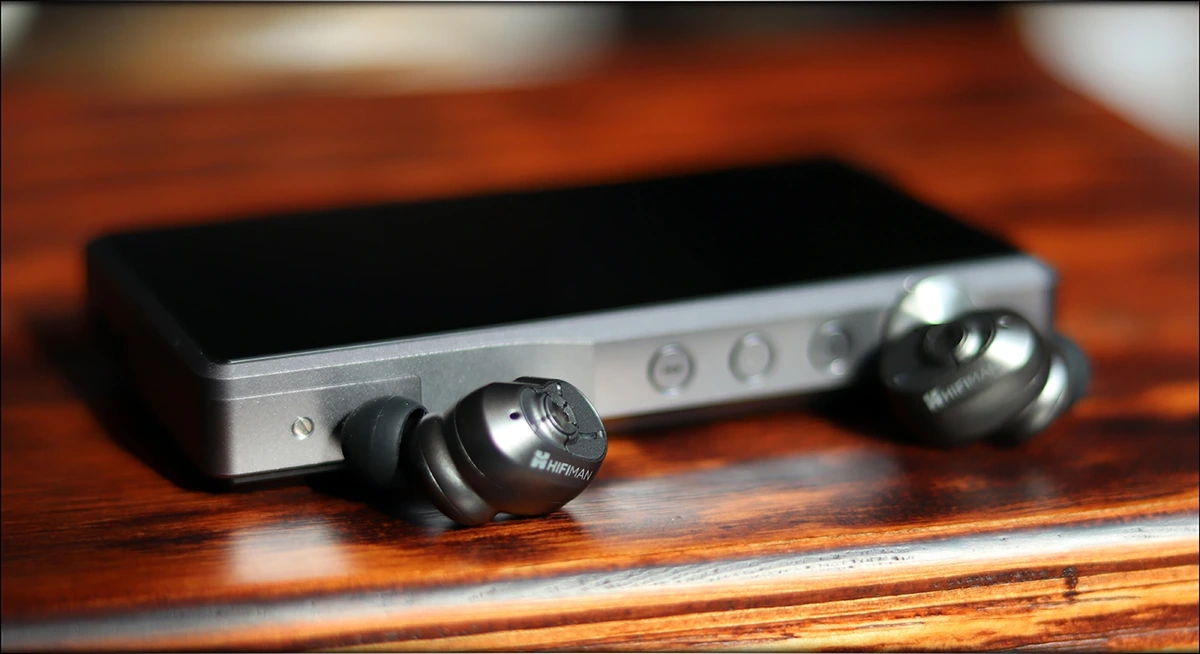 Starting with the bass, this is the least interesting part of TWS 600, as it is not their highlight or focus, they are made for the mids and the treble, so the bass being neutral doesn't make itself noticed in any way, unless it is really called for. It rolls off quite early, and needs EQ for more serious listening. On songs like Black Eyed Peas – My Humps, you can hear the bass, and it has fair extension, but it lacks quantity, especially if you're not a diehard neutral or midcentric signatures fan. Happily, HIFIMAN used high-quality drivers in TWS600, and there's enough headroom for you to EQ some bass in and make their sound stronger and impact deeper. 

The midrange is the central element of TWS600's sound, and it is a clear, clean, and pretty wide mid. On songs like Dance Gavin Dance – Young Robot, you hear all those sweet guitar notes, paired with the forward, yet clean voice. There's a good amount of action going in the background as well, where you can hear the fine cymbal and percussion works. There's a peak around 1.5-2.5kHz, and there's also some sparkle in the treble, but this leads to an excellent overall resolution, making TWS600 sound clearer, cleaner and having more detail than some TWS Earphones that have the aptX and LDAC codecs, but which aren't as resolute. 

The treble is really well-extended, and those who love Japanese Pop, K-Pop, or music that relies a lot on highs to sound the right way, like Rock and Metal, will love TWS600. The treble has a smoother texture, so despite the forward presence, and the good extension, they never sound harsh or fatiguing. In songs like Ylvis – The Fox, you get a nice treble going on, but without sounding harsh, and it actually compliments the midrange quite well. 

The soundstage is large, and the instrument separation is surprisingly good. This being said, there's always some hiss going on in the IEMs, due to the amplifiers that are built inside, so when listening to music, it tends to be quite below the music level. This being said, if you listen to a lot of songs with a really quiet background, you may notice it. REOL – LUVATORRRRRY is a good song to showcase both the wide stage, and the instrument separation. This being said, most of the songs I've used so far will require some bass to fully appreciate, so I figured that I can EQ TWS600 quite a bit so it sounds good. 




Portable Usage & EQ

Since TWS600 is a portable TWS IEM and won't have a pairings part in this review (it doesn't really matter what you pair it with), I wanted to approach the EQ option, from a portable APP. Most people don't pair bluetooth TWS IEMs with DAPs like FiiO M11, iBasso DX160, or Hiby R6. Instead, most people use a smartphone, so I used a free app that is easy to use, to configure an EQ profile to get the most I could out of TWS600. I picked Hiby, since it fits all criteria, but any app should work just fine.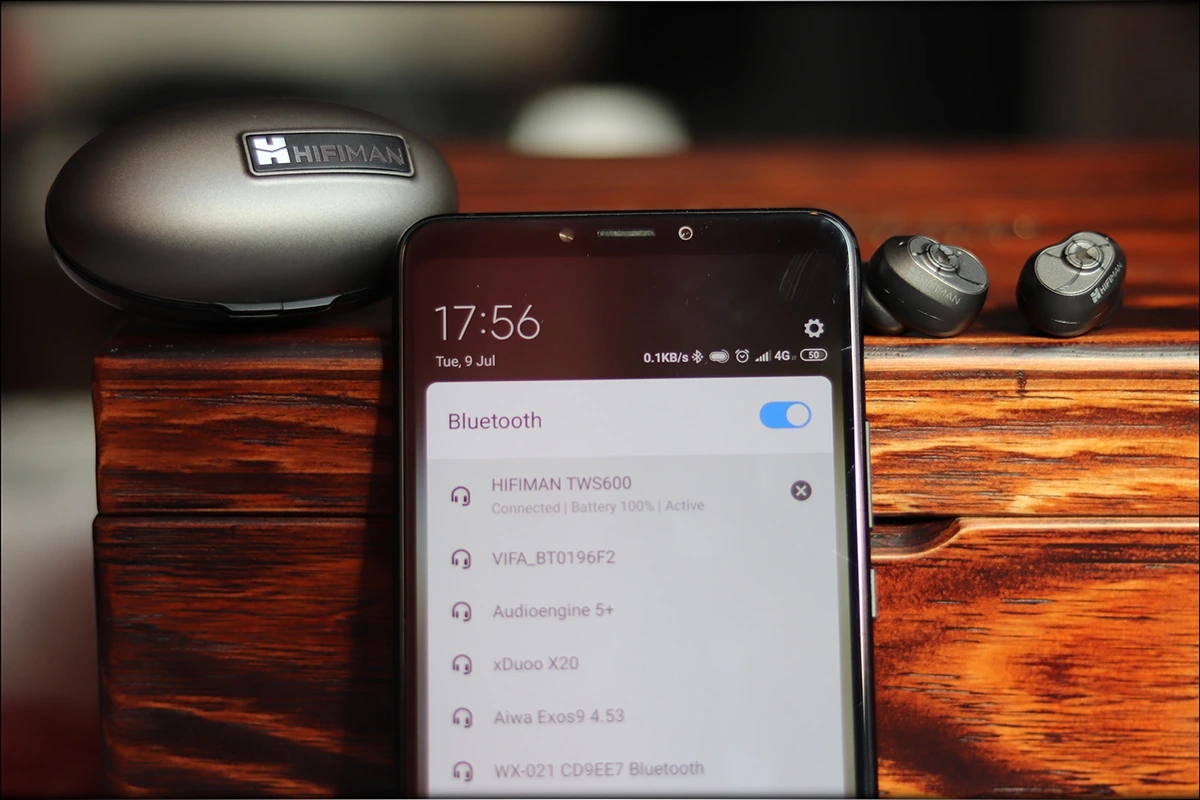 Since they have a pretty loud maximum volume, you can enjoy them even if you decide to EQ them, you won't lose any engagement or joy, but you can greatly increase the overall impact, depth, and make the sound more balanced and complete. 

This is the EQ profile I've been using for them: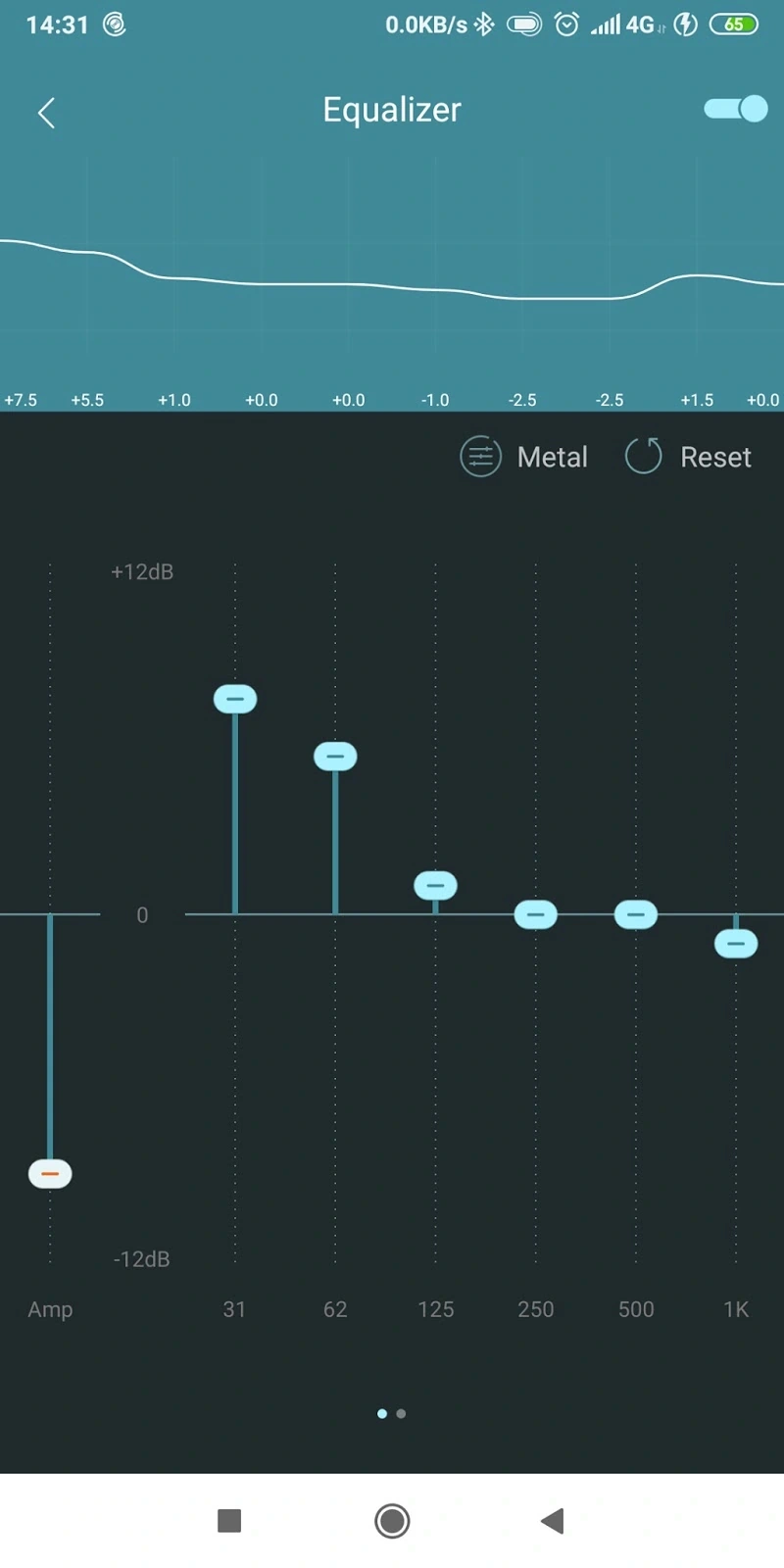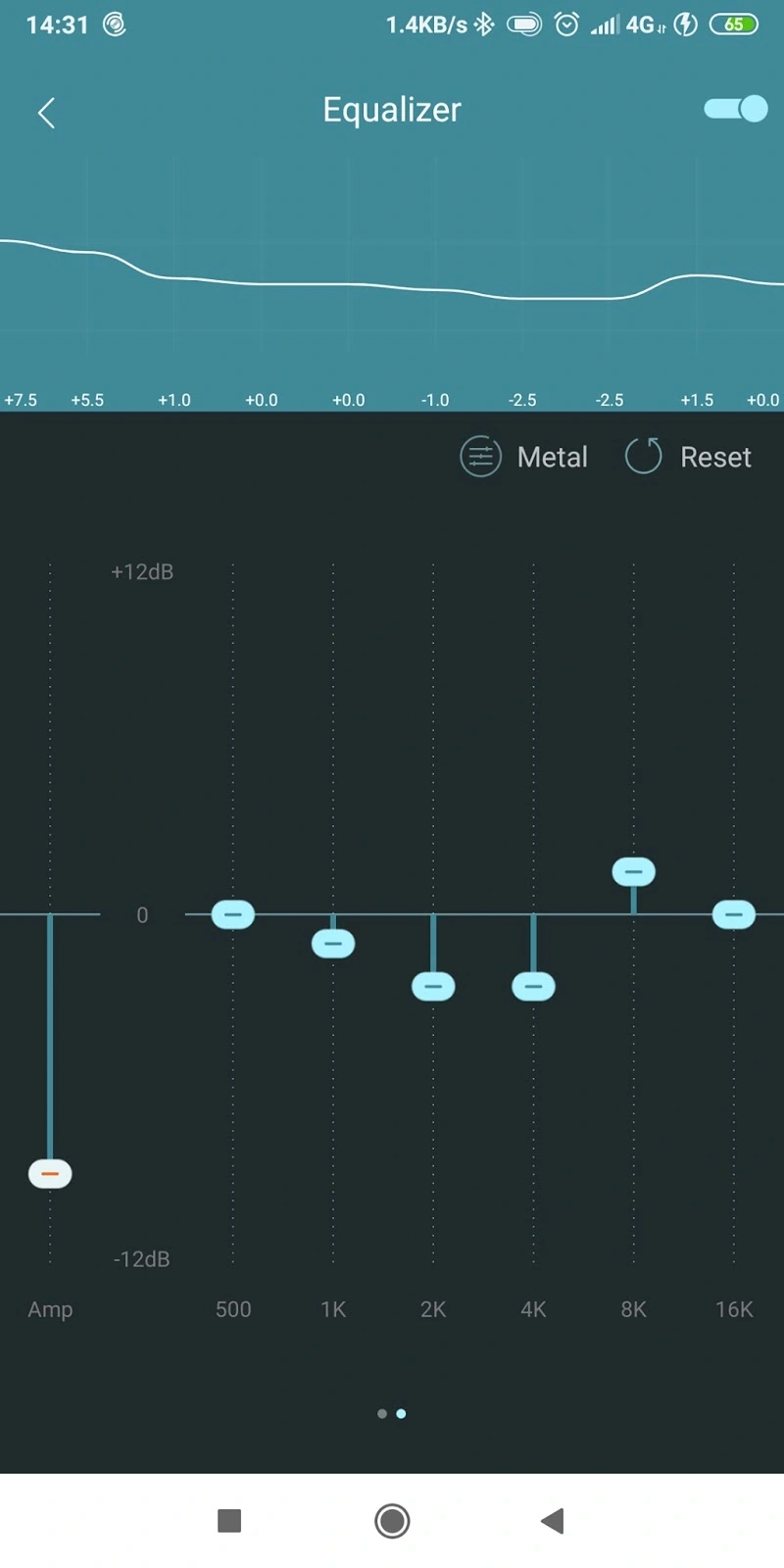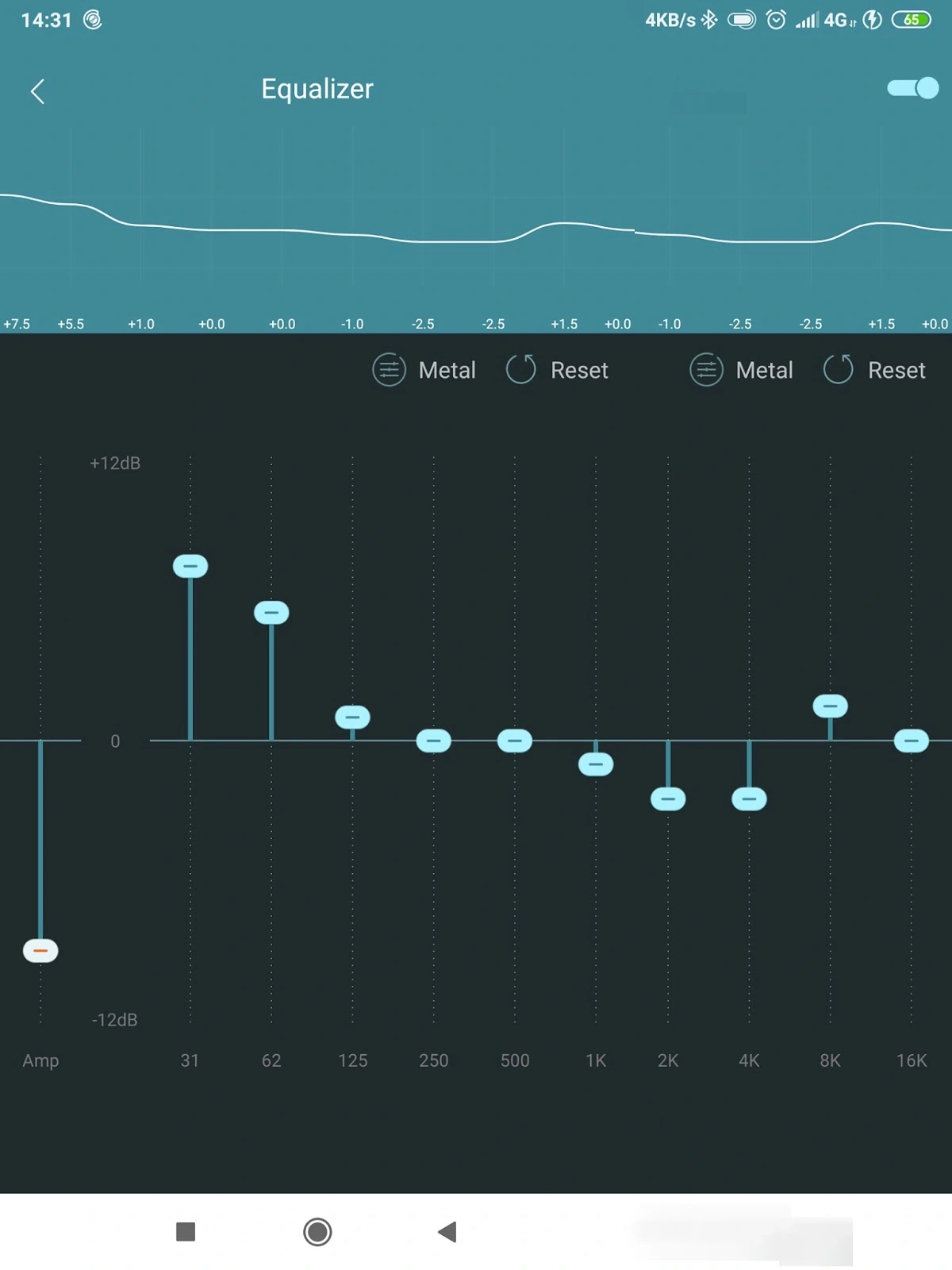 To transcribe it, I did the following: 

AMP – -8 

31   Hz – +7 dB
62   Hz – +5 dB 
125  Hz – +1 dB
250  Hz – 0 dB
500  Hz – 0 dB
1    kHz – -1 dB
2    kHz – -3 dB
4    kHz – -3 dB
8    kHz – +2 dB
16  kHz – 0 dB

This should provide a clean, crisp sound that has both impact, and it will take some of the forward mids out, if you want a more traditional / Balanced signature. You can even rely on this EQ if you just want to add some bass, by applying only the first three sliders. I tried adding more thickness to the sound by using the mid and upper bass sliders, but in the end, it just sounds the best this way. The bass has a dry character, you can dial in some impact and depth, but adding thickness reveals the dry character of the bass a bit too much. 

Almost any source can use the Hiby app, and it is free, and works on their own Hiby R6 DAP, as well as other DAPs. 

You may want to use foam tips, if you wanted better comfort, as well as better sound. Foam tips tend to make the sound even more laid back, and it increases the bass perception as well. Plus, it offers better overall comfort, and if you were getting driver flex with TWS 600, you won't be getting anymore, since Foam tips can help dynamic drivers escape the dreadful driver flex just fine. 



Youtube Video 

HIFIMAN TWS 600 IEMs Youtube Video Review: https://www.youtube.com/watch?v=6qwmtufwDjA



Comparisons 

The comparison list includes Lypertek Tevi, 1More Stylish TWS IEMs, Master & Dynamic MW07, Jays M-Six, and RHA TrueConnect. The comparison list covers a wide range of signatures and prices, so you get the best idea where TWS 600 fits in today's market, and if any of the others is a better fit for your tastes, you'll be able to make a purchase that maybe fits your tastes more. Don't forget to click on the names of each of the competitors, for an in-depth article about them, if you become curious.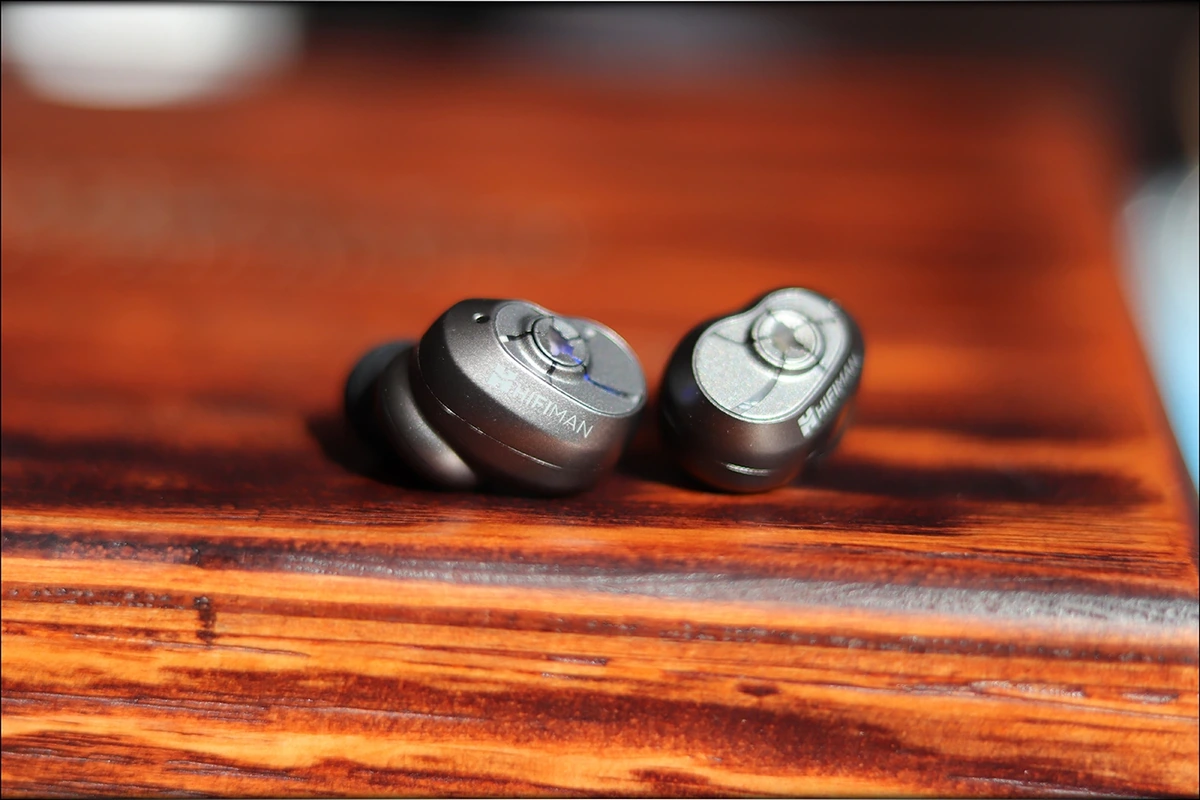 HIFIMAN TWS 600 vs Lypertek Tevi (80 USD vs 100 USD) – Starting with the big and bad boy from this list, Lypertek Tevi has what most would call a really dynamic and engaging sound, and they are mostly a V-Shaped signature. This kind of sig works well for outdoors usage, and while the treble quantity is similar to TWS600, the midrange are considerably recessed on Tevi by comparison. TWS600 has a recessed bass, lower in amount and overall impact, compared to Tevi, but that can be solved via EQ. Tevi has that Linkin Park logo going on, which I liked, but I prefer the Terminator – Gaming aesthetics of TWS600. Tevi has aptX, and they have a longer battery life, with 10 hours per IEM, and with up to 70 Hours in total, in average being a double of TWS600. If you want a more general IEM that's good for almost everything, Tevi is easy to recommend, but TWS600 has more of an audiophile sound, with a wider soundstage, and more resolution. 

HIFIMAN TWS 600 vs Master & Dynamic MW07 (80 USD vs 200 USD) – Master & Dynamic MW07 is much more expensive than TWS600, but TWS600 was initially launched at the same price, and although it is now almost a third of the price, TWS600 still can compete with MW07 in your purchase list. The first aspect you'll notice when comparing the two is the different fit and ergonomics of MW07, which sits better in your ears, thanks to a different fit model. The case is also much more stylish on MW07, but the battery life is almost three times better on TWS600. The connectivity is better on MW07, as they have aptX, and I also like the controls on MW07 a bit more. The sound is very different and if you are a basshead, you will enjoy MW07, and if you want an audiophile sound, you will enjoy TWS600 way more. The sound has much better clarity, resolution, and detail on TWS600, where on Mw07, you have better depth, better impact, and more substance to music. Both allow for some EQ, and both can be EQ'ed to sound a bit more balanced. 

HIFIMAN TWS 600 vs Jays M-Six (80 USD vs 100 USD) – The Jays M-Six is priced at 100 USD, or at least this was the latest price I could find, and for that price, they were interesting, although they aren't exactly a TWS IEM, but rather one of those that goes around the neck. In terms of sonics, the Jays M-Six lacked resolution and detail, but had a smooth, easygoing sound that was quite enjoyable, and if you just wanted to pump some beats for a workout, it worked great. It has a marginally better fit than TWS600, but the battery life is way better on TWS600. Jays M-Six has aptX, but TWS600 with its SBC and AAC codecs is worlds ahead in terms of resolution and clarity, which makes it clear that HIFIMAN went with AAC and SBC for TWS600 for the connection stability and low power consumption rather than being lazy. As long as they managed to optimise squeezing every last bit of detail from the drivers of TWS 600, I personally don't care that much what codec it is, as long as it works alright. 

HIFIMAN TWS 600 vs RHA TrueConnect (80 USD vs 170 USD) – The RHA True Connect is another TWS Earbud that has only AAC and SBC codecs, but it is more expensive, although it has a considerably more fancy carrying case and design. Since the treble and the upper midrange is recessed and rolled off for TrueConnect, it is easy for TWS600 to win in terms of clarity and detail. Resolution is also much better on TWS600, but the bass is considerably deeper, has more impact, and it is resolved better, with a more natural character on RHA True Connect. The soundstage is wide on TWS600, and intimate on True Connect, and the overall sound is smooth and warm on True Connect, which makes it easy to recommend for those looking for an easy sound. In the meanwhile, TWS600 reveals everything, so poorly recorded music will sound pretty poorly recorded. The comfort is marginally better on the True Connect, but this is just because TWS 600 also has an awesome comfort, so here's more of a situation where both are great. 

HIFIMAN TWS 600 vs 1More Stylish TWS IEMs (80 USD vs 100 USD) – This one was also a pretty big favorite of mine, and although it isn't mentioned everywhere, it is one that is close to my heart, and an IEM that I will remember for a long time. The total battery life is better on TWS 600, and so is the control since the 1More is based on a touch control that makes it really hard to control them without accidentally touching something you didn't mean to. On the other hand, 1More implemented aptX in their Stylish IEMs, and they also have a better call quality, their microphone being better at rejecting the outside noise. Both TWS600 and Stylish IEMs come with Bluetooth 5.0, but there are considerably more colors for 1More, and as I noted in my Youtube Video review of them, their fit works well for sportive figures as well. The actual sound is much thicker, warmer and smoother for 1More, so TWS 600 wins in terms of resolution, midrange presence, clarity and detail. 1More wins in terms of bass, but you can EQ both quite a bit, as both rely on dynamic drivers and have some headroom, if you want to tweak their sound. TWS600 has a wider soundstage, where 1More is rather intimate, being the type of thick and warm intimate experience you'd want from romantic music, where TWS600 is an audiophile experience. 



Value and Conclusion

The value for TWS600 is strong especially now, as they are priced at 80 USD at the moment of writing this review. They are a great deal, have a nice carrying / charging case, and are comfy. In fact, although they don't impress everyone, those of you who like a slightly more gaming-oriented aesthetic will love the TWS-600.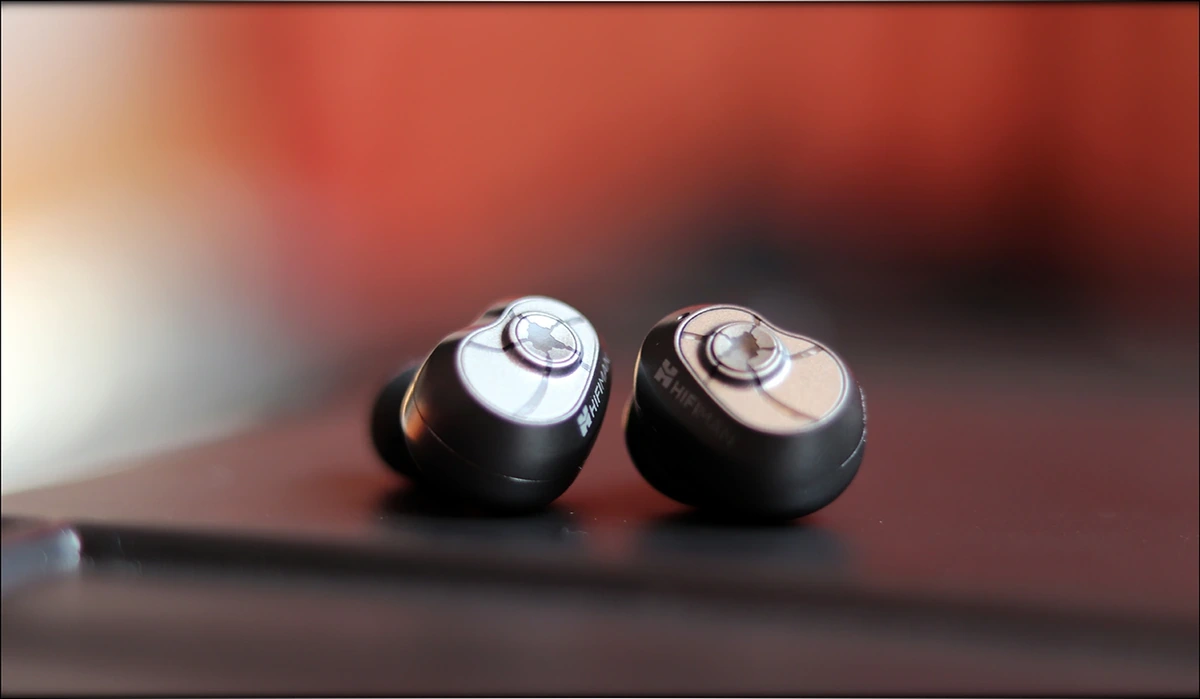 The build quality is as good as it gets. They are made of plastic, like virtually every TWS IEM in this world, since they all need to be as light as possible, but they are also made of one of those high-quality plastics, and they fit incredibly well. At least, if you have smaller ears, because if you have larger ears, they don't fit quite as well. This is because although the IEMs will fit in your ears, they won't fit back in the case quite as well. 

The connectivity is exceptional, and I didn't manage to break the connection even once, but I did manage to torture the battery, and HIFIMAN qas quite honest about the battery life, they lived to up to 35 hours in total, which is as good as it gets for a TWS IEM, this is over a week of usage without a single charge. Since the case charges quickly, and it relies on a Type-C USB port, they are going to be alive for many years to come.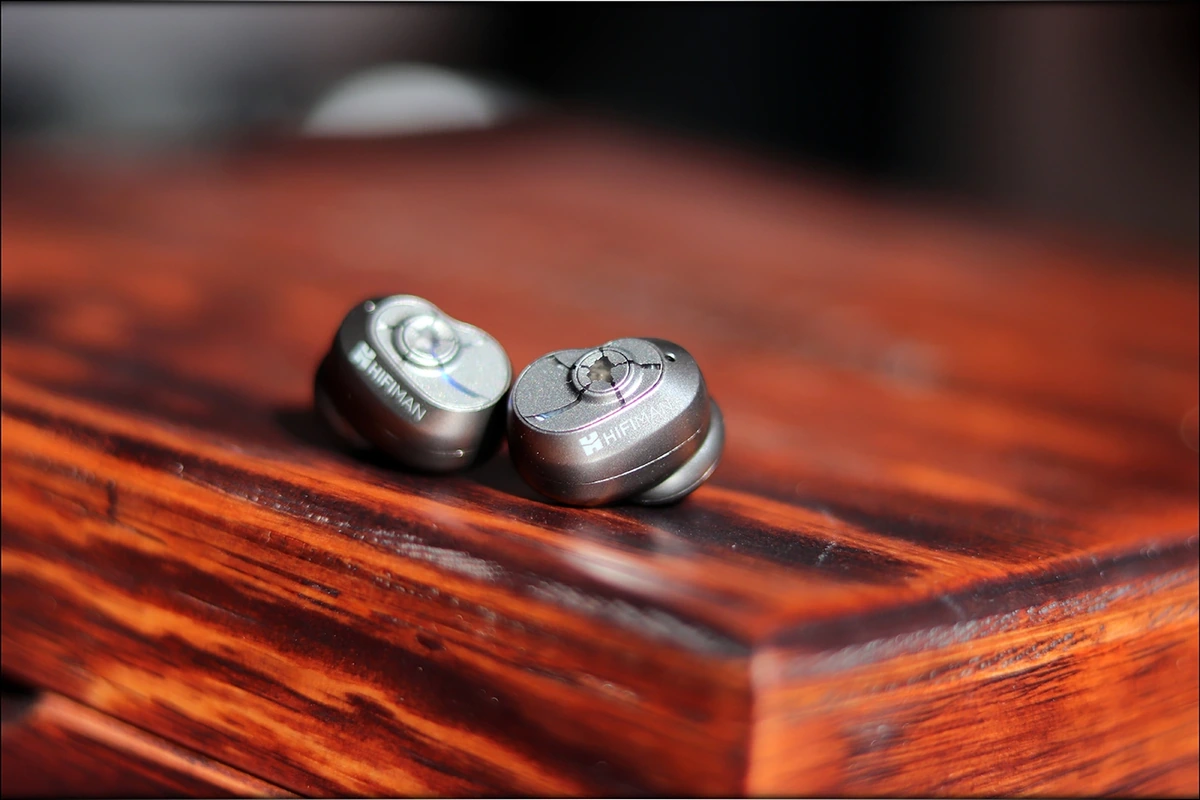 The sound is neutral, and bright, and the midrange is that kind of clear, crisp mid that you'd really enjoy, especially if you were looking for a sweeter and wider IEM, with a good instrument separation, great imaging, and with a good resolution. If you feel the bass is lacking a bit, you can always EQ them following the curve I have attached above, and you'll be able to give more substance and depth to the sound. Furthermore, with TWS600, you could even pull the midrange back a bit, and get a balanced sound if you really wanted to. 



At the end of the day, this is a fair IEM, with a really good price. Great comfort, exceptionally stable connection, amazing battery life, and great mid-forward, bright sound, with good resolution, instrument separation, and layering, TWS 600 is what I could call a good overall deal in every way, if you wanted a more audiophile sounding TWS IEM.
Product Link
You can always get TWS600 from HIFIMAN, from the www.amazon.com store here: https://www.amazon.com/HIFIMAN-Waterproof-Noise-Isolated-Earphones-Bluetooth/dp/B07TR4C9L2/
---
---
--- Please remember to stay safe, and always have fun while listening to music!---
 - If you have a dime to spare, and donate, to help us with electricity and work expenses, it would make my day much brighter, as it would help me improve things around the website and increase the frequency of my posts - 
---
Full Playlist used for this review
We listened to more songs than those named in this playlist, but those are excellent for identifying a sonic signature.  PRaT, Texturization, Detail, Resolution, Dynamics, Impact, and overall tonality are all revealed by those songs. We recommend trying most of the songs from this playlist, especially if you're searching for new music!
https://www.youtube.com/playlist?list=PL_cjBXGmwSHSdGcwuc_bKbBDGHL4QvYBu
--- Contact Us ---






---
---