Tronsmart Bang Mini Bluetooth Speaker – NFC Party Tag 
Tronsmart Bang Mini is a Bluetooth Speaker with a $89 USD price tag, IPX6 waterproofing, and with a handle for easy carrying. Since I did review another Bluetooth speaker also from Tronsmart in this price point, namely the Bang, the big one, priced at $159 USD, I will be drawing comparisons between them as well. 
Introduction
Tronsmart has been a big provider of Bluetooth Entertainment for me and my ears, and I can confidently say that they're a company making enjoyable products, and the Bang has been a pleasure to use, so I was really curios out hear the Bang Mini, which looks to be even more portable, and which may actually sound even better in person. They are sold literally everywhere, offer outstanding warranty, and their products are known to be strong alternatives for big brands that have high profit margins, but offer a worse sonic experience than Tronsmart. 
It should be noted that I have absolutely no affiliation with Tronsmart. I'd like to thank Tronsmart for providing the sample for this review. This review reflects my personal experience with the Tronsmart Bang Mini Bluetooth Speaker. Every opinion expressed is mine and I stand by it. The purpose of this review is to help those interested in Tronsmart Bang Mini find their next music companion. 
Product Link
You can grab one from www.amazon.com here: https://amzn.to/3EVF5c0
If you're in the UK, you can grab one from www.amazon.co.uk here: https://amzn.to/3grjH5h
And if you're from Europe, you can grab one from www.amazon.de here: https://amzn.to/3GCPtqn
Also available on the Tronsmart official website here. 
Build Quality/Aesthetics/Features
Tronsmart Bang Mini follows the same design as the original bang, but with the exception that it is about 30% smaller (judged by my eyes), also lighter, easier to carry, but still having those RGB LED rings around the bass ports, and having buttons for controlling it at the front. 
The company insists that Bang Mini is Stereo, and to my ears it actually has a really good stereo sound. There are two woofers and two mid tweeters inside, with 3 passive radiators, one in the front, and two on the sides that offer better bass presentation. There's a Sound Pulse setting that's basically a DSP made especially for it, and it brings it in the best condition, so I would suggest leaving it turned on, it acts by increasing the dynamics and making it sound more detailed. 
You can have the LED rings do a circling motion, a breathing one, or a beat driven motion, that is actually enjoyable to watch. The RGB light is never annoying or distracting, and may add some flavor to a party. Speaking of which, Bang Mini is designed for outdoor usage, with up to 15 hours of play time, or about 10 hours if you bring it to the maximum, and I think one of the best parts about it is the handle which makes it easily portable. It takes about 4 hours to fully charge the Bang Mini, and it has 4 LED lights at the top, above the power button to show the current charge level. There is a microSD card input for playing music off a microSD card. 
There's an NFC area that can be used to quickly connect things to it, and it has IPX6 waterproofing, so even if rain catches your parade, it should be fine. The Driving Power is rated at 50W, and it comes with a Type-C port for charging, but as far as I could tell the Type-C port is not usable as a data port, and it doesn't work as a USB DAC. 
The Bluetooth codec is SBC only, with no support for aptX or LDAC at the moment I am writing this review. There is no support for it in the Tronsmart app, as it is a super newly released product. It comes with Bluetooth 5.3, and I experienced no disconnects, it has HSP, HFP, A2DP and AVRCP Bluetooth profiles. 
There is an AUX port at the back, which can be used to give it a 3.5mm line input, and there's one more USB port which you can use to charge other devices, but I did not get around to using it. The sound is better over the Bluetooth connection so I've been using it that way, although if you want to use it as the speaker for a laptop, you won't be able to use Bluetooth, as there is a noticeable delay, and you will have to use the AUX. 
You can pair two Bang Mini for a full Stereo Sound, and it weighs 2.37 KGs being rather light and accessible for a Bluetooth Speaker. 
Sound Quality
I've used my smartphone to drive the Bang Mini as otherwise it relies on an entry-level ADC and the quality gets cut if you use the AUX cord. Using the Bluetooth connection, it has a really clean, crisp and clear sound with outstanding impact, fair bass extension, and good maximum loudness, enough to hold a party. 
If we speak bass, Bang Mini has excellent impact once it has it, and the thing is, there's a roll off lower than about 55 – 65 Hz, so the bottom end can be a bit hollow, but once it reaches 70 Hz, the bass is impactful, strong and plentiful without the sound being dark or boomy. In fact, the control and low end extension is commendable, with Bang Mini having super nice punchiness and a good amount of substance to music. It won't have a deep end rumble for sure, but no Bluetooth speaker in the price range does it better. 
The midrange of the Bang Mini is clean, crisp and detailed, with a really dynamic and punchy presentation, once you turn on the Sound PulseAudio, which is a basic EQ that works well for Bang Mini. I can totally hold a party using the Bang Mini, it is more than loud enough, and won't get drowned by about 10 people dancing around it. Anything more and you'll need a second one to get better stereo sound. The midrange signature follows the harman curve, which is shocking given the super entry-level pricing, and Bang Mini has a really natural and delightful midrange, good voicing and good instrument presentation. In fact, it has probably the most natural midrange I've heard for entry-level bluetooth speakers. 
The treble is rather bright and sparkly, but not harsh nor metallic, just well extended as high as about 16-18kHz, with no serious roll off, but a pretty natural presentation. I like the treble, and it helps a lot with the resolution and clarity of the sound. The sound is stereo as long as you don't have the Bang Mini in an offset higher than 30 degrees laterally from you. Basically, at a party, you won't care, but if you need stereo and soundstage, you'll need two and to pair them. I never felt like it sounds mono, it does a great job at having some kind of stereo sound, it sounds, in one word, great. 
Comparisons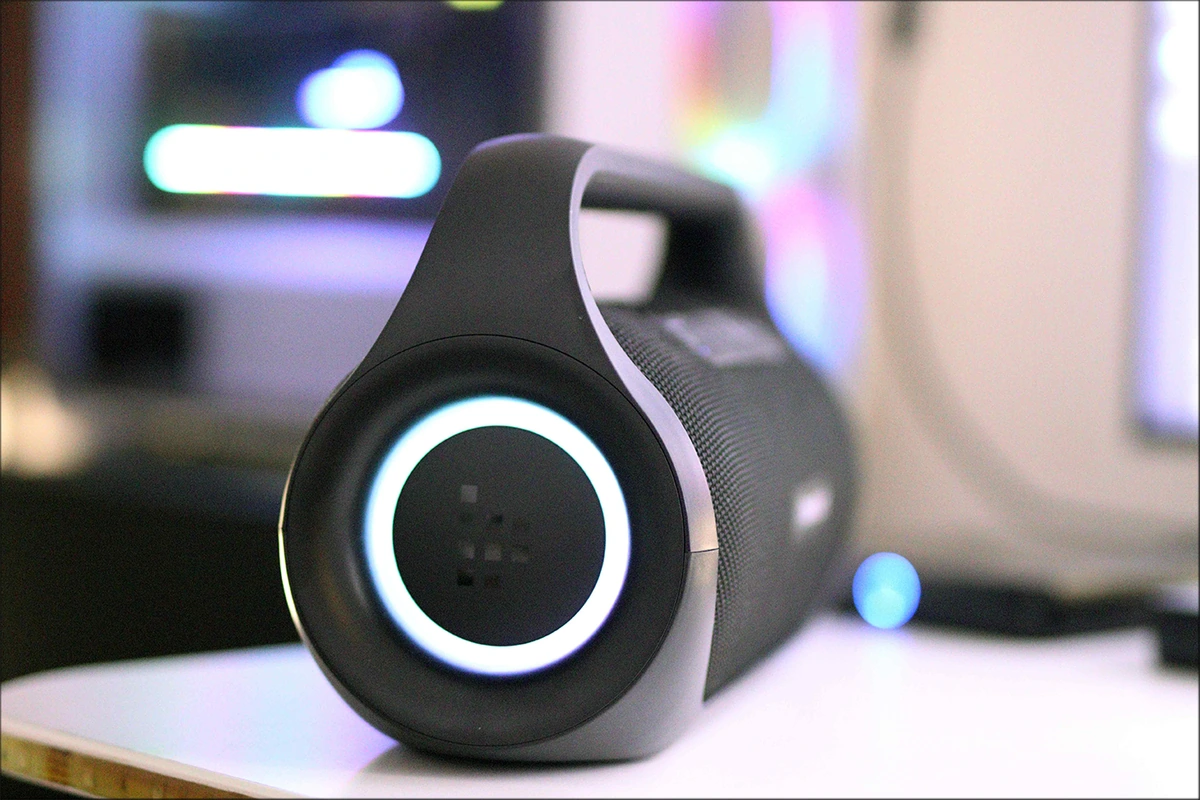 Tronsmart Bang Mini vs Tronsmart Bang Original (89 USD vs 159 USD) – starting with the build quality, both are made equally well, but Bang Mini is more compact, smaller and more portable. The battery life is mostly similar, both charge slowly, but happily both have a type-C input. Both can get really loud, and there's not a big difference in maximum loudness, but the baseline tuning of Bang Mini is brighter, more natural, while the original bang has more bass, sounds bigger, more powerful, has better bass depth and low end extension, while the midrange has a more veiled presentation, thicker sound, less treble and more weight for each musical note. Both are super enjoyable, both are great value, pick the size that's most convenient to you. 
Value and Conclusion
With a price tag of 89 USD, Bang Mini has outstanding value, sounds really awesome, and if the shape / battery life is what you're looking for, it is perfect. I really can't recommend anything better around this price, I like it and use it with my friends, it is a really good bluetooth party speaker. It is not very large, but it is portable, has enough volume, and gives excellent background music for a group of people, or strong party music if you bring it to almost max. 
At the end of the day, if you're looking for a good Bluetooth Speaker, with good build quality, IPX6 rating, a stereo sound, strong battery life as high as 10 hours used loud, and with RGB Beat-Driven Light Effects, and with the outstanding availability of Tronsmart, Bang Mini is a fully recommended speaker. 
Product Link
You can grab one from www.amazon.com here: https://amzn.to/3EVF5c0
If you're in the UK, you can grab one from www.amazon.co.uk here: https://amzn.to/3grjH5h
And if you're from Europe, you can grab one from www.amazon.de here: https://amzn.to/3GCPtqn
---
---
--- Please remember to stay safe, and always have fun while listening to music!---
 - If you have a dime to spare, and donate, to help us with electricity and work expenses, it would make my day much brighter, as it would help me improve things around the website and increase the frequency of my posts - 
---
Full Playlist used for this review
We listened to more songs than those named in this playlist, but those are excellent for identifying a sonic signature.  PRaT, Texturization, Detail, Resolution, Dynamics, Impact, and overall tonality are all revealed by those songs. We recommend trying most of the songs from this playlist, especially if you're searching for new music!
https://www.youtube.com/playlist?list=PL_cjBXGmwSHSdGcwuc_bKbBDGHL4QvYBu
--- Contact Us ---






---
---