Nf Audio NM2+ IEMs – This Time It's All Metal 
It is time for the other NF Audio IEM, the NM2+, the one I missed reviewing quicker. It is priced at 170 USD, so it will be compared to IKKO OH10 Obsidian (170 USD), Optimisation Elements OElements Tita (170 USD), and BQEYZ Spring 2 (170 USD). Feels like companies think 170 USD is some kind of lucky number.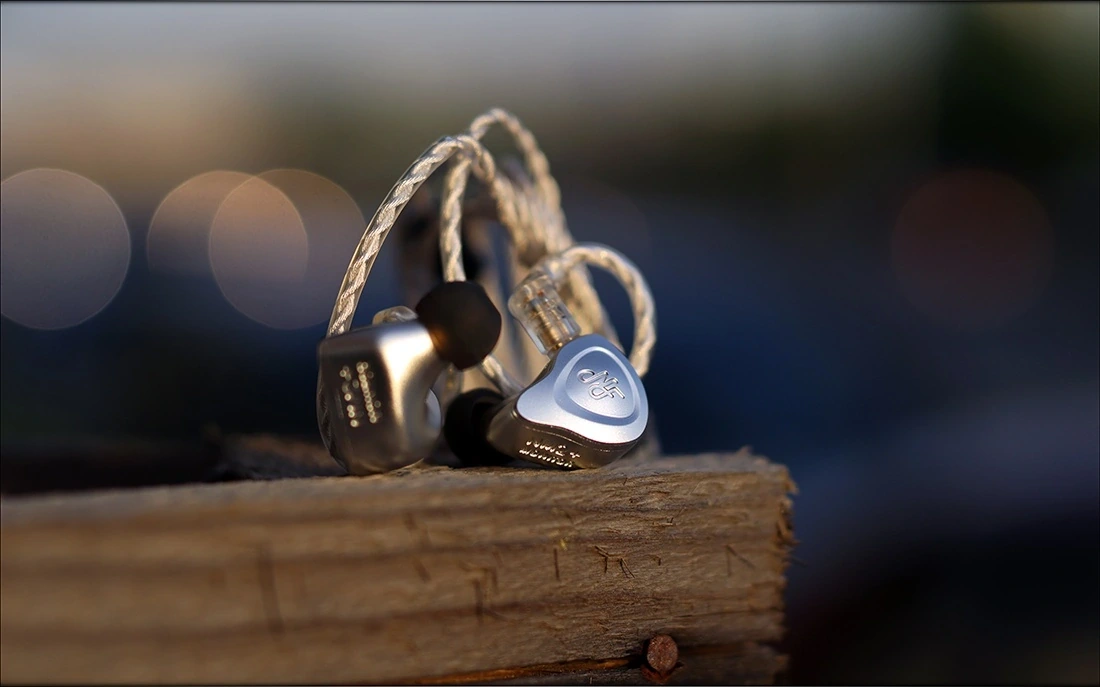 Introduction
NF Audio is carried and sold by Aoshida Store, and although I am quite late with my review on NM2+, I'm really thankful for the store understanding my position and schedule. This summer has been almost entirely work, work, work so I haven't found the time to really do much besides working, haven't even had the chance to go to the sea or take a proper holiday off, so my review is coming as quickly as it is humanly possible. This is true for every review. Back to Aoshida, they are fun, friendly, and able to communicate well. They provide high quality service, unlike FiiO lately, who took more than 6 months to fix a problem with UTWS3, for a reviewer. 
It should be noted that I have absolutely no affiliation with Aoshida Store, or NF Audio, I am not receiving any incentive for this review or to sweeten things out. I'd like to thank Aoshida Store for providing the sample for this review. Every opinion expressed is mine and I stand by it. The purpose of this review is to help those interested in NF Audio NM2+ find their next music companion. 
Product Link
You can grab one from the official store: https://aoshida-audio.com/products/nf-audio-nm2-1
Packaging
First things first, let's get the packaging out of the way: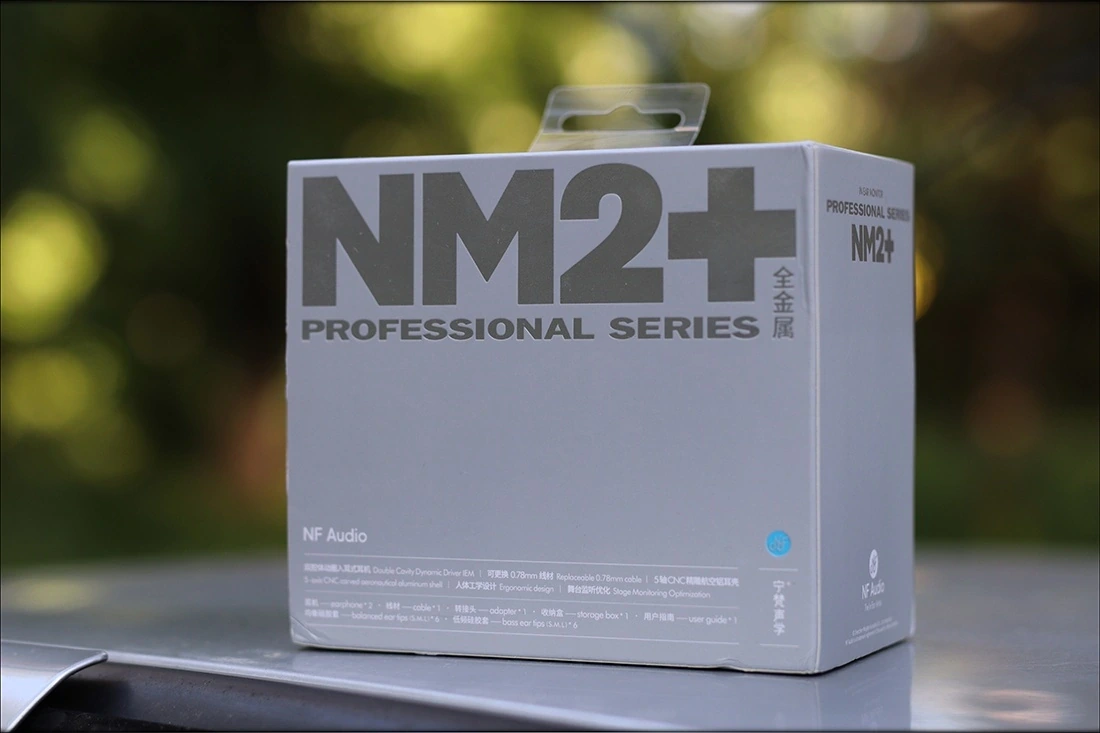 The package is pretty much the same as the one for NA2, but in a slightly different color.
Everything is the same, including the carrying case, number of tips, and the cable, so a lot of today's review will be comparing the two as well. The sonic tuning / signature is quite different, so they will be aimed at different customers. 
Build Quality/Aesthetics/Fit/Comfort
We are looking at a fully metallic IEM with a fully metallic shell this time around. The same really tight fit can be found, and the ear guides are way too small for my ears. Happily, they are not solid, so even if the fit is tight, the guides go around my ears instead of forcing their way like metallic ones usually do. For some reason, the left IEM gets a perfect seal while my right one is not quite as perfect, feels like it is more open than the left one. 
The overall comfort is great though, as the IEMS are ergonomic, not too large, and the overall passive noise isolation is pretty awesome too. There is no trace of cable microphonics, and NM2+ is not sensitive to hiss either, despite their rather low impedance. I've been using a Pablab M1 Mini, iBassso DX160 and Shanling M3X to drive them for most of my time with them. 
You will need a brighter, more peppy sounding source to get the most out of NM2+, but they don't take a lot of effort to drive, so anything, including Shanling UA2, could drive them well. 
Sound Quality
The time we need to talk about the bass. I actually enjoy the sound of NM2+ a lot, and despite it not being the most resolute out there, and having a rolled off treble, they do get the bass quite good, and remind me a lot of a budget Metalure Wavve, with a smooth, deep, and full sounding, but great musicality and excellent soundstage too. 
The bass of NM2+ is detailed, clean and smooth. They have good speed, so they can go from quick to slow fast, and it never feels like they are struggling, regardless what muse you're listening to. In fact, they have a surprisingly good amount of bass too, so the sound is full,. Deep and detailed. The overall character is wet towards nature, instead of dry, so not too much texture for this warrior. I also enjoy the fact that the upper bass is not too enhanced and most of the energy is in the sub bass and main bass body, without adding too much coloring to the midrange, except for some mild warmth.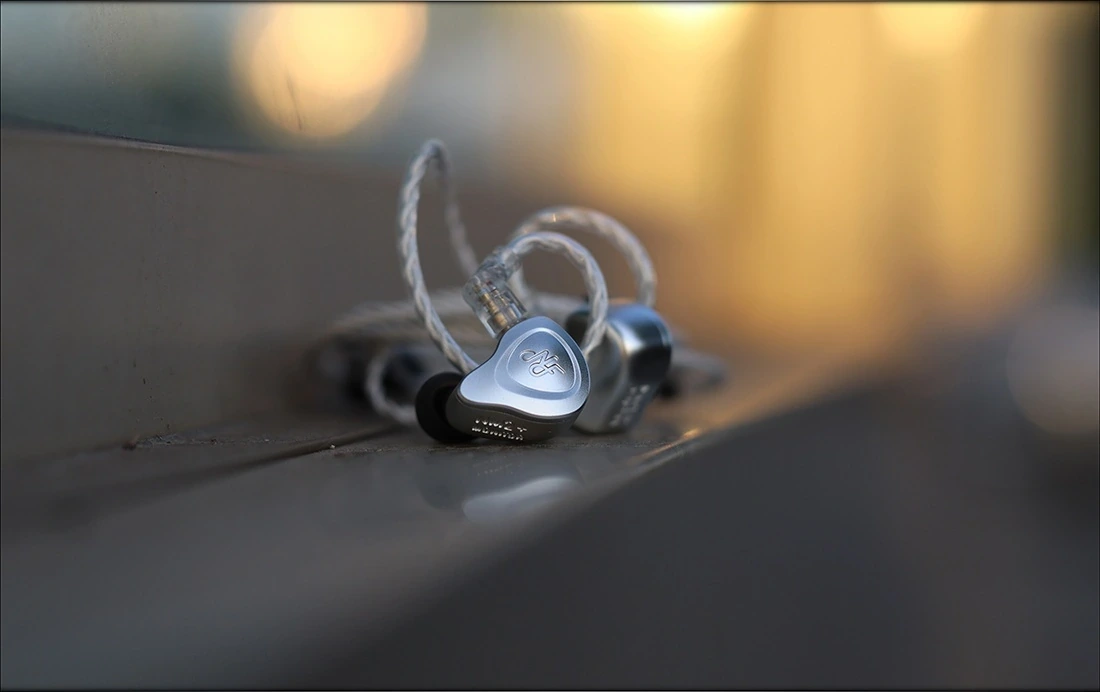 The midrange is warm, musical, and detailed. It is also really wide, with NM2+ having an exceptional soundstage for the price, and it often feels like entry-level IEMs are getting wider soundstage than their more pricey counterparts. In fact, the stage width is soo good that I would rate it at 300 USD, but the depth is average. Overall, the sound is really detailed, with great ability to resolve detail, micro detail, and texture, all while staying smooth and fatigue-free. We have a natural towards wet character, which means no extra harshness or grain, and I like to think that NM2+ is like having a budget smooth flagship. Most smooth flagships have a very similar resolution, but usually with a more visceral bass and more impact, but fret not, NM2+ does not lack in the lows at all.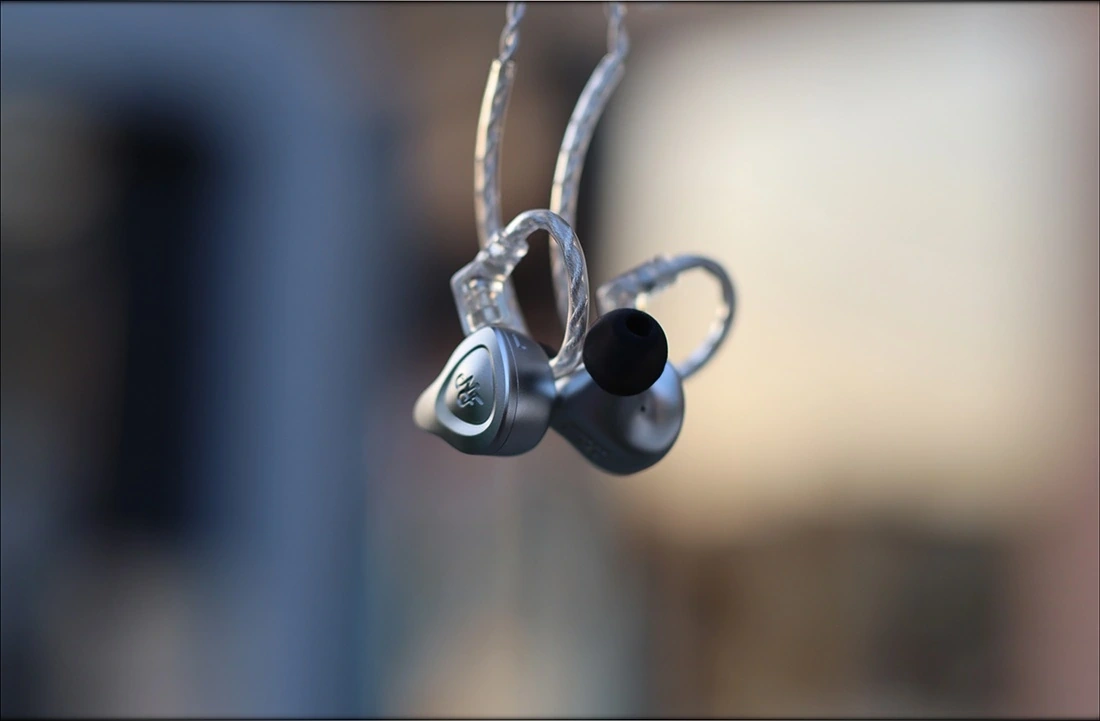 The treble is their weak point for sure, with a smooth and somewhat quickly rolled off treble that ends around 12 kHz. This being said, for most people, there's enough energy and the treble is resolving enough to give NM2+ a sense of air, along with good cymbal representation. Metalure Wave rolls off faster than NM2+, and the treble character of NM2+ is natural, rather than wet, so it is not sibilant, not splashy and not overly colored either. All in all, they are plenty dynamic, plenty punchy, and for the price, if you want a natural – basshead IEM with a warm midrange and smooth textures, NM2+ is pretty excellent. 
Comparisons 
The main comparisons will be with IKKO OH10 Obsidian (170 USD), Optimisation Elements OElements Tita (170 USD), and BQEYZ Spring 2 (170 USD). For some reason all of them decided to go for 170 USD. The quality is great around this price point, and it is basically what the most expensive entry-level IEMs cost, and what the most affordable mid rangers cost.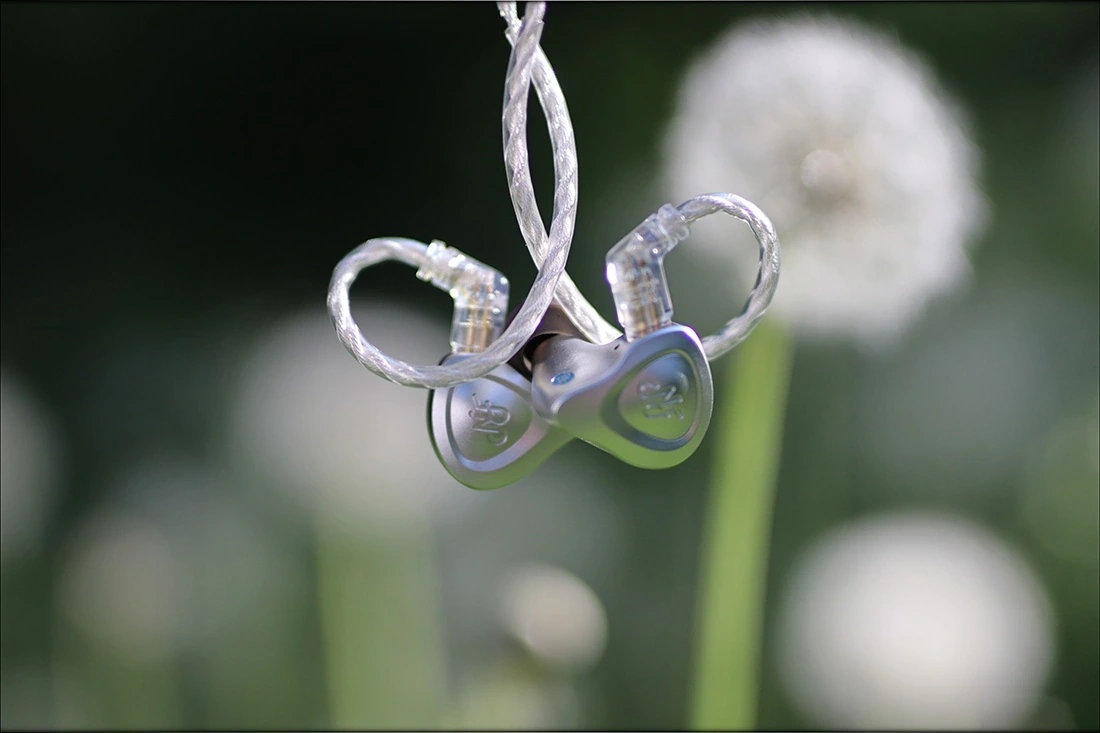 Nf Audio NM2+ vs IKKO OH10 Obsidian (170 USD vs 170 USD) – Obsidian is all about the detail and resolution, so it is much more clear and detailed than NM2+, but has less bass. NM2+ is better if you want bass and a smoother character, where OH10 is finer tuned for detail and resolution, and a more traditional V-Shaped sound with less roll-off. NM2+ is smoother, more relaxing, deeper and better for EDM, Dubstep, Pop and Rock. OH10 is more interesting for detailed music, technical death metal, bands with many members, and music that you want to sound brighter with more air. 
Nf Audio NM2+ vs OElements Tita (170 USD vs 170 USD) – Tita has a thicker, deeper sound than NM2+ with less roll off at the treble, but also less detail, less resolution, and less upper midrange emphasis. This means that Tita sounds smoother all-around. Tita can also be worn straight-down, while NM2+ only over-the-ear. I prefer the overall more hype signature of NM2+ with more detail, more texture, more layers for music and a wider soundstage. NM2+ sounds more open, more wide, with more detail, and less bass. Tita is better if you want to relax only, and don't care about having more resolution and more overall clarity. NM2+ is better if you want to squeeze the most detail all while having a basshead friendly signature. 
Nf Audio NM2+ vs BQEYZ Spring 2 (170 USD vs 170 USD) – Spring 2 is much brighter, with more detail and more resolution in the treble, but less bass and less overall emphasis on the lows and thickness. Spring 2 is also a bit more comfortable than NM2+. I prefer the overall resolution and clarity on Spring 2, but I like the bass on NM2+ more, they present music deeper, with more accent on the sub-bass. Spring 2 is smoother in texture, so despite having more air and more treble, it is not more fatiguing. NM2+ sounds more textured, which is also great. 
Value and Conclusion
In the overall sense, NM2+ is a great IEM for the money, with good detail, good resolution, good comfort and a recommended purchase. The company managed to make an interesting product. The shop selling it, Aoshida is also a great place to purchase your IEMs from, and despite me delaying this review for months (out of personal and work issues), they have been rather understanding and I personally am looking forward to collaborating with them in the future too. 
The package of NM2+ is interesting, as interesting as the one for NA2 has been, and the company clearly likes to make an interesting show for their IEMs, not just have an interesting product. I personally appreciate this, as it makes the whole owning that product experience a bit more interesting. 
At the end of the day, if you're looking for a good bass-head friendly but natural sounding IEM, with good resolution, smooth treble, smooth bass, but good amount of bass, great impact, great overall dynamics, and a pocket friendly price, the NM2+ should be in your purchase list for the future. 
Product Link
You can grab one from the official store: https://aoshida-audio.com/products/nf-audio-nm2-1
---
--- Please remember to stay safe, and always have fun while listening to music!---
 - If you have a dime to spare, please donate, and help us! It would make the day brighter for me and my wife- 
---
Full Playlist used for this review
We listened to more songs than those named in this playlist, but those are excellent for identifying a sonic signature.  I recommend trying most of the songs from this playlist, especially if you're searching for new music! The playlists are different for Spotify, Tidal and Youtube, and based on the songs I enjoy and are available on each!
https://www.youtube.com/playlist?list=PL_cjBXGmwSHSdGcwuc_bKbBDGHL4QvYBu
https://open.spotify.com/playlist/5J3oloz8Riy9LxEGenOjQ0?si=979ba4f082414be7
https://tidal.com/browse/playlist/330fd544-8e5b-4839-bd35-676b2edbb3d5
--- Contact Us ---





---