DTS:Virtual X Made for Movies And Music – Yamaha YAS-207 Soundbar + Subwoofer System Review
Yamaha YAS-207 is an entry-level budget soundbar that comes with a wireless subwoofer, and is priced at about 350 USD at the moment of making this review. The best price for it in Romania can be found at HIFI Expert, and the system will get compared to Edifier S1000DB, which is priced at about 400 USD, Polk Signa S2, which is priced at about 200 USD, and Audioengine A5+ Wireless, which are priced at about 500 USD.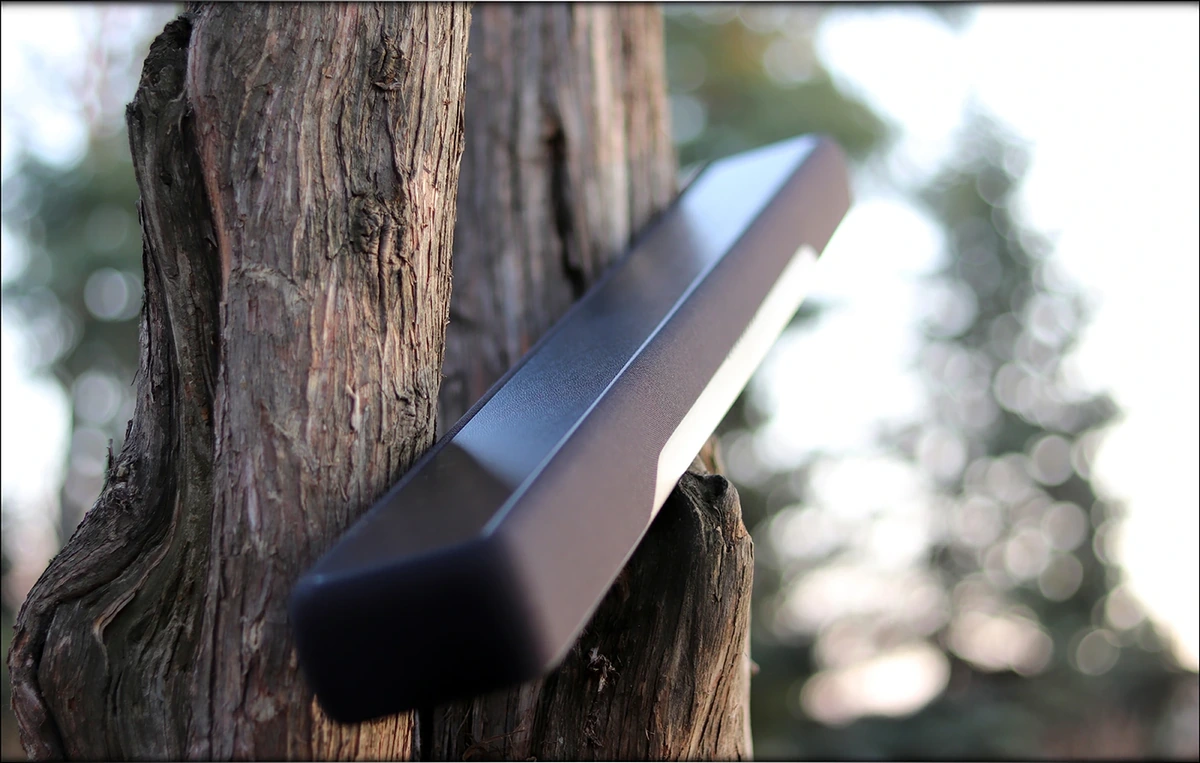 Introduction

From Motorbikes to having their own Headphone line, to making music instruments, and to being one of today's world's largest driving force behind artistic expression, Yamaha is an ubiquitous name that everyone heard about at some point. My first actual experience with them was in my teens, when I used one of their IEMs, and when I noticed that I loved the way they presented the midrange, especially the sweetness of the sound and the way they had excellent value for the price I paid (they were about 50 USD in 2010). This being said, Yamaha doesn't provide direct warranty usually, and it is handled through their sellers, like HIFI Expert in Romania, who is the official importer, and even if you see the YAS-207 being sold by shops like Emag and other large chain shops, the units are always imported through the official channels, HIFI Expert being the Yamaha importer in Romania. 

HIFI Expert is one of the largest, best audio shops in Romania, having two showrooms, usually filled with high-end systems, carefully matched to sound best with each component complimenting the others, and HIFI Expert provides not just the products, but can also aid in getting proper room treatments, along with suggesting what components work best with each other, regardless of the price. The great knowledge, combined with excellent support, long warranties, always served, made HIFI Expert a leading force in Romania's HIFI market, and a company I can easily recommend working with. I already reviewed AIO Triangle Connect and Yamaha Music Cast WX021, both sold by HIFI Expert, and both made excellent products for their price point. 

It should be noted that I have absolutely no affiliation or partnership with Yamaha or HIFI Expert beyond this review. I'd like to thank HIFI Expert for providing the sample for this review. This review reflects my personal experience with Yamaha YAS-207. Every opinion expressed is mine and I stand by it, the purpose of this review is to help those interested in Yamaha YAS-207 find their next music companion. 



Product Link

You can always purchase Yamaha YAS-207 and other recent models from Yamaha at www.amazon.com here: https://www.amazon.com/Yamaha-YAS-209-Wireless-Subwoofer-Bluetooth-dp-B07T5GGR8L/dp/B07T5GGR8L/



Packaging

First things first, let's get the packaging out of the way: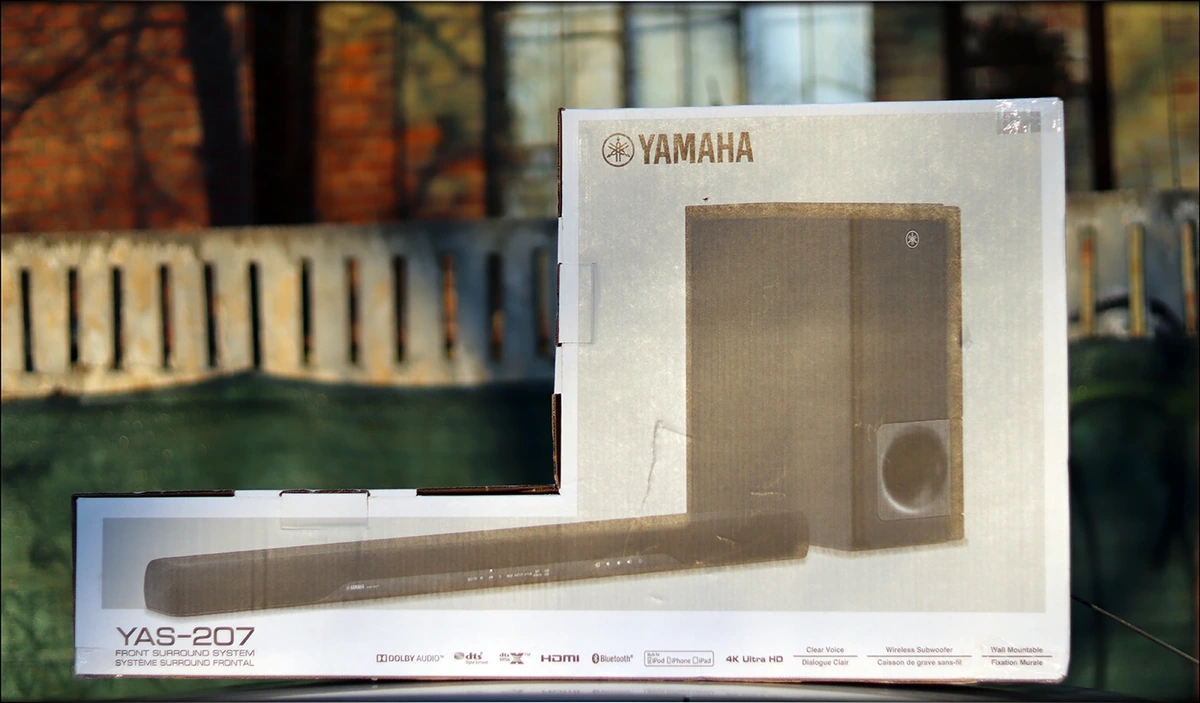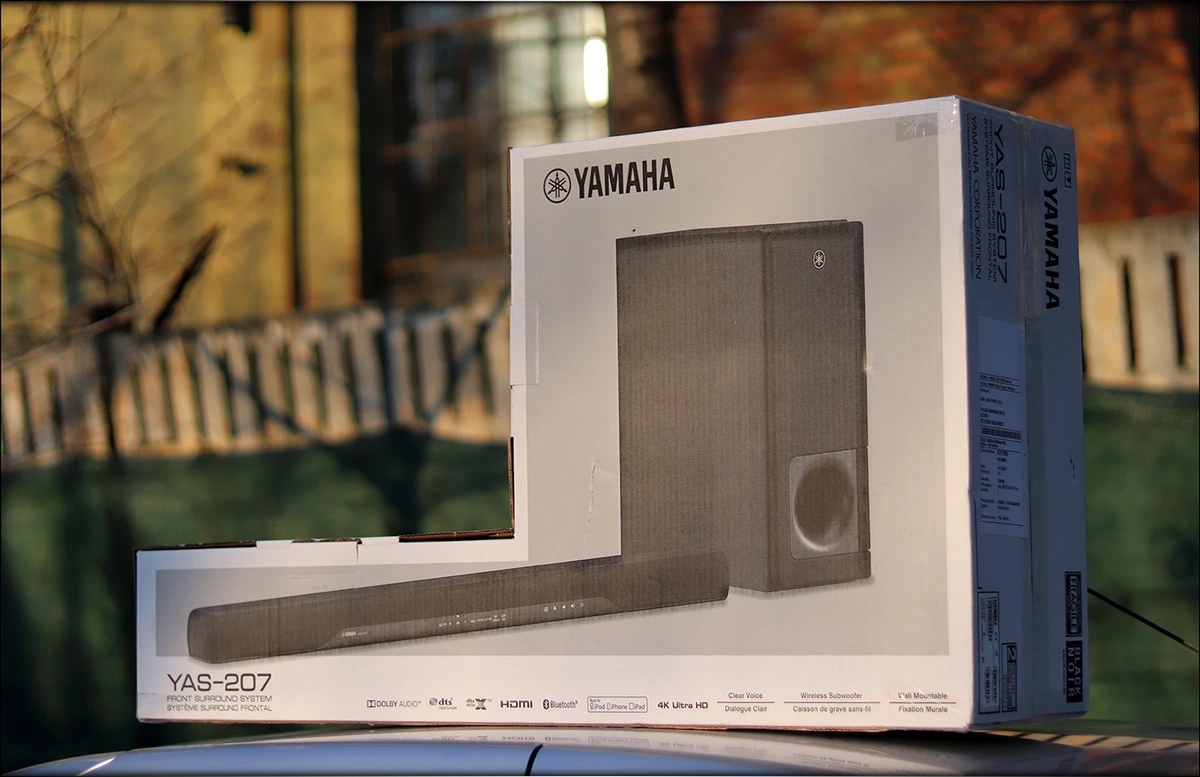 I actually had a ton of fun taking photos of this package, as I placed it on top of my car for this shot. The package is actually nice, pretty cool-looking, includes all of the cables and accessories you'd need for using the system, and the best part is that you can reuse the package, so even if you unbox the system once, you can place it back in the package, for transportation. 

The system itself is kind of heavy, so the package is not well balanced, but Yamaha made sure that you have enough protection, although they don't brag about their systems as much as they should, since the package only presents few of the advantages of using Yamaha and their systems. 



What to look in when purchasing an entry-level Soundbar System

https://www.audiophile-heaven.com/p/what-to-lookl.html



Build Quality / Aesthetics / Functionality / Room Placement

YAS-207 is a complex system, made from a soundbar, which is the head unit, where all the thinking and processing is done, and a subwoofer, which is active, needs its own power outlet, and which is connected to the subwoofer wirelessly. The two have a sync button, if they don't detect each other right away, and from my tests, they can be placed almost 3 meters away and still work nicely. There can be objects in the path of the signal, and the system itself works well even if it is not placed in the most ideal location. This is a biggie for most home theater enthusiasts because quite often, making a setup that both looks great, but also sounds great is impossible, especially when you integrate the system with a large TV. As I'm using a Samsung 55″ QLED TV, I experimented a bit with both the soundbar placement and the subwoofer placement, but found that they sound great regardless of the placement, you can literally place them terribly, and they will still play really nicely.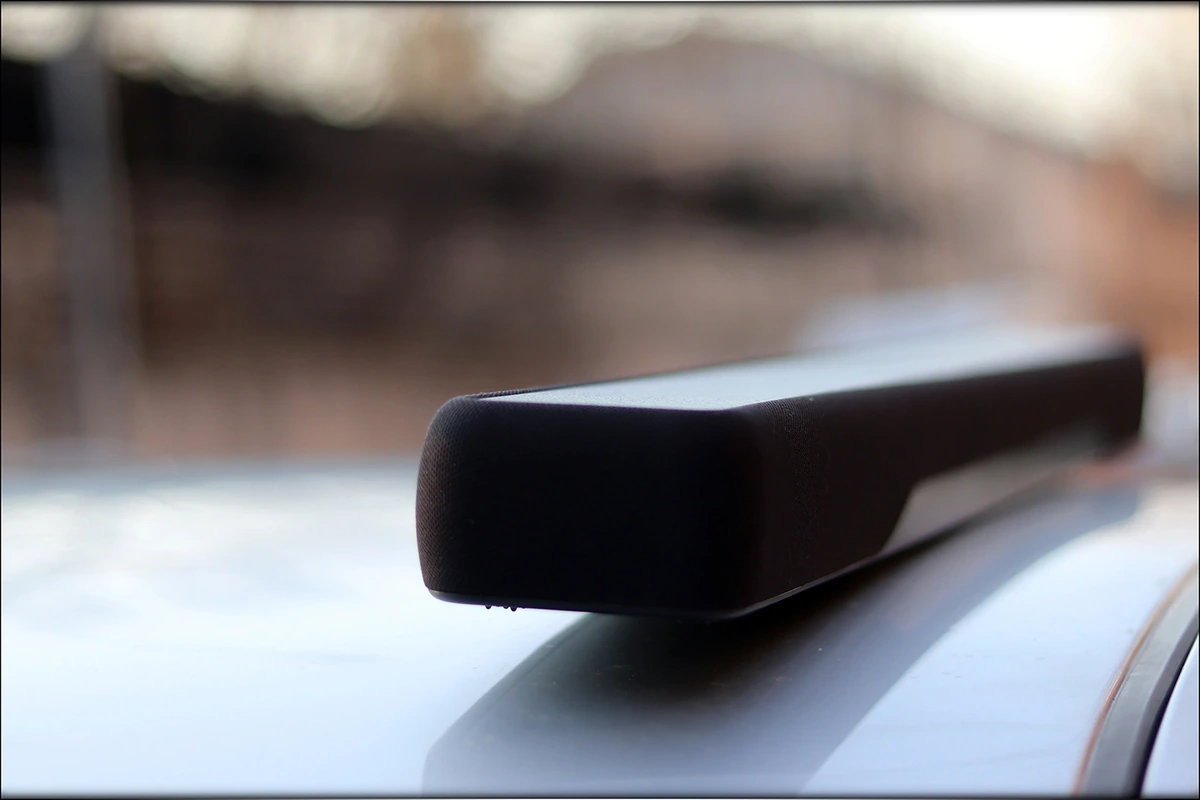 The build quality of the soundbar is really solid, made from metal and plastic, and it feels really nice to the touch too. The subwoofer is very cornery, and it is made of wood, but it is nowhere near as heavy as I expected it to be when I first got the idea of reviewing it. I was expecting the subwoofer to far outweigh the main soundbar in weight, but it feels lighter, although in reality it is considerably heavier. The subwoofer has better build quality than the Polk Signa S2, and the better weight also leads to less distortions if you play the system at very high volumes.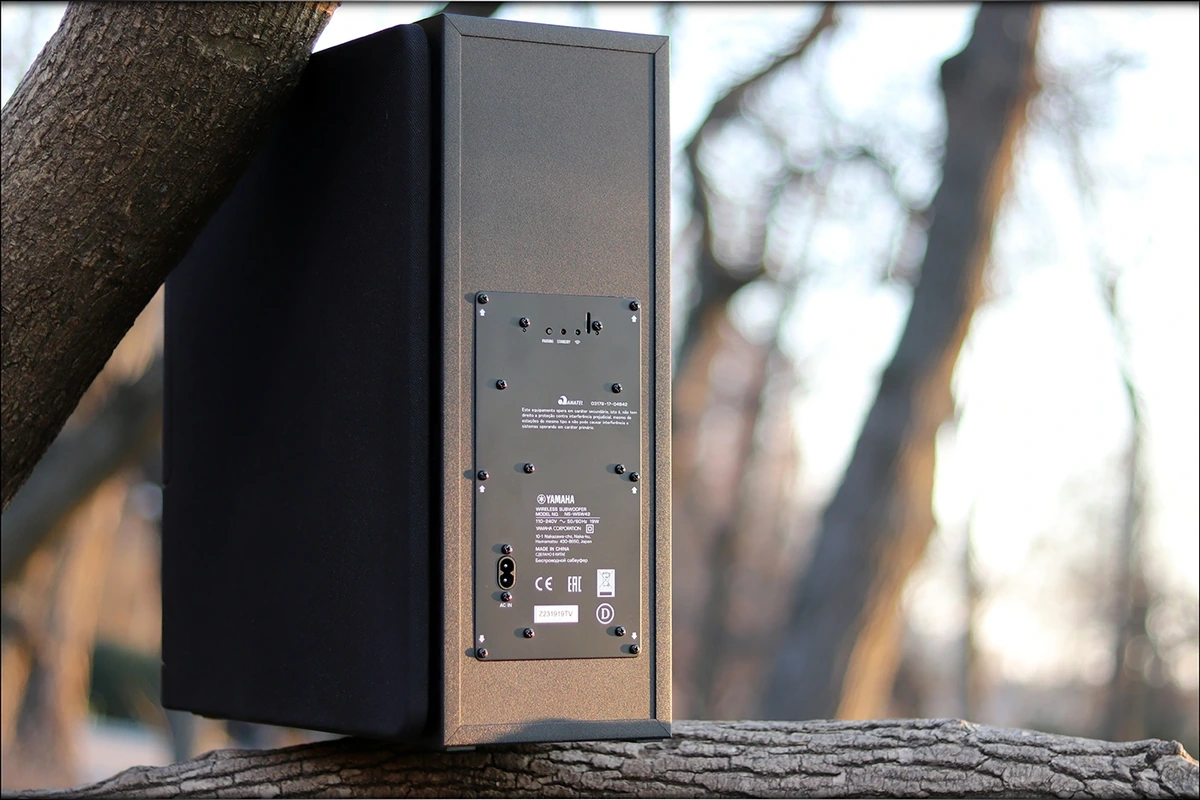 I actually love the way the whole system works with basically any room out there. The remote is actually quite complex, and the system itself has a ton of interesting functions, including some nifty EQ's, which change the sound drastically. It is highly recommended to experiment with the settings of the YAS-207 until you find the sound you like best out of it, it simply has far too many possibilities and should fit most listeners.  

If anything is to be an issue with it, it is the fact that once placed, the soundbar has quite a few cables, and it is made to be put and used, not to be moved around. I heavily recommend installing it well from the first try, and not playing too much with the position. Every sound bar out there will sound best if placed somewhere beneath the TV, and the subwoofer can be placed anywhere in the room, as long as the two stay connected.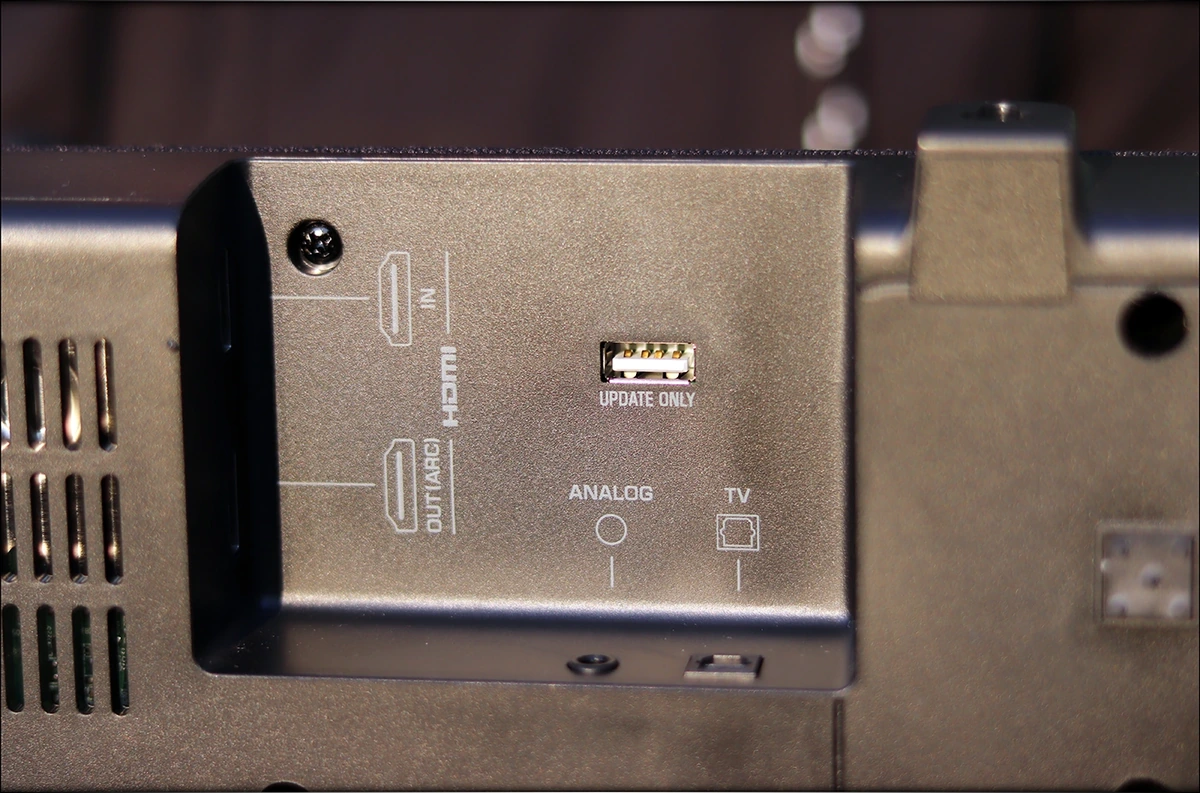 The subwoofer is slightly different from most subs, which are quite cubic, this time being tall and thin. The volume of the sub can be controlled independently from the main soundbar volume, and there's even a bass boost option, which makes the bass boost option, which makes the entire sound a bit muffled and slow, so you have the option to having a quicker, but slightly less present bass, or a slower, heavier, meatier bass.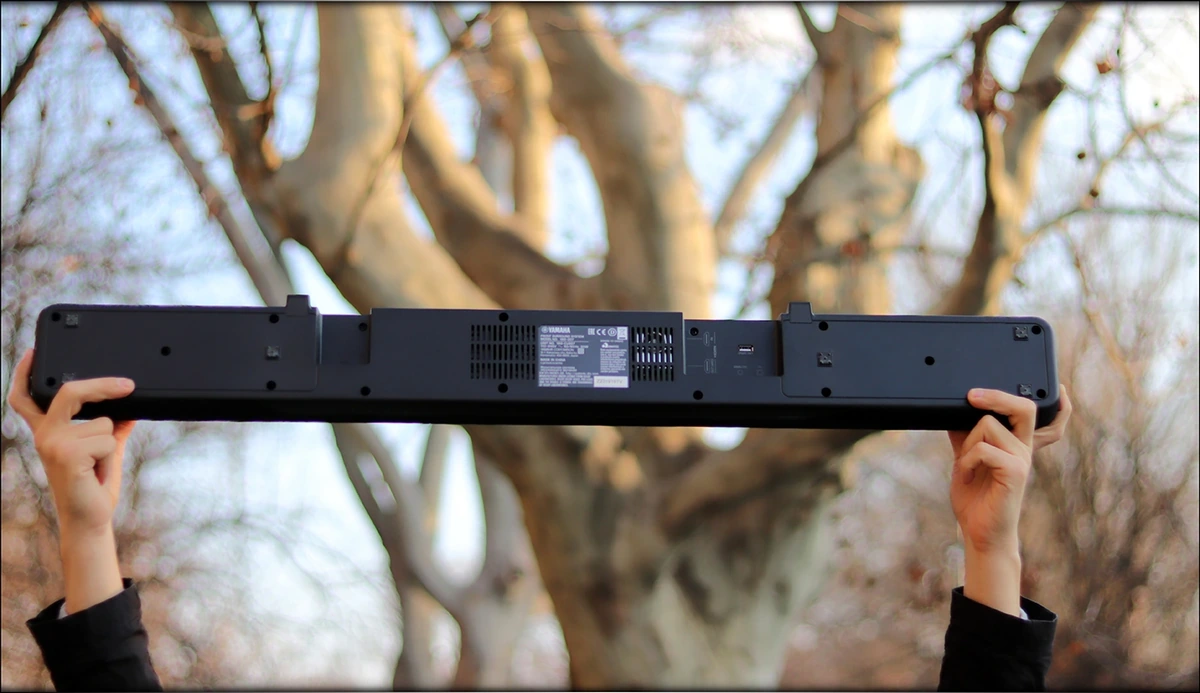 The two come paired out of the box, and upon testing, it took me less than a minute to pair them. The list of inputs include HDMI, Optical, Analogue, and even Bluetooth, and for this price point, it is very unusual to have both HDMI input and a HDMI output, which means that the system can act a bit as a HDMI passthrough. You should make sure to enable the HDMI ARC feature on your TV, if you plan on using it, as most TVs come with this feature disabled out of the factory.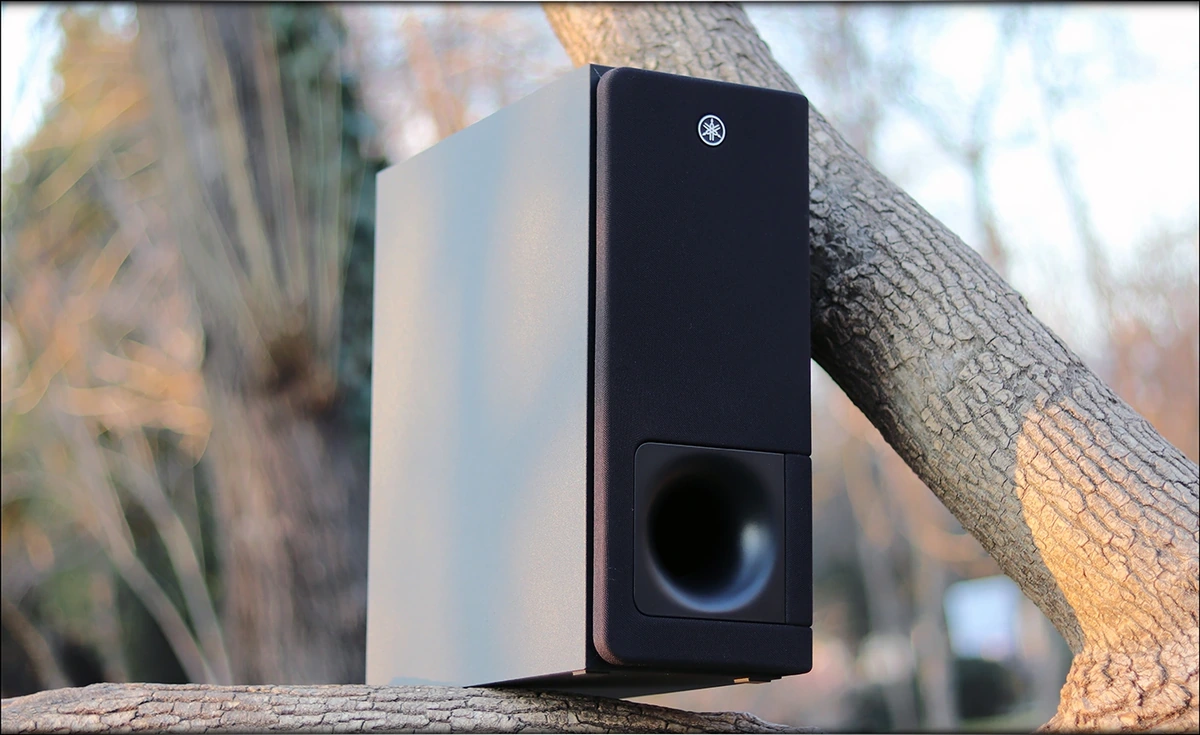 The functionality is quite simple, and for the most part, I was able to configure it to take commands from the TV remote, and also to make it go to sleep with the TV too. All in all, every functionality you can think of is present and well implemented. Yamaha is actually quite well known for delaying the launch of a new product until it is entirely ready, and they always, and I mean always release products that are finished and that run well.  



Sound Quality

I was a much bigger fan of the sound than I believed I'd be. The first thing you need to know is that this system is loud. It is insanely loud, so much that I couldn't believe it. It gets almost as loud as my Edifier S1000DB Speakers, and you can totally throw a party with it. This is also handy if you want to watch movies, especially as those usually have a ton of classical music in the score, which means that they have a pretty high dynamic range, and they are helped by the very loud maximum volumes of the soundbar. The sound has about two modes, one in which you listen to it flat, situation in which it is fairly natural, well balanced, somewhat smooth in the treble, and also somewhat linear, and the V-Shaped mode, where you start engaging some of the EQ options, and it gets quite V-Shaped in sound, it becomes more impactful, the bass gets quite strong and the treble sparkly.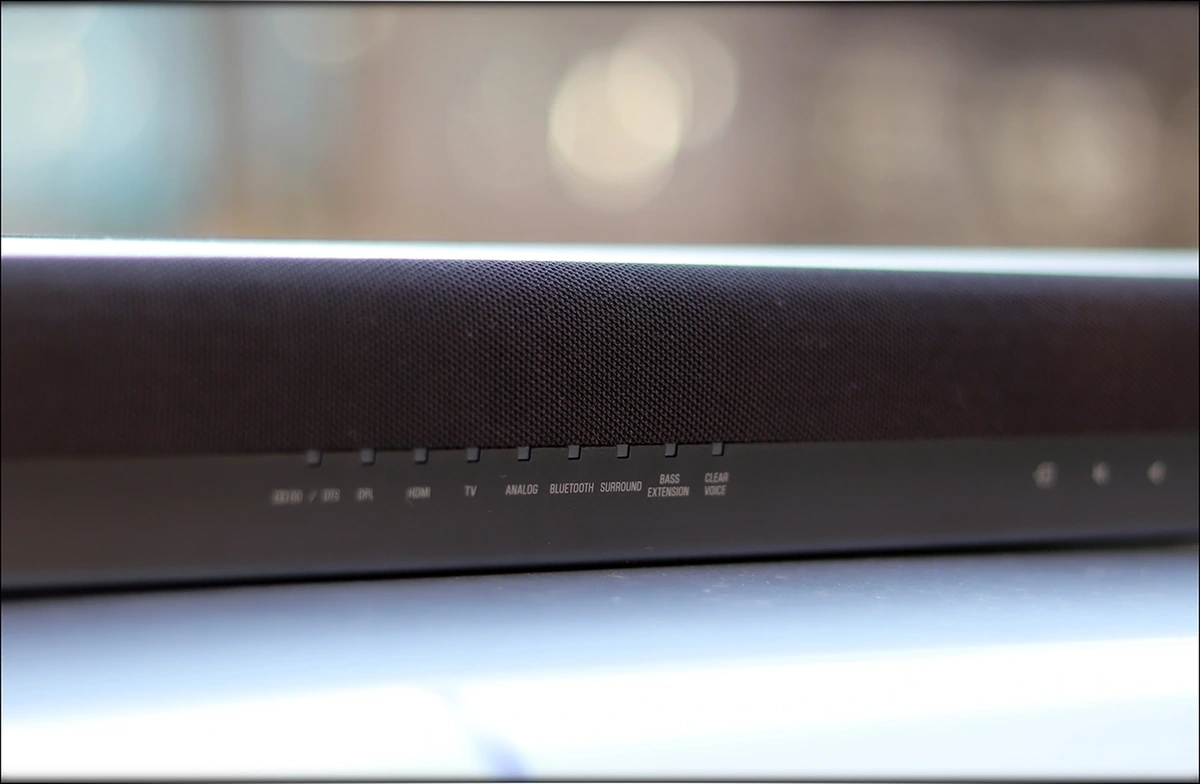 The bass generally has a natural speed, and the extension stays the same regardless of what EQ you engage. Even with the bass boost, you mainly increase the quantity of the bass, rather than the actual extension, but the speed goes a bit slower when bass boosting. This being said, the DTS:Virtual X is pretty much like a V-Shaped EQ profile, about which I was talking before. Although the marketing behind makes it sound really fancy, and it says that it increases the soundstage, for most people, the differences will sound like if you're acting a moderately aggressive V-Shaped EQ profile on the soundbar. Since the main bass driver is not very large, I was surprised to hear that the system delivers a fairly nice rumble, even down to the 40 Hz area, and with the DTS:Virtual X enabled, the sound has less mids, and more bass, and treble, making the YAS-207 a great system for both music listening, and movie watching. 

Enabling that DTS:Virtual X actually makes the midrange better too, not because it recesses it, but because it makes the midrange far more dynamic, and makes the volume of the soundbar better. It does actually increase the soundstage size, height, width, and depth. Everything sounds like you have a full blown 5.1 system installed, and I cannot stress this enough, but it works well with any source. This means that you don't need a Blu-Ray movie that has the sound in a specific format for the feature to work, you can even play a video from your computer, and even Youtube, and the DTS:Virtual X will work really well. So even if you just do Netflix and don't own a Blu-Ray Player, you can take advantage of this feature, which basically makes the originally pretty flat-sounding system into a proper setup. I am unable to EQ the system any further, and you can't really add any more tweaks, the sound has excellent depth, width, beats most headphones at the 300 USD price point, it is pretty much like listening to a well balanced 5.1 Home Theatre.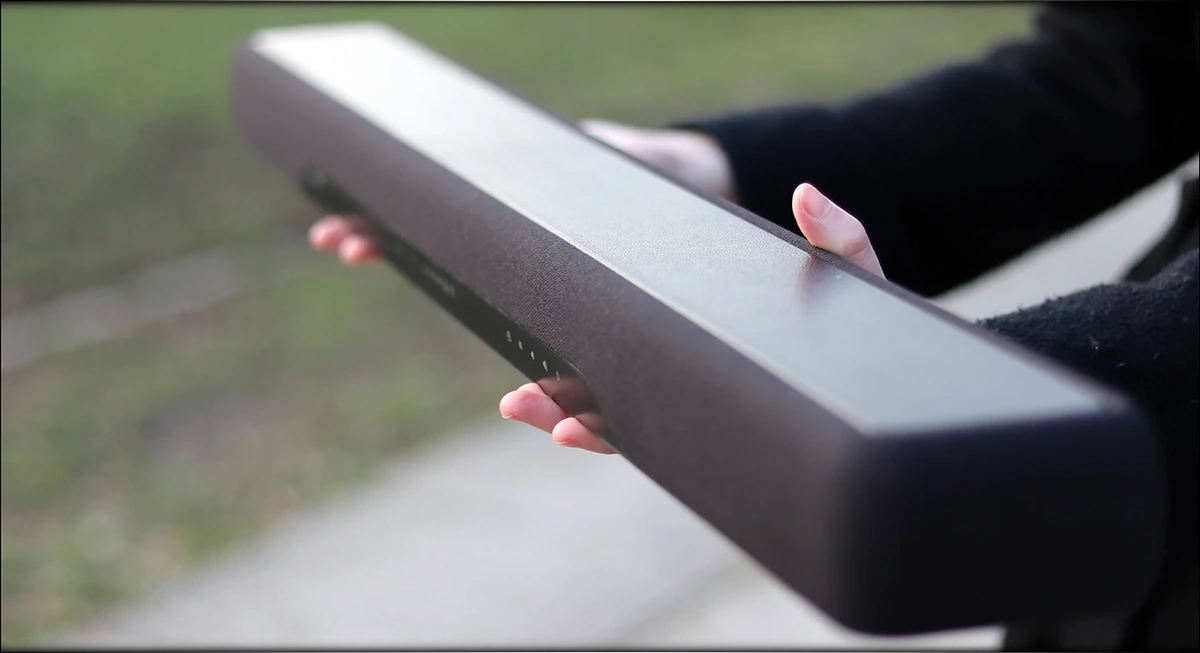 The treble is affected by the DTS:Virtual X too, and it actually makes the treble a bit harsh, and gives it a bit too much energy. In the normal, stereo mode, the treble is a touch bland and smooth, but it works well for watching tens of hours of movies, or anime, or even playing Visual Novels. Well, after enabling the DTS:Virtual X, the sound gets considerably more punchy, more energetic, but the treble also becomes far more sparkly, and adds a bit too much grain and texture, making it detailed, but also a bit fatiguing. This doesn't work very well for movies, and dialogues become fuzzy, and a bit muffled, so you may want to use it while you also have the Clear Voice feature enabled, which brings the voices forward, and makes the midrange more linear.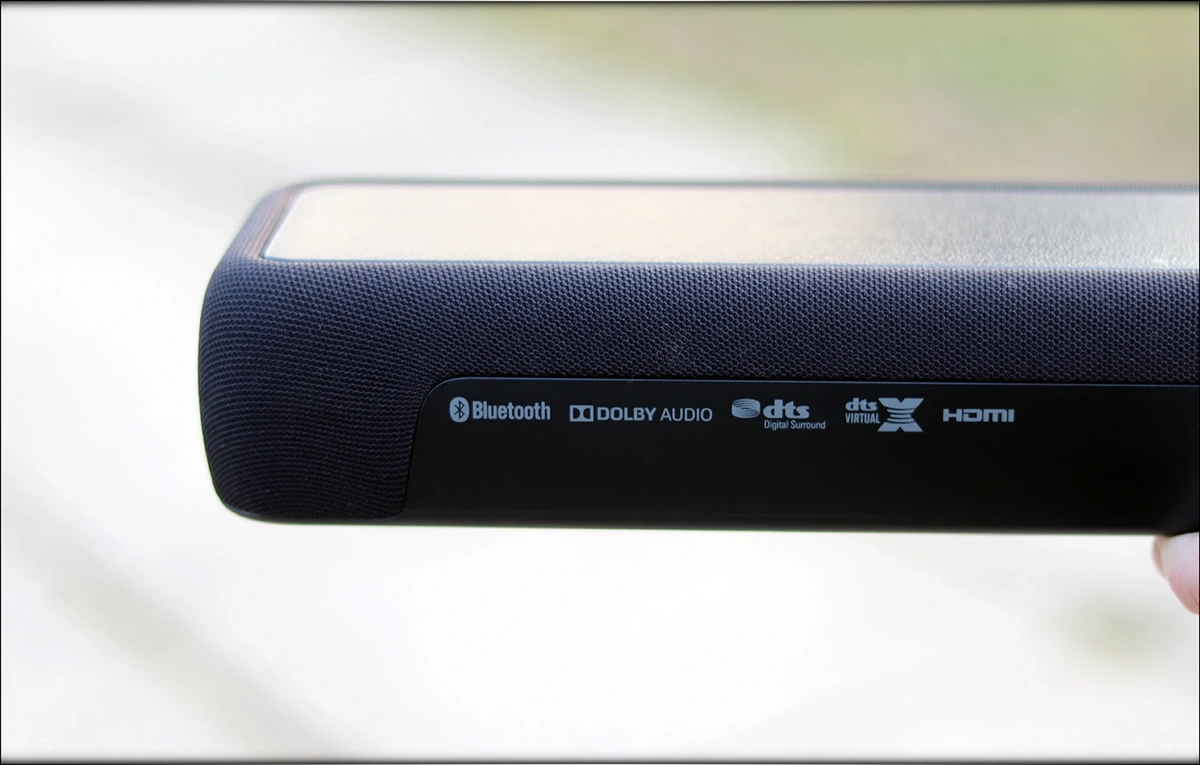 All in all, if you're listening to music, the DTs:Virtual X is a must. If you're watching movies, depending on how the mastering was done, you will either want to enable the Clear Voice feature, or you'll forget about it. All in all, the system has way more features than you know about when you first unbox it, and after you explore it, it may replace your stereo speaker system, if you had something in the same price range, it simply sounds better than most 300-USD speakers, as I'll explore in the comparisons part of this review.  



Youtube Video Review

English: https://www.youtube.com/watch?v=4QA399CCS1Y

Romanian: https://www.youtube.com/watch?v=1obh0lvX1Jw



Comparisons 

I selected Polk Signa S2 as the main direct competitor to the Yamaha YAS-207, because it has a fairly similar price point, and a fairly similar design, and I also selected Audioengine A5+, and Edifier S1000DB to compare the YAS-207 to. There will be no pairings part for this review, because the system takes the signal from HDMI, and has the DAC and AMP chips embedded, but if you're curious both the AUX and the Bluetooth sound way worse than the HDMI inputs, so you aren't missing much. The other inputs are there for convenience, the best sonic performance is on HDMI and optical.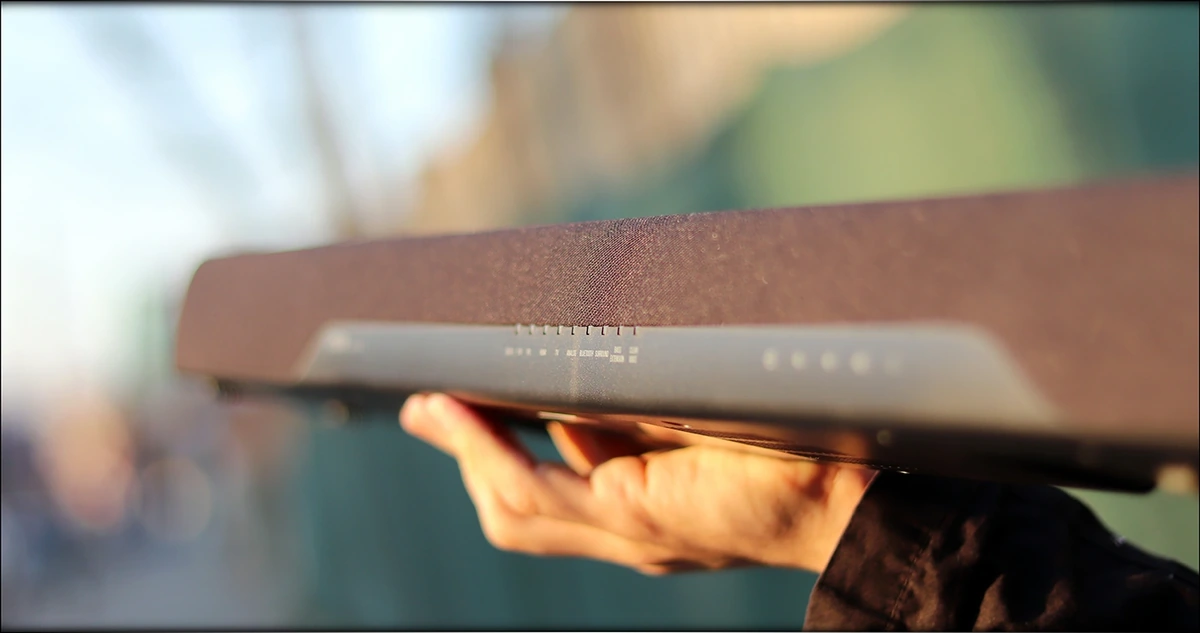 Yamaha YAS-207 vs Edifier S1000DB (350 USD vs 400 USD) – I'm never able to get my head around poor decisions, and how Edifier decides to increase the price for their S1000DB is beyond me. The stereo speaker system already had a pretty poor price/performance ratio, thanks to their horrible customer support who never answers emails, doesn't repair their systems, and who pretty much hates their customers, but they often were saved by their price point, which was ok. Well, the S1000DB system, which cost about 300 USD in the past is now 400USD, out of the blue, and the performance is not better for newer units, it is getting worse and worse. While that is what's up with Edifier, Yamaha is always releasing more products, and pushing better products at lower prices, making the entire audio / video hobby more fun, and is, as always, there to support us, multimedia enthusiasts. YAS-207 can have the same width and depth to the soundstage as the S1000DB, when the DTS:Virtual X is enabled, and gets about as loud as S1000DB. In fact, Yamaha stays clear and crisp up to the maximum level, while S1000DB can theoretically get a touch louder, but it is only more distortion you hear, and a worse overall performance, rather than a better loudness. By comparison, the sound of Yamaha YAS-207 is more refined, has better detail, and a cleaner bass, with less distortions. Don't even think to use the optical input of the S1000DB, it will hiss, and sound like a dying hydra, where YAS-207 works well on all inputs. All in all, I recommend YAS-207 above S1000DB, especially at the current price of each, regardless of the usage scenario. The only part where S1000DB wins is in aesthetics, it is beautiful in person, as you can see from my Video Review of it. 

Yamaha YAS-207 vs Polk Signa S2 (350 USD vs 200 USD) – Signa S2 was a great soundbar, at a very budget-oriented price, and for its price tag, I still recommend it quite often. That being said, YAS-207 really betas it big time, and although it isn't exactly the most fair of battles, those two are the two soundbars I have so far, so it is a good thing to compare them. The EQ / Enhancements options on S2 are nowhere near as good as the DTS:Virtual X is, and the soundbar itself sounds a bit worse, at the best configuration, than YAS-207 sounds like, by default. When you enable the DTS feature, you get a much larger stage, a considerably better dynamic, and a far better maximum loudness from the YAS-207. In fact, I had the luck to compare it to a Sony that cost around 500 USD, which a friend had, and the maximum loudness of YAS-207 is almost double, with better clarity and detail. From everything I heard so far, it is probably the best deal, and the whole system feels, sounds, and looks like a proper flagship. The Polk Signa S2 is still an excellent option for the price point, but it is quieter, more basic, and not quite as controlled and punchy as the YAS-207. 

Yamaha YAS-207 vs Audioengine A5+ (350 USD vs 500 USD) – A5+ is a Stereo Speaker system that also has Bluetooth, but it is not exactly the way you're going to use them anyways. They need a power outlet, and a cable between the speakers, so that Bluetooth feature is there in case you don't want to connect a cable to them, not necessarily the main usage scenario. The best part about it is that it can get a bit louder than YAS-207 without distortions, and it is able to sound quite refined and well-controlled, but with the DTS Turned on, YAS-207 has a wider soundstage, more dynamics, a more V-Shaped sound, more bass, with better low end extension, and more treble, with a more sparkly, more detailed, although more fatiguing treble. From the two, A5+ makes a far better studio monitor that you'll be using for hours, while YAS-207 makes a much better multimedia soundbar, it works better for both music and movies. 



Summary In Romanian

Sistemul Yamaha YAS-207, vandut de HIFI Expert, sau High-End Expert, este un sistem, care, in momentul de fata ofera cel mai bun raport calitate-pret din Romania. Atat Emag, cat si alte magazine care vand acest sistem il achizitioneaza de la baietii de la HIFI Expert, pana si AVstore trecand prin ei, deoarece ei sunt importatorul oficial. Daca cautati cel mai bun pret, si cel mai bun raport calitate pret, HIFI Expert sunt un magazin romanesc care chiar stie ce inseamna high-end si hifi, avand doua show-room-uri, cu boxe incepand de la cateva sute de lei, pana la zeci de mii de lei, avand in oferta lor produse Triangle, Luxman, Sonus Faber, T+A, dar si multe alte companii, printre care Yamaha.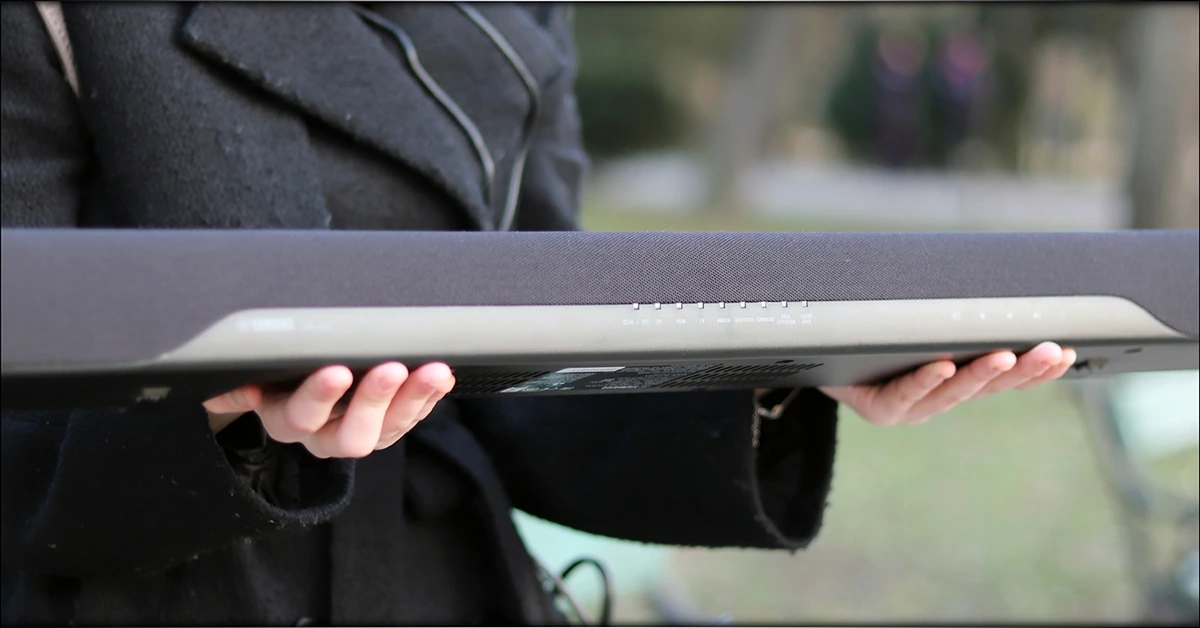 Sistemul este compus dintr-un soundbar si un subwoofer, care sunt conectate wireless, si care ofera un sunet foarte puternic, plin, dar si foarte dinamic. Pe partea de conexiuni avem atat HDMI, Optic, dar chiar si HDMI Arc. Cei de la Yamaha au vrut sa ofere un maxim de suport, si au inclus un input analogic, dar chiar si Bluetooth pentru YAS-207. Sistemul poate fii ascultat ca atare, situatie in care sunetul este unu plat, dar corect, cu o medie frumoasa, un bass destul de rapid, si niste inalte mai matasoase, linistite, dar exista si optiunea activarii DTS:Virtual X. 

Aceasta tehnologie este aceeasi cu cea pe care o vedem pe toate discurile Blu-Ray, si desi pare neintuitiv, tehnologia functioneaza cu orice format, chiar si daca avem sistemul conectat la un TV si ascultam muzica de pe Youtube. Nu sunt necesare nici un fel de configuratii, iar sistemul are un sunet mult mai larg, mai adanc, cu un bas mai puternic, inalte mai stralucitoare, si dinamica mult mai buna.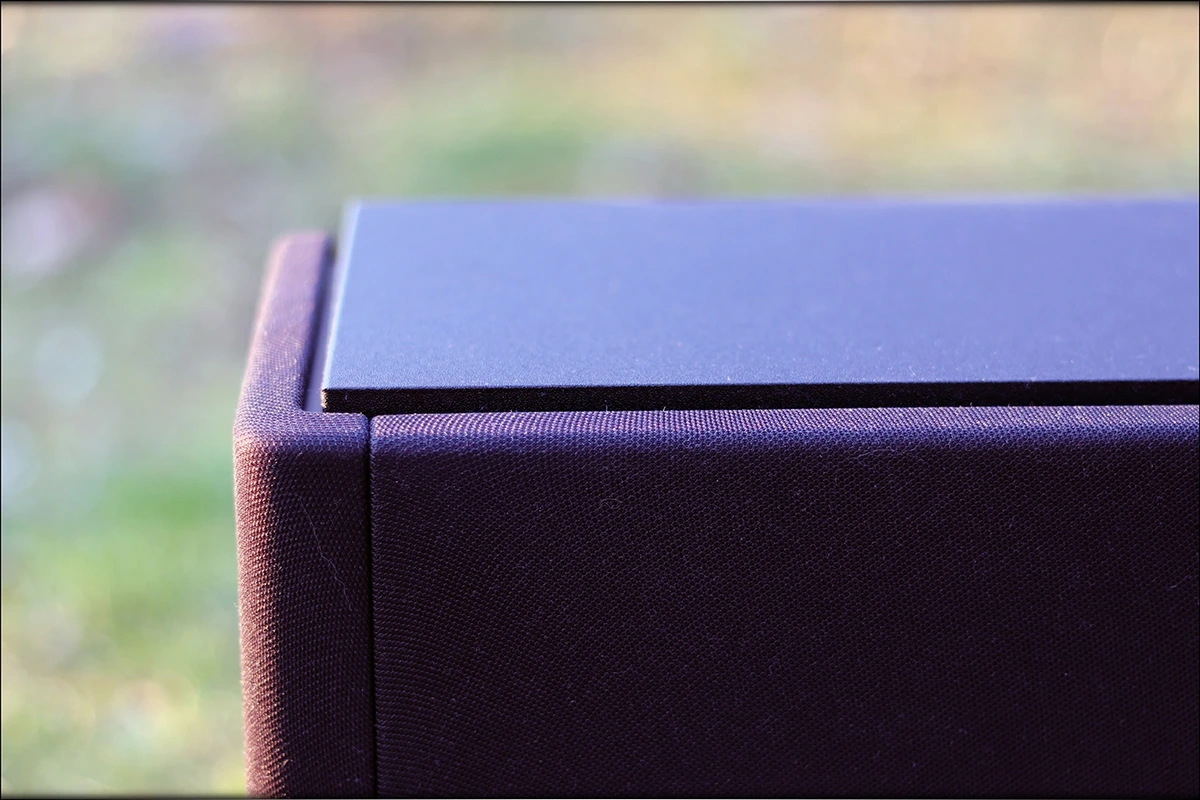 Per total, sistemul bate complet un sistem stereo cum ar fii Edifier S1000DB, si chiar si alte sisteme te tub soundbar + subwoofer, cum ar fii cele Sony, chiar si cele care costa peste 2000 RON. O alternativa mai prietenoasa cu bugetul este Polk Signa S2, dar Yama YAS-207 suna considerabil mai tare la volum maxim, avand suficient volum cat pentru a tine o petrecere intr-o camera mai mica. 

Per total sistemul este foarte usor de recomandat catre orie iubitor de muzica, si suna mult mai bine decat orice boxe incorporate intr-un televizor. 




Value and Conclusion

The value of the YAS-207 is amazing, and for a system costing about 350 USD at the moment of writing this review, it is one of the best deals out there, if you have a TV. It is not quite as aesthetically pleasing as an S1000DB Stereo system, which has more or less the same price, but it sounds considerably better, louder, with less distortions, and thanks to the handy works of the guys at Yamaha, also has HDMI Arc, and more features.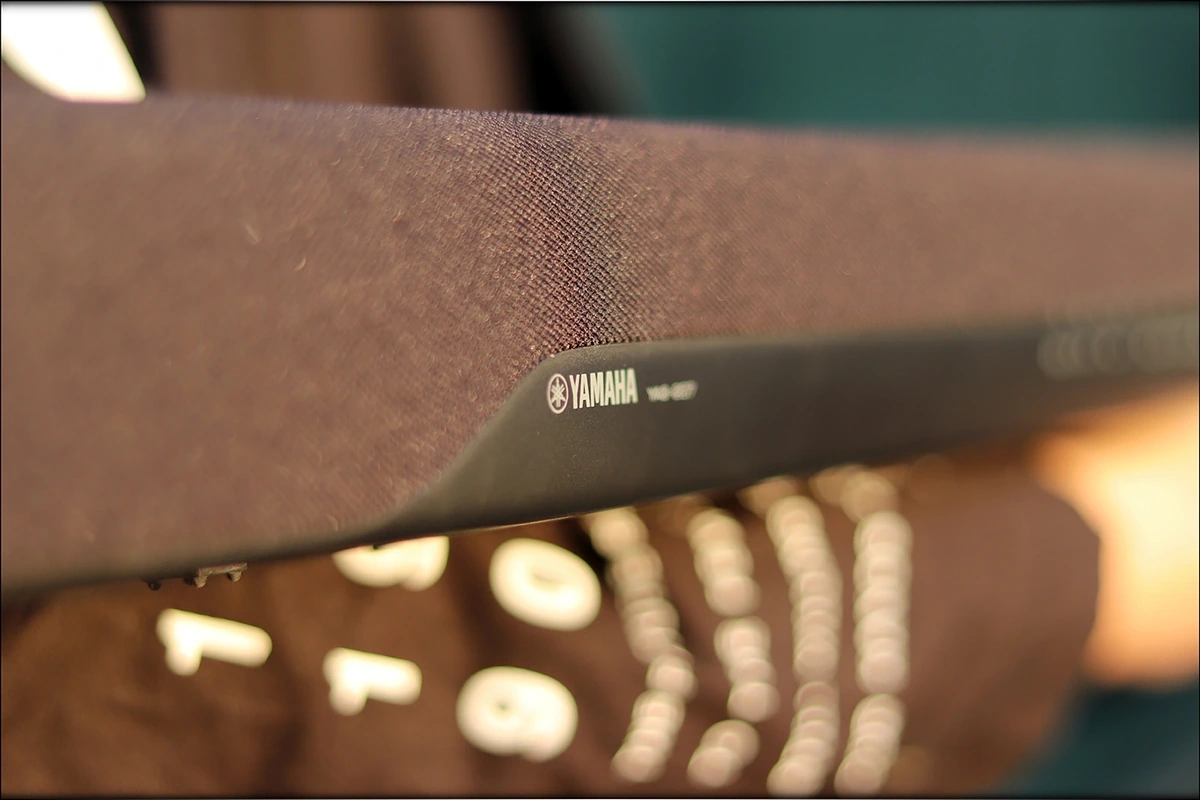 The build quality is great, you can connect YAS-207 to almost anything, and you can rely on it to work with both your TV, even if it only has optical output, but you can hand the AUX cord to your friend if you want to just play a song, or you could even use Bluetooth if you don't want to bother, As it has more than one input, you could connect it to your TV, for movies and for multimedia, and you could connect it to a gaming console too, and have it as your main sound system for your multimedia and gaming needs. Furthermore, it is detected by my computer, and by my video card, when connecting the HDMI cable to it, so it can work below your monitor as the main sound system of your PC too.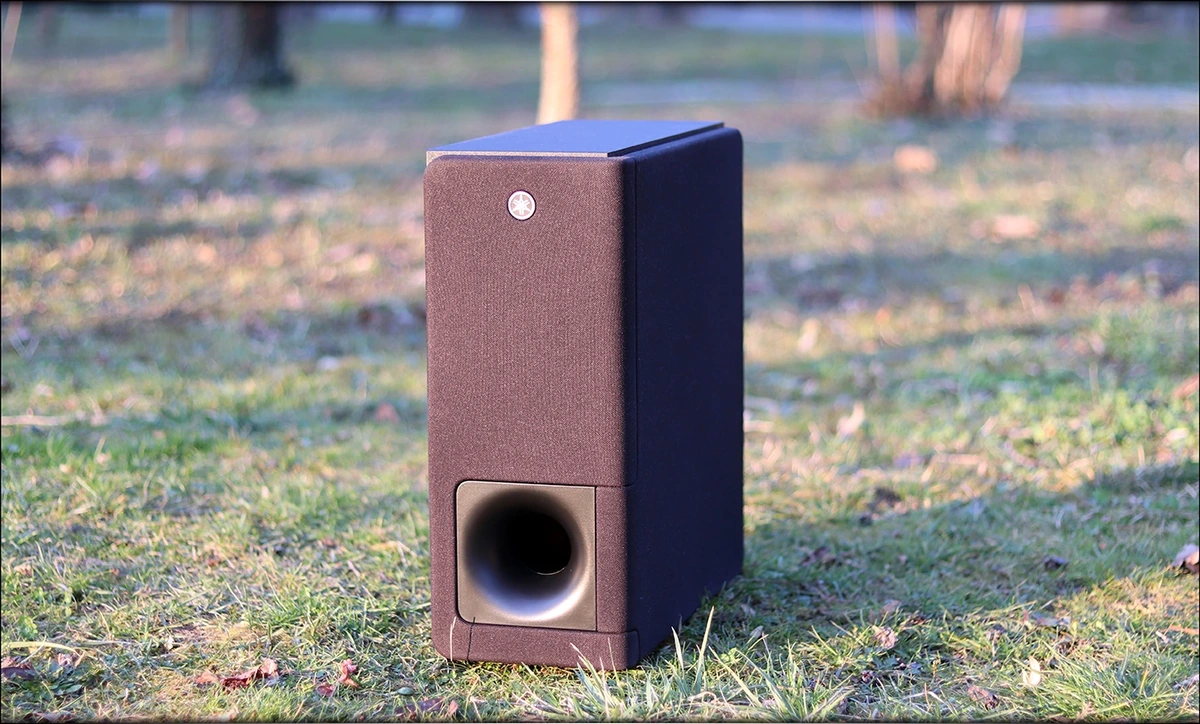 The sound can be very dynamic, punchy, deep, and with a huge stage, if you enable the DTS:Virtual X, or it can sound more linear, balanced, and with a more well-rounded approach that's less fatiguing if you don't enable the magical feature. In fact, it sounds so good, and beats the competition so hard, that I am adding the YAS-207 to Audiophile-Heaven's Hall Of Fame, it really deserves a place among the best.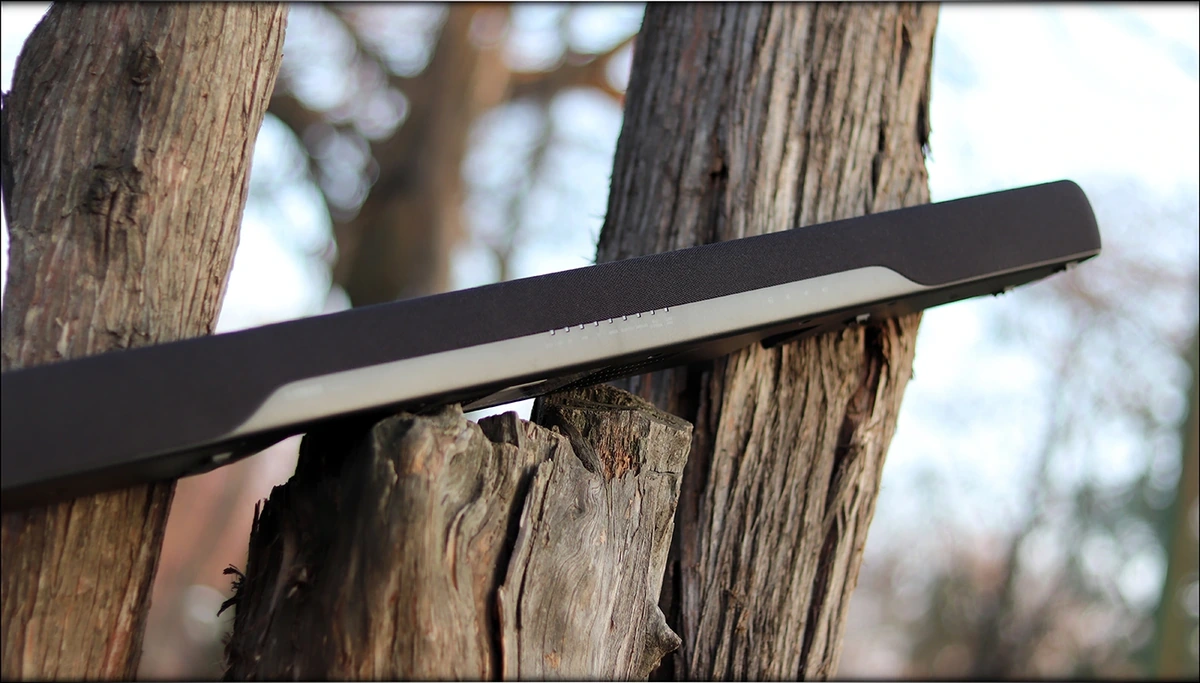 All in all, this is one of the best systems of this moment, for the price point, and regardless whether you're looking for a good soundbar for movies, for movies, or even for gaming, YAS-207, sold by HIFI Expert gets all the fame for being a great overall deal. 
Product Link

You can always purchase Yamaha YAS-207 and other recent models from Yamaha at www.amazon.com here: https://www.amazon.com/Yamaha-YAS-209-Wireless-Subwoofer-Bluetooth-dp-B07T5GGR8L/dp/B07T5GGR8L/
---
---
--- Please remember to stay safe, and always have fun while listening to music!---
 - If you have a dime to spare, and donate, to help us with electricity and work expenses, it would make my day much brighter, as it would help me improve things around the website and increase the frequency of my posts - 
---
Full Playlist used for this review
We listened to more songs than those named in this playlist, but those are excellent for identifying a sonic signature.  PRaT, Texturization, Detail, Resolution, Dynamics, Impact, and overall tonality are all revealed by those songs. We recommend trying most of the songs from this playlist, especially if you're searching for new music!
https://www.youtube.com/playlist?list=PL_cjBXGmwSHSdGcwuc_bKbBDGHL4QvYBu
--- Contact Us ---






---
---