Music Flowing – Triangle AIO C Connect Streamer Review
Triangle AIO C Connect is a totally new type of product on the market, a Wifi Streamer with Tidal, Roon, and many other software compatibility. Furthermore, it has a clean Optical Signal, and even a 3.5mm output, so I have quite a few usage scenarios to test for it.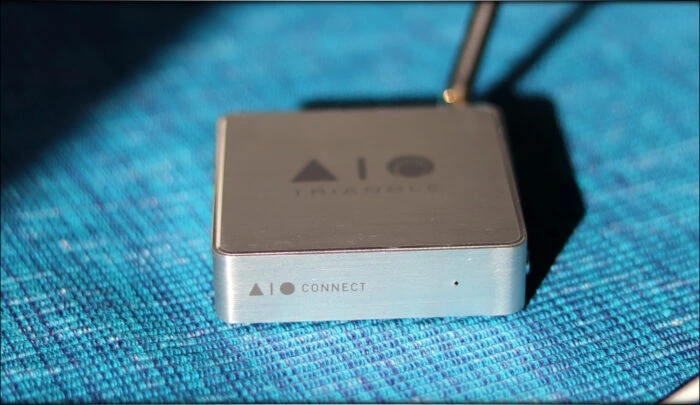 Introduction

Triangle is a huge company from France, known for their prestigious and high-quality speakers, and in Romania they are presented by HIFI Expert, the expert in all your hifi needs. Since the review sample for this review has been sent to me by Hifi Expert, I can't say much about Triangle, but I can surely vouch that if you're from Europe, or especially from Romania, you should totally check out HIFI Expert and their offer, as they specialize in some of the most prestigious brands. HIFI Expert also has a large number of flagship and summit-fi products in their offer, if you're looking for the ultimate speaker setup, including Triangle, Accuphase, Yamaha, and Luxman. 

It should be noted that I have absolutely no affiliation with Triangle, or HIFI Expert, I am not receiving any incentive for this review or to sweeten things out. This review is not sponsored nor has been paid for by Triangle, or HIFI Expert, or anyone else. I'd like to thank HIFI Expert, for providing the sample for the review. The sample was provided along with HIFI Expert's, request for an honest and unbiased review. This review reflects my personal experience with Triangle AIO Connect. Every opinion expressed is mine and I stand by it, as the purpose of this review is to help those interested in Triangle AIO Connect find their next music companion. This review includes no affiliate links, just normal links to the shop page. 
Purchase Link
https://hifiexpert.ro/produs/adaptor-wireless-triangle-aio-c/

Packaging

First things first, let's get the packaging out of the way: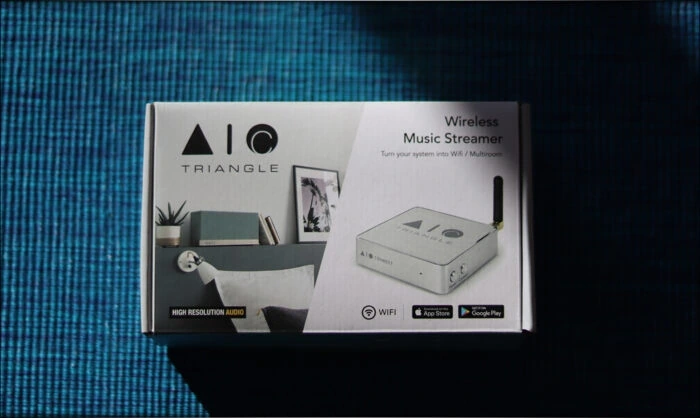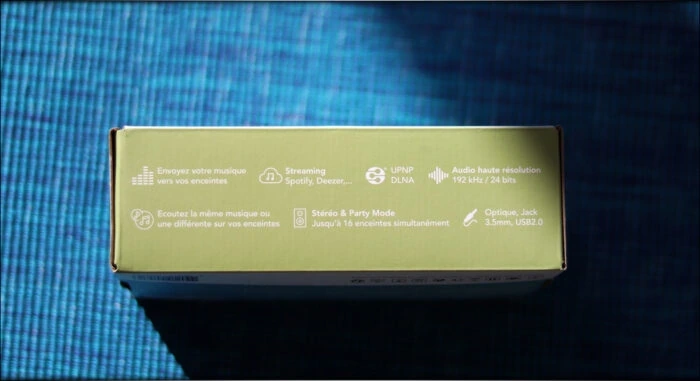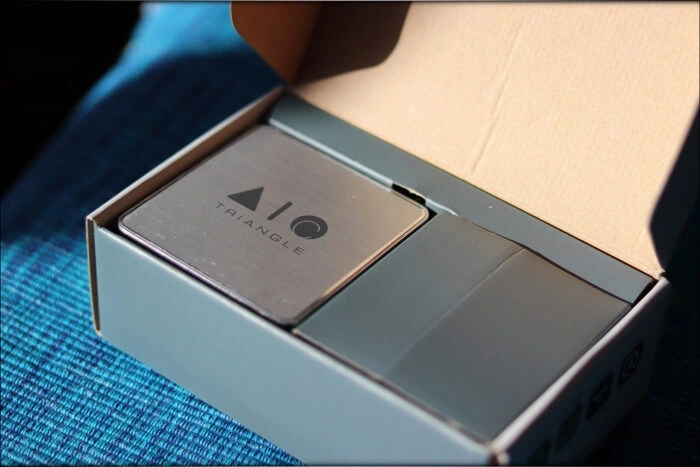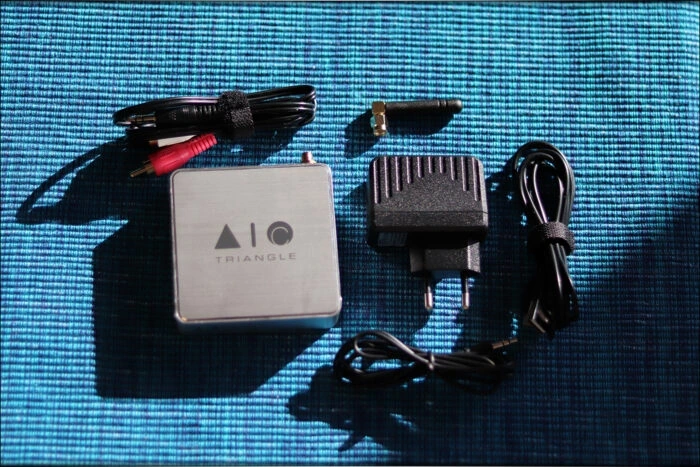 Triangle AIO Connect or Triangle AIO C, is made to connect with the Triangle Wireless Speakers, a set of very affordable, yet very high quality Wireless Speakers. Like any Wireless speakers, they are limited in terms of size, but having heard them already, I could say that they are quite impressive. Now, the main issue there would be that they rely on a Bluetooth connection typically, or a wired connection to your router, but Triangle designed the AIO Connect Streamer to solve this issue, by having it connect via Wifi to your speaker, and providing either an Optical Signal, or a 3.5mm Line Out signal to them. 

In light of that, the package of AIO Connect includes a power adapter, a 3.5mm to 3.5mm cable for connecting it to the line in of your Triangle AIO, a little antennae, and a USB cable for connecting AIO Wireless Streamer to your power outlet. There is also a 3.5mm to 2XRCA cable included in the package. 

The cables are all pretty basic looking, nothing very fancy, but I want to congratulate Triangle on making the cables long enough to be practical. Although all cables look basic, but they all work as intended, and whether you'll require upgraded cables is a topic for another review. 

Now, there are a few things to mention, but I'll be going through them in the Build Quality / Functionality part of this review. 

The package of AIO Connect includes everything you could need to connect it to your listening setup, minus Optical Cables and Ethernet cables, which you'll need to acquire separately. 
Build Quality/Aesthetics/Functionality

Starting with the Build Quality, Triangle AIO Connect is a pretty rectangular Metallic device, created to sit on your desk, or rather, next to your speakers / DAC. It has a beautiful shape and design, and it has a little power LED on the front. 

There is a power and a connect button on the right side of the device, and all the connection ports are found at the back, the antenna port, microUSB Power port, SPDIF Output, Stereo 2.5mm Output, and a LAN port for connecting it to your router, or to your Triangle AIO Speakers. 

So far so good, the most basic setup is fairly simple, connect it to power, press the connect button on the side, and it will generate a 2.4 GHz Wifi network, which you need to find with your smartphone / DAP, and connect to it. Please note that for it to work, you need to have the latest AIO App installed, as I couldn't get it to work with any other Music Player app. After this, you need to connect with your smartphone to the original Wifi Router / Network. 

After this, the Connect should be connected and working. The AIO App has integration with Tidal, Deezer, Spotify, TuneIn, and Qobuz. Pretty much flawless work with all of them.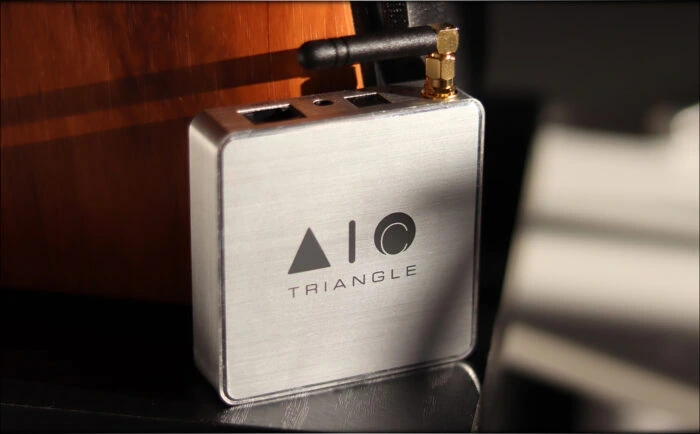 All is good and well, but if I am to do this review the right way, I am to experiment. 

The first thing to notice is that the AIO Triangle C doesn't eat much power, so you can connect it to a PC USB power if you want to be more comfortable, or, you can even power it from a portable power bank. This means, that with a few rubber bands, you can strap it to a power bank and make it portable, like take it around the room, or even outside. This being said, it requires a connection to the original Wifi network, and it can't connect directly to a smartphone, so making it portable won't do too much for you. 

One thing to notice is that you can connect multiple AIO devices (basically 5 if you're using Wifi), and set a Left and a Right channel. Even if you connect it to Windows via its USB cable, the USB port doesn't allow you to use it as a DAC, and you need to use the Wifi for that. 

This being said, ROON can use AIO Triangle from your PC, and even Foobar2000 can via AirPlay, which means that you can connect it to your computer, as long as both are connected to the same Wifi Network (Total Win in my book!).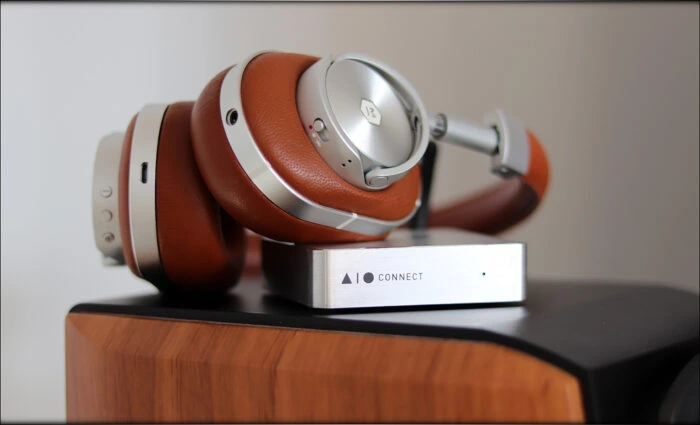 I tried Connecting HIFIMAN Sundara directly to the 3.5mm output of the AIO Connect, but that is a line out, not a headphone output, and it won't work for most headphones, since it provides a high voltage, but a low current. This being said, using it would work fairly well for very high-impedance cans like Sennheiser HD660S, or Sennheiser HD800S. 

I don't have the Triangle AIO Speaker at this moment (will review them in the future as well), so I can't test how the Ethernet jack works, and what kind of signal it outputs, but the manual suggests it works just fine with the Triangle AIO Speakers. 

During my testing period, I have noticed that it doesn't pick up noise from the USB port, when drawing power, even if the power source is noisy, indicating a fairly good isolation of that port. 

There is almost one second of buffering and delay between the moment you press play and it starts playing, when you change the song and when it changes the song, and such. This is because AirPlay, the main method of sending data to Aio Connect, will send the entire lossless music stream file to it, and buffer a good portion, so you won't be able to use it for watching movies, nor for gaming.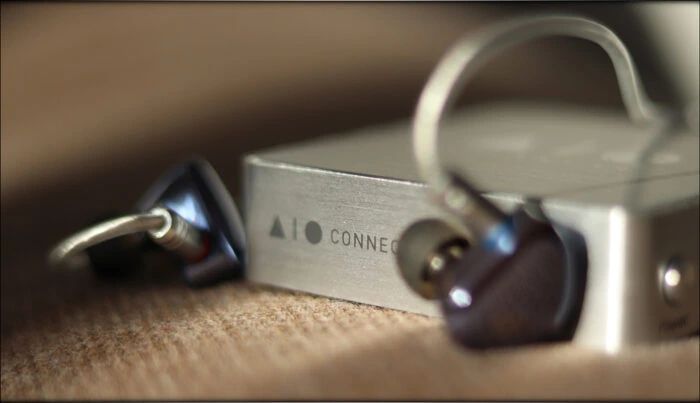 AIO Connect works flawlessly with Roon, as Roon detects AirPlay even on Windows, and if you install something like AirFoil, you can use AIO Connect with virtually any single music software on your computer. 

This makes it very capable and handy, but please note that regardless of the method you are using to connect it, you still won't be able to watch movies using it. 

Another note is that if you have AIO connect in your play system, Roon can send a signal to it, via Wifi (Airplay), and you can send Foobar2000's signal to another DAC, for example, I was able to send music using Roon, to AIO Connect, and send the same song, at the same time, using Foobar2000 to Brooklyn DAC+, via USB connection. 

The connection range is quite excellent, I had good results even 15 meters away from my router, there were no drops in signal, and AIO Connect was rock stable all the time I've been using it. 

The temperatures during usage were slightly warm, but it doesn't get hot, and it seems to be reliably well designed in terms of size relative to the inner components. 

I noticed no dropouts, no firmware issues, no pauses, nothing to break my listening experience, and following my experience, Triangle AIO C is a very solid device, with a beautiful aesthetic and a very good firmware support. 



Sound Quality

Interesting enough, I wasn't expecting AIO Connect to have a signature of its own, since it is a streamer, and basically a transport, but it actually has a good amount of its own signature. 

For testing the Triangle AIO Connect, I have used a Mytek Brooklyn DAC+, a Taga Harmony HTA-800 Hybrid Stereo Amplifier, a pair of Taga Harmony 806F Speakers, The Triangle AIO Connect, Roon, and Foobar2000. 

The setup was as it follows: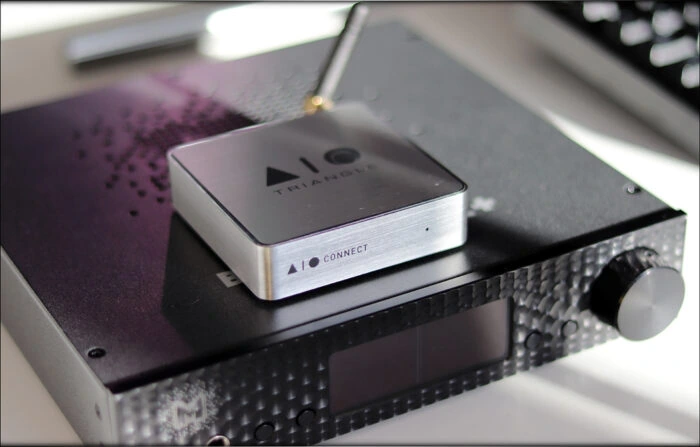 The AIO Connect was connected to my computer, via Wifi. Taga HTA-800 was connected to AIO connect via its Optical and its 3.5 to 2XRCA connectors, to test those two. At the same time, Mytek Brooklyn DAC+ was connected to HTA-800 via two high-quality RCA cables, to use Mytek as a benchmark, and do quick A/B testing. They were all volume matched to 0.1 dB of precision, using a dedicated dB meter. 

With this setup, I did quick A/B testing using the input selector on HTA-800, where I could select what was the input using at that moment. 

The 3.5mm output of AIO Triangle uses the DAC inside it, to provide a line out signal, the Optical uses a digital output, while Mytek Brooklyn DAC+ is feeding an analogue Line Out signal to HTA-800 via two quality RCA cables from RAMM Audio. 

First thing to notice is that the 3.5mm output of AIO Triangle is noisy, the AMP surely picks up some noise from it, and quite a bit. Also, the volume of the 3.5mm output is much lower than that of the optical connector, so I had to compensate for the changes in volume by adjusting the volume as well when switching.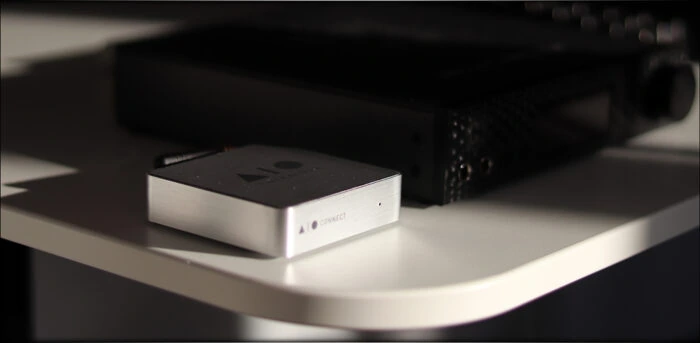 At the end of the day, the 3.5mm output of AIO Connect is a smooth, creamy, and thick sound, with a fairly good dynamic. The details aren't its highlight though, and it could be considered a less detail-focused and a more music-focused output. Overall, I'd recommend it, if you can filter the noise from it, but otherwise, the optical connection is much cleaner, much more stable, and has no inherent noise. The optical connection also has a slightly more mellow and gentle approach. 

Which brings us to the optical connection. To test it, I plugged in the optical connection to Mytek Brooklyn DAC+, so that I can test the Optical of AIO Connect vs the USB of my computer, both of which should theoretically be the same. 

In actual tests, the two were very closely matched, and the data stream of AIO connect was indeed the same file, as tested with both Hi-Res and 44.1 FLAC Redbook files. The treble extensions were reproduced faithfully, the bass had the same impact and speed, and the dynamics were exactly the same, even with Metallica's Hi-Res masters. 

Furthermore, with Tidal in Master quality, I could notice the same fine details in music using both the USB and the Optical inputs of Brooklyn DAC+, Roon having been a great help for the entire switching and playing around with the setup. I'd say that the optical of the Triangle AIO Connect is slightly more mellow and gentle than the USB of my computer. 

This being said, there seems to be slightly better overall vividness and clarity with Brooklyn DAC+ when using the USB connection, compared to AIO Connect's optical, but only slightly. The presentation on AIO Connect optical compared to the USB of my computer, seems to be slightly wider in the soundstage, slightly more laid back, and slightly more relaxed. Since intensive volume matching was applied, I am quite sure those changes are real, but I can't tell for sure why they happen. 

The fact that the overall details are the same between the two indicates that you can enjoy AIO Connect without an issue if you want to go Wireless and if you want to do Streaming. The same DAC was used, it was just being fed signal from either its USB input or the Optical input, and Mytek Brooklyn DAC+ is a high-end DAC able to reveal differences between inputs and such, being a reliable DAC/AMP to use for this test.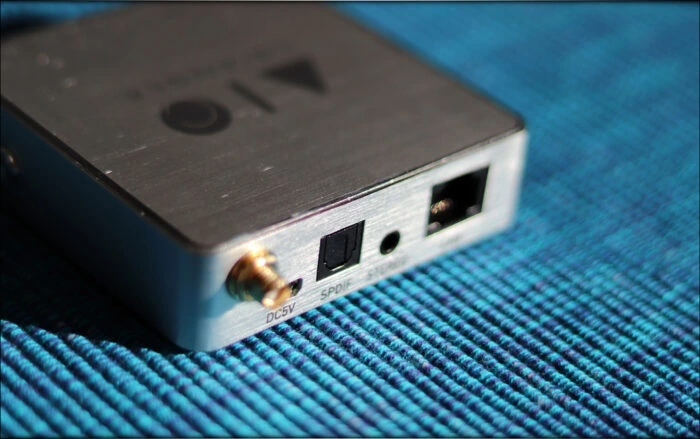 Overall, I wouldn't recommend using the 3.5mm output of AIO Connect, and not because it doesn't sound good, because if you're looking for a thick, lush, warm and smooth presentation, it is quite excellent, but rather, because it has quite a bit of inherent noise, which may be an issue for you. 

On the other hand, the little streamer is able to push forward my music collection, using wifi, and without loosing any detail, I was never aware you could have this degree of freedom without compromise. 

To be honest, this is a true revolution if you want to have your music collection at the touch of your fingertips. When you add Tidal to the mix, you're literally blown away by both the possibility, and the power you can have from such a hassle-free setup. 



Desktop Usage

Triangle AIO Connect is made to be used with desktop devices, and as a desktop device, it is quite excellent. First off, it is beautiful, made of metal, and the silver aesthetics look quite amazing on my desk. It can pair well with any device, and having both a 3.5mm output, which can be converted to 2 X RCA connectors, and an Optical output, means that you can connect it to pretty much anything.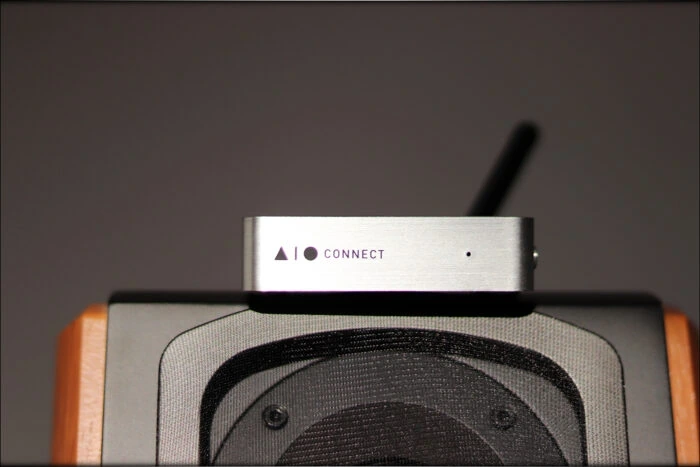 It has a good weight, which is pretty good for me, since something like a router typically is too light and gets in uncomfortable position from the tension of its cables, and AIO connect doesn't have that issue. 

Connection to a PC is hassle-free and very fast when you use ROON, which recognizes it instantly, and if you want to stream your music without using roon, that is possible as well, using Airfoil and many other apps. 

Furthermore, you can have the entire database of Tidal at your fingertips, and you could even use a smartphone for controlling AIO Connect, basically being able to power your high-end audio system without the hassle of handling anything, imagine just how handy this is if you're holding a party, or having a more intimate moment with the love of your life and if you want to put on some music. 

This stuff was only seen in sci-fi movies just a few years ago, and now it is a reality, and let's be honest, it doesn't cost much, especially compared with the cost of a typical audio system. 

Overall, the desktop usage of Triangle AIO Connect is quite excellent, and it is a great little device to have in your audio system, especially if you want to break free from having everything tangled together, and especially if you want to use your smartphone as well to control it. 



Pairing 

The pairing was done with compatible devices I have on hand, having done extensive testing of the little AIO Connect.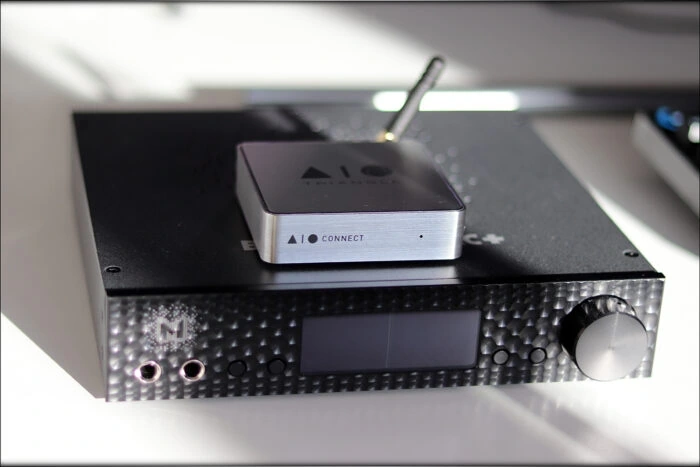 Triangle AIO C Connect + Mytek Brooklyn DAC+ – Mytek Brooklyn DAC+ is a high-end DAC, with what I'd call a true high-end DAC performance, but the fun part here isn't just how good the DAC inside is, but also how amazing it is when driving a headphone from its headphone output, having one of the best control and dynamics in a headphone DAC/AMP. Now, AIO Connect is able to provide it with a very clean and dynamic signal from the optical output, and if you're looking for a high-end setup to have on a desk, and if you don't want to have Brooklyn DAC+ connected to your computer, then AIO Connect is a great option. 

Triangle AIO C Connect + Taga Harmony HTA-800 – If you have a speaker setup, where you're using something like the Taga HTA-800 DAC/AMP as your man Amplifier, you should keep in mind that it also has a DAC embedded. Although it isn't quite at the same level as Mytek Brooklyn DAC+, it still is a fairly good DAC, and it could offer excellent service if you want a simpler setup, all you need is an optical cable to connect it with AIO Connect, and then you have access to your entire music collection, regardless where your Amplifier is placed, including the entire Tidal and ROON database. 

Triangle AIO C Connect + Edifier S1000DB Speakers – Imagine this, you have Edifier S1000DB, a self powered speaker, with an Optical Input, and you have AIO C Connect, strapped via its optical cable to them. Or even better, you can even connect the AIO C connect to S1000DB with the 3.5mm to 2XRCA cables, since they are not overly sensitive to the inherent noise of the 3.5mm output I was talking about. This is simply the future, no cables, no hassle, just pure music enjoyment without limits, and here we're talking about a wifi signal, lossless music, not bluetooth signal, which as I stated in my Edifier S1000DB Video, and which I'll also state in my review, is really really poor with S1000DB. But I digress, this is a really simple setup, and if you have S1000DB set up as your speakers very far from you, you can simply set up the little AIO connect and you're done for the day, they have a remote, AIO C is wireless, you won't need to touch that setup ever again, and if you're not happy with the sound of S1000DB, ROON has built-in EQ profiles which you can use! 



Value and Conclusion

First, it is good to mention that Triangle AIO connect costs about 150 USD, which by all means, is a very good price for such a high-quality little Streamer. By high-quality, I don't mean just the sonic quality, which should be pretty much the same as other transports, but the build quality, which is simply excellent, as it is an all-around metallic device, and looks really sexy.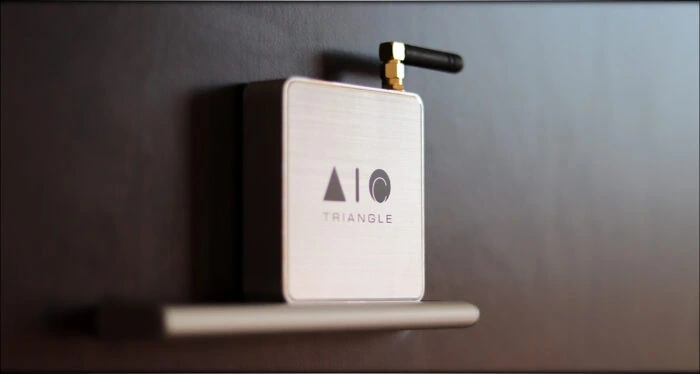 Furthermore, the signal is rock stable, and I could use it even quite far away from my router, not to mention that it doesn't get hot, and it can connect to any device I need it to. 

And this is one of the most important aspects, AIO connect can work flawlessly with your PC, your smartphone, your streaming service, like Tidal, it can stream hi-res files, and even has implementation with all those services. Using ROON only makes your whole experience better, giving you access to everything you could desire, and I consider it to be an essential component of a modern day music lover. 

All in all, if you're looking for a good quality, affordable, little yet powerful streamer, with a very good signal strength, and connectivity with pretty much all devices you may have around, then you should totally check out Triangle AIO C Connect, and if you're from Romania, or from Europe, you should totally check it from HIFI Expert, especially as they have many other devices, as well as high-end speakers that will blow your mind right on the spot, when you hear them. 
Purchase Link
https://hifiexpert.ro/produs/adaptor-wireless-triangle-aio-c/
---
---
--- Please remember to stay safe, and always have fun while listening to music!---
 - If you have a dime to spare, and donate, to help us with electricity and work expenses, it would make my day much brighter, as it would help me improve things around the website and increase the frequency of my posts - 
---
Full Playlist used for this review
We listened to more songs than those named in this playlist, but those are excellent for identifying a sonic signature.  PRaT, Texturization, Detail, Resolution, Dynamics, Impact, and overall tonality are all revealed by those songs. We recommend trying most of the songs from this playlist, especially if you're searching for new music!
https://www.youtube.com/playlist?list=PL_cjBXGmwSHSdGcwuc_bKbBDGHL4QvYBu
--- Contact Us ---






---
---