Azla Horizon IEMs Review – Bring Me The Music
Azla Horizon is a 300 USD IEM, coming to challenge the ones already dominating that market, which isn't by any means open or an easy place to be in. With many competitors to beat, and many boxes to check to be worth its asking price, it is going to be a nice match between 300 USD IEMs, from which no one knows who'll come alive. 

Azla Project is one of the innovators of the Audiophile Industry, having created some interesting and refreshing pieces of tech for their IEMs, like the Advanced Research Driver inside their Horizon IEMs, and the Bullseye driver inside their 01RMKII IEMs. They are a very friendly company, very open and very helpful with their customers, and although not everyone has heard about them quite yet, they are quickly becoming better known, and hopefully, will one day be in top ten Audio companies from around the world. 
It should be noted that I have absolutely no affiliation with Azla or Azla Project, I am not receiving any incentive for this review or to sweeten things out. This review is not sponsored nor has been paid for by Azla or Azla Project or anyone else. I'd like to thank Azla for providing the sample for this review. The sample was provided along with Azla's request for an honest and unbiased review. This review reflects my personal experience with Azla Horizon. Every opinion expressed is mine and I stand by it, the purpose of this review is to help those interested in Azla Horizon find their next music companion. 
You can purchase your Azla Horizon IEMs from www.amazon.com here: https://www.amazon.com/Dynamic-Earphone-AZLA-Horizon-RED%E3%80%90Productos-nacionales-Jap%C3%B3n%E3%80%91%E3%80%90Barcos/dp/B07CZVY5ZB/
Packaging

First things first, let's get the packaging out of the way: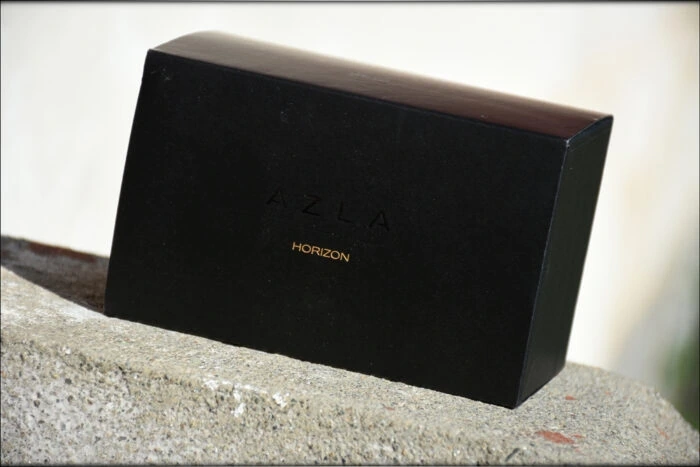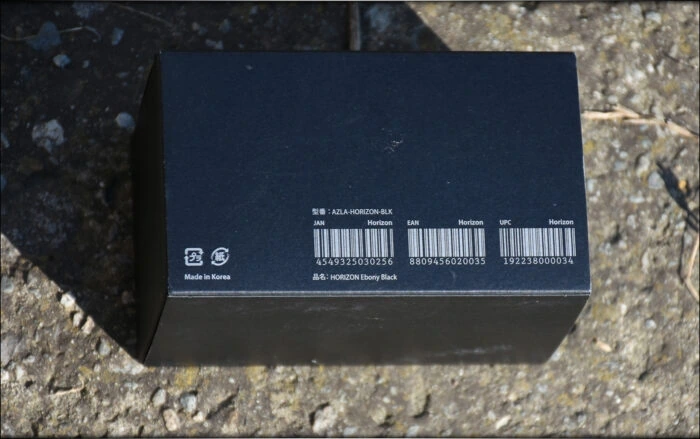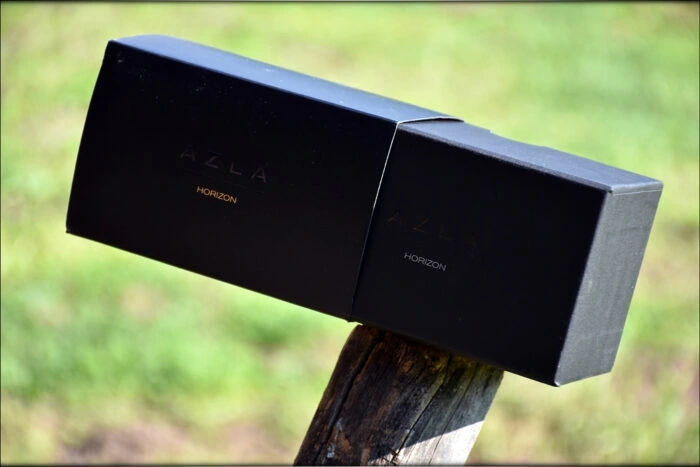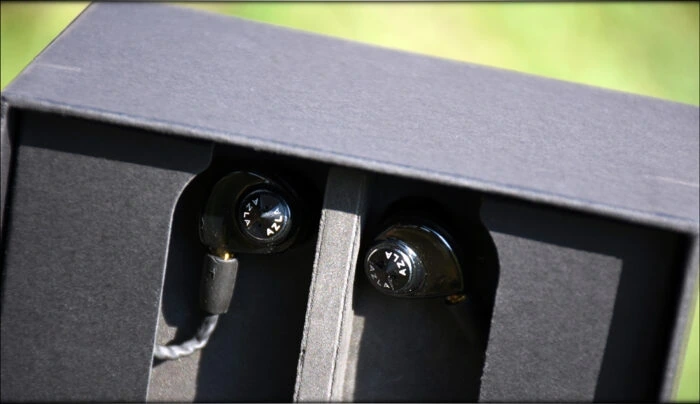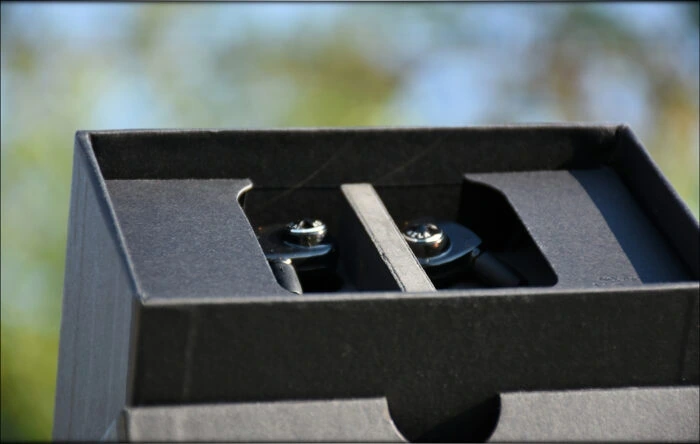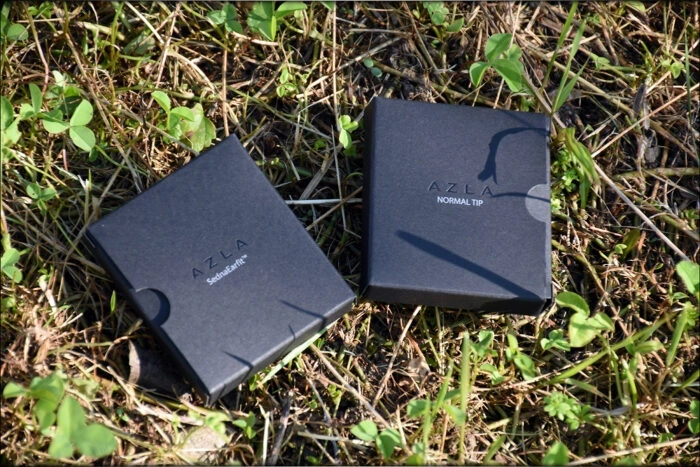 I love unboxing IEMs and products in general that have an interesting package. It has been only days since I published my review of FLC 8N, which had a really interesting package, and now, here's another one that really made me smile while unpacking it. 

Azla Horizon is a IEM, but it comes packaged in multiple boxes, each with a designated role. A large black box, with a nice small font on it presents what can be thought of as a fully black package. In fact, if you haven't caught the joke from the title yet, the title tries to make an indicate towards the band name "Bring Me The Horizon", a Metalcore band with a pretty interesting aggressive style. Azla Horizon has nothing in common with the band really, but the name really gave me the opportunity and I simply couldn't miss it. 

Back the the Horizon, Azla Horizon has a nice way of present the IEMs, which are enclosed in a separate chamber from their cable. Below, there are two twin boxes, with tips, one with normal tips and one with Sedna Tips. There's not enough explanations on what Sedna Tips are, but the short version is that they are some kind of Spinfit Alternatives, and this gives big bonus points to the package, as Spinfit tips are some of the most comfortable tips I know of already. 

In the package you can find the paperwork, the cable, the IEM shells, and two sets of tips, each in three sizes. There is no carrying pouch, which is a pity, considering the price point, and there are no extra cables for balanced connections. Even so, the package is quite good, as it includes everything needed to enjoy the Horizon. 



What to look in when purchasing a high-end In-Ear Monitor

https://www.audiophile-heaven.com/p/what-to-lookl.html


Technical Specifications

Driver Unit – 8mm new SF ARD(Advanced Research Driver)
Sensitivity – 103dB
Total Harmonic Distortion – Less than 0.5%
Rated Input – 5mW
Max Input – 20mW
Impedance – 27Ω ±10%
Frequency Range – 5Hz – 30kHz
Weight – 24g (with cable)
Plug – 3.5mm stereo



Build Quality/Aesthetics/Fit/Comfort

Here we start with something a little different from other IEMs. Where most IEMs are fully metallic at this price point, Azla Horizon is made from a high-quality semi-transparent plastic. This is not an issue by any means, and plastic can be even better for long-term usage, and given the fact that there is no paint over the plastic, just its natural color, there's no chance of anything chipping off the IEM shell.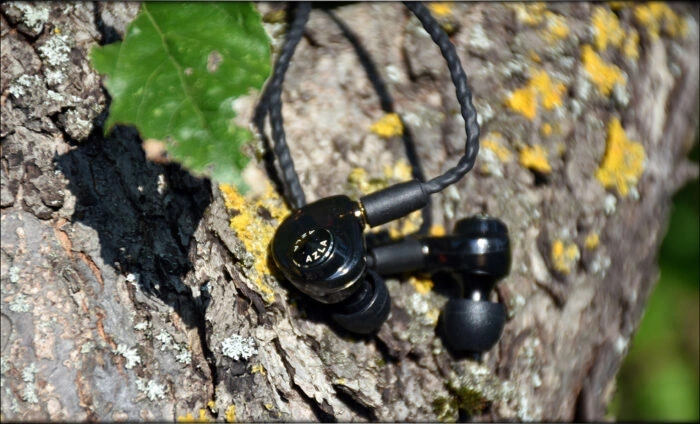 You can actually see the cables going from the connectors to the drivers inside the IEMs, through the semi-transparent housings. 

Seeing the photos of the Red / Cherry version of the Horizon on their site, I really wished now I had that version instead, as it is just too beautiful to be true. This being said, even the black one, has a smooth aura to it, but at the same time, it has some more aggressive elements, like the round cap on the outside, and overall, they look stylish and have a nice "Cool" factor to them. The IEM shells are very ergonomic, smooth, without any kind of hard edges. The IEM bore (tube) is long and thin, and it is positioned at just the right Angle for the Horizon to be a really comfortable place to be. They are super comfortable, and they will be for most people. The Sedna tips are very good actually, they aren't exactly Spinfit variants, but they are some high-quality silicone tips with a good rubber, which doesn't get slippery after much usage, doesn't fall out, and doesn't wear out, so you don't need to worry about them.

The only wearing style is over-the-ear, but they use MMCX connectors, in the case you plan on getting aftermarket cables, especially if you plan on using them with balanced cables. The connectors are fairly solid, they click nicely in place, but they aren't too tight, so they won't damage over time from typical usage. You can have the peace of mind that the MMCX connectors will be there to serve you for many winters.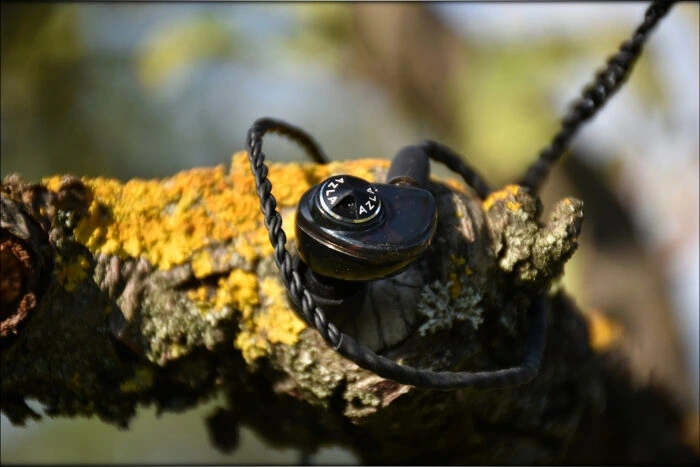 Isolation is incredibly good, especially considering those are vented, and the plastic isn't thick enough to block all the noise from the outside. You can always take a walk in the snowing horizon, thinking about that sweet girlfriend who's waiting you home, with fresh made cookies to savor together with her. 

The comfort is pretty good, they have a nice, thin and long bore, it is angled perfectly straight, so they will fit really well for most ears, and the Sedna tips are pretty nice as well. The Rubber on the tips is high-quality, and it doesn't gather grease and doesn't get slippery. The IEMs have no driver flex, and the vent holes do their job fairly well, but they are the type that doesn't equalize the pressure instantly, so it is best to be careful when taking them out and when inserting them, and to do it slowly. They are the kind of IEMs that after the initial insertion will just sit there, without bothering you in any way, without getting uncomfortable over time. 

This being said, they have some microphonic noise with the original cable, even though it is the type that you wear over-the-ear. It is a much less intrusive noise compared to something like IE800, which were really loud while walking or just sitting and moving your head, but it isn't completely silent either, just a bit, especially if you do movements where you touch the cable from above the Y split. 

Overall, the aesthetics, fit, comfort, and build quality of the Azla Horizon are up with all the other IEMs in the 300 USD price range, and they don't have any flaws that would make them stand out. Furthermore, they are even more comfortable than some of their direct competitors, being an interesting choice from this point of view. 



Sound Quality

Azla Horizon is a fairly healthy V-shaped IEM, with a clear love for a thick and strong bass, with a recessed midrange, that is incredibly clear and astonishingly detailed, and with a treble that is sparkly, but which doesn't impose itself with a grainy texture. As soon as I placed them in my ears, I was shocked by the large soundstage they have, along with the really amazing instrument separation. Compared to something like IE800 (which they feel like they've been tuned like), Azla Horizon has a thicker, slower, and more lush bass, with a less distant midrange, and with less brightness and fatigue in the treble, and a larger soundstage, but a pretty similar instrument separation (sounds like a total win for those who wanted an easier to listen to IE800).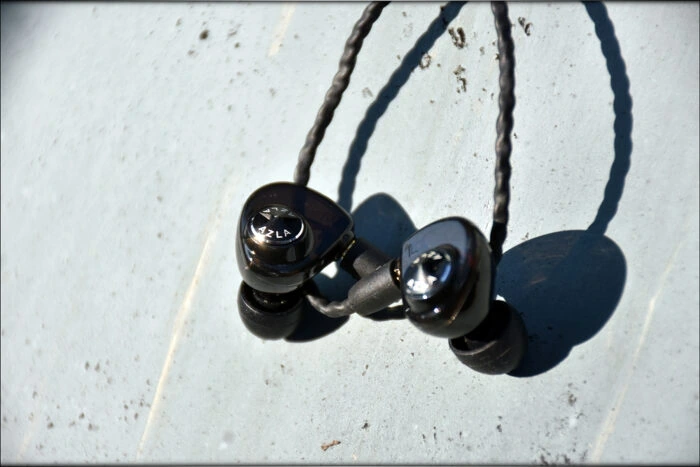 Starting with the bass, I picked some Pendulum – Propane Nightmares, as some Drum'N'Bass is always a good weapon to test the bass of a IEM for general usage. The bass is fairly deep, though not all the weight is placed in the sub-bass, but actually in the 40 – 80 Hz, giving a satisfying and fuller sound to the whole bass. The upper bass is not overly enhanced, and the sound isn't veiled, nor too thick, but rather natural. The speed of the bass is fairly natural, to slightly slow. The overall sound works incredibly good with Symphonic Metal / Heavy / Thrash, and Symphonic music in general. The Bass is quick enough for Grindcore / Technical Death Metal, so you don't have to worry about your fast and aggressive music being too slow, but you also don't have to worry about your Jazz sounding too technical, as the well-rounded bass works with Jazz and slower music as well. 

The midrange is recessed compared to the bass and the treble, and in general it is a really clear kind of midrange, with a good amount of detail, more than most would expect from a IEM less known, and with a more spot-on tonality for both male and female voices than expected. Sweet, sugary voices sound as such, while deep and serious voices have the proper tonality for achieving a truly impressive performance. Listening to Leningrad highlights that trumpets are rendered towards the smoother side, but with still a good texture. Guitars are juicy, and not over-textured, everything sounding natural, but very detailed (you can hear the background instruments very well defined), and well separated. 

The treble is quite interesting, as it is well extended, but doesn't offend. This is achieved by having a dip somewhere in the treble, where the hot part, or the harsh part, is attenuated. With certain cymbal crashes, this can make the overall impact feel a bit lower than it should be, like slightly crushed at its mid point, but in general the treble is airy and well extended towards the highest octaves. Compared to IE800 (since they go for a somewhat similar overall U-shaped tuning), IE800 is more sibilant, more bright, where Azla Horizon is much more fit for long term listening. 

The dynamics are quite good, and generally it is a pleasing experience to listen to them. 



Soundstage

The Soundstage of Azla Horizon is large, competing with the soundstage of FLC 8N actually, which are the current king of soundstage from most IEMs I heard in this price range (midrange area ~300 USD). The soundstage has both an excellent width and depth, sounds coming from more distant places are well separated from sounds closer to the listener, music is holographic when it is meant to, and Azla Horizon truly paints a musical Horizon, working well with both Classical and Symphonic music. 

The Instrument separation is also really good, instruments are well defined from each other, and each instruments tends to have its own space and air to breathe. 



Texturization

The texturization is a complex subject for any IEM, and Azla Horizon mostly has a natural approach. They manage to sound more natural than most similarly priced IEMs, by having a fairly natural texture to everything, the bass is natural to ever so slightly slow, resulting in a natural bass, realistic, the midrange sounds textured for textury instruments, and smooth for instruments that are supposed to be smooth, and the treble is mostly natural to smooth in texture. Azla Horizon is not an analytic IEM though, it is not dry, and doesn't reveal textures quite that well, this works nicely with the soundstage and instrument separation for giving the sensation of a large, but natural stage. 



Portable Usage

The portable usage is okay. 

Azla Horizon is not what I'd take with me portably unless I had a great source, they eat a ton of power to sound good, and to be loud, being about as hard to drive as IE800 is, or the average headphone. They are harder to drive than Ultrasone DXP, to have a point of reference.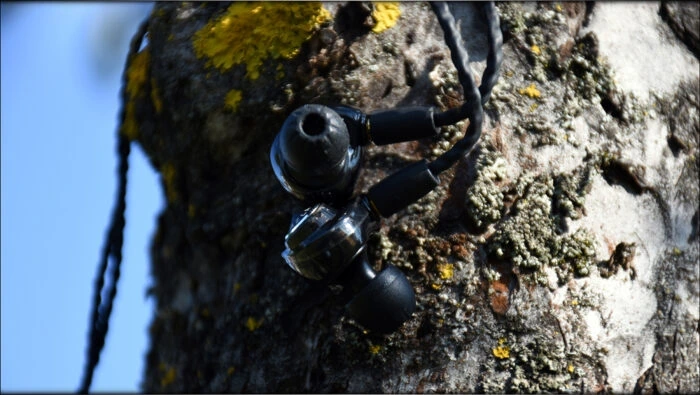 The isolation is actually very good, and you can take a walk through the snowy winter streets of Bucharest, dreaming of that girl, while wearing Azla Horizon, or wake up early to admire the early morning horizon, and take some photos, but they are vented, so the isolation is not quite as high as it is with an all-BA design, where the acoustic chamber is entirely separated from the main IEM. 

Ergonomics while on-the-go are excellent, the cable is not very tangle-prone, they look really nice, and they don't draw unwanted attention to the listener, and Azla Horizon is fairly comfortable, even while walking or headbanging, although most people don't headbang while on-the-go or randomly on the street. 

You can always stop from your walk, and spend a few minutes to admire a flower, or the hard working bees, while listening to some good music, as I did while testing Azla Horizon.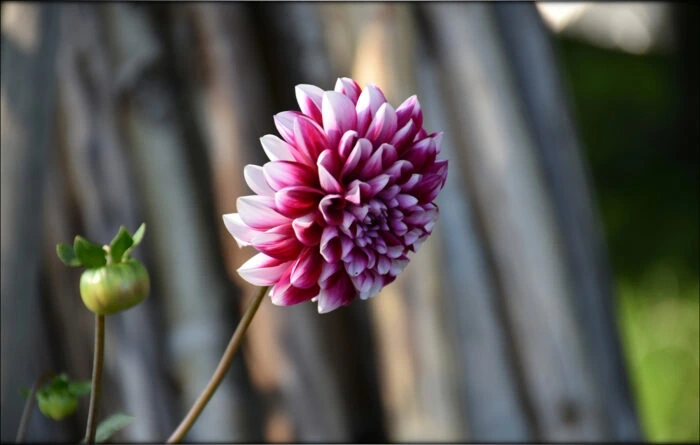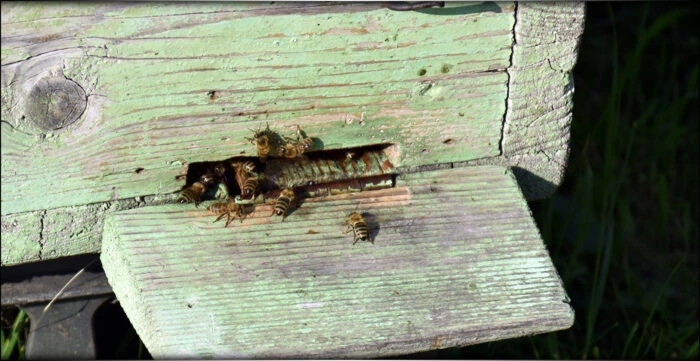 The microphonic noise is there, if you're easily disturbed by it, but it is not loud, and after you get around wearing them and pressing play, you're not going to be noticing it too much. 

In all fairness, the main drawback on their portable usage is the fact they are so hard to drive, pretty much like Final Audio E5000, but otherwise, they are fairly solid and recommended if you plan to take a trip into the forest wild, or adventure through the urban jungle.



Comparisons 

The main competitors in this price range are Sennheiser FiiO FH5, Final Audio E5000, and FLC 8N. Of course, IE800 is also a fair competitor, as Azla Horizon could make an interesting IE800 replacement for those who wanted a similar level of clarity, detail, instrument separation, but with better comfort and better long-term listening. 

Azla Horizon vs FiiO FH5 – FiiO FH5 is an iconic IEM at this point, one of the best there are in this price range, FiiO having made a statement in what is an excellent build quality, package content, and sound quality. Starting with the package, FH5 has a more complete package, with more tips included in the package, and with a really nice transport solution, while Azla Horizon is made to be listened while looking into the Horizon, and doesn't come with any carrying case. The build quality is similar, although Azla Horizon is made of Plastic, where FH5's outer housing is made from metal. The cables on FH5 are thicker, while the ones on Azla Horizon are much more flexible. Comfort levels are slightly better on Azla Horizon, mainly because their bores are longer, and thinner, and they allow for more insertion options, where FH5 really work well with my ears, but some users couldn't get the same fit, as everyone's ears are shaped differently. In this sense, Azla Horizon is more universal and should sit well with a larger number of users. The sound, the most important aspect, is at opposite sides of the sonic spectrum. FH5 is a midrange-forward IEM, with a nice clarity, thick bass, but with a smooth treble. They generally feel well balanced, to midrange-forward, especially in the upper midrange. The detail levels are comparable, although Azla Horizon renders more background instruments and with better definition, mainly because their midrange is pushed back, allowing for more space for the background instruments to play. The textures are comparable, and so are the dynamics, but if you want a midrange-forward IEM, with an intimate soundstage, FH5 makes an excellent offer, while if you want a V / U shaped IEM, with a large soundstage, then Azla Horizon is clearly better fit for your needs. Both raise similar levels of price / performance, so you don't have to worry about this. 
Azla Horizon vs Final Audio E5000 – Final Audio E5000 is also one of the most interesting IEMs of the moment, most users are really pleased with them, although they are a one-trick pony, having a really thick and lush sound, but that being their main direction. If you don't like their wide, but very lush, thick and clear sound, you can't really get anything else from them, but if you're looking for that thick, lush, clear, wide and wearm experience, there's nothing thicker and more lush, while staying this clear, in this price range. The package is comparable, although E5000 comes with a transport solution, although not a very useful one (being made of rubber, it doesn't really offer them much protection during transport). The construction quality is great on both, but E5000 has a much smaller overall shell size, with a metallic shell, and with thicker, yet better cables. E5000 can be worn both over-the-ear and straight-down, and they are super comfortable, even a bit more comfortable than Azla Horizon. E5000 has excessive amounts of sonic leakage, compared to Azla Horizon, but they both isolate well from the outside noise (I am only able to scare people around me in the bus with E5000, by blasting some Grindcore, with Azla Horizon they don't seem to notice.) The sound on Azla Horizon is much more versatile and balanced than with E5000, but then again, this is where E5000 is unique, in their really lush presentation. Azla Horizon has much less thickness, a much better treble in terms of naturalness, Azla Horizon has more instrument separation, an largest soundstage, although both E5000 and Azla Horizon sound fairly dynamic. One thing to take into account with both is how hard they are to drive, both are pretty hard to drive. If you want one of the most lush and thick IEMs in this price range, E5000 makes a very compelling offer, while if you want something that's U or V shaped, then Azla Horizon is an excellent option for their price. 

Azla Horizon vs FLC 8N – I can't simply forget that I just reviewed FLC 8N, and also said that they are able to get a wide array of signatures, and all of those are good. Starting with the package, FLC 8N comes with a larger number of tips, and with a really high-end carrying case, while Azla Horizon has no carrying case. The comfort is comparable, although FLC8N is smaller in general, and feels more comfortable (they will be more comfortable with most ears). The sound is quite different, and FLC 8N can't quite match Azla Horizon's main signature regardless of the tip combo installed, Azla Horizon having pretty much a more detailed, more clear, with more background instruments, with better instrument separation sound of the basic FLC 8N configuration (the one it comes installed with). This being said, Azla Horizon can't change their signature the way FLC8N can, and FLC8N is much more versatile in terms of what it can do, but still, if you want a really simple hassle-free, no-risk IEM which you can just enjoy, Azla Horizon is an excellent one, while if you want to go for a bit of tweaking and to play with the sound, then FLC8N is still very interesting, and an IEM I recommend a lot, especially if you want a better understanding of your tastes and preferences.  

Azla Horizon vs Sennheiser IE800 – This is really not matched evenly in terms of pricing, but it highlights some of my frustrations with IE800, which have been voiced by other users, and which make a big reason on why I really wish Sennheiser would make an updated IE800. Starting with the package, Azla Horizon comes with more tips, and a fully detachable cable, although IE800 comes with a carrying case (which doesn't offer much protection, and pretty much requires protection by itself). The build quality is great on both, and IE800 has a smaller, ceramic body, but in terms of comfort, IE800 is no match for Azla Horizon. Azla Horizon just sits in your ears, and at most, you may be annoyed by the void when inserting them, which means you have to insert them slowly, while with IE800, the comfort is never really great, the tips get slippery easily, I need to re-insert them a few times, before my ears fully accommodate with them, the cables are way too short above the Y-split, so you can't really wear them over-the-ear, which would have been great since they have a pretty microphonic cable. Azla Horizon is just comfy and a dream, in comparison. Now, onto the sound, Azla Horizon feels more natural and more even, with a slower bass, a more natural overall presentation, a larger soundstage, and a more easy sound for long-term listening. IE800, by comparison, feels more detailed, more analytic, has better texture revealing, but is brighter, more sibilant, has a considerably deeper bass, more focused in the sub-bass, and with better overall impact, but with a midrange that is a bit too recessed, resulting in a considerably less even sound that can get fatiguing. This being said, I feel that for the money, Azla Horizon is a better option for long-term listening, and is much easier to recommend to most people, except for those who want the really strongly U / V shaped sound, like IE800 has, or the better resolution of IE800, with the warning, that they have to put up with IE800's ergonomics for it. 



Recommended Pairings

Azla Horizon is pretty hard to drive, but even harder to master. They have a low impedance of just 27 OHM, and a farily high sensitivity of 103 dB/mW, which doesn't seem to make them that hard to drive, but in practice they require xDSD from iFi to go in the yellow for loud listening. They are also hard to master, as they will pick some hiss from hissy sources, and they will change their signature with a high output impedance source. On the bright side, this also means that they will perform really well from a high-quality source, as they have a stated maximum distortion of just 0.5%, which is pretty darn impressive for any IEM. Being a 3.5mm SE input IEM, they should work with most sources out there, and if you're feeling courageous and daring, you can get an aftermarket cable and even use them with the balanced output of your source, but you should keep in mind that Azla notes a maximum power input of 20mW for them, so be careful to not burn them (most Balanced Outputs tend to have a higher power rating than the Single Ended Output of the same device). 

Azla Horizon + iFi xDSD – xDSD from iFi is a great DAC/AMP to pair with anything really. It is a universal-kind of DAC/AMP that you can simply use without giving it much thought, performing really well for the price, and being really easy to pair with almost anything that you'd take on a walk with you. Of course, it isn't exactly perfect, but it doesn't present any hiss with Azla Horizon, it can make them go louder than most sane people listen to, it has those XBass and 3D enhancements, which are quite amazing, and you get iFi's excellent support behind it. On the other hand, if you're lonely and planning on getting a companion, xDSD makes both an excellent conversation starter, but also something odd that may lower your chances, so going with a stack is something to consider when considering xDSD, although I love it, and most people who saw it are quite impressed by it. 

Azla Horizon + iBasso DX150 – iBasso DX150 is an interesting DAP made by iBasso, which you can pair with all their high-end AMP modules, making it one of the most interesting DAPs of the moment. It is priced high enough to be in the high-end range, being similar in price to FiiO X7mkii, so it isn't exactly a cheap or simple option, but if you don't like stacks, it is a very interesting option. The sound is quite good, and you won't get attention while using it in public, and with iBasso's AMP5, it sounds very wide and has a really amazing overall dynamic range. This pairing is a personal favorite, very balanced, and aesthetically pleasing. With the default AMP installed, DX150 is quite thick and warm, with a smoother top end, making Azla Horizon smoother and thicker. 

Azla Horizon + FiiO M7 – M7 is a more entry-level DAP from FiiO, made to please without breaking the bank. It has a lot of abilities, including advanced BT abilities, but those won't be quite that useful while using Azla Horizon. In terms of sound, M7 is colder and more neutral than DX150, and it makes an interesting option if you want a tighter overall presentation for Azla Horizon, or if you're on a budget. 



Value and Conclusion

Nothing is said and done before I get to mention that I actually did get to listen to Bring Me The Horizon on Azla Horizon and it helped open new Horizons before me, making me see Beyond The Horizon. With that out of the system, Azla Horizon really did open new horizons for me in terms of what is possible at this price range.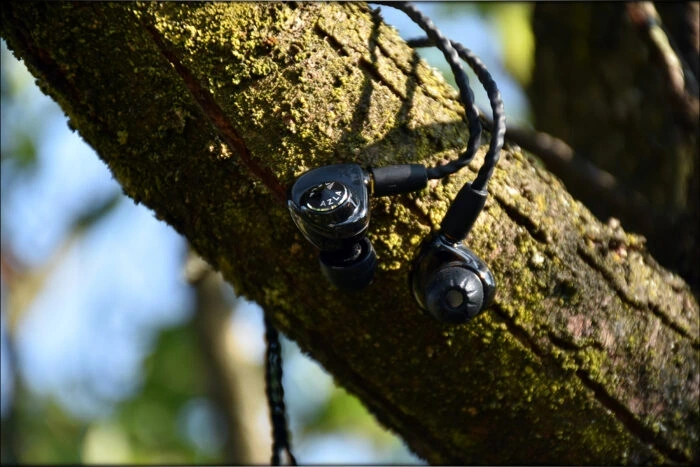 Interestingly, most IEMs in this price range seem to come with innovation that was possible before with considerably more expensive IEMs, Azla Horizon's innovation being mostly in their price/performance ratio, and in the level of detail and soundstage, along with their instrument separation, for an IEM in this price range. 

The package is pretty good, they come with enough high-quality tips that you won't require changing them immediately, although you can always go for aftermarket tips if you found comfort with a specific type. Azla Horizon comes with a braided cable that is Single Ended, 3.5mm, a pretty universal choice that should work just fine with pretty much any source out there, and they come packaged nicely, in a pretty modern package. 

The build quality is pretty amazing, they are solid plastic, but they have vents, or at least pressure equalization vents, as the air doesn't get out of them immediately, and you should insert them slowly, which means that the inner chamber has its pressure adjusted carefully for the best sound. The comfort is also pretty good, with some minor microphonic noise and bores that are slightly larger than average being the main drawbacks, but with a smooth IEM body that sits really well in all ears, regardless of their shape, with long bore tubes, and with good tips that are and will be comfortable for most ears seasoning the great sound rather well. 

And the sound, is exactly what U/V shaped sound enthusiasts love in a midrange IEM, high price/performance ratio, so high that's insane, a nice deep bass, with a nice kick and impact to it, a recessed midrange with nice instrument separation, large soundstage and great background instruments rendering, and a sparkly treble that's not fatiguing nor harsh, meaning that I can listen to Azla Horizon for hours in a row without getting tired. The dynamics and overall clarity are also top notch, and the sound of Azla Horizon makes them a really attractive choice if you're a U/V sound lover.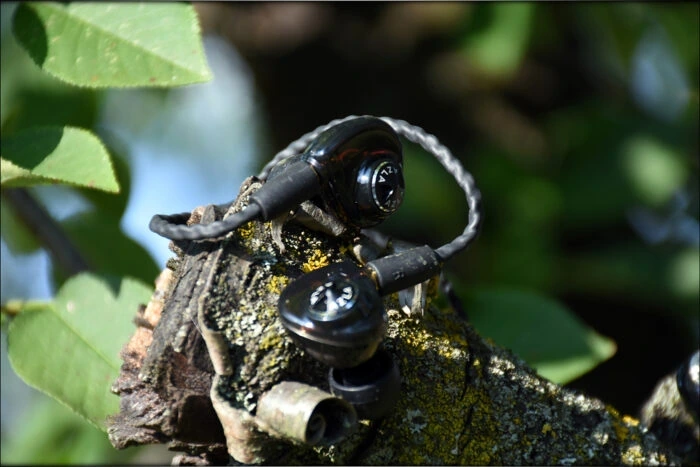 In the end, if you're looking for a IEM that will take you beyond the horizon and will be a fairly versatile, clear and punchy experience, Azla Horizon is really easy to recommend, and especially if you're a V/U-shaped signature lover, you should totally check those out and consider them for your next companion in this neverending music adventure!  
You can purchase your Azla Horizon IEMs from www.amazon.com here: https://www.amazon.com/Dynamic-Earphone-AZLA-Horizon-RED%E3%80%90Productos-nacionales-Jap%C3%B3n%E3%80%91%E3%80%90Barcos/dp/B07CZVY5ZB/
---
---
--- Please remember to stay safe, and always have fun while listening to music!---
 - If you have a dime to spare, and donate, to help us with electricity and work expenses, it would make my day much brighter, as it would help me improve things around the website and increase the frequency of my posts - 
---
Full Playlist used for this review
We listened to more songs than those named in this playlist, but those are excellent for identifying a sonic signature.  PRaT, Texturization, Detail, Resolution, Dynamics, Impact, and overall tonality are all revealed by those songs. We recommend trying most of the songs from this playlist, especially if you're searching for new music!
https://www.youtube.com/playlist?list=PL_cjBXGmwSHSdGcwuc_bKbBDGHL4QvYBu
--- Contact Us ---






---
---