HIDIZS Tempotec Serenade iDSD Review – Desk Friend
HIDIZS Tempotec Serenade is a new DAC/AMP from HIDIZS made for desktop usage. It is an entry-level unit, priced very accessible, at just 140 USD, making it one of the least expensive Desktop DAC/AMP units we reviewed so far. It has a lot of competition, even from the portable AMP department, and it will have to do quite a lot to stay alive at this point, and today we're going to find out whether it stays afloat or sinks. 

HIDIZS is a friendly company, but they have slightly poor communication in general, and you need to be patient to get answers from them. They generally do solve issues where they arise, although I generally advise to purchase from a seller when possible, as HIDIZS's own PR and Customer Relations department may be a little underdeveloped for their always growing size, and you'll get a quicker service by ordering their products from a seller, and you're also helping them by taking some heat off their back. There are many sellers with a golden overall support and service, and working with them means you get that service for your HIDIZS Product. 
It should be noted that I have absolutely no affiliation with HIDIZS, I am not receiving any incentive for this review or to sweeten things out. This review is not sponsored nor has been paid for by HIDIZS or anyone else. I'd like to thank HIDIZS for providing the sample for the review. The sample was provided along with HIDIZS's request for an honest and unbiased review. This review reflects my personal experience with HIDIZS Tempotec Serenade. Every opinion expressed is mine and I stand by it, the purpose of this review is to help those interested in HIDIZS Tempotec Serenade find their next music companion.
Product Link
You can purchase your HIDIZS Tempotec Sonata iDSD from www.amazon.com here: https://www.amazon.com/TempoTec-Serenade-iDSD-Headphone-Amplifier/dp/B082TSC39N/
Packaging

Starting with the package, we must note that Tempotec Serenade isn't necessarily made by HIDIZS, but by a third company named Tempotec, HIDIZS applying some of their own branding, and while this information is not confirmed officially, also changing the sound to some degree. In a prior conversation with someone holding insight, they said that the version sold by HIDIZS is slightly different from the version sold by tempotec, but regardless, they should be close enough for this review to hold true for both.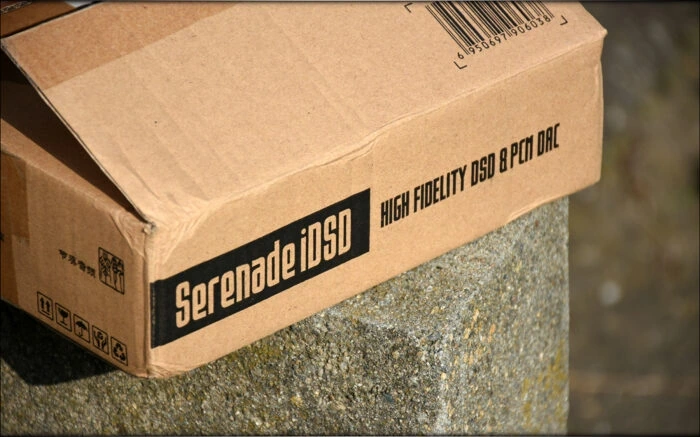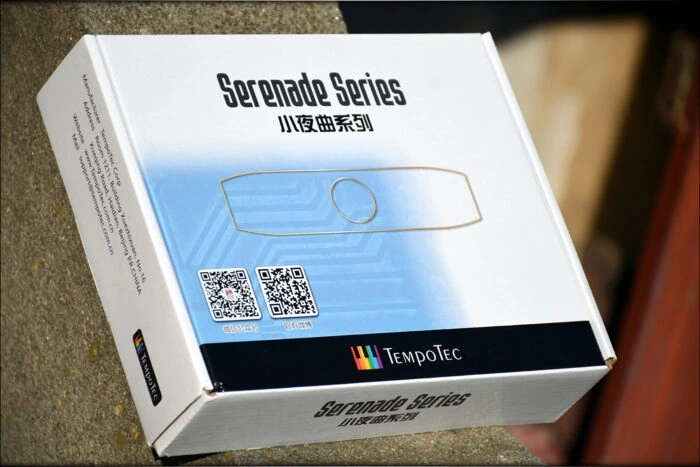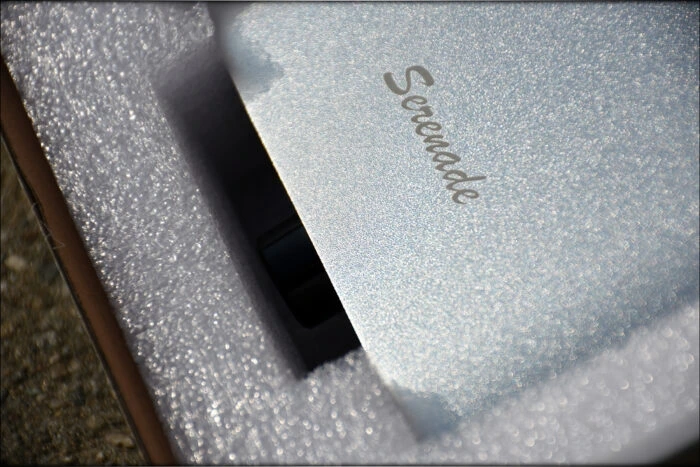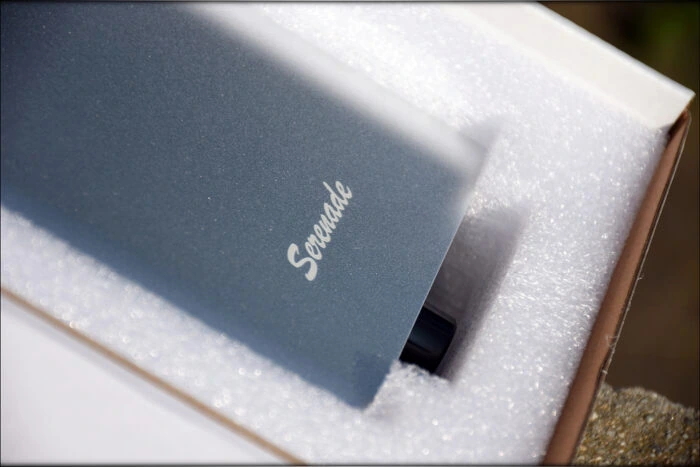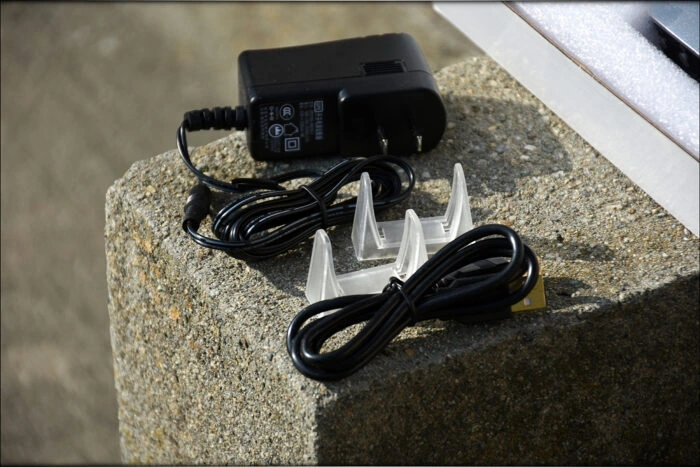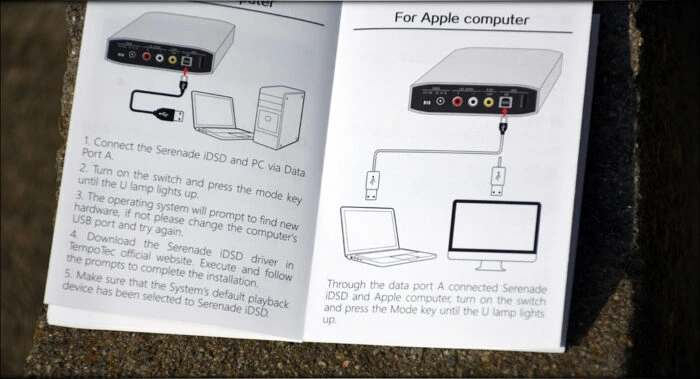 The package is of high-quality, and for the price paid, you get quite the nice overall exposition. 

There is a larger white package where you can find the Serenade comfy sitting in a soft foam, next to a little box which includes a few essentials. Among those, there are two plastic feet which can help you sit the unit straight (on the side), instead of lying flat, a power brick, which ends in a universal connector, with adapters to worldwide sockets included in the package.

There's not much else in the package, and not much else to talk about, really, this still is more than what more expensive products come with, and I can't complain much, it includes all the essentials you need to use it, and the package quality and content is great for a product at this price, only very few products in this price range coming with more extra. 
Build Quality/Aesthetics/UI/Firmware

The build quality is excellent, and while this isn't something necessarily typical of all HIDIZS Products, if we're talking about older products (AP200), the new ones are really well built (AP80, Serenade, HD Sonata DAC). The device is mostly made of a metallic outer shell, and a face, with a volume knob, two buttons, and two headphone jacks. At the back, you can find the Power Input, the Line Output, a Digital Coaxial Output, and two USB inputs.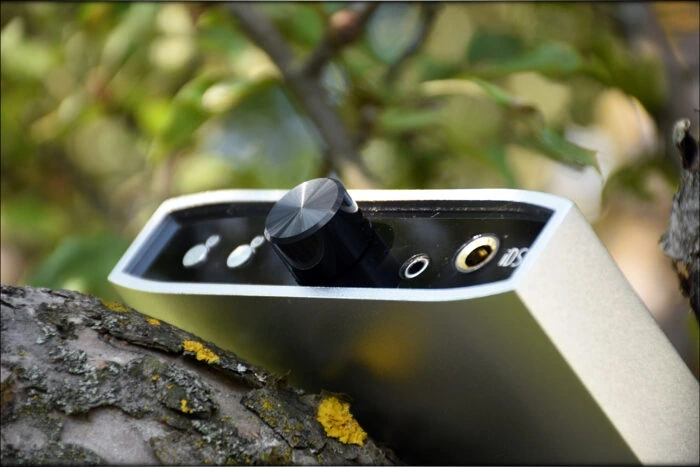 The volume wheel is a fully analogue potentiometer, so it does have channel imbalance at the beginning, or lower volumes, but not a lot of it. The volume wheel has a nice amount of dampening to it, so you can finely adjust the volume. There are two buttons on the front, each of which is used to select the input and the output. 

There are two inputs, two USB ports, one for PC / MAC , and one for OTG connections. Also, you can chose to use a Line-Out output through the RCA connectors, or a digital output through the Coax connector. 

There are two 3.5mm and 6.3mm Single Ended Jack connectors at the front. 
The Serenade cannot be powered via USB, and it requires its own power source, so you need to have it connected to the wall. This is kind of disappointing, and this means you can't use on-the-go at all, opposed to similar devices like iDSD Black Label from iFi, which although large, can be powered from USB, and even from its own battery. 

The other little complaint I have, is that its Coaux digital output is a bit pointless, since you're most probably not going to have a Wall Powered digital transport, and if you are, you're probably going to invest quite a bit more in it, as you'll most probably want a few other features with it as well. This being said, it is always good to have something rather than not have it at all. 

The DAC HIDIZS and Tempotec selected for the Serenade is AKM 4990, which is known to be a pretty smooth-sounding DAC, but it is fair to mention that it is one of the better and more versatile DACs our there, being able to decode virtually anything you throw at it, including DSD files (up to DSD 128)

To be fair to it, the device is actually named Tempotec Serenade iDSD, so it is natural that it can decode DSD files.

The glossy finish on the front and the back is nice, slightly fingerprint-prone, but nothing too serious.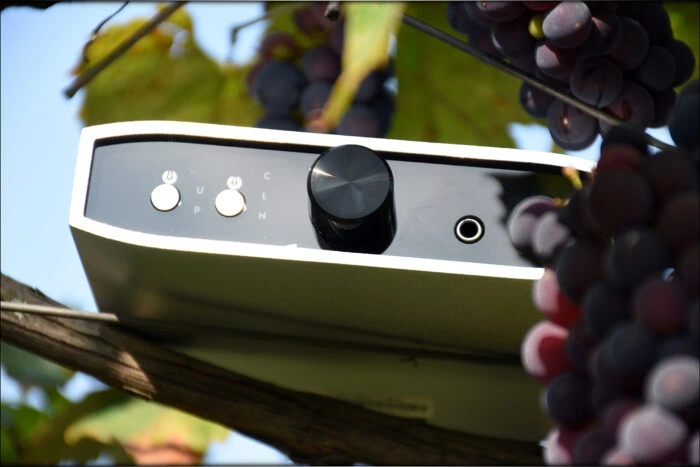 The power rating for The Serenade is about 75mW / 600 OHMs, judging by the info quoted in the book, and with a power rating of 300mW / 32 OHM, confirmed by HIDIZS. This means that iDSD Serenade has a lot of power for a device in this price area, making it one of the most capable devices at this price, if not the most capable in terms of driving power, for 140 USD. The manual also states another really amazing spec for it, a Noise of 0.00014%, making iDSD truly outstanding, of this rating is achieved in real life performance. 

One little complaint comes to mind, which is that the plastic feet have no connection with the unit, they are basically just that, plastic feet, and they are quite slippery, so using the unit in a vertical position, while possible, is not ideal. 

All in all, Serenade iDSD is a really solid device, and it can withstand falling off a desk without breaking, it looks sleek and friendly while on a desk, and it does a good job at what it's intended to do. It has all the basic connections you could desire, and it even features some extra connections, and for the price asked, it is a pretty well thought device, technically. 



Sound Quality

Now, the signature of Serenade iDSD is quite unique and specific, it has a certain emphasis on the low end, being warmer, with a slightly enhanced, and slower sub-bass, it has a more forward midrange that sounds energetic, and the top end has a slightly enhanced sparkle, but its presence is slightly reduced, compared to the midrange. 

The bass is one of the slower types of bass, not overly quick, and slower than what I'd consider natural, it is slightly enhanced, and it is rather large in size. This makes up for a punchy and impressive presentation. Finer nuances are presented fairly well for the 140 USD iDSD Serenade costs, and it is able to deal a great amount of "blow", even with Headphones that really require this kind of Power, like Beyerdynamic Amiron, HIFIMAN Sundara, and HIFIMAN HE-400i.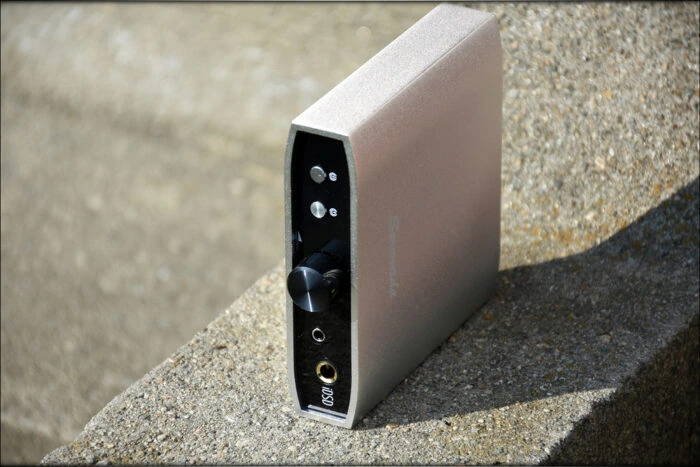 The midrange has a fairly natural overall tonality, without a strong emphasis on textures, most of the midrange being natural to slow, the textures being within what I'd consider natural. The tonality is natural to neutral, and despite the enhanced low end, the midrange stays fairly faithful to the recording, and isn't colored by the bass. 

The treble of the Tempotec Serenade is fairly smooth in my experience, and it isn't a DAC/AMP you'd typically pair with a smooth headphone or IEM, as it would sound quite a bit too smooth. It isn't the presence that is smooth, and the treble is present enough to balance out the slightly forward midrange, and the slightly forward bass, but the texture of the treble is so smooth in general, that you couldn't get it to sound grainy with any single IEM or Headphone. This makes it a great DAC/AMP for those who are sensitive to Treble Grain, but it also makes it a bit too smooth for Metal and certain Electronic Music. 

The overall dynamic range, and dynamics are great to excellent, quite outstanding for a DAC/AMP at this price range, and it really makes a statement on what can be achieved by staying desktop, and not making it portable. Especially with harder to drive headphones, like Beyerdynamic Amiron, you can hear how much the dynamic range improves compared to a less powerful DAC/AMP. The overall control it has over headphones is also fairly solid, and it is able to impose a serious authority over headphones, making it a DAC/AMP not to be joked with. 

It should be noted, that to keep the noise levels low, Tempotec Serenade has a really high output impedance, of about 10 OHM, and it really requires something like iFi iEMatch to even out this difference. The one linked above is a 2.5mm balanced iEMatch, but the 3.5mm balanced unit does the same thing. This high output impedance means that it will present some hiss with hiss sensitive IEMs, and with IEMs that are lower than 30 OHM of impedance, it will have a little too little bottom end. With its power rating that high, this is an acceptable sacrifice, but you should keep it in mind, if you're planning on using it mainly with IEMs. With 32 OHM and higher impedance IEMs and Headphones, there's no issue, and it sounds as it should. 



Soundstage

The Soundstage of Serenade iDSD is a more intimate one, and since the midrange is slightly forward, this is to be expected. This soundstage has a good amount of depth though, and the instrument layering is fairly good, at least for this price range. 

The instrument separation is natural, instruments aren't defined and cut separately, like they'd be by a higher-end source, but they aren't jumbled together either, so you get a fairly good sensation of what note each instrument is playing. 

The stereo separation and overall imaging is also fairly solid, and it does a fairly good job for a 140USD device. Of course, something more expensive, like the Burson Play Basic does a better job, but it is also double the price of Serenade iDSD, making it more of a comparison of "what you get for double the price", not necessarily a direct competitor. 



Desktop Usage 

HIDIZS Tempotec Serenade iDSD is really made to be a desktop-only device. It isn't made to be portable, and even calling it transportable is a bit of a stretch, since you require it requires its own power adapter, and its own cables, so you really need to carry a larger package to make use of it. In this sense, it is about as transportable as Burson Play is. 

Now, the desktop usage is pretty much excellent. The driver support is very solid and I couldn't encounter a single disconnect while using it with my computer, and I tested it with multiple computers and laptops, and it worked flawlessly with all of them.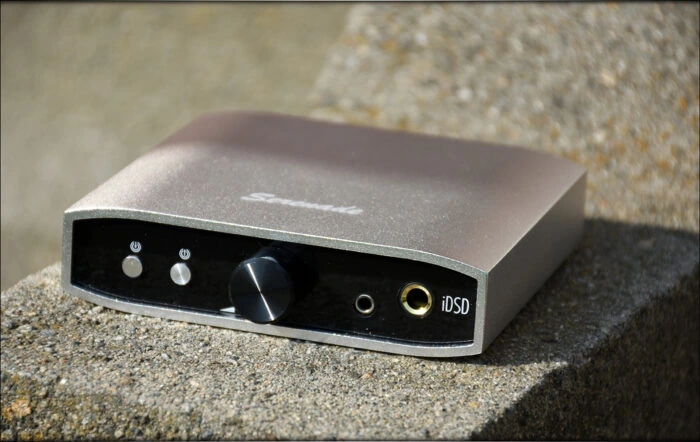 It comes with those feet to sit vertically, making it a nifty-looking device on your desk, or it can be sat horizontally, acquiring a more elegant overall aspect.

There is no noise inherited from smartphones or Wifi, even if it is placed right next to the wifi antenna, which is great, as most desktop users may place it rather close to an antenna, and the cables it comes with are black in color, so you can do some quick and easy cable management to keep your desktop tidy. Also, the unit is fairly heavy in person, so it doesn't slide on your desk if you pull a little on the cables. 

The volume wheel is easily accessible, as are all the controls you could require with it, so if you made the cable connections right before, you'll never have to touch it again. 

For its intended usage, the only real complaint I have is that you really need to apply something to the plastic legs to give it a better vertical position stability, but otherwise, it is a very stable and good desktop device. 



Comparisons

The main enemies of Tempotec Serenade iDSD will be iFi Nano BL (200 USD), HIDIZS DH1000 (300USD), and Burson Play (300 USD). The main reason it is being compared to more expensive devices is that they are mostly portable, and it should be able to overcome those to justify its price and design. It can easily overcome something like the Audirect Beam, but that one has roughly the same size as a USB cable, and can sound really amazing while staying that portable, making it a really uneven enemy for Tempotect Serenade iDSD in terms of design, price and intended usage scenario.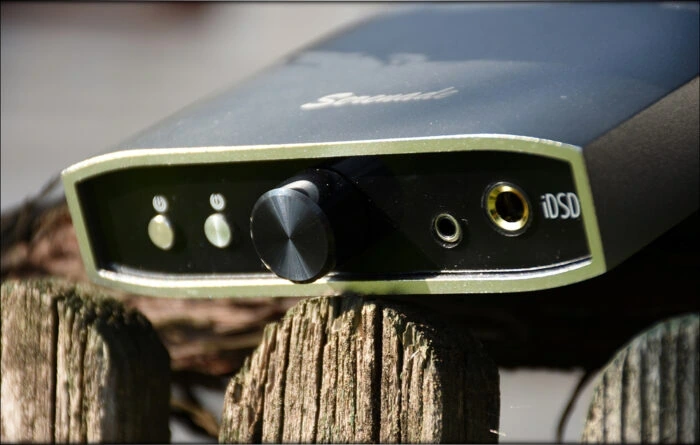 HIDIZS Tempotec Serenade iDSD vs iFi iDSD Nano BL – Now, iNano BL is not exactly an enemy fit for Tempotec Serenade in terms of design, as iNano is actually an ultra-portable DAC/AMP from iFi, made to be both affordable and portable, while the Serenade is pretty much one of the larger and more fixed Desktop DAC/AMPs you don't generally take with you while on a trip. This being said, iNano BL is already more than 25% more expensive than HIDIZS Serenade, but you may still find yourself in a position to pick between them. The differences in terms of build quality and features aren't quite that interesting, as both are really well built, and both have an industrial edge to their aesthetics, but the differences in sound are the ones that will be driving your choice. For the overall tuning and signature, Tempotec Serenade is a more energetic overall device, with a more forward sound, it sounds more digital, with a bit of glare, and it is more tuned to work with things like aggressive music and electronic music, while iNano BL is made to work best with a larger variety of music, including Jazz and Classical. One could say that both are smooth in the treble, but iNano BL is also smooth and organic in the midrange, while HIDIZS Serenade is more forward, and has a more revealing approach. The bass is similar between the two, both are slightly warm, although the bass is slower and bigger in amount on The Serenade, and tighter on iNano BL. In terms of driving power, it is a pretty clear win for Tempotec Serenade, as it can even drive the HIFIMAN HE-400i really nicely, while iNano BL is best at driving IEMs. If you need a portable device, mainly to use with IEMs, and if you like a smoother, more laid-back sound that works well with everything, then iNano BL should be your weapon of choice, but if you want a Desktop unit, don't need the portability, if you have a lot of gear that is hard to drive, and if you prefer a more forward sound, then Tempotec Serenade should be up in your list, especially with that sweet price tag of just 140 USD it sports. 

HIDIZS Tempotec Serenade iDSD vs HIDIZS DH1000 – This is a good comparison, because both of those are HIDIZS products, and there's a good chance you are considering which one to get. DH1000 is considerably more expensive than the Serenade, priced at 300 USD, so over double the price of the Serenade. This being said, DH1000 has started to go on sale for almost the same price as the Serenade, and it is also available for a similar price as a product under the Tempotec branding. To get things started, DH1000 is a more stylish device, and where the Sonata looked good, DH1000 looks pretty darn amazing. DH1000 has a Balanced output in the form of a 2.5mm jack, so if you have balanced cables, DH1000 is the only of the two that sports it. DH1000 is really portable, you can simply pick it up and carry it around, stack to a smartphone, and it looks well stacked with anything, with its deep piano black color and glossy finish, and it can be powered without a very specific power adapter being chargeable from any USB socket, where HIDIZS Serenade iDSD is a Desktop unit, that requires its power adapter to work. In terms of sound, DH1000's sonic signature is leaner, warmer, smoother, and has a less present treble than the Serenade. This makes the Serenade feel like it has a bit of a glare all over, i feels more aggressive, has a bigger bass, and sounds more uplifting in general. DH1000's soundstage is quite a bit smaller in general when compared to the Serenade, which is both wider and deeper. Now, if you're looking for a DAC/AMP for your portables, then DH1000 will surely satisfy for the same price as The Serenade, and you can even share your music with your loved one during a bus trip, if you have a headphone with 2.5mm connector, and she has a typical 3.5mm SE connector. Think about the romance, just watching the falling snow outside, listening together to her favorite songs… On the other hand, if you want a desktop unit, which can drive your full-sized headphones, and if you don't want a smooth or laid back sound, then Tempotec Serenade makes a very compelling offer, being one of the few entry-level devices that really impress, next to the likes of FiiO K3. 

HIDIZS Tempotec Serenade iDSD vs Burson Play – Now, here's an interesting one, what if you had 300 USD instead of 140 USD, and what if you still wanted to get a desktop unit? At this price point you're already in the midrange territory, and Burson Play is the first unit that comes to mind. Physically, both are built very well, but Burson Play doesn't have an analogue potentiometer, so there's no channel imbalance at low volumes. The overall device feels just as solid, if not more solid, but there's no 3.5mm headphone jack, instead Burson Play having a 6.3mm Headphone Jack, and a 3.5mm microphone input. Burson Play has more overall stability while it is sat on a table, given its shape and rubber feet, and it can also be integrated inside a desktop computer. On the downsides of Burson Play, it gets quite a bit hotter compared to The Serenade. Burson Play can be upgraded easily to better OP-AMPs, Burson offering some interesting choices up the ladder, but the operation is complicated and you need to be very careful and read the warnings before you start. The Sonic Signature is similar actually, both are pretty forward devices, with an energetic and uplifting sound, the main differences being in the bass, where Burson Play is more linear, and has a quicker bass, while Tempotec Serenade has a slower and larger overall bass. The midrange is fairly similar, and if anything, Burson Play comes through as more detailed, revealing more textures, with a more aggressive detail retrieval, although this may also be interpreted as a slightly more digital sound. The treble is more emphasized on Burson Play, which is able to sound sparkly and more airy, with a much wider soundstage. Burson Play can also play DSD up to 256, and it has more driving power than Tempotec Serenade, especially with lower impedance Headphones. Until now, it sounds like Burson Play is a total winner, but if you want to save some cash, and if you want to go for something leaner, more natural, more comfortable, then The Serenade should service you very well, being less expensive than just the OP-AMPs of Burson Play.  


Pairing 

HIDIZS Tempotec Serenade iDSD pairs quite well with high-impedance cans and IEMs, and anything that's basically above 32 OHM of impedance. It has a good control, a good dynamic range, and generally, it makes a pleasing overall experience.

HIDIZS Tempotec Serenade iDSD + Beyerdynamic Amiron – Beyerdynamic Amiron is still a favorite of mine, as it is as comfortable as HD800, but has a more emotional sound, less mature, and more friendly. Compared to HD800, it also has a smoother midrange, and a more musical tuning. Tempotec Serenade is actually amazing at driving them, as it is one of the least expensive DAC/AMPs that is able to gain so much control over their sound, providing them with a better bass response (they are light and neutral on bass, so the more forward and larger bass on The Serenade actually works well with them), and with a less forward treble, and upper midrange, where Amiron was slightly spiky, giving them a more natural, more versatile and more balanced overall sound. It is pleasing to see such great results from an entry-level DAC/AMP, and I hope HIDIZS keeps up this kind of work with future products. 

HIDIZS Tempotec Serenade iDSD + Crosszone CZ-1 – Crosszone CZ-1 is a Headphone I'm going to review soon (very soon), which is made in one of my favorite countries, Japan. A truly Japanese Headphone from head to toe, this is one of the most comfortable headphones I've seen, in line with the amazing Amiron, and even better. CZ-1 is one of the most gentle headphones I've seen with such a great attention to detail and to fine nuance, that you'd be hard pressed to find something quite as gentle and as focused as they are. This also means that they quite neutral in the bass though, with a more enhanced top end, and with a really organic overall sound. In terms of pairing, the Tempotec Serenade + CZ1 pairing, although unbalanced by the high-end nature of CZ-1, and the entry-level nature of The Serenade, sounds quite magnifique. The neutral and linear bass is sweetened with some impact from the warmer Serenade, the top end is actually brought down a notch, by the smoother treble of the Serenade. The more forward and aggressive midrange of The Serenade is actually giving CZ-1 a bit more edge, the pairing still sounding quite organic and musical, and proving that you can drive a flagship with a more affordable source, and get great results. 

HIDIZS Tempotec Serenade iDSD + Sennheiser HD660S – This is an interesting pairing, as HD660S was a really amazing Headphone from Sennheiser I had the chance to review in the past. I was quite impressed with what they did, and for folks who could never pick between HD600 and HD650, HD660S was a really good answer. Some rumors are even saying that Sennheiser is discontinuing the HD600 and HD650 lines, in favor of the new HD660S, but I haven't been able to confirm that rumor with Sennheiser yet. In terms of pairing, HD660S is a Desktop headphone, with no jokes, very few portable sources would be able to power it properly, and those are from the high-end segment almost always. Now, iDSD Serenade is able to do that, and even more, by giving them good dynamics, a nice sense of depth, and a splendid detail (considering its 140USD Price Tag). The most interesting aspect is the control The Serenade has over HD660S, which is a fairly hard to tame headphone, and especially at high volumes, you can expect an enticing experience, for a really affordable price. 



Value and Conclusion

With a company like HIDIZS behind a product, I tried to be a little careful when reviewing it, as I want you to know and understand as much as it is possible about the product. This isn't because HIDIZS is a bad company, but their communication isn't always the best, the main reason behind this being a combination of a language barrier, and them being overwhelmed by growth, and needing to grow their PR and Customer Relations departments. This being said, they are generally pleasing to work with, and while AP200 wasn't exactly the best device out there, their AP80, DH1000, and Tempotec Serenade and Sonata HD are all very solid and come with no issues.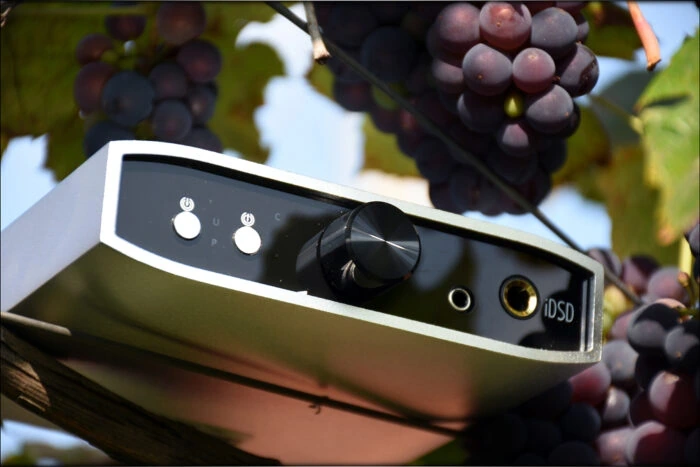 Speaking of the Serenade, starting with the package, you get everything you could need to use the Serenade, and with a few extras. The power brick is of a fairly good quality, and it didn't burn out, despite being used in my hometown, where the electricity isn't quite that stable, and the other cables are fairly sturdy and of a high quality as well. 

The build quality of the Serenade is excellent, as it is a one-piece metallic device, and it will take a serious beating, and still come for more. With a volume wheel in the front, two Headphone Output jacks, and one RCA Line Out connection at the back, and even a Digital Coax connection, you can get sound out of it in multiple ways, and all of them sing with the same talent. 

The design is both modern and elegant, you can combine it with any desktop style, from a full Mac, to the best gaming PC with water cooling and LED lights, everything working quite nicely, as long as you take the time to do a little bit of cable management, and as long as you apply something to the plastic legs to keep them from slipping away, if you plan on using Serenade in vertical position. 

The sound quality is quite good, especially for the price range, the most evident pluses being the really strong power output, the excellent control, excellent dynamics (all relative to the price point, of course), the slightly forward bass and midrange, slightly intimate soundstage, and the smooth overall texture presentation. Especially if you have a headphone or IEM with the impedance above 32 OHM, you can expect a level of detail not usually found in portables at this price range, and if you have something that's hard to drive, you'll really hear a good dynamic range, all while staying on a tight budget. 



If you're looking for a strong desktop DAC/AMP to drive your headphones, and if you like good dynamics, smooth textures, relaxing overall texture presentation, and if you like a slightly intimate soundstage, HIDIZS Tempotec Serenade iDSD surely makes a compelling choice and you should check it out, especially if your budget is quite low, and if you want some of the best power you can get for the money. 
Product Link
You can purchase your HIDIZS Tempotec Sonata iDSD from www.amazon.com here: https://www.amazon.com/TempoTec-Serenade-iDSD-Headphone-Amplifier/dp/B082TSC39N/
---
---
--- Please remember to stay safe, and always have fun while listening to music!---
 - If you have a dime to spare, and donate, to help us with electricity and work expenses, it would make my day much brighter, as it would help me improve things around the website and increase the frequency of my posts - 
---
Full Playlist used for this review
We listened to more songs than those named in this playlist, but those are excellent for identifying a sonic signature.  PRaT, Texturization, Detail, Resolution, Dynamics, Impact, and overall tonality are all revealed by those songs. We recommend trying most of the songs from this playlist, especially if you're searching for new music!
https://www.youtube.com/playlist?list=PL_cjBXGmwSHSdGcwuc_bKbBDGHL4QvYBu
--- Contact Us ---






---
---