Azeron Gamepad Classic Review – Productivity & Gaming Keys
AudiophileHeaven always focused on audiophile and music products, but by now you probably know that I'm a big gaming fan, with games having been a big influence on some bands like Machinae Supremacy, and good games having some of the best soundtracks ever. Even more, I need to produce my own video content, so I spend a lot of time editing, cutting, and mixing video, audio and even photo content. With all of this taken into account, I decided to review the Azeron Classic Gamepad, a more ergonomic keyboard, priced at about 180 USD at the moment of writing today's full written review.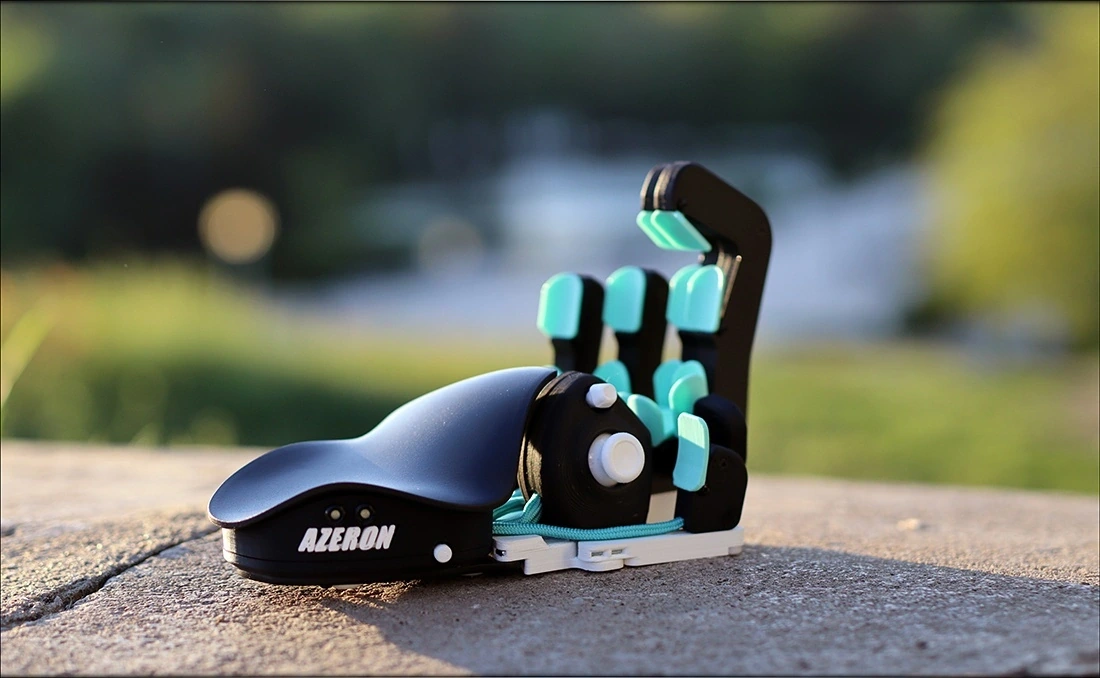 Introduction
I want to start by saying that I actually reached out to Azeron and this is not a paid review, nor something they wanted me to review in particular, but it is something I felt and thought would be really fun to work with. The company is lovely, they are some of the most friendly folks out there, plus their product is a bleeding edge production. While you may not care much for joysticks, all digital artists in this world know how useful something like the razer gamepad can be, and all music products need something like this as well. Having hotkeys is something I consider a necessity in today's world, and I personally use Logitech G502 to have as many buttons as possible for my mouse. The Azeron gamepad is 3D printed, custom made for you, and you shouldn't be afraid to approach the company, everything is custom made, so everything can be fixed if something is to go wrong with your unit. 
It should be noted that I have absolutely no affiliation with Azeron. I'd like to thank Azeron for providing the sample for this review. This review reflects my personal experience with Azeron Classic Gaming Keypad. Every opinion expressed is mine and I stand by it. The purpose of this review is to help those interested in Azeron Classic Gaming Keypad find their next music companion. 
Product Link
You can grab one from www.amazon.com here: https://amzn.to/3oizMuU
If you're in the UK, you can grab one from www.amazon.co.uk here: https://amzn.to/3dcAyU9
And if you're from Europe, you can grab one from www.amazon.de here: https://amzn.to/3dg4ZZr
Packaging
First things first, let's get the packaging out of the way:
The unit comes in a large branded box, and it is packaged smartly in paper and cardboard, in such a way that it sits perfectly still during shipping. It should arrive to you safe and sound. Depending on the configuration you go for, the package may be smaller than the One I got, and you may have some extra accessories. There's one USB cable included in the package, along with the screwdriver, keys and accessories necessary to set up and use the Azeron Classic Gamepad. 
Build Quality/Aesthetics/Features
I need to start by saying that every single unit is custom made, so you can go for any color you want. I just happened to like the mint version with mint buttons and mint cables. The unit is made of plastic, but it is very stable on my desk. With the cable coming out of the left side of the gamepad. You can customize it to be both left and right handed, in case you like to hold the mouse with your left hand. 
We have a mini USB connector, just like the one you can find on any drawing tablet from Wacom, but the cable is somewhat custom, made in such a way that it sits tightly inside and you won't happen to disconnect it by mistake. The gamepad has rubber feet so it sits perfectly still on your desk, and it imitates the shape and ergonomics of the human hand perfectly. The one I got is the large size, since I have larger hands, but smaller configurations are possible. 
At the bottom of the Azeron Classic Gamepad, you can find the adjusting keys, and I can't stress this enough, but you can adjust every single individual finger, for the gamepad to have the perfect shape for your hand. Even more, you can adjust the thumb button's position, and you can make it tighter or more loose, in case you still aren't sure of the position you'll be using it in. There are two LED lights above the Azeron logo, which can be found on the lower right side of the gamepad, and there is a switch button, which switches between the two onboard user profiles. The gamepad has two user profiles, and you can edit those, so you can create any combination of hotkeys, and assign virtually any function to any key you may desire. Since the version I have has 3 buttons at the fingertip of each finger, and two mouse joysticks for the thumb, plus one one row of direct buttons, and two more buttons at the top of the index and middle finger, you can imagine that I got all the functions I may ever need to use the Azeron Classic Gamepad. 
You can find all of the Azeron software on their website, and they have a good amount of information about their products, while their software is very lightweight, installs quickly, and works excellently, better than the software seen on Razer mice and keyboards, with which I happened to have had poor experiences in the past. In fact, I would purchase the Azeron Classic Gamepad just to not have to install Razer synapse to control their variants of controllers. 
If the fingers seem long on my unit, you don't have to worry, that's configurable too. If you flip over the Gampead Classic, you will find screws that you can loosen with the included tool, and you will be able to bring all the fingers closer to you, including the thumb finger and the joysticks, so literally, the Azeron Gamepad Classic is the most configurable gamepad ever created. I need to insist on this, but the way the palm rest is designed makes it flow so natural for my hands that my wrist actually hurts when typing on my keyboard after having used and having gotten used to the Azeron Classic Gampead. Although most of the photos have been taken with the gamepad as it arrived, with the fingers extended the most possible, I did adjust it to a much more comfortable shape for using it. I also want to mention that a smaller looking shape works better for me because my hands are used to a claw position on the mouse, so having to claw the Azeron Classic Gamepad works best for me. 
If any of the buttons feel stuck at any moment, you can actually take apart all of the joints and all of the parts using the included screwdriver, or any smartphone repair screwdriver, and you can loosen up the screw around which the buttons pivot. The thumb button comes by default, in the wrong position and there is a screw to lock it in the right position, which is facing against the thumb joystick (it makes the whole gamepad easier to use this way). 
Actual Usage 
I have been using the Azeron Classic Gamepad for a few weeks, trying to determine whether it hinders or powers up my speed in doing all of my tasks, and came to the conclusion that it will be hard to go back to not using it. You can configure hotkeys, which basically means that you can make it do CTRL+V, and other keys, or you can leave it to keypad actions, so that you can link those actions in programs like After Effects, Premiere and Adobe Audition. I now have a quick way to change the tool I am working with from cut to zoom to normal mouse pointer. This sped up my development greatly, and reduced my stress while working on editing audio / video, especially because my hand sits much more comfortably inside the gamepad than it would hovering above my keyboard, trying to do a CTRL+V or CTRL+X combo. What's even better, having more than one mouse to control direction, I can now do lateral scrolling easily in After Effects, Premiere and Audition, plus you can click on the joystick, and configure it to zoom when you do that. Since there are two joysticks, you can configure one for scroll / zoom functions, and the other to zoom out, or control arrow keys / movement, as it is configured by default. 
In fact, this is a gaming keypad, and it works great for gaming, where you can configure special attack patterns, and movement patterns, and having a dedicated joystick, besides the mouse feels really nice for all the games I'm playing. I am saying this, because I always wanted to use a joypad for gaming, but could never really get used to them, always having used a mouse for aiming and looking around. But you can configure the Azeron Classic Gamepad in such a way that you can use your mouse to look around, but use the Gamepad to move, effectively combining the best of the two worlds, PC and consoles. Of course, if you've been following me, you know that I actually do develop visual novels, for Seventh Heart Studios, and our first game, Eternal Hour will be released soon, to enchant and thrill the public, and I have to say this, for programming, this gamepad is a heaven sent. I can do very complex functions, also named macros, using the buttons, for example, for showing an element on the screen, I can compose the buttons, on the third software profile, to do something like this: 
    "show mai embarrassed_far at right_far_left_in with dissolved"
Since those are all very common commands I use throughout the game, I can program one button to type show, for example on the index right. Then I need to type the character name and expression, but I can assign "_far" or "_near" or "_normal" for the zoom distance and assign the three to my middle finger, on the top, mid and low buttons. Then I can assign the "right_far_left_in" to a button, so I can assign "right_normal_left_in", and so on, to have all of my most commonly used expressions assigned to a button.
I can also assign a button for "with dissolved", which is effectively one of my most widely used expressions during programming, so at the end of the day I can program almost five times faster, based on an algorithm that's really easy to remember (each position of a finger means a zoom level, show or scene on certain buttons, and so on). Depending on your workflow and the expressions you use the most, certain scenes become some kind of autocomplete, especially with the augmented programming that "Atom" can offer, this programming power text editor having changed my perception on how easy and fun programming can be. The main disadvantage you should know, if you plan to input long text macros, is that you need to do it by importing it 1 keystroke at a time, and it only works if you're using software profiles, macros are disabled for the on-board profiles. The number of digital profiles is unlimited, but I didn't find an option to tie any profile to a running app, which is possible on most gaming gamepads. 
What's even more interesting is the fact that the buttons on the Azeron Classic Gamepad actually feel light to the touch, but robust enough for them to accommodate both editing, mixing, mastering and gaming. I would have wished for slightly stronger springs behind them, but since this feels so much like a DIY product, I can add a little bit of rubber or sponge behind the buttons that I want to be more springy. Given the positions they are in, they have the ideal force needed for actuation ratio, so that they are comfortable and not mushy. 
I would say that the gamepad has extremely high potential for content creators, as well as heavy duty workers, it can speed up daily activities like internet browsing, mixing, editing, mastering, video work, photo editing, digital drawing, and basically anything, as long as you take the time to learn it and configure it the way you want. 
The version I've been reviewing and you've been seeing here is the Classic, the Azeron Classic Gamepad that started it all, but the company designed and created two more versions, namely the Compact and the Cyborg. With some luck, I will be reviewing one of those too in the future, but the short version is that the classic is made with the user with the largest hands in mind. The cyborg feels like the most advanced variant to date, with a smaller space for the hand to sit in, and less effort to actuate the top and front buttons. Regardless of the option you go for, just like with every single gamepad of this type, the vast amount of effort you will be putting in will be put in 
Comparisons 
Azeron Classic Gamepad vs Razer Tartarus PRO (180 USD vs 130 USD) – Azeron is more expensive, but it is a more forward-thinking gamepad, it is far more ergonomic and more configurable. Azeron Classic will make both those with smaller hands, and those with huge hands happy, where Razer Tartarus PRO works best for someone with medium hands, and you can't really configure it much. There is some strain and fatigue from using the Tartarus PRO, as I would have expected, since it is more of a keyboard, while I felt none using the Azeron Classic. The software of the Razer is slightly better, but I dislike how many resources it consumes, and many users can tell you how poor the razer synapse compatibility with their systems can be. Since I do a lot of game development, I appreciate the lightweight, clean software of Azeron above the one from Razer. The customer support is also really poor on Razer, as I discovered after having trouble with their mice in the past, and even their public relations and marketing teams doing nothing to help in any way, while Azeron has a dedicated team to take care of you and your needs. Even if you are out of warranty, Azeron uses common switches and they make serviceable products, so it is not only possible, but really easy to fix their products in the long run, plus they will help you with the process, where most gaming companies, including Logitech and Razer will do absolutely zero effort and suggest you to get their next latest product instead. 
Value and Conclusion
Priced at 180 USD, the Azeron Classic Gamepad is slightly more pricey than your everyday computer accessory, but this is not your everyday accessory. Where most people would prefer having a keyboard, you will know that you want and need an Azeron Classic Gamepad if you ever suffer some carpal tunnel and if your hands will be in pain after long hours of work. The company delivers an entirely new product, something that beats the Razer Tartarus or the Orbweaver, both of which are still keyboards. Azeron decided to not make another mini keyboard for the left hand, and instead they decided to make a new concept entirely, so it is totally worth it investing in the Azeron Classic gamepad, if you're looking for an actually ergonomic left hand controller for your work. 
If you doubt the practicality, you should keep in mind that almost all serious music producers, digital artists and video editors have a workpad / keypad for their left hand, most of them working with the Razer Orbweaver for a speedier workflow. The idea of having a left hand gamepad is really popular not only thanks to how much it improves your work, but also to know how much more comfortable it is for your hands and how much  more pleasant and less stressful it makes your work. 
At the end of the day, the Azeron Gamepad Classic is beautiful, it is a really elegant device, with a futuristic touch to it, great customizability, both before making the purchase (for colors) and after the purchase (fit, position of elements, key functions, profiles), with onboard memory, an effective, lightweight software, and with the ability to beat the popular competition and blow them to smithereens on how much better the design is, so I can easily recommend it for those doing major work or major gaming. 
Product Link
You can grab one from www.amazon.com here: https://amzn.to/3oizMuU
If you're in the UK, you can grab one from www.amazon.co.uk here: https://amzn.to/3dcAyU9
And if you're from Europe, you can grab one from www.amazon.de here: https://amzn.to/3dg4ZZr
---
---
--- Please remember to stay safe, and always have fun while listening to music!---
 - If you have a dime to spare, and donate, to help us with electricity and work expenses, it would make my day much brighter, as it would help me improve things around the website and increase the frequency of my posts - 
---
Full Playlist used for this review
We listened to more songs than those named in this playlist, but those are excellent for identifying a sonic signature.  PRaT, Texturization, Detail, Resolution, Dynamics, Impact, and overall tonality are all revealed by those songs. We recommend trying most of the songs from this playlist, especially if you're searching for new music!
https://www.youtube.com/playlist?list=PL_cjBXGmwSHSdGcwuc_bKbBDGHL4QvYBu
--- Contact Us ---






---
---