TronSmart Apollo Q10 – Good But Simple Bluetooth Headphone
I've been working on a long streak of in-depth long and complex reviews, and needed something light to take the edge off, so today we're having a look at a Bluetooth headphone with a really nice design, the Q10 form TronSmart. This is a headphone priced at 60 USD, so I don't really have much of a comparison list for it, and instead we will focus on describing them and their sound / wearing comfort.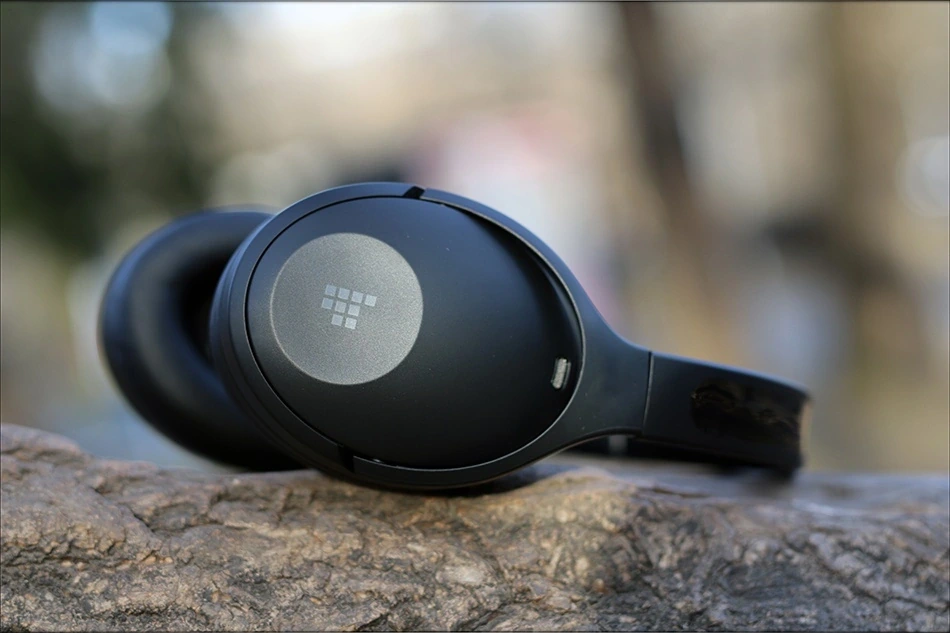 Introduction
Tronsmart is an interesting company from China that serves their products through various websites and outlets, and usually has the best price / performance ratio you can get from really cheap products. They don't make anything too expensive, but everything they made so far has been rather good, both in sonics and build quality. They have the color purple as their main theme, and all their products come with good warranty and support, plus I never heard of anyone's headphone or product from Tronsmart failing so far. 
It should be noted that I have absolutely no affiliation with Tronsmart, I am not receiving any incentive for this review or to sweeten things out. I'd like to thank Tronsmart for providing the sample for this review. Every opinion expressed is mine and I stand by it, the purpose of this review is to help those interested in Tronsmart find their next music companion. 
Product Link
You can grab one from www.amazon.com here: https://amzn.to/3iZruF9
If you're in the UK, you can grab one from www.amazon.co.uk here: https://amzn.to/3AI4lgw
And if you're from Europe, you can grab one from www.amazon.de here: https://amzn.to/3p4NtPa
Packaging
First things first, let's get the packaging out of the way:
The package of Q10 is actually quite fun, they come with a charging cable and a carrying bag, which is nice considering the price. 
Build Quality/Aesthetics/Fit/Comfort
Q10 has a nice build quality, they are light and made of plastic, but the plastic feels pretty high quality. They have a good amount of padding, and the earpads don't feel cheap or uncomfortable, despite the very pocket-friendly price. You can get about 100 Hours of playtime from Q10, at least rated by them, and I've been able to use them for around 20 hours at really loud volume. Most companies are really optimistic when it comes to their products, but that's not a big problem, as long as your expectations and the actual performance of the products are not caragiosso. 
They have written 100 days of listening on the Aliexpress page and it brought a smile to my face. Q10 has ANC or active noise cancelling, and Tronsmart promises about 35dB of passive noise isolation, which they can actually reach. It tends to affect SQ, but not too badly, and they are usable with ANC turned on, but it will eat more battery. You can take phone calls, and the mic quality is decent to very good on Q10, plus you can use touch controls or app control for them. I usually don't like touch control, but it has good unwanted touch rejection, and the final result / final product actually works flawlessly. 
I am getting good comfort, and they are fairly well made. You can use them with ANC turned on, ANC turned off, or ambient sound on, which basically makes them more open and records all of the noises that happen around you and mix them with your music. It sounds rather convincing , almost as if they were fully open. 
I like the fact that they included a Type-C port, that wins big points with me. You can't use them as a USB DAC, and you can't use them while charging either, due to the location of the charging port. No AUX port exists, so you can't use a 3.5mm cable either. Bluetooth only it is, and they have support for Bluetooth 5.0, but that includes only AAC and SBC, and I wasn't able to get aptX or LDAC to work. 
Sound Quality
The overall signature of Q10 is commercial, with a V-Shaped siggnature, and the 40mm drivers deliver a bit less bass than expected, the sound being a bit shallow at times, with a bit of bass roll-off. This being said, the final sonic presentation is punchy, and once again, for the price paid, I really haven't heard anything that can match them to say the least. 
You can actually EQ them a bit using the Tronsmart app, and they have a deep bass, hifi and vocal options, which do the expected and either bass boost, treble boost or mid boost the sound. All settings have some treble roll off, and all of the settings have some bass roll off, but the bass can reach as low as about 40 Hz, while the treble starts rolling off around 9kHz. This means that the sound will never be very aggressive or harsh, or fatiguing. 
The bass is a bit shallow, but where it starts, it has good presence and substance. The general feeling is that the bass is on the natural-slow side of things, with the presentation working well for slow music and Jazz, and not so well for rock and metal. 
The midrange is clean and generally grain-free, is somewhat recessed by default, and has excellent detailing and clarity for the price paid. There's no veil and no heavy coloration, Q10 making the Momentum 3 headphones sound really dark and choked at times by comparison. 
We have a fresh, fatigue-free treble, and although we do get some nice energy in the upper midrange / lower treble, it is mostly enough to give music some sparkle and air. Q10 has a generally natural to wide soundstage, with a good amount of instrument separation. 
Value and Conclusion
We have excellent value from Q10, like we're used to seeing from Tronsmart, and they do deliver the performances they promise. Well, not quite what they promise on the battery life, since their testing algorithm means using them at 50% with no ANC on, but still, it doesn't get better than their performance in the price range for sure. Even Sennheiser Momentum 3 which I reviewed in the past does worse with the battery life, and most bluetooth headphones will lose some quality due to the Bluetooth algorithms alone. 
On this note, I'm still waiting for a company to invent and release headphones that work on a 2.4GHz Wifi or wireless protocol like the Aurender S5W speakers I reviewed, and which do not lose any quality for being wireless. Tronsmart is pleasing to work with, and as always, they make good products with good value. 
At the end of the day, if you're looking for a simple, effective Bluetooth headphone with good value, which can take phone calls, has a good implementation of ANC, and good battery life, with good comfort, the Q10 is really easy to recommend. At the money, I don't really know of better cans except for some Superlux models that look bootleg, and none of which doesn't have Bluetooth, so until someone makes something else, I fully recommend Tronsmart Q10. If you need an affordable headphone with ANC and good phone call quality, then Q10 makes a really easy choice for sure. 
Product Link
You can grab one from www.amazon.com here: https://amzn.to/3iZruF9
If you're in the UK, you can grab one from www.amazon.co.uk here: https://amzn.to/3AI4lgw
And if you're from Europe, you can grab one from www.amazon.de here: https://amzn.to/3p4NtPa
---
---
--- Please remember to stay safe, and always have fun while listening to music!---
 - If you have a dime to spare, and donate, to help us with electricity and work expenses, it would make my day much brighter, as it would help me improve things around the website and increase the frequency of my posts - 
---
Full Playlist used for this review
We listened to more songs than those named in this playlist, but those are excellent for identifying a sonic signature.  PRaT, Texturization, Detail, Resolution, Dynamics, Impact, and overall tonality are all revealed by those songs. We recommend trying most of the songs from this playlist, especially if you're searching for new music!
https://www.youtube.com/playlist?list=PL_cjBXGmwSHSdGcwuc_bKbBDGHL4QvYBu
--- Contact Us ---






---
---