Sennheiser Momentum 3 NC BT Headphones – Extra Punch
Momentum 3 is a Headphone with a lot of life and a powerful impact, a nice amount of reach in the lows, and a good amount of features. It is priced at 400 USD, although the price is lower in most of the Europe, including Romania (350 USD medium and 335 lowest). This means that it will get compared to
HIFIMAN Deva
,
MAS Audio Science X5h
, and
Verum One
. There is no pairing possible, since they are bluetooth, but I will explain a bit in the Sound part of this review how the sound differs when you're driving them from a smartphone, dedicated DAC or using them cabled as a USB DAC. 
Sennheiser does not require an introduction, you probably know already who they are, and even your grandparents probably know, since Sennheiser as a company has been around since the second world war, producing audio systems. They are known for many of their models, including the HD660S which I reviewed in the past, and the golden HD800 and HD600 lines which have been around for more than a decade each. The company support for their customers is excellent, and they are a professional company from Germany, going closer to 100 years of audio systems production now. 
That being said, it should be noted that I have absolutely no affiliation with Sennheiser, I am not receiving any incentive for this review or to sweeten things out. I'd like to thank Sennheiser for providing the sample for this review, with me being responsible for paying the custom taxes. Every opinion expressed is mine and I stand by it, the purpose of this review is to help those interested in Sennheiser Momentum 3 Bluetooth Headphones find their next music companion. 

First things first, let's get the packaging out of the way: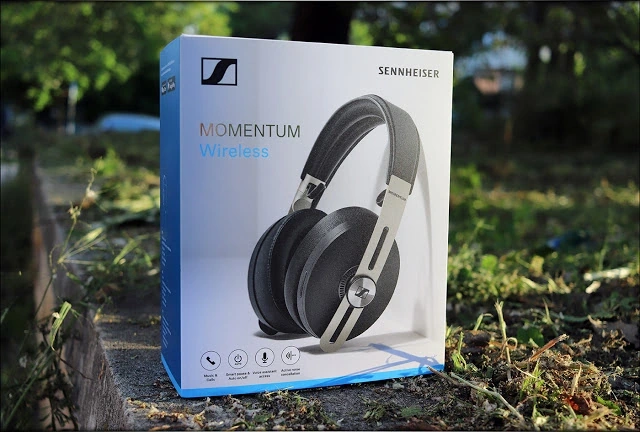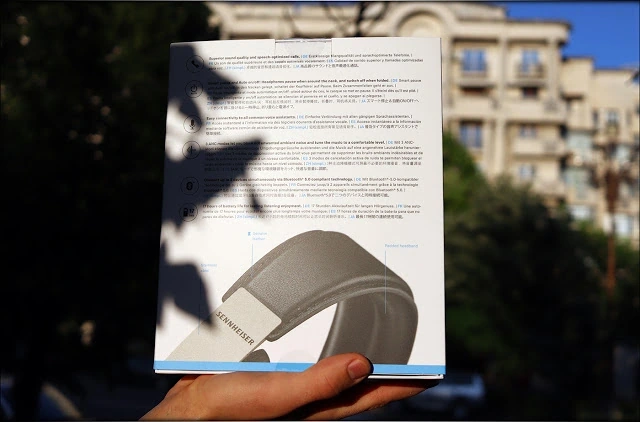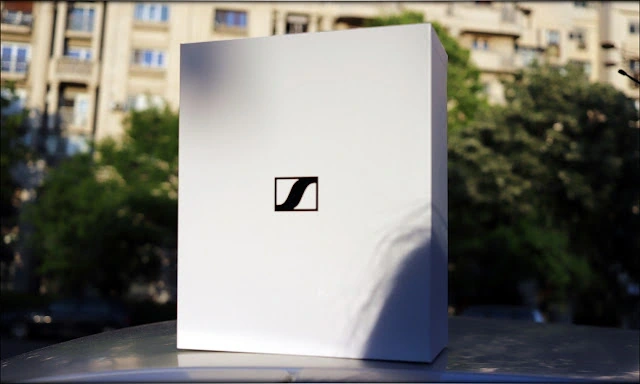 The package is both cool and fun to work with, they have all the cables they could need, there's a microphone embedded and it is of a very good quality, and you even have a carrying case in the grey color. There's even a USB cable, and you can use the Momentum 3 Headphones as a USB DAC from a computer. 
There are no spare pads included in the package, so the package is great for the price, but no extra-extras there. 
What to look for when purchasing a midrange Bluetooth Headphone
Build Quality/Aesthetics/Fit/Comfort

The build quality is pretty simple, although they can fold to take less space, and there's quite a bit of leather, or at least leather imitation in the build of the Momentum 3 Headphones. The nice thing about them is that you have a lot of features with them, and I'll try to talk through all of them in this part of the review. 

The earpads are not the deepest, but they are not shallow either, so you get an average level of comfort. They are made for long hours of usage, having noise cancelling embedded, and their noise cancelling is probably the best I've heard to date. There's a bit of a hotspot at the top of the headphone, and also a bit of a hotspot at the ear levels when wearing them for more than one hour, but it is not so terrible, at least compared to most other well-isolating over-the-ear closed-back headphones.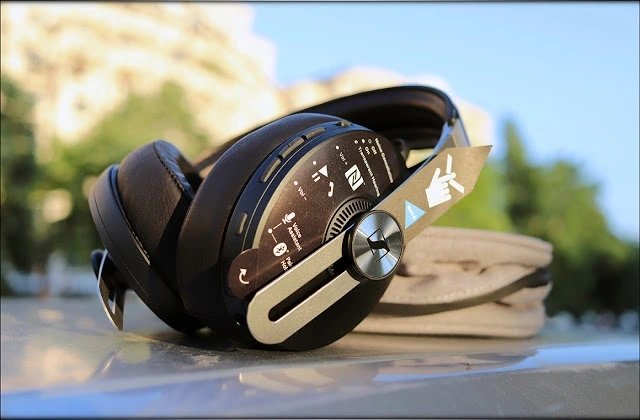 The headband has some padding, but at the top of the head they can get a bit uncomfortable if your head shape doesn't work well with them, and they also have a bit of warming effect since the earpads are leathery and you also have a good amount of isolation. They work much better in winter than they do in summer.
Of course, there's a beauty to them, and the ear cups swivel in every direction, so they can theoretically adjust to your head size and shape nicely. 

They come with a wide usage scenario, and unlike my other latest review, that of the DAC I Special from SW1X, which had one narrow application, the Momentum 3 Bluetooth headphones can work with almost anything. 

They have Bluetooth 5.0, including aptX, aptX LL , or Low Latency, they have a good connection reliability, and they even have an analogue mode, where you can use them with a normal 3.5mm audio cable from a good source. They don't work much better from a high-quality sou
rce, and I actually prefer them on Bluetooth.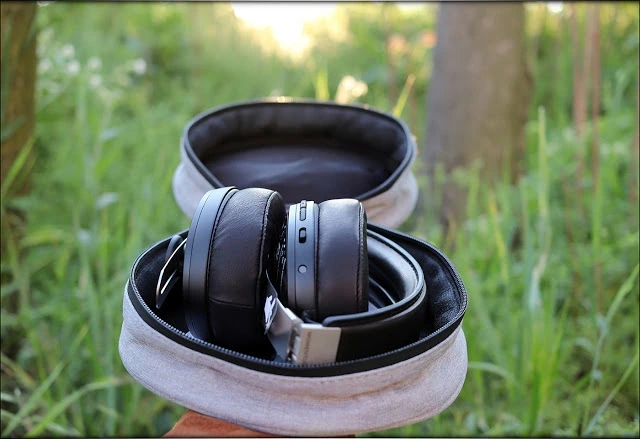 You can use them while charging, especially if you're connecting them to something that can output audio, and since they come with a USB Type-C to Type-C cable, you can connect them straight to a smartphone, which has been my usage scenario sometimes. They run for almost 10 hours between charges (the time I actually tested them for), and they have three Noise Cancelling modes. 

The best mode is off mode, where the Noise Cancelling is turned off. There's also an On mode, where it tries to cancel every noise out there, and there's a Passthrough Mode, where it records and amplifies every noise that's being fed into the headphones. This is like trying to emulate them being open-back without them leaking any sound. 

The Momentum 3 Headphones is also good at sports, as it has a tight fit, and it won't fall off your ears if you're moving a lot. 

The sound quality is actually pretty good, even for a diehard audiophile like me, and I have been enjoying them quite a lot lately, especially since I didn't have a headphone with me in many trips, so I took the Momentum 3 Instead. For a very basic setup, they are just perfect.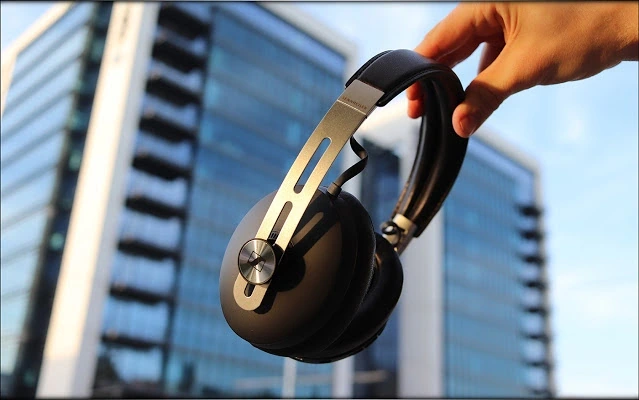 The sound can be described as powerful, deep, explosive, V-Shaped, as the treble is energetic, uplifting, fun, and pretty well layered. 

The bass is a central element for the Momentum, although they can be described as a V-Shaped with a really fun bass too. The bass is strong, deep, has extreme impact, and a good amount of depth too. Did I mention depth? They can rattle your ears at 20 Hz, thing pretty much unseen in headphones, and I can say that at this level of fun, I couldn't resist and had to indulge a bit on the sound. The overall sound is generally dry too, so you get not only deep bass, but it has a fair speed, with a good amount of detail too. Those who want Dubstep, EDM and Electronic to sound really impactful should brace and put those on at maximum volume, they are just perfect for that, and watching movies / playing games with a ton of effects, also thanks to the aptX LL. 

The midrange is the background element, and sadly this is where most of the music happens, so I end up listening to the Momentum 3 louder than most of my headphones. Male and Female voices can be drown out a bit, and most instruments can be a bit distant. This being said, the dry character works well with this, because the mid is not vague just recessed, so if you bump the volume, the sound is fun to listen to, and has enough detail / texture to be engaging. The midrange is actually so interesting because the recession also gives some sountstage and space to the music, so again, electronic and EDM and Dubstep is perfect with Momentum 3, even some Nu Metal and Metal in general. 

The treble is actually uplifted, fun, sparkly, and engaging. The treble has a good amount of detail, but is dry, and can be a touch hard / grainy at times, also a bit harsh. This being said, the bass is so enhanced above it, and the mid is also so pushed back that the treble doesn't end up being annoying at any moment, it is pretty much perfect for the mix, the entire sound has been tuned with responsibility, and I can enjoy Momentum 3 for hours without feeling like I want to switch to something else. 
Thankfully, the overall detail is nowhere near as boring and bland as some reviews pointed out, but the tuning is unique, dry / bassy / warm / impactful, it doesn't work for absolutely everyone, and especially if you're a classical listener, or someone who needs a bit more mid presence, all reviews already made of Momentum 3 make a lot of sense, they are a headphone working best with EDM, Metal, NuMetal, Dubstep and Electronic, you can cross out Jazz, Rock and slower styles, it will never work, and they can be a bit too extreme for Pop too. 
The comparisons list includes headphones that are priced similarly, or which have a pretty similar usage scenario, or both. 
Pretty much what I'd expect people to get instead of Momentum 3 Headphones considering their price. 

Sennheiser Momentum 3 vs HIFIMAN Deva (400 USD vs 350 USD) – Deva is Deva and that's great, because it has a much better comfort, an open-back design, although it also has bluetooth, can work as a USB DAC, and even has a microphone you can use it with. The biggest difference is that Deva is far more comfy, and has a wider, more detailed sound that is lighter, where Momentum 3 has far more bass, more impact, is more fun in the lows, but has less detail and refinement, less overall emphasis on the stage and space, and much more emphasis on the raw power and impact of your music. Deva in passive mode is quite hard to drive, while Momentum 3 in passive mode is rather easy to drive, and the battery life is actually one hour or so better on Momentum 3 if I'm using both in similar fashion, but I crank the volume higher on the Momentum 3 because the mids are a bit recessed, so to be able to get a similar overall experience I'm using Momentum 3 a bit louder. 

Sennheiser Momentum 3 vs MAS X5h Headphones (400 USD vs 350 USD) – X5h is a headphone that's about on-ear and over-the-ear at the same time, they are right at the limit, while Momentum 3 is clearly over-the-ear. This being said, the end comfort is the same between them. The usage scenario is wider for Momentum 3 with NC and aptX and aptX LL, and even USB DAC modes, but the sound coming out of X5h is considerably better in reality, with more detail, a bit more bass, more quality to the bass, a wider soundstage, and if you didn't tell me who made what, I would think that Sennheiser made the sound of the X5h, as it is a high-quality basshead sound, while Momentum 3 sounds a bit less refined, less detailed, but stronger, more impactful and has more ra
w energy in the music, adding to a more raw feel. 
Sennheiser Momentum 3 vs Verum One (400 USD vs 350 USD) –
Verum One seems to have been part of a few conflicts and seems to have been banned from Head-Fi, one of my favorite forums, but at the same time, they have better overall basshead quality than Momentum 3 Headphones. I am not sure if everyone agrees to me posting comparisons to it, but while I don't know the whole story behind the scandal, I know that the product itself, the Verum One is still a great open-back basshead headphone, and the owner was never unfriendly to me, although he had a slightly humoristic approach in the past and has been a bit ironic / sarcastic towards me, he communicated tech data pretty precisely. The headphones sound much more detailed, smoother, not necessarily wider, but more open, and they have a far better comfort. I can understand that Verum One may become rare soon, but if you're a basshead and if you want an open-back experience that's easy to drive, it is the best you can get for a low price. On the other hand, Momentum 3 is much more impactful, has more raw energy, more power, more bass, more depth to the bass, and rattles your brains more at high volumes. They are less smoot
h too, so the treble is more energetic and bright, with more sparkle, and they are more fun in the long run, better for a V-Shaped signature lover. 

The Value of the Momentum 3 Headphones is undeniably great, since they have it all, from NC to Bluetooth 5.0, a pretty good comfort, they are just a great option for those looking for high-quality bluetooth headphones. 
The build quality is great and you have a DAC, Bluetooth receiver, and even a normal, passive headphone in one package. To be honest, they are so rich in features that if I'm on a rush, I will take those rather than taking anything else, simply because they are convenient, easy to use, and the 10-hours battery life holds up great with my usage. 

The sound is thicccc boiiii, explosive, impressive, punchy, fun, and has enough treble to not make them utterly boring, so you have it, a fun basshead headphone that I'm actually enjoying to the last bit. In fact, I haven't had this much fun for a long while, because I do have a basshead side inside and I want sometimes to just indulge in some of that crazy bass.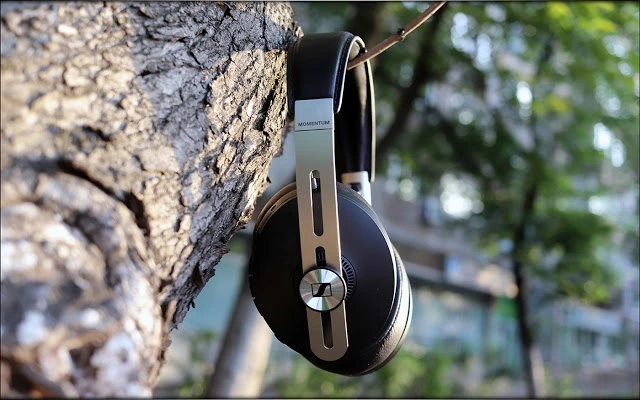 At the end of this review, if you're looking for an amazing headphone, something for both bassheads and those who appreciate V-Shaped sounds, and if you enjoy bass, if you enjoy bluetooth, if you want good NC, and a headphone with a good mic to take calls with, the Momentum 3 will be happy to be there for you. 
---
---
--- Please remember to stay safe, and always have fun while listening to music!---
 - If you have a dime to spare, and donate, to help us with electricity and work expenses, it would make my day much brighter, as it would help me improve things around the website and increase the frequency of my posts - 
---
Full Playlist used for this review
We listened to more songs than those named in this playlist, but those are excellent for identifying a sonic signature.  PRaT, Texturization, Detail, Resolution, Dynamics, Impact, and overall tonality are all revealed by those songs. We recommend trying most of the songs from this playlist, especially if you're searching for new music!
https://www.youtube.com/playlist?list=PL_cjBXGmwSHSdGcwuc_bKbBDGHL4QvYBu
--- Contact Us ---






---
---