iFi iDSD Nano Black Label – Mighty Little One
iFi made the world a bit brighter when they designed and started selling their iDSD Micro BL, which we reviewed in the past, and now they are back at it again. iFi iDSD Nano Black Label is the refinement (Black Label) version of their highly acclaimed iFi iDSD Nano DAC/AMP, which made a many music enthusiasts on a budget happy back when it was released. We're going to look at what iDSD Nano BL brings to the mix! 

Introduction

iFi is a large company, part of the Abbingdon Music Research Group (AMR), which by itself is one of UK's largest audio equipment designers and producers. iFi has been known for a good while for their very healthy ethics, excellent standards of work and extended customer support, providing service and friendly support even for products which have been long out of their warranties. iFi is also one of the companies which is quickest to answer fan / customer mail and questions and they are always managing tours for their products, and designing new awesome products, both standalone (like the one we are reviewing today), and add-on products which extend the fun of other products like iFi AC iPurifier, which we reviewed in the past https://audiophile-heaven.blogspot.ro/2018/02/ifi-ac-ipurifier-power-immaculate.html

It should be noted that I have absolutely no affiliation with iFi, I am not receiving any incentive for this review or to sweeten things out. This review is not sponsored nor has been paid for by iFi or anyone else. I'd like to thank iFi for providing the sample for the review. The sample was provided along with iFi's request for an honest and unbiased review. This review will be as objective as it is humanly possible, and it reflects my personal experience with iFi iDSD Nano Black Label. Every opinion expressed is mine and I stand by it, the purpose of this review is to help those interested in iDSD Nano BL find their next music companion.
Product Link
You can purchase iFi Nano Black Label from www.amazon.com here: https://www.amazon.com/Portable-Headphone-Amplifier-Smartphones-Digital/dp/B076K9M2TZ
Packaging

First things first, let's get the packaging out of the way: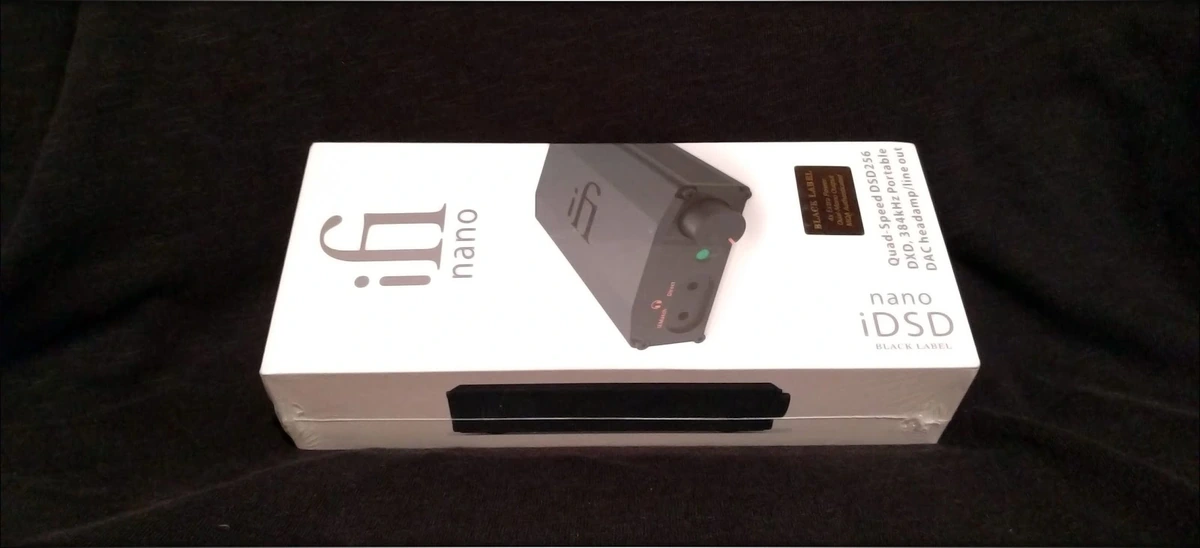 iFi's packaging has become a standard in this niche by now, with their beautiful white boxes of immaculate imagery, all wearing the banner of being environment friendly, and processed with organic ink. Those might not be important aspects to all customers, but it warms the heart to know that iFi is doing all their best to protect the world while providing a very interesting product. 

The packaging includes iNano BL, along with a carrying bag, cables, rubber straps, a few exotic connectors, and iFi's warranty card. It seems that the device has almost everything it could require included in the package, minus an OTG cable, which we felt might have been welcome with iDSD Micro BL. 

iFi's blue USB cable can connect to anything, from an OTG to a desktop computer, but you'll require that OTG adapter for a smartphone. iFi's cable is of a very high quality and it always served us well during our tests, providing a hassle-free and perfect connecting for our devices. 

As for all the exotic extras iFi includes with their packaging, neither our workstation nor our high-end desktop isn't able to use those, so they are rather made for a very specific purpose, and while we think that only few users will be able to take full advantage of those, we are very happy that iFi includes them with their devices. 

The carrying pouch should only be used while storing iNano BL as it won't provide much protection to it, and using it while iNano BL is in usage can also lead to overheating. 


Build Quality/Aesthetics/UI/Firmware

Starting with the build quality, iNano BL is built like a tank. It doesn't have any edges that can be affected by other objects if it is kept in a pocket next to them, the volume wheel is much larger in diameter and much shorter in length when compared to iDSD BL Micro, thing which makes the volume wheel much much less prone to any kind of damage, and all buttons feel trust-worthy. 


The whole device is painted in a semi-glossy black color, and it has a very fine texture on it. The edges are less exposed when compared to iDSD BL Micro, making iNano BL easier to slide in and out of a pocket / bag, and making stacking much easier with a wider range of devices. 

The design is more elegant and less industrial this time around, iFi making iDSD BL Nano a device that can easily fit with a wider range of environments and making sure that it won't look strange placed in any kind of other environment. 
The rubber feet are also attached to the device from the factory now, thing which we liked quite a lot. It seems that iFi iDSD BL Micro also comes with its feet attached via factory in the latest releases, but we couldn't confirm this information with an official source. 
The firmware of iDSD Nano BL is very hassle-free and it works without any drivers on Android devices. From all our Android devices tested, it worked just fine on every device, without any lag and without any issues. On Windows, one needs to install iFi's driver for Windows for the iNano BL to work. The drivers work very fine, do not require any kind of special settings, and you are able to just set and forget for those moments when you don't want to tinker with fine settings. 

There are two filter settings, measure and listen. What they do, basically, measure applies absolutely no special smoothing or any kind of enhancer over the music, and plays it bit-perfect, while listen will apply some filters and some smoothing over the signals played to provide a more musical experience. In our experience, measure is better than listen for music that has a lot of sharp transient and a lot of textures in the instruments, while listen works better for music which relies a lot of very liquid and smooth instruments and vocals. The changes each filter adds to the music are rather small and one doesn't need to bother with them, but they do provide some fine tuning for those who want an either bit-perfect or a more musical experience. 

There is an iEMatch button built-in to iNano BL, and it does what it should do, providing a little bit of attenuation where it is required. We never used it as almost all our IEMs were not too loud without it, although there is some hiss present with some IEMs when using them from the Direct port, so we recommend experimenting with those ports to find the perfect balance. 

There is an option for Balanced cables, or rather, iFi has built in a balanced output in the 3.5mm jack, with a TRRS 3.5mm connection which also accepts SE cables. Basically, you can use any 3.5mm connector, or make a 3.5mm balanced connector. The theoretical advantage is that iNano BL should have all the advantages of a balanced setup, all while remaining Single ended when the user doesn't have any Balanced cables. As we didn't have any 3.5mm balanced cables (not exactly a standard), we couldn't test this feature in any way, but the amplification iFi built is indeed very good and it does amplify the signal in a balanced way, although it is questionable whether this is audible without the proper cables. 


Sound Quality

All good and well, iFi always makes trusty devices, but now it is the time of judging its sound quality. This will be rather interesting because iNano BL is rather inexpensive 200$ current Amazon price mark, being less expensive than DH1000 which we reviewed quite recently, and much less expensive than FiiO Q5, which runs for about 350$. 

The overall signature of iDSD Nano BL is really really similar to that of its bigger brother, iDSD Micro BL. In fact, they are so close, that just going from one to the other doesn't immediately reveal the differences, and one would require an extended period of time to spot the differences properly. Since this is a standalone review, we'll try to focus a bit on iNano BL's signature rather than just compare it to its bigger sibling for now. 

iDSD Nano BL is a pretty neutral tuned DAC/AMP with an excellent depth to its sound, a very good vocal timbre and a rather neutral overall tuning. It has a bit of an added sparkle in the treble, but nothing too much, while the bass has a good depth, whilst keeping a good impact as well. 


Bass


The bass of iDSD Nano BL is one heck of a deal. We're talking about a device costing 200$, and we can be amazed. The bass goes as low as one can imagine it would go, and it hits as deep as one can imagine it can hit. The fine refinement of percussion textures is rather amazing, and there is something about deep bass notes that never ceased to impress us during our tests. The impact is quite amazing as well, along with the rather interesting revealing abilities in finer bass textures and nuances. This being said, we're not sure if it quite reaches its bigger brother's level, but it still is an amazing experience. 


Midrange

The midrange of iNano BL is once again quite excellent. It has a very good resolution and very good revealing abilities, a very natural and spot-on tonal timbre, and it has a great amount of detail and micro-detail. Due to some crazy good and quick timings, it is able to reveal fine textures in Mindless Self Indulgence music, all whilst keeping the vocals of Jill Tracy as musical and emotional as ever. Guitars have a very juicy presentation, with a very engaging overall feeling, while pianos have the right amount of emotion and depth to sound realistic. Everything is fairly well presented and feels spot-on, and once again, while not having quite exactly the performance of its bigger brother, it still is an amazing performance. 


Treble

The treble experience of iNano BL is once again, quite amazing. The treble extends very well up to the highest registers audible to the human ear, while cymbal crashes last for the right amount of time. At times, it has a shorter decay than its bigger brother, sounding maybe a tad less extended in its soundstage, but it still has a good amount of air in its treble and between its instruments. Trumpets bear excellent impact and aren't made any romantic where they should be more brilliant rather than friendly, while the very fine touching of a cymbal during a cabaret is rendered perfectly romantic with a very sensitive touch. 


Soundstage

Another interesting aspect of iDSD Nano BL is its soundstage. The soundstage size is on the larger side for the price range, but smaller than its bigger brother, iDSD Micro BL, where Micro BL feels more extended and things can be spread on a wider scale, with more depth, and where Nano gives more of a room impression in its soundstage. Even so, the instrument separation is golden for the price, and everything placed together, the whole soundstage / instrument separation and imaging are amazing. 


ADSR/PRaT


The ADSR / PRaT are another part of iNano BL that amazed us, as it quickly reminds of its bigger brother, Micro BL. Given that Micro BL is one of the best DAC/AMPs we tested to date in its timing and (Attack Decay Sustain Release), iNano BL is also quite amazing. Setting the filter slider to measure will result in excellent timings all-around, with a natural decay that doesn't smear and isn't prolonged, and with a quick and tangible attack for every musical note. The overall feeling is that micro-textures and textures are revealed nicely, with a very good introspection in their finer nuances, whilst if you want a smoother and more laid-back presentation, you can always engage the listen filter, which will make the whole timing more fit with laid-back music, giving the whole device a more relaxed feeling. 



Portable Usage

Interestingly enough, we still aren't quite that enthused about an external DAC/AMP, but we found iDSD Nano BL to be much more portable than its bigger brother (literally). iDSD Micro BL was larger than any smartphone on the market, being both longer, thicker and actually narrower, providing a rather bad fit for smartphones, but it was the perfect width and length to be stacked with a DAP (Digital Audio Player) as a transport. 



iNano BL, on the other hand, is rather thin and small compared to iDSD BL Micro, as iNano BL really fits wherever you need it to fit. It is amazing to think what tech iFi was able to craft inside the small shell of iNano BL and how good they have been at optimizing every little bit of space inside it. 

The cable thing, on the other hand, is interesting to say the least. You can find an OTG that would fit inside iNano BL's USB input in such a way that you can literally wear it using only one short OTG cable, so that is a huge plus for portability.

It doesn't suffer from any kind of interference from outside sources, but it doesn't sport any extra portability feature like Bluetooth either, iNano BL being at the sweet spot of being portable. 



Comparisons

Most comparisons have been taken with Edifier S1000DB, Audeze LCD-MX4, Cleartune SV4, Dita Truth, Hifiman RE2000, Ultrasone Signature Studio, Hifiman RE800, Sennheiser ie800, and Dunu Falcon-C. 

iDSD Nano BL vs FiiO Q5 (AMP5) – We know that most of our readers seek this part the most, so let's get started with the most interesting comparison we can have. Since FiiO Q5 is priced between iDSD Nano BL and iDSD Micro BL, and since adding AMP5 increases Q5's price a bit, this is going to be the most interesting comparison to look at today. Starting with the device itself, iDSD Nano BL is a smaller overall device, with a smaller footprint, while Q5 with any of its amps looks much more like a typical DAP, and its body would probably stack better to a DAP. Stacking to a smartphone, or at least to our test smartphone, Xiaomi Mi Max 2, is the same issue with both, both are very narrow to stack to it perfectly, but the fact that FiiO Q5 is longer actually makes it stack better. The features within are many and useful on both, as FiiO Q5 comes with a 2.5mm balanced port ex-factory, where iDSD Nano BL comes with a 3.5mm Balanced port. Q5 has Bluetooth support, but it will not work with a typical OTG cable, requiring a microUSB to microUSB cable or a USB Type-C to micro-USB cable to work with a smartphone. Volume control is done via a wheel on both devices, and it works fine on both, the wheel has proper protection on both devices. FiiO Q5 looks a tad more stylish in the long run, but leaving a larger footprint, this is also to be expected. When it comes to their sound, the sonics are quite different, especially with Q5 having multiple AMP modules which provide different sonic experiences. With AM05, FiiO Q5 has a similar level of control over the bass, comes with a slightly larger soundstage in width and especially in depth, all while staying at a similar height as iDSD Bl Nano. The treble is similar between the two, along with the overall tonal balance, although iDSD BL Nano has a tad more sparkle in the treble. Q5 tends to be more dynamic where iNano BL tends to be more energetic and emotional, although Q5 is quite emotional as well. FiiO Q5 has a lot of driving power behind it, and it is considerably more able than iNano BL when it comes to heavy loads, but we didn't really turn the volume to max on iNano BL with many headphones, so most users purchasing iNano BL at a considerably lower price might own easier to drive headphones, and feel content with the results. The details are a tad higher on FiiO Q5, but the differences are rather hard to spot and require careful listening and revealing headphones / IEMs for proper analysis. 
iDSD Nano BL vs iDSD Micro BL – This comparison will also be quite important, and starting with the obvious, iDSD Micro BL is the better device on every level possible, but it also is around 2.5 times as expensive. We reviewed iDSD Micro BL in the past, and we still hold it in very high regards, as being one of the best DAC/AMPs there are. https://audiophile-heaven.blogspot.ro/2017/05/ifi-idsd-bl-pinnacle-of-dac-and-amp.html On the other hand, iNano BL comes at a significantly more affordable price and a much more portable size. The first and very obvious difference is in raw power, iDSD Micro BL being probably the strongest portable DAC/AMP made to date, and still keeping that title among the devices we tested, while iNano BL is considerably lower powered. Even so, iNano BL has a lot of power for portables and for what we feel most people will combine it with headphones that will not require more power, having around 285mW for 30 OHM on Direct. The difference in sonics becomes more obvious upon more listening and upon using quick-switching, but iDSD BL Micro has a larger soundstage in every direction, painting what could be called a soundscape on its side, rather than just a soundstage. Micro BL also has much better control at louder volumes, and overall control over transients and transient response, and it feels more musical and smoother, doing everything quite effortlessly, with a strong emotional touch, where iNano BL seems more energetic, but not as effortless and not as detailed either. There are details that iDSD Micro BL is able to extract and present to the listener with much better definition than iNano BL. The PRaT and ADSR is better on iDSD Micro BL as well, fine textures being one step ahead in resolution and presentation, although without very specific music and without knowing what to search for, this can be rather hard to distinguish. 



Value and Conclusion

When it comes to iFi, we're talking about a huge company, part of AMR, one of the largest audio companies in the world, so we know we are talking about a serious company with a lot of support and a very strong background. iDSD Nano BL is their product offered to those who can't afford their more expensive offerings. Regarding offering an amazing device at a very affordable price, they do it in style and with elegance. iDSD Nano BL is probably one of the device we can recommend the most at its price, and for a good reason. It sounds better than most DAPs that can be found at this price, and ultimately, it might even be hard to distinguish it from the mighty Micro BL, if not using very revealing headphones / IEMs or without proper listening. 

We didn't have a chance to compare it to virtually every other DAC/AMP that is priced at 200$, but we are confident that one would have a hard time finding anything at a similar price that has the same sonic abilities, along with iFi's trusty support and warranty. 

All in all, iDSD Nano BL is one heck of a device, having not only a good price but also an amazing sound to it, amazing hardware to back it up, and a lot of useful features like balanced output, iEMatch built-in, multiple filters, and many others. It will connect hassle-free to your source / transport, and it will provide a good amount of fun and enjoyment with music, being neutrally tuned, with a touch of emotion, being rather vivid and detailed, and having a good amount of dynamics in its sound. It is hard to recommend something as much as iDSD Nano BL from iFi for just 200$, and we're sure that owners can confirm the enjoyment they are experiencing with it. 
Product Link
You can purchase iFi Nano Black Label from www.amazon.com here: https://www.amazon.com/Portable-Headphone-Amplifier-Smartphones-Digital/dp/B076K9M2TZ
---
---
--- Please remember to stay safe, and always have fun while listening to music!---
 - If you have a dime to spare, and donate, to help us with electricity and work expenses, it would make my day much brighter, as it would help me improve things around the website and increase the frequency of my posts - 
---
Full Playlist used for this review
We listened to more songs than those named in this playlist, but those are excellent for identifying a sonic signature.  PRaT, Texturization, Detail, Resolution, Dynamics, Impact, and overall tonality are all revealed by those songs. We recommend trying most of the songs from this playlist, especially if you're searching for new music!
https://www.youtube.com/playlist?list=PL_cjBXGmwSHSdGcwuc_bKbBDGHL4QvYBu
--- Contact Us ---






---
---