HiFiMAN RE800 – Outstanding – Engaging – Vivid
HiFiMAN brings a new contender to their high-end IEM offering! RE800 promises to do a lot with their Topology Diaphragm, technology also found in their bigger brother, RE2000.
Introduction
HiFiMAN electronics has been a huge company in the Audiophile Industry for a while now, and they made a big name for themselves with well-known products like their HE-560 and HE-1000. Founded in 2005 by Dr. Fang Bian, HiFiMAN has been refining their IEMs and headphones offerings ever since.
HiFiMAN also made some of the best-known audiophile DAPs, like the HM-901 DAP, which has been held in the hearts of the fans for a long time as having one of the sweetest sounds they ever heard.
It should be mentioned that, like IE800, RE800 is a single Dynamic Driver IEM, and it doesn't rely on multi-BA setups. The main feature is the lightweight driver made under the Topolgy Driver Diaphragm name, a technology that proposes to make drivers that respond even faster to impulse than the typical dynamic driver, leading more details and better precision.
I have absolutely no affiliation with HiFiMAN Electronics, I am not receiving any incentive for this review or to sweeten things out. This review will be as objective as possible and it reflects my personal experience with RE800. Every opinion expressed is mine and I stand by it, the purpose of this review is to help those interested in RE800 find their next music companion. This review is part of a small tour organized by HiFiMAN for their newly released products and my opinions have been taken after having used RE800 for at least two months, enough time to accommodate with the sound and all the details about this wonderful IEM.
Product Link
You can purchase HIFIMAN RE800 as well as other HIFIMAN Products from www.amazon.com here: https://www.amazon.com/HIFIMAN-Topology-Diaphragm-Headphones-Isolating/dp/B071YN9QJR
First Impression
When it comes to high-end IEMs, I have owned quite a few by now, and while it might seem ironic, HiFiMAN's own RE2000 is one of the best IEMs out there, high in the top with other well-renown IEMs. RE800 and RE2000 both rely on a single Dynamic Driver setup, comparable with Sennheiser ie800, in technology, since ie800 is also a TOTL (Top-Of-The-Line) IEM which employs a Single Dynamic Driver setup.
I have owned quite a few IEMs and headphones before, Ultrasone DJ One Pro, Meze 99 Classics, Ultrasone Signature Studio, Dunu DK-3001, Sennheiser ie800, HiFiMAN RE-2000, Oriveti New Primacy, Kinera H3, FiiO F9, Beyerdynamic Xelento, and a few others. I also owned high end sources like DAPs (Opus #3, iBasso DX200, Opus #2, FiiO X7mkii), and high-end DAC/AMPs (iFi iDSD Black Label).
I actually received the RE800 as part of a package from HiFiMAN Electronics, being part of the tour for their newly released products, and this time, the package arrived in a pretty funny way. I must commend HiFiMAN's communication and support as the package almost got lost on the road, and they provided great amounts of effort to help me receive the package safely.
It was a rainy day when I first took RE800 out for a listen. Describing the weather that day as rain is too little to be said, the aphotic skies vaguely resembled the end of the world, thunderous applauses from above shaking the buildings from their grounds. The clock stroke around mid noon when I noticed that I have no provisions left and that I should go purchase some. I quickly dressed up, took on my coat and plugged RE800 in Opus #3 and prepared to challenge the nature itself for nutrition and survival. The bleak walls of my room felt as if they were melting down on me as the rain was pulling more and more force in each drop. Disheartened, I took a few steps out of the room and pressed play. A shock went through me like a lightning as I wandered through the corridors. A sweet melody dazzled my mind far into a fantasy world as my ears were tickled and delighted by sweet symphonies coming from RE800 and Machinae Supremacy's music. A quick thrill ran down my spine as multiple layers of sweet guitars and glazing cymbals were presented by this little golden IEM. Everything got brighter in mere minutes. No rain could darken my mood anymore, not even the storms raging outside. It was time for more listening with RE800 and to see how it combines with other sources.
Packaging
First things first, let's get the packaging out of the way:
HiFiMAN goes a step beyond when it comes to their packaging, RE800 coming in a rather mid-large sized wood box that bears all the accessories needed within. The presentation is quite luxurious, especially considering that most IEMs up to this price point come in cardboard boxes.
Inside the wooden box, you will find RE800 In Ear Monitors, a carry box (that proven to be quite useful and practical), a selection of tips, both Comply and double/triple flanged tips, and plastic earhooks. The selection of accessories is quite good, and RE800 comes with enough to enjoy them. It should be noted that the official current version of RE800 comes with detachable cables as well.
RE800 comes with a high-quality, beautifully designed owner's book, that includes a lot of useful information. It was enlightening to read about HiFiMAN's quondam models, like RE600 and their first headphones.
The wooden case in which RE800 is packaged will come in handy for keeping other audio-related equipment, especially as it is padded with a soft, velvety material that will caress your audio items, keeping them in good condition and gently defending them from scratches.
Build Quality/Aesthetics
From the moment you receive RE800, you know that you are dealing with a glamorous, top-end IEM, presented beautifully in a wooden box, and seated in a gentle velvety sponge cutout, which is covered in a luscious coating, RE800 appear like two golden jewels that are crying for attention. 
The IEMs themselves are made from Brass, a resilient alloy made from weaving in cooper and zinc, then they are electroplated in gold. HiFiMAN took great care to mention that their IEMs are caressed with the best of materials, to bring most enjoyment to the listener.

The cables are supple, and are very flexible, providing an excellent option for both those who want to wear them straight-down and over-the-ear, sporting a very solid 3.5mm L-angled connector.
The IEMs themselves have extremely small bodies which are smooth to the touch, providing gentle slopes and curves in their design for improved comfort and splendid design. Both IEMs housings have HiFiMAN's logo printed on the back, and they also have an L and R markings to notify the user of which is the left and which is the right earpiece.
The only downside of RE800 might be that they don't have detachable cables, but soon after the initial release, HiFiMAN issued a recall and provided RE800 with fully replaceable cables to their users.
With their minute sized bodies, RE800 can only be compared to IE800, which also have a keen look to their construction bodies, both being extremely comfortable, even for users with very small ear canals.
The Travel Case is not branded, but it features a smooth rubbery texture on the outside, with a small pouch on the inside. At first, one could judge the Travel Case to be pretty frail, but I have thrown it in my bag, even under many heavy other objects, and it survived without a scratch, proving to be one of the best Travel Cases for IEMs out there.
All in all, with their sweet golden color and their gentle bodies, RE800 look like two jewels and while they won't make anyone turn their head as they almost disappear inside one's ears, they sure are a cute and stylish IEM to see on the table and to analyze while you're not using it.
Fit / Comfort
Inside the Owner's Guide, HiFiMAN is proud to present that RE800 can be worn both straight down and Over-The-Ear. After testing, they proved to be wearable in both situations. Furthermore, they are extremely comfortable in both conditions, the IEMs, the bore sizes, and the tips usually being small and having a gentle contact with one's ears, providing excellent fit and comfort.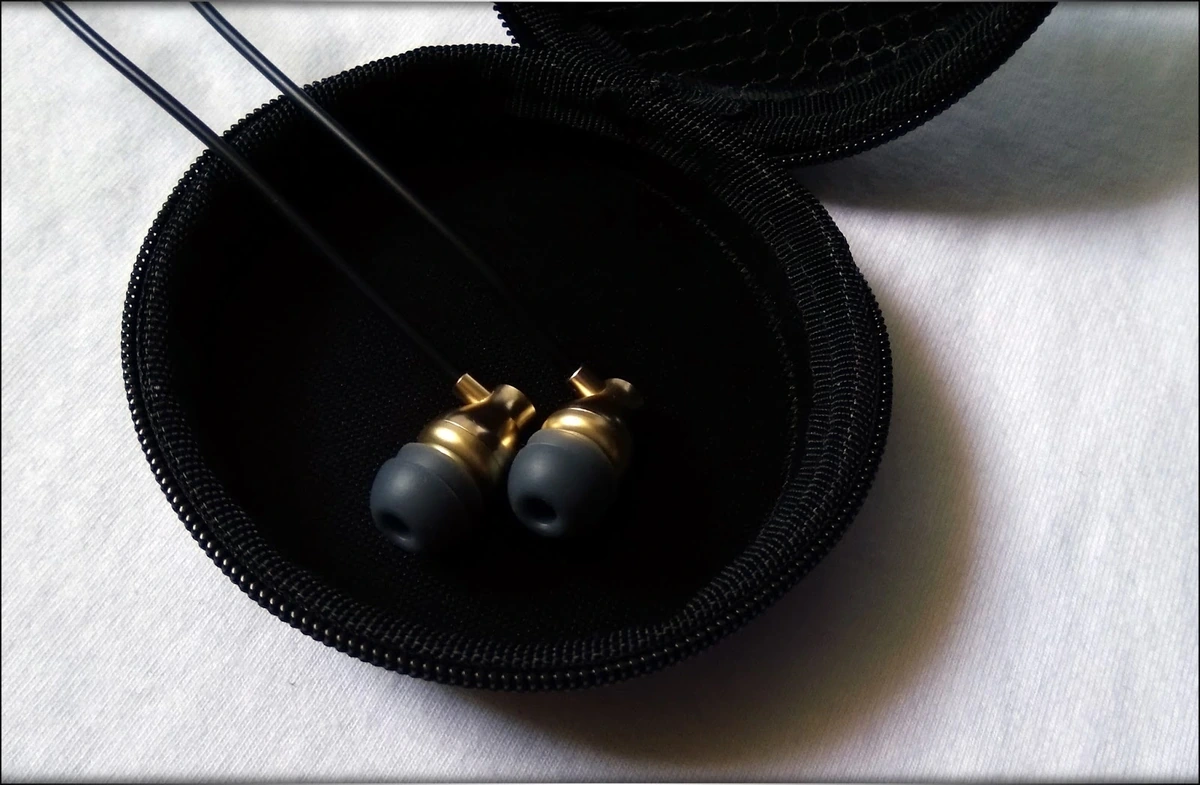 Given that they are small IEMs, I am not sure if the largest provided tips are large enough for someone with larger ear canals, but since RE800 works with most aftermarket cables out there, I wouldn't worry about their fit in any way.
I have actually been using the pair of Spinfit tips that came with the Dunu DK-3001 while using RE800 since Spinfit offers the best comfort for me, and I have to commend Dunu for including it and for opening my mind to those tips. It would be great if more companies would start to add Spinfit in their default tip selection, but HiFiMAN's default selection of double and triple flanged tips, along with Comply foam tips is fairly good as well.
All in all, RE800 will be extremely comfortable for almost any user, and their fit should be excellent with all ears out there, given their small size. Even if a user wants to use a third party set of tips, this is easily doable since RE800 has a typical bore size and most third party tips will work with them flawlessly.
Sound Quaity
HiFiMAN RE800 is a little energetic IEM that provides a lot of energy in the higher registers, an impactful, full, and natural bass, a natural yet slightly recessed midrange, and a very good instrument separation. Drums are snappy, voices have a natural tone and texture to them, especially male voices, and everything comes out sweet and musical, similar to how IE800 is pretty sweet and musical. The true-to-life tonality and bite in the upper registers will work amazingly well with Acoustic music.
Although they are musical and natural for voices, RE800 is not free of coloration, providing a rather fun and engaging sound, with a little unique signature, which will appeal more to certain users. They are really good at expressing a well-extended sound in both bass and treble, they have enhanced and electrifying textures, and the detail and micro-detail presentation is over the top. The Topology Diaphragm Driver technology works very well for RE800's resolution and its sonic abilities, providing an exceedingly detailed yet fun, engaging, and musical sound.
The signature can be described as vivid, vibrant, euphoric, deep, and energetic. There is a little dip somewhere in the 3.5 – 4 kHz area and a little peak in the ~6-8 kHz area, which leads to a sound that enhances acoustic guitars and acoustic instruments very nicely, providing them with more bite and vibrancy. Many IEMs go in the opposite direction and are cutting too much bite from acoustic guitars, so it is nice to see a different approach this. The layering RE800 provides is also insanely good, being up there in the top with the best IEMs.
The Bass of RE800 is excellently well extended, down to the lowest registers with no roll-off, providing an excellent impact and resolution. RE800 is able to resolve micro-textures and minute-level details quite well, Hip-Hop music feeling quite vivid and detailed. Natural and acoustic instruments have an excellent timing and RE800 manages to sound very natural, providing the level of texturization and depth you would expect when hearing a live double-bass or other bass instruments.
The impact and depth are above what one would expect from a IEM with such small housings, the bass is deep, and provides earth-shattering levels of impact, but doesn't really go overboard, having no traces of bloat. It is like RE800 has an enhanced bass, but a bass that keeps its timing tight and its resolving abilities straight while still being quite enhanced.
Fara zahar – Starea Natiunii – This is the first time Romanian music is added to the song impressions list, but we have to take into account that there are excellent Romanian artists out there. Fara Zahar is a Romanian Folk / Parody / Avant-Garde – Pop band that had excellent recording and mastering for their 2008 album, Neamul Lui Penes Curcanul. All of those are supposed to be comedy songs, but they still sound excellent through RE800, providing a different outlook on this type of music. The song starts with an outstanding guitar composition accompanied by a deep and large bass playing in the foreground. Voices sound natural and have a very true-to-life tonality and texture to them, RE800 making them feel more like a live presentation rather than a recorded piece listened through IEMs. The acoustic guitars play with amazing detail and a sweet tonality. The drums sound very crispy and detailed, and the whole composition is playful, dynamic and enjoyable. The message about the condition of Romania from back in 2008 sounds sweet and funny, RE800 proving to be an excellent IEM to play the songs of Fara Zahar.
The Tiger Lillies – Killer – Since RE800 is best at acoustic music, let's explore another band that employs a strong combination of both gentle and harder acoustic instruments, The Tiger Lillies. Their song Killer is an excellent test-song due to its good mastering. After the theatrical intro, the song starts with a very groovy, large and impactful bass line, played along a quick and snappy accordion and a gentle drum and snare pattern. The voice is very clean and clear, providing an excellent driving mechanism for the entire song. The story about how the singer could have been a killer is sent forward with amazing emotional depth and convincing statement. Although TTL is a comedy / Avant-Garde band, the song feels quite real and the instruments are rather tangible.
Lенинград – Комон эврибади – Leningrad is one of the best-known bands of Parody, Comedy and Avant-Garde music from Russia. Their compositions and songs have millions of lovers world-wide and their playful and melodic style has impressed many already. The song starts with a playful combination of guitars and drums that are quickly followed by the trumpets and the rather hoarse voice of the lead singer. The voice feels natural, as if the singer is next to the listener, and the smoothing that is sometimes applied is absent, leading to a very vivid experience. The bass is always deep and heavy, played with a natural decay, and offers a convincing sound of a real-life bass guitar. The trumpets and other blow instruments are presented very energetic and vivid, and the cymbals bear a realistic vibrancy to them.
The Midrange of RE800 is an open experience, as they provide a very convincing soundstage and instrument separation, especially with Spinfit tips and Mandarin tips. The tonality of the midrange is excellent for Acoustic music and Pop, but might sound a bit hot for some of the harsher Metal music. I love how they sound with metal, as they render it quite vivid, but it should be noted that cymbal hits come a bit hot. There is a overly nice sweetness to the sound of a violin and to the sound of an acoustic guitar when playing a ballad, along with a certain sense of rhythm to all music.
RE800 can be tamed and treated to sound leaner with a bit of EQ, feeling a bit like a wild animal, that can be tamed and taught to do anything the user desires.
A static Lullaby – Toxic (Cover) – This song is a part of the "Punk Goes Pop" compilation, an excellent set of pop songs performed by punk, rock, and metal bands. The song starts with an engaging combination of acoustic guitar notes, followed by natural voice meddled with sweet rhythm guitars and snappy drums. Everything is kept in its own place and presented with a good amount of space and air between the instruments, RE800 being really good at presenting music in a well-separated way. The cymbals have an exquisite energy about them, and this enhances the detail and the micro-detail levels, bringing forward many nuances that are otherwise subdued form this song, like the background synth sounds and the fine textures in the rhythm guitars. The story about the toxic love that becomes addictive to the one feeling it is felt vividly and presented with a good amount of emotional involvement.
Rings Of Saturn – The Heavens Have Fallen – The instrumental composition by the rather heavy band, Rings of Saturn, starts with a sweet combination of synth notes woven together, giving the listener an introduction to the parallel plane he is going to explore through the song. When the song starts, it starts with great impact and it pushes the listener forward in the sixth dimension, quickly playing with all his senses. The vibrant solo guitars woven with sweet rhythm guitars played along a snappy, quick, yet powerful drum set sends the listener's mind dreaming at thousands of stars flowing through the space-time continuum. The solos are sweet and delicate, yet bear great amounts of power and emotion. The message of this instrumental song, unclear, yet vividly presented, about the universe as a whole, its creation, and unavoidable ascension throws the listener into both a listening craze, and a sweet meditation about life and its meaning.
The Offspring – Cool To Hate – This old-school punk song starts with an picturesque and vintage atmosphere representing America during the year the album was recorded in, about 1997. Guitars are always presented with a good amount of texture and sweetness to them, while the voices always sound natural and come through with a good amount of power, yet never sound harsh. The cymbals are presented with a good amount of force and life in them, providing a vivid experience for the listener. The story about the protagonist, the negativistic teenager we all once been, hating everything, is transmitted on a fun and happy tone, almost like listening to a happy tune about happy teens, but with the opposite message.
HiFiMAN RE800 has a unique way of conveying the treble, adding a lot of energy and life to the cymbals and other instruments that have a lot of content in the lower treble, like trumpets. This makes RE800 an excellent IEM for well-recorded music and music that has a very honest treble presentation, like acoustic music. On the other hand, metal music can sound a bit hot for some, RE800 having a small enhancement in that area.
This unique way of presenting the treble with a lot of energy makes RE800 stand out in clarity, detail, micro-details and honesty, giving them a strong edge when it comes to having a life-like presentation.
Besides the energetic side of the treble, it is good to mention that RE800 are quite detailed and that their treble sounds rather solid, especially compared with something like IE800 which has a softer sound to their treble, albeit having an energetic top end as well.
Machinae Supremacy – The Greatest Show On The Earth – The song starts with a few feeble and shy guitar notes played together, like children playing gleefully through hidden woods. The song starts strong with a series of sweet guitar notes. The voices always sound natural, never being harsh or overexposed, and they are accompanied by gentle sound of bells and other special effects. The bass keeps being quite strong through the song, but it doesn't shadow the sweet midrange. The top end of the song is always presented vividly, with the cymbals having a tiny peak to them, yet without feeling harsh or over the board.
Jason Derulo – Talk Dirty – A good test track, to show what RE800 can do with a heavily compressed pop song that features extreme amounts of bass. The song starts with a good amount of drums/effects played in an airy and open space. There is a good sense of rhythm and playfulness with the whole song, the bass is heavy and goes very deep, but it is well controlled and provides an excellent clarity and texture, whilst keeping good amounts of control. Voices are clear, natural and sound very clear as well. The background voices are also vivid and presented with good amounts of life to them. The jazzy blow instruments are vibrant, but they don't go over the top, staying quite playful rather than being stringent. The enhancements in RE800's treble don't bother at all, and RE800 does an amazing job at playing pop music. The story of the song feels real, and although this song doesn't have a necessarily interesting or nice story, it is good to know that RE800 has the ability to present it well.
Rob Zombie – Werewolf baby – Rob Zombie's songs are always good to test with all equipment. Excellent recording, mastering and post production conditions make Rob Zombie's music some of the best out there. The song starts with a funky yet playful combination of rhythm and lead guitars played along quick and rowdy drum sets. The voices feel realistic, and the whole song is presented in a large and open space, with a very good separation between the musical instruments. The song chorus is vivid and playful, being quite easy to move your head while listening to this scary yet addictive song by Rob Zombie. The story about the man who becomes the werewolf is presented in a dark yet fun light, almost like a painting about Rob Zombie's movies, where the watcher almost sympathizes with the antagonists.
Portable Usage
RE800 has been thought and designed to be a portable IEM, starting with the small IEM bodies, excellent ergonomics, and their easy-to-drive nature.
The cables are designed to be portable as well, with their supple and flexible construction. It is good to mention that the cables provide very little to no cable noise (microphonic noise), and they are quite comfortable to wear, being light enough to allow for walking and doing other activities while wearing RE800.
The isolation of RE800 will be dependent on the tips used, my personal favorites, the Spinfit tips and the Mandarin tips both offering an excellent amount of isolation from the outside noise. It is possible to use RE800 at low levels while taking a walk through the thunderous streets of Bucharest, as RE800 is able to defend the listener from most of that commotion.
Comparisons 
Although they are priced in the high-end range of IEMs (considering that anything above 500$ is already a high-end IEM priced as such) RE800 has to do a lot for themselves to justify their 800$ price tag.
RE800 vs Dunu DK-3001 – Although there is some difference in their price tags, DK-3001 makes an interest competition for RE800. Starting with the bottom end, DK-3001 presents bass with a slower decay, while RE800 is quicker, both providing really good impact and control abilities. The midrange is a bit more V shaped on RE800, where it feels a tad more linear on DK-3001, both having a pretty natural tonality and texture presentation. RE800's top end is enhanced when compared to DK-3001, the presentation highlighting details and fine nuances more on RE800, although DK-3001 doesn't try to do that, but rather to offer a relaxed presentation to the music. All in all, DK-3001 is more of a complementary IEM to RE800, being a smooth and laid-back presentation, while RE800 is vibrant and energetic, with an inherent tendency for presenting more details.
RE800 vs Oriveti New Primacy – ONP is priced considerably lower than RE800, but still makes an interesting comparison to RE800. ONP has less bass, having a tighter bottom end. The midrange is quite sweet on both, its midrange being ONP's highlight, while RE800 has a somewhat more recessed midrange. The top end is smoother and less enhanced on ONP, leading to an inherently more detailed sound on RE800.
RE800 vs ER4-XR – Although we visited this comparison once before, it is good to do it using RE800 as a point of reference. In direct comparison, ER4-XR has a tighter bottom end, while RE800 provides somewhat more impact, with a larger bass. The midrange is very forward on ER4-XR, while it is slightly recessed on RE800. The treble is considerably enhanced on RE800, which affects the way top-end microdetails are presented, but ER4-XR puts up a very good fight when it comes to the midrange details. The soundstage is larger on RE800, along with a more vivid instrument separation, ER4-XR blending the instruments more to create a "whole" sound while RE800 defines each instrument as its own unique entity.
RE800 vs HiFiMAN RE2000 – RE2000 is far more expensive than RE800, being more of an ultra-high-end concept IEM, produced by the same company. RE800 has a more enhanced and a little slower bass, while RE2000's bass is closer to a natural sound, with a quicker decay, but still presenting a lot of impact. The midrange is less V-shaped on RE2000, and the tonality goes one step further into being quite life-like and natural, RE2000 having an even better texture presentation, although RE800 still puts up a very good fight, showing that they have the inherent qualities provided by the same topology driver technology. The top end is more natural and less peaky on RE2000, while RE800's top end provides a better match for acoustic music, and micro-details enhancement, where it is very hard to match its performance. All in all, RE2000 is a very nice upgrade to RE800, and some the sound characteristics present in RE2000, inherent to their technology, are also present in RE800.
RE800 vs Sennheiser ie800 – This is probably the most interesting comparison, especially since ie800 is priced similarly to RE800, and has a similar signature, with a strong top end, and a deep bottom end, and with a rather recessed midrange. Starting with the bottom end, both RE800 and ie800 provide a very nice presentation, with ie800 having a bit more sub-bass quantity than RE800, while both have very good amounts of control. RE800 has a bit more midbass enhancement which leads to a slightly thicker sound than ie800. The midrange is quite detailed on both, and while both have a similar level of instrument separation, RE800 glazes music with a slightly larger soundstage, while ie800 presents music more intimately. The top end is where they sound more different than similar, RE800 having a little peak around 6-9 kHz, then slowly going down, while ie800 has a larger treble area enhanced, leading to a softer sound, with even more treble. Both are energetic, but the cymbals sound rather soft on ie800 and harder on RE800. The detail levels are quite similar, and it is hard to choose between them, both of them being amazing performers, with excellent fit, ergonomics and sound. Ie800 looks like it is made of obsidian / ceramic, while RE800 is made out of golden brass, each adding some inherent sheen to the sound.
RE800 vs Beyerdynamic Xelento – Beyerdynamic Xelento is more of a complementary IEM to RE800 rather than a competitor, since Xelento goes for a far more balanced, natural, and smoother approach. Both RE800 and Xelento are extremely musical, but they present the music quite differently, Xelento being quite the romantic performer, while RE800 sounds a bit more like the technical-musical performer, especially due to their treble enhancement. Xelento's top end is the biggest difference from RE800, where Xelento doesn't have any peak the top end, but a smoother top end when compared to RE800, providing a leaner sound that can feel a bit more natural, compared to RE800's energetic and vibrant approach.
Value
HiFiMAN RE800 is priced at around 800$, being one of the more sophisticated and luxurious high-end IEMs around.
Looking at the package content, they come in a wooden box, which is quite rare. They come with a good selection of tips, although SpinFit or Mandarins are recommended as a little, very inexpensive addon.
The sound is exceptional, even for this price point, and RE800 is one of the very impressive performers out there, a rather exclusive and engaging IEM.
The more interesting part about the value is the cable, which was not detachable on the model reviewed, but at the same price HiFiMAN released a RE800 IEM with detachable cables. Since this was one of the only gripes most users could had had with RE800 at this price point, HiFiMAN's move to release a detachable cable version of RE800 places RE800's value from average to a very good value. They don't cost less, but having detachable cables makes them a far greater value, providing a good balance of sound, ergonomics and futureproofing for the price paid.
All in all, there is no space to complain about the price, since they are one of the more glamorous high-end IEMs with a few bells and whistles to check your list.
Conclusion
HiFiMAN RE800 has been one of the most interesting IEMs to look at, with their golden looks and supple yet curved bodies. The sound matches both the looks and the price point, although at times the sound is actually much better than one would expect it to be, given their rather petite size. RE800 comes to refresh the 800$ price range with the addition of HiFiMAN's Topology Driver, which brings more speed to the dynamic driver, and enhances the transient response of a IEM, leading to more details and an enhancement in the naturalness of the sound.
While RE800 comes with maybe a little too few tips, they come with comply tips, which are favored by many. Purchasing matching Spinfit or Mandarin tips is quite easy and inexpensive, and could further enhance the listening experience when using RE800, at a very small fraction of their price.
Purchasing the version of the detachable cable of RE800 will futureproof them a bit, leading to a rather good purchase of a high-end IEM that is not to be taken lightly, despite their nimble size and beautiful aesthetics.
So far, HiFiMAN delivers on their word, and RE800 is a IEM that innovates the art of listening, providing excellent fit, clarity, detail levels, bass impact, treble energy, and a beautiful look.
If you like a sound that is well-separated, has a great bass with extreme impact, a sweet midrange and an enthused top end that matches acoustic music, and gives life to acoustic guitars, RE800 might be just the IEM you're looking for, a truly amazing listening experience in a small package.
---
---
--- Please remember to stay safe, and always have fun while listening to music!---
 - If you have a dime to spare, and donate, to help us with electricity and work expenses, it would make my day much brighter, as it would help me improve things around the website and increase the frequency of my posts - 
---
Full Playlist used for this review
We listened to more songs than those named in this playlist, but those are excellent for identifying a sonic signature.  PRaT, Texturization, Detail, Resolution, Dynamics, Impact, and overall tonality are all revealed by those songs. We recommend trying most of the songs from this playlist, especially if you're searching for new music!
https://www.youtube.com/playlist?list=PL_cjBXGmwSHSdGcwuc_bKbBDGHL4QvYBu
--- Contact Us ---






---
---