FiiTii HIFIAir 2 TWS Bluetooth IEMs Earbuds – Blank State Clarity
FiiTii HiFiAir 2 is a $49 USD pair of TWS or True Wireless Bluetooth IEMs with a really clean design, and Bluetooth 5.3 integration. Today we will be reviewing it and focusing on describing what they sound like. They are known for a very low weight, 4.5 grams for each earbud, IPX5 waterproofing, and they promise a good call quality, so we will be testing for this as well.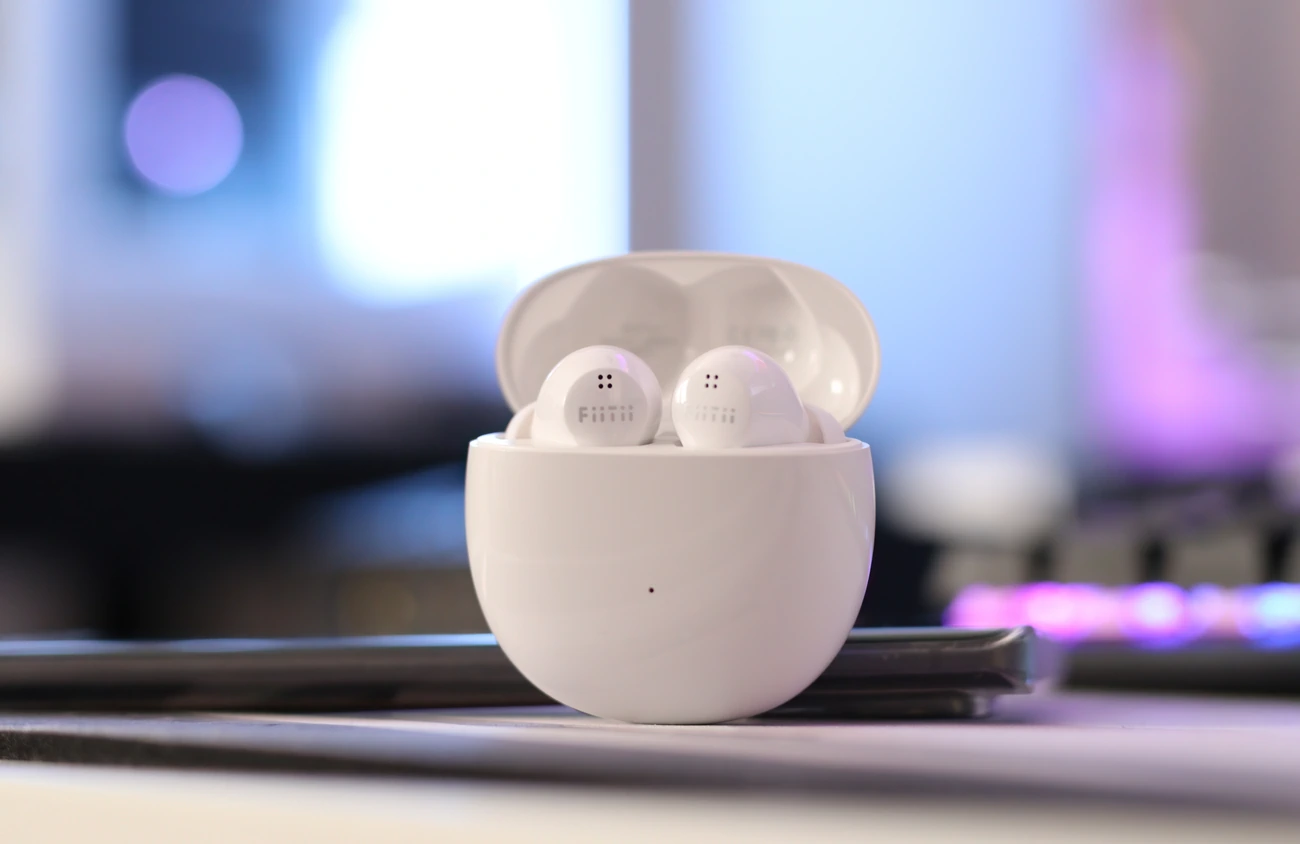 Introduction
Those new IEMs are sold and pushed by Mifo which is not a new name for my reviews, and I have reviewed the Sports & Outdo Mifo S before, a pair of TWS IEMs with ANC. The new brand seems to be a new venture for Mifo, so it will be interesting to see how they sound like, but since Mifo S is priced at 169 USD, more than 2 times the price of Air 2, I think it is fair to focus on Air 2 this time around. Those are available from Amazon which is pretty great, because you can order a pair, test it, and if you don't vibe with their sound or comfort, return them within a generous window, Amazon being the 1st place I recommend purchasing from when ordering audio products, if you want to have a hassle-free experience. 
It should be noted that I have absolutely no affiliation with Mifo or FiiTii, I am not receiving any incentive for this review or to sweeten things out. I'd like to thank Mifo for providing the sample for this review. Every opinion expressed is mine and I stand by it. The purpose of this review is to help those interested in FiiTii HIFIAir 2 TWS Bluetooth IEMs find their next music companion. 
Product Link
You can grab one from www.amazon.com here: https://amzn.to/45EqdJA
If you're in the UK, you can grab one from www.amazon.co.uk here: https://amzn.to/3E6YINm
And if you're from Europe, you can grab one from www.amazon.de here: https://amzn.to/44z5BSp
Official Link – https://fiitii.com/product/true-wireless/hifiair-2/
Build Quality/Aesthetics/Fit/Comfort
At the start we see a pair of TWS Earphones fully white in color, with a really smooth case that feels like it would scratch the instant it leaves your pockets. The case does scratch easily, and it is a big fingerprint magnet too, but the IEMs inside are kept safe and sound, and have a different finish / build that is rather scratch resistant and feels nice to the touch. We have Bluetooth BT 5.3 connection, but there is no advanced bluetooth codec that Samsung S23 Ultra can detect, so we're stuck with SBC and AAC baseline. Although 24 Bit is promised, Samsung S23 Ultra doesn't see it and we're stuck with redbook 16 bit / 44.1 kHz as the main data rate for all music with FiiTii HIFIAir 2. 
The ANC has three levels, which are Mild Noise Canceling, Strong Noise Canceling, and Transparency Mode. It seems that none of those don't affect the sonic quality, which is a breath of fresh air and fastly pushes the HiFiAir2 as one of the best TWS Earphones for ANC. The sound inside is handled by a large 12mm dynamic driver, and a balanced armature. The ANC has the least effect from everything I've heard so far, it barely does anything, it is along the lines of just a few dBs of extra isolation. Transparency mode is also extremely weak and doesn't really amplify the outside noise much, so while they do not affect the sound a lot, they aren't doing much either.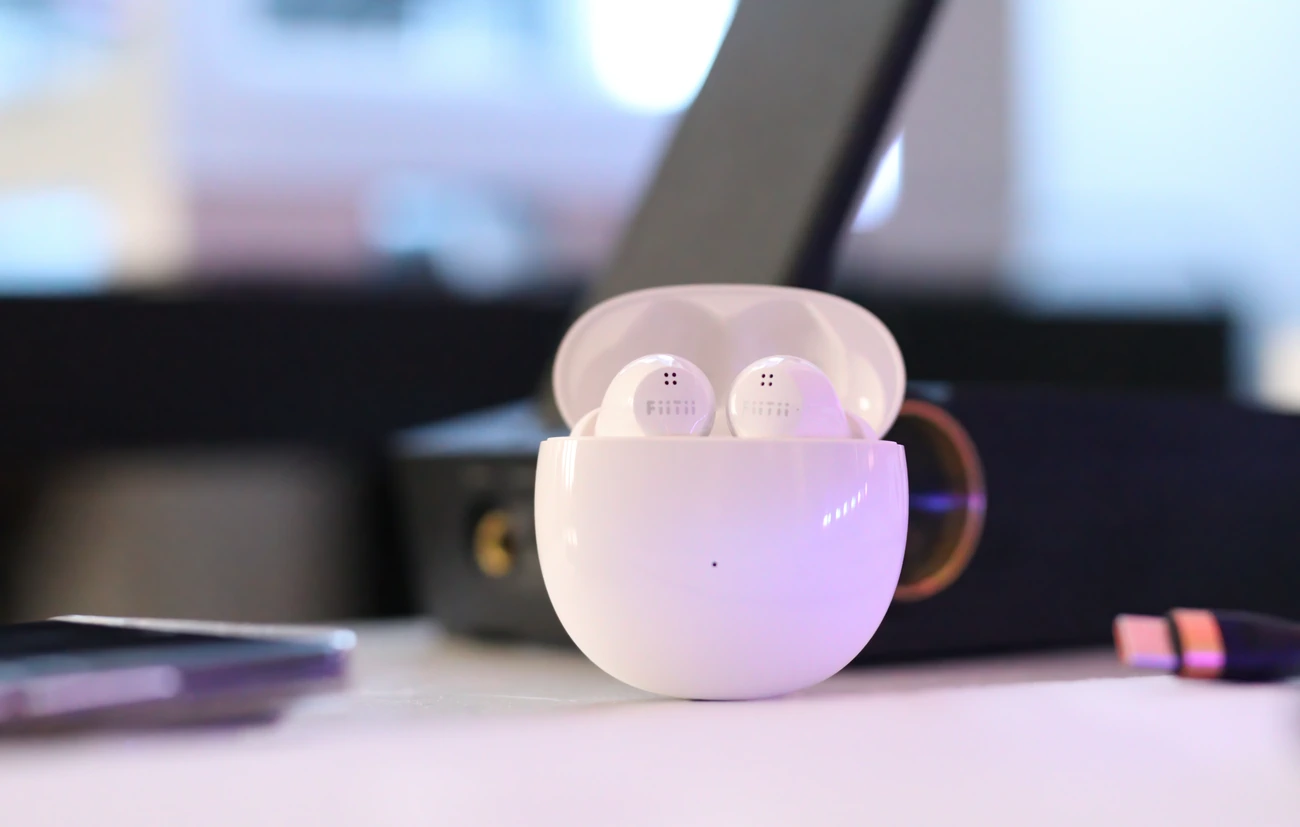 The IEMs have a promised battery life of 5 hours which is about 3.5 – 4 hours in person when you turn them loud and use ANC or Transparency mode. The case holds 4 additional charges, which is pretty cool and enough for a week for most people. The charging is handled via a Type-C port which is also neat, and the microphone quality is good, to great, better than what most handsfree kits for smartphones offer. 
There is an app for the HIFI Air 2, which is rather useless, since most information and control can be achieved by touch controls. The earbuds offer and have independent volume, different from your smartphone, and you can touch the right one to increase the volume or touch the left to decrease it. Keeping your finger on either earbud will cycle through the ANC settings and levels.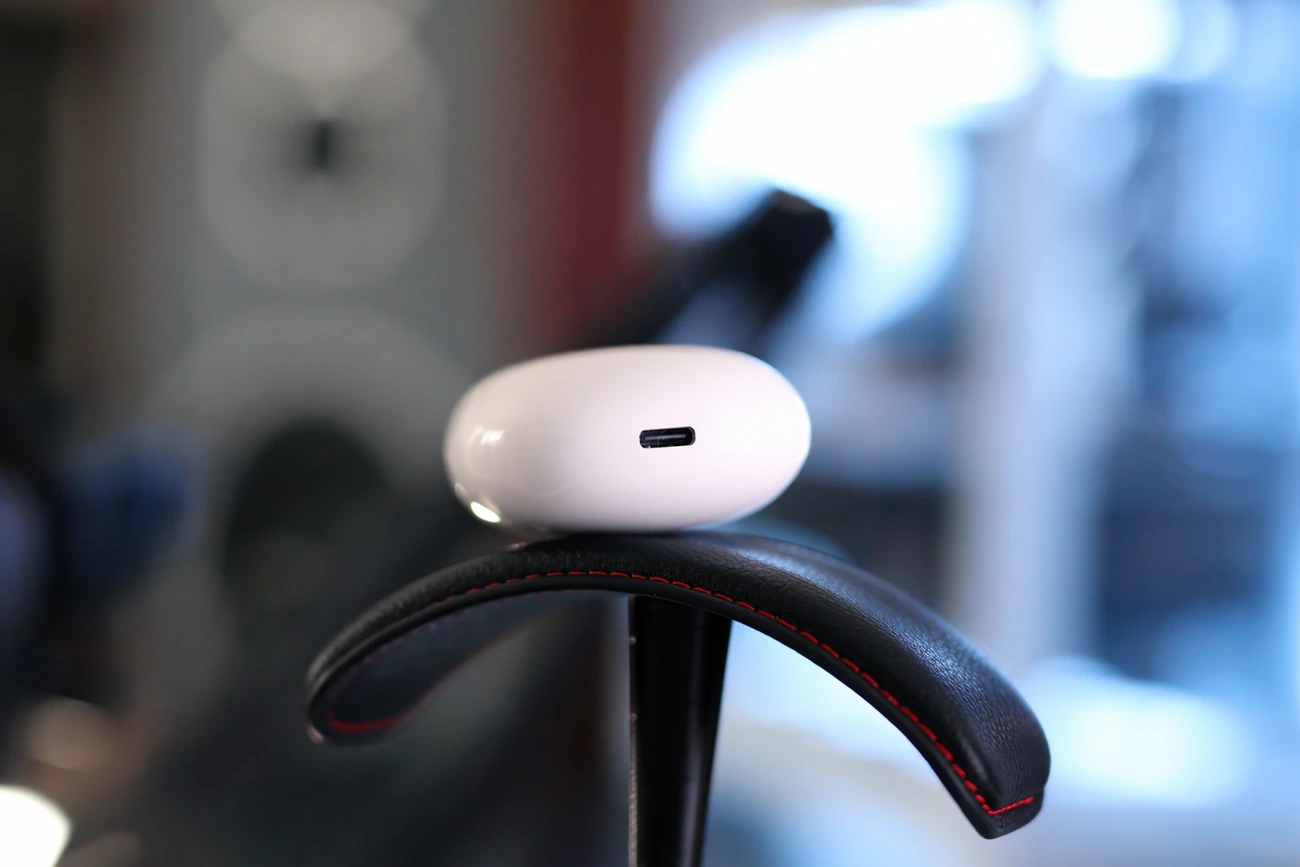 Physically, the HIFIAir 2 is one of the most comfortable TWS IEMs I have tested to date. It is a lightweight TWS IEM that sits in my ears perfectly, it is small but also the plastic is of a good quality and overall, they are incredibly fun to wear. The passive noise isolation is between 12 and 18 dB, depending on the frequency, and the maximum loudness is very good. There is absolutely zero distortion at maximum volume, and they handle high volumes well. 
Sound Quality
I've paired the HIFIAIR2 with a number of sources, including Samsung s23 Ultra, Motorola Edge 40 PRO, Asus ROG Phone 7, and Huawei P30 PRO. It seems like they always default to AAC instead of SBC, and they sound better with AAC, so there's a good chance that those will sound even better with iPhones like the 14 PRO MAX. The sound can generally be described as V-Shaped, with a good sense of dynamics, low distortion, strong bass, strong treble, and a slightly recessed midrange. There's the usual Bluetooth compression audible at all times, but it is not super bad, and I actually prefer their sound for EDM, Pop, Kpop, and all super commercial music, where HIFIAir2 sounds incredibly fun and enjoyable. They are not a good match for rock, metal, and most acoustic styles, where you hear both the BT compression in the midrange, and the detail is not very good, you can hear dynamic compression too, and also the limitations of an entry-level IEM. The maximum volume goes to about 105 dB – 108 dB with no distortions which is super good.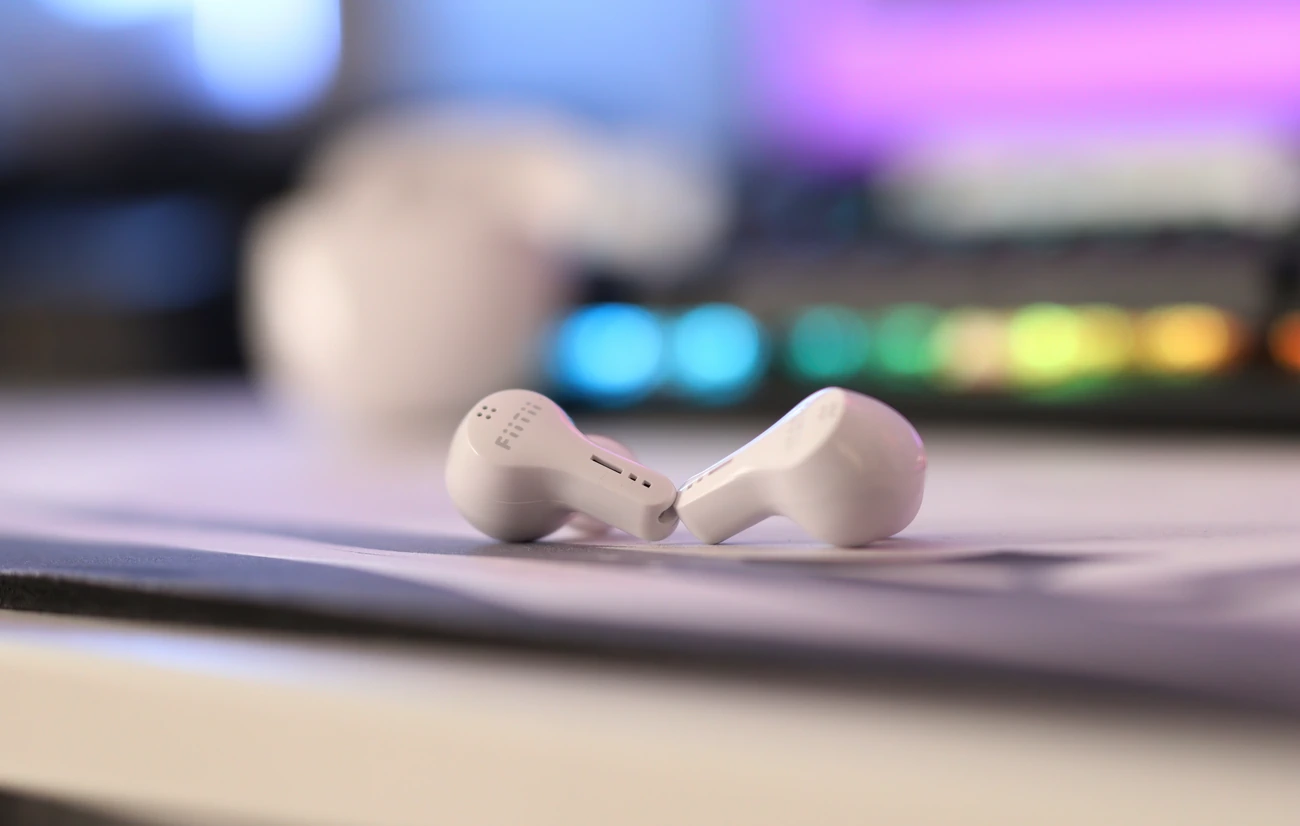 The bass is uplifted, with a strong 10-15dB uplift over the midrange, and a good sense of dynamics. I am most surprised by how low the distortion is and how good the overall control is with loud and forward / aggressive music at high volumes. The bass rolls off at around 35Hz, which is exceptional for an entry-level IEM,  and most of the bass energy is between 40 Hz and 80Hz, resulting in a fairly clean and uncolored bass that is not boomy or slow or lazy. The bass is natural in speed and excellent for EDM, pop and commercial music. Camellia, PSY, Kesha, Lady Gaga and the likes. 
The midrange is recessed, has a traditional V-Shaped dip in the middle, which colors the presentation, but is there to hide the bluetooth compression algorithms too. If you're not likely to listen to pop and EDM, you won't like it, while with pop and EDM, it sounds very good and is not noticeable at all. For rock and metal, you can hear the upper midrange increase in presence and how guitars sound a bit off, but that's about it, most commercial music sounds dynamic and punchy, with a good sense of space. The soundstage is natural in size, not very narrow, but with a good instrument separation and detail, as much as AAC and SBC allows it.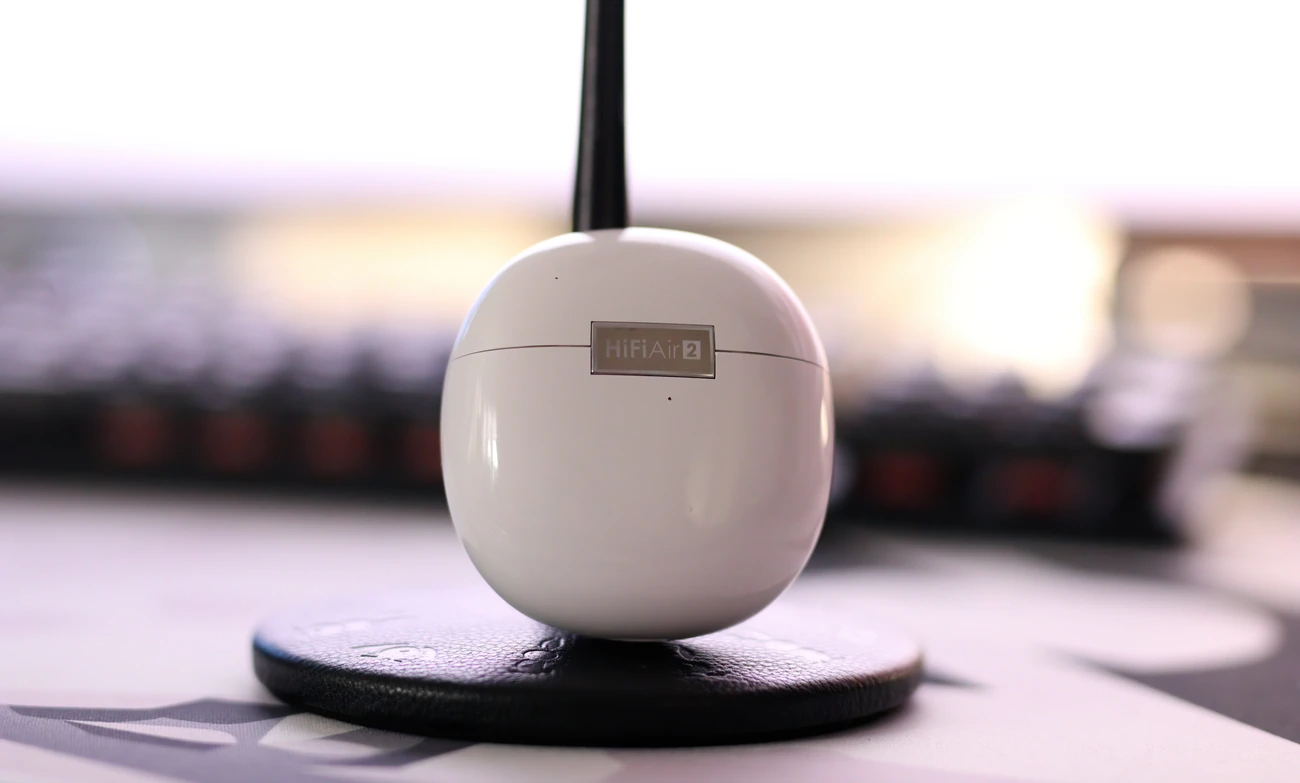 The treble is clean, detailed, sparkly, and extends up to about 12-14kHz, with a good sense of sparkle and energy. Here you can hear the Bluetooth compression quite a lot with rock and metal. With most commercial music and EDM, it sounds very natural and correct. I found myself loving trance music, house, and pop with the HIFIAir2, but not enthusiastic about metal and rock. All in all, the signature is pleasing, detailed, fun, engaging and something you'd enjoy if you know you like a V-Shaped signature, and have the expectations that those will sound about as you'd expect them to for the 50 USD price point. 
Value and Conclusion
We have excellent value with HIFIAIR2, and I can say for sure that although they don't cost much, they do a lot, and if you set your expectations right for the price range, you will likely have a good experience. The package is not extraordinary, but the sound is great for EDM and pop, and they have good comfort, plus a stable signal and connection.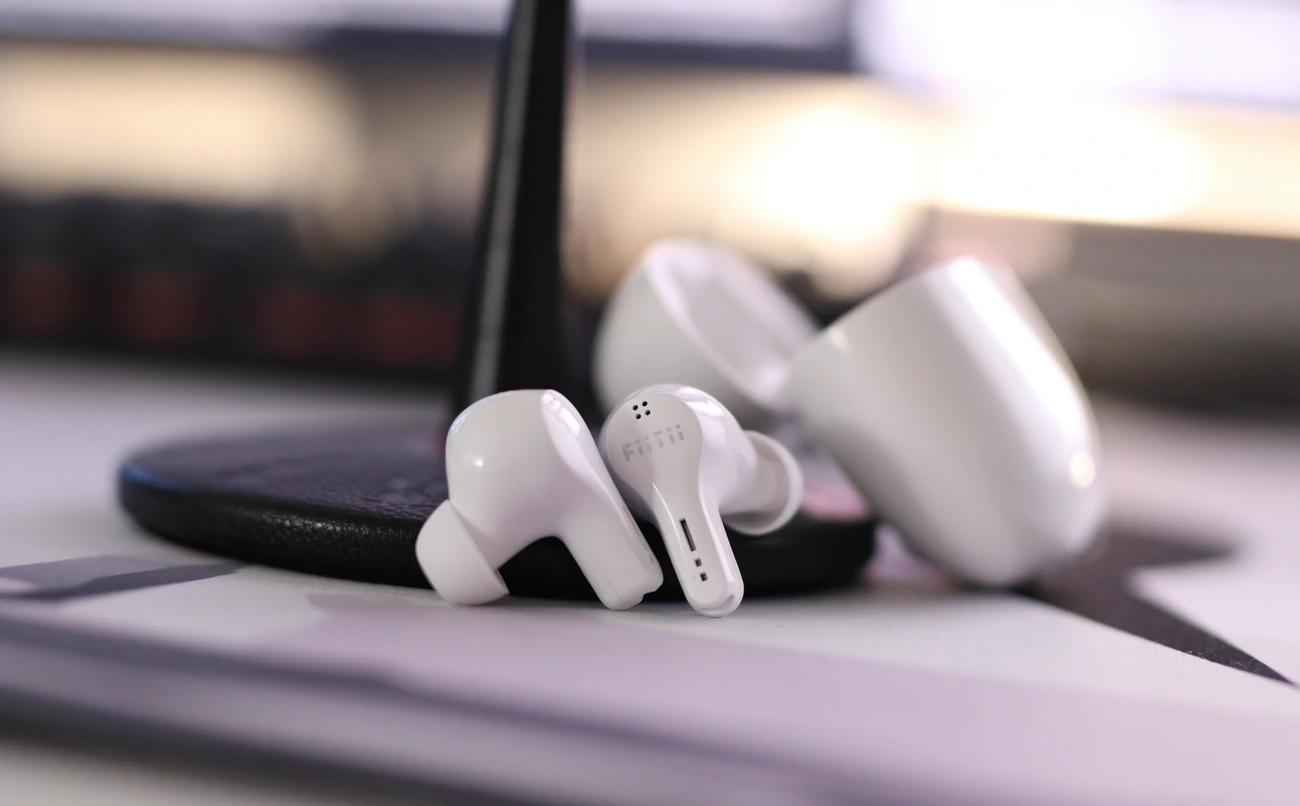 At the end of the day, if you like V-Shaped signatures with a strong bass and a strong treble, if you want an impactful sound with a good amount of dynamics and detail, and if you need good comfort, FiiTii HIFIAir2 is a fully recommended purchase that you should be plenty happy with. 
Product Link
You can grab one from www.amazon.com here: https://amzn.to/45EqdJA
If you're in the UK, you can grab one from www.amazon.co.uk here: https://amzn.to/3E6YINm
And if you're from Europe, you can grab one from www.amazon.de here: https://amzn.to/44z5BSp
Official Link – https://fiitii.com/product/true-wireless/hifiair-2/
---
--- Please remember to stay safe, and always have fun while listening to music!---
 - If you have a dime to spare, please donate, and help us! It would make the day brighter for me and my wife- 
---
Full Playlist used for this review
We listened to more songs than those named in this playlist, but those are excellent for identifying a sonic signature.  I recommend trying most of the songs from this playlist, especially if you're searching for new music! The playlists are different for Spotify, Tidal and Youtube, and based on the songs I enjoy and are available on each!
https://www.youtube.com/playlist?list=PL_cjBXGmwSHSdGcwuc_bKbBDGHL4QvYBu
https://open.spotify.com/playlist/5J3oloz8Riy9LxEGenOjQ0?si=979ba4f082414be7
https://tidal.com/browse/playlist/330fd544-8e5b-4839-bd35-676b2edbb3d5
--- Contact Us ---





---