Alpha Delta D3 – Affordable, Smooth and Fun
Alpha Delta is a company from Singapore with two IEMs in their current offering, D3 and D6. We're going to review both, but today we're taking a look at the cheaper one, D3, which is really really affordable, and which enthused a lot of music lovers with their build quality and sound. Let's see how they stack to other IEMs in this price range. 

Introduction

Alpha Delta is a friendly although somewhat new company from Singapore. Their two models, D3 and D6 are both pretty well received, and they are both current models still in production, with a lot of people looking forward to both of them as a really pocket-friendly solution for their music listening experience. We had very nice conversation with Alpha Delta, and we consider them to be a great company to work with, we recommend them to provide you service and a good level of communication. 

It should be noted that I have absolutely no affiliation with Alpha Delta, I am not receiving any incentive for this review or to sweeten things out. This review is not sponsored nor has been paid for by Alpha Delta or anyone else. I'd like to thank Alpha Delta for providing the sample for this review. The sample was provided along with Alpha Delta's request for an honest and unbiased review. This review will be as objective as it is humanly possible, and it reflects my personal experience with Alpha Delta D3. Every opinion expressed is mine and I stand by it, the purpose of this review is to help those interested in Alpha Delta D3 find their next music companion. 
Product Link
You can purchase the Alpha & Delta D3 from www.amazon.com here: https://www.amazon.com/s?k=ALPHA+DELTA
Packaging

First things first, let's get the packaging out of the way:




Alpha Delta packages are pretty nice and include the minimum amount of accessories necessary to enjoy their products, like tips and a carrying case. To be fair, they also include ear Hooks with their D3 IEMs, but we consider those to not be very useful, and to be rather counter-productive in practice, as wearing the IEMs over-the-ear without hooks is more comfortable for most people. 

The overall package looks nice, it doesn't look or feel cheap, and it Alpha Delta has ensured that their IEMs will be safe during shipping. The outer package is made from a sleek-designed cardboard box, with beautiful graphics of D3 drawn on it, while the inner box is made from a holder made of plastic. 

The IEMs themselves actually come with double flanged tips installed, and to our amazement, they actually have another pair of double flanged tips, three parts of single-flange tips, and even a pair of foam tips. This wouldn't be extremely impressive if those were priced higher, but for a IEM priced at 35 USD, they actually come with more than some IEMs costing many times more do. 

There is a clip shirt included as well, but happily D3 doesn't suffer from microphonic noise, so it won't be necessary to use the clip. 

All in all, we are extremely intrigued and impressed by the package of Alpha Delta D3, and we aren't sure how Alpha Delta managed to pull off such an amazing package for such a low price, and we hope that more companies will follow suite in this aspect. 



Technical Specifications

Driver Unit: 6 mm micro dynamic driver 
Impedance: 16 ohm 
Rated Power: 1mW
Frequency Response: 10Hz-20 kHz
Speaker Sensitivity: 92+/- db/mW
Cord Length: 1.2m silver plated copper cable 
Plug: 3.5mm



Build Quality/Aesthetics/Fit/Comfort

The build quality is incredible. We are reviewing a 35 USD IEM, which also goes on sale on Massdrop for less sometimes, and it has a build quality it can only be happy about. The main IEM body is made out of metal, and the IEM itself looks and feels very solid. The cable is braided, and has a really nice look to it, it is very flexible, and it is slightly translucent. 



The Carrying case is made from what seems to be leather. In fact, it looks and feels more like leather than most actual leather cases, we feel that this is most impressive. The case is somewhat soft, so it won't offer much protection to D3 in case you needed the case to protect them, but it is pretty sexy, and we can't stress enough how nice to the touch it is. 

The IEM is sleek with its metallic shape, and it looks really sexy, and even the 3.5mm jack is actually custom made for them, and it has a unique design, looking a little like an arrow.
When it comes to their fit and comfort, like for most IEMs, they fit better in the ear while they have a single flange tip rather than the double flange tip they come with. This usually happens because most ears feel much more comfortable with the shallower single flanged tip. The fit is pretty universal and we haven't detected any kind of issues with their fit, especially since the IEM bodies are rather small. The wearing style is preferred with the cable over-the-ear, thing which reduces microphonics. 

On the other hand, we did detect some driver flex, but very little. It should be undetectable to most users, but it still is there. 

All in all, the fit and comfort is heaven-like with Alpha Delta D3, they really stay well in ears, they don't slide out of the ears, and they can even be a jogging IEM. The build quality is also nice and we have nothing to complain about, instead having only things that impressed us at this price point. 



Sound Quality

The sound quality is pretty much what you'd expect it to be at 35 USD. The signature is bass-driven, warm and a little thick, with the bass and the midrange being the centric elements of their sound. The detail levels are good, and since D3 is a 35 USD IEM.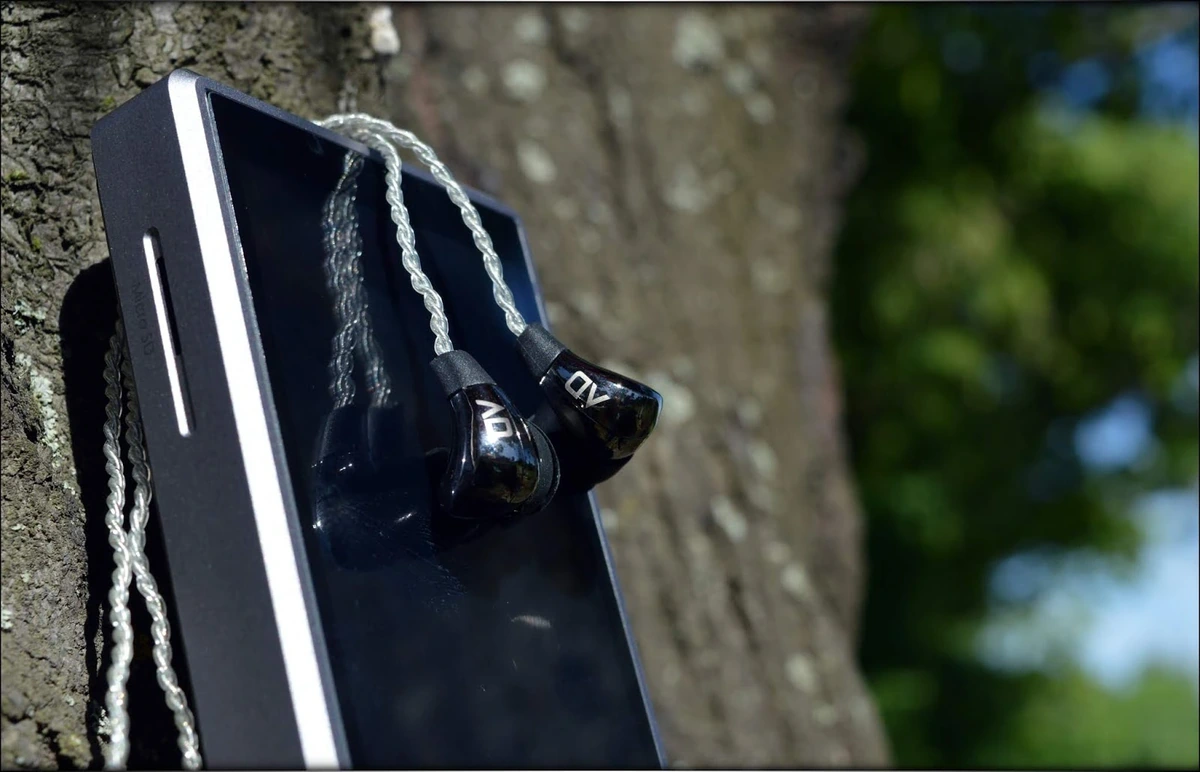 The bass is strong and fairly well-controlled, it has a good depth, and good clarity. In all fairness, the impact is also fairly good, thing which gives them a pretty nice low end. 

The midrange is pretty much dropping off after 300 Hz and it reaches a low level around 1 kHz, where it has a dip of around 15 dB compared to the sub-bass and the mid-bass. There is a peak at 2-5kHz, where it reaches similar levels as the sub-bass and the mid-bass, after which it goes out steeply. 
This entire sound can be described as a meaty bass and sub-bass, with a recessed lower midrange, which tries to give them a better clarity and detail to the midrange, but can take out some power from male vocals. The peak ends at 5 – 5.5 kHz, which means that violins and female vocals are also a bit recessed and aren't emotional. 

The bright side to all their signature is their level of fatigue, which is zero. With the treble being almost 25 dB quieter than the rest of the bass and the midrange, the sound is extremely smooth and can only be named relaxing, it basically cannot be fatiguing to any ear, it will be smooth, soothing and relaxing regardless of what you're playing through D3, nothing can sound harsh or bright, and all music will come off as smooth and relaxing. This isn't exactly a good effect if you're listening to a lot of metal music, but this can be especially nice if you're into Jazz or low-fi music in general. Electronic music doesn't have treble sparkle, but the bass is pretty nice and if you prefer your electronic with less sparkle in the treble, then those are a good choice. 



Soundstage

The soundstage of D3 is not bad at all, being actually impressive for a IEM at this price point. It reminds us of the soundstage of Shozy Zero, which was also quite impressive for 50USD. There is a good amount of holographic effect, along with a good amount of space between instruments, although they still are somewhat on the more intimate side of things. The main thing that we like about their soundstage is that the instruments aren't too focused all together, so you can distinguish a lead guitar from a rhythm, along with certain effects in electronic music. 



ADSR / PRaT

The ADSR and PRaT (Texturization) is slow to natural, the recessed treble enhancing this feeling. The bass isn't particularly slow, but the resolution and texture revealing are as good as 35 USD goes, so on music like that of mindless self indulgence you can expect to hear the macro textures, but most micro textures will be played too smooth to be able to distinguish them, but in all fairness, this is not an issue considering their price point, the overall textures being possible to be better on some IEMs at those price points, but only when the IEM itself is brighter and tuned with a more revealing tuning in mind, so if you're looking for a smooth signature, D3 provides a nice performance. 


Portable Usage

The portable usage is excellent. 



The IEMs themselves are small, they are lightweight, they isolate fairly well, and the cable is really nice for walking while wearing them. 
The over-the-ear wearing style helps a lot with using D3, as they don't have microphonic noise, and it also helps with comfort. The cable is soft and has a shape that is easy to change, so you have a really nice experience when it comes to using them while on-the-go. The cable and the IEM bodies are extremely light in their weight, so you can barely tell that you're wearing them. You can literally jog with D3 without noticing that you're wearing them, resulting in an excellent overall portability. 
They are easily driveable from any source and don't scale much with the source, so you can safely enjoy them from the most basic music player device, like a very inexpensive smartphone, or even an old MP3 Player. 

In short, AD D3 is a really portable IEM which is great to take on a road trip. 



Comparisons 

We haven't reviewed almost any other IEM at a similar price to Alpha Delta D3, so most comparisons will feel a little unfair, since a 60 USD IEM is almost double D3's price, and many of the lowest priced IEMs we reviewed are priced starting with 50 USD.



Alpha Delta D3 vs Kinera Seed – Starting with the build quality, Kinera Seed has a plastic shell, but has a detachable cable, where Alpha Delta D3 has a more flexible cable, and a metallic IEM body. D3 manages to come with more tips, although the selection included with Kinera Seed can be considered adequate as well, especially for this price point. The wearing comfort is very similar, and both IEMs are very comfortable. The sonic performance of Kinera Seed is good, with more treble sparkle, more detail, and a more balanced overall sound, although Kinera Seed also comes at almost double the price of Alpha Delta D3. 
Alpha Delta D3 vs Shozy Zero – Starting with the build quality, Shozy Zero is actually made out of wood, and this alone makes it a very interesting little IEM, especially for the 50 USD it costs. The package is very good on both IEMs, but D3 manages to include more tips in its package. The comfort is similar between the two, although Shozy Zero had some driver flex, where D3 doesn't have any, and D3 is mainly made to be worn over-the-ear, while Shozy Zero can be worn either straight down or over-the-ear. The sonic performance is quite impressive on both, and they have a somewhat similar sonic signature, although Shozy Zero has a warmer, thicker and more dynamic sound, with more treble extension, and a slightly larger soundstage, while D3 tends to be smoother, and to have slightly more control and precision over its bass. 
Alpha Delta D3 vs Final E2000 – E2000 is an interesting offering and comparison point for D3 because it has a closer price than the other IEMs in the comparison list. The build quality is quite good on both, both IEMs have a metallic body, with a fixed cable, and both IEMs have a good cable by default, although D3 has a braided cable, while E2000 has a lean cable. Both cables move easily and neither has any kind of wearing issues. The comfort is similar, although E2000 can be worn both straight-down and over-the-ear, and they are a bullet-type of IEM, which means that their shape tends to be quite comfortable for most ears shapes, but D3 has a really tiny body which makes up for its body having a different shape. The isolation is better on D3 since E2000 has a larger vent and is generally vented, and both IEMs are easily driveable from a portable source. When it comes to their sonic performance, both IEMs do well in most aspects, both IEMs have a similar level of detail and clarity, and both IEMs are fun and slightly colored, but E2000 has a considerably better treble extension and it is more balanced, universal and versatile, where D3's smooth signature either works or doesn't work for your ears and music tastes, being more specific. Both IEMs are good value at this moment, with D3 being cheaper, especially if you order it from massdrop. 



Recommended Pairings

Alpha Delta D3 is very little dependent on its source, sounding fairly similar from most sources, so we don't recommend using it with a very expensive source, as it simply doesn't scale very well. Better DACs nor Better AMPs don't have much effect on their signature, and even using some EQ can be a little complicated, although it can balance out their natural signature, making them a little more universal and versatile. Being a 35 USD IEM, we need to mention that D3 isn't quite that revealing of the source, this thing being a double-edged truth, as it means that you can't really improve by adding a better source, but this also means that they will sound excellent from the least pretentious smartphone. 



Alpha Delta D3 + Cayin N5ii – N5ii is a great source due to many reasons, including the fact that it is easy to use, it has a good battery life, it has a good price, and it has streaming services, along with two microSD slots, so you have quite a bit of fun prepared for you when you're purchasing it. The sonic signature of N5ii with D3 is interesting, because it helps even out their original signature, a little bit, but not a whole lot, although it adds a bit more detail than the typical smartphone. 

Alpha Delta D3 + FiiO M7 – FiiO M7 is a nice solution from multiple aspects, including its battery life and price, but the thing it does really well is bluetooth in all its shapes and sizes, which won't be used by this pairing. This still makes M7 a very compelling purchase because you know will be able to use it for a long while, with a wide range of headphones and IEMs, especially if those are or will be based on the bluetooth connection. As for its sonic performance together with D3, M7 sounds quite good, it brings a little more treble to the mix, making them a tad brighter than the typical smartphone, which is very welcome, considering D3's signature, but not enough to mean that you can get away without using EQ unless you really like D3's smooth and relaxing original signature. 

Alpha Delta D3 + Shanling M2s – Shanling M2s will quickly be replaced by its successor, but this makes it a great deal while you can still find it in stock, as now it should be on sale, and at a great price. Right now, it is a great little device if you prefer controlling a device without a touchscreen, and it still has quite a bit of power under its belt. It has some bluetooth powers, like APT-X, but it doesn't have all the bells and whistles of M7, being also priced more pocket-friendly. When it comes to its sonic performance, M2s is a pretty thick-sounding DAP, and this is also transcribed to D3, as they sound a tad warmer and thicker, but M2s doesn't bring much more brightness or treble to the mix, thing which would have been welcome considering D3's really smooth and quiet treble. 



Value and Conclusion

Alpha Delta D3 is a really pocket-friendly IEM, with a price of just 35USD, and which also goes on sale pretty often, sometimes for far less than this. This makes it one of the least expensive IEMs we reviewed recently, and this also makes it a really interesting choice for the music listener in need for a really affordable option.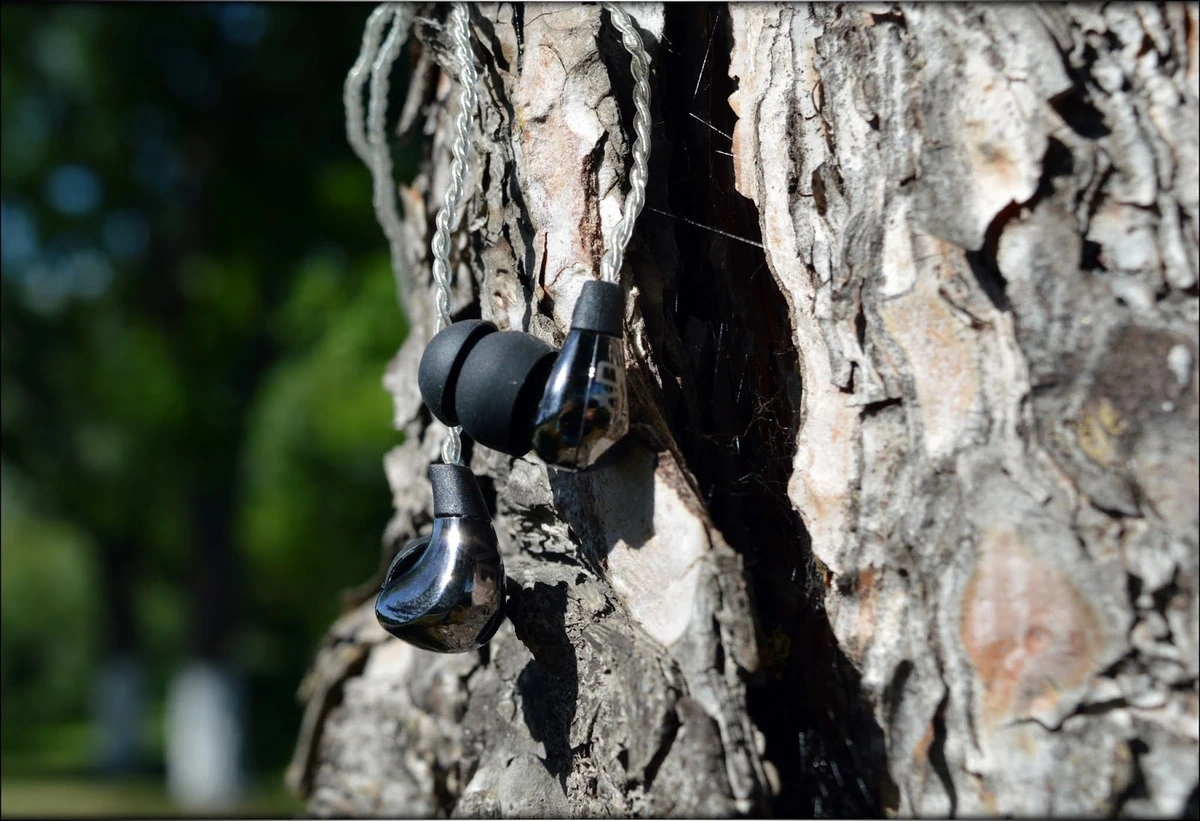 The package comes with more than other IEMs come with at this price point, D3 coming bundled together with foam, double-flange, and single-flange tips, thing which is quite outstanding on its own, and D3 also comes with a shirt clip and ear hooks, thing which is also quite welcome for them, and they even come with a leathery carrying case, making one of the best equipped IEM we reviewed at this price point, thing which is impressive on its own, but even more at their price point. 

The build quality and aesthetics are two things we really love about D3. It is a metallic-body IEM, and it is simply beautiful, being hard to place in words just how cool they look in person. The silvery – white – translucent cable is also beautiful and the whole IEM looks outstanding, much much better than you'd expect any 35USD IEM to look like. They feel solid, and they seem like they can take a beating and come back asking for more. 

Sonic performance, on the other hand, is something we have mixed feelings about. The Signature is very colored, and tuned with a very specific tuning in mind, being something you either like or not, and since they don't change much with source, and since they don't respond very much to EQ either, you need to be sure that this is the kind of signature you're looking for. The main signature, if you like music like this, is pretty impressive, in detail and dynamics, they have an enhanced, thick but well-controlled bass, a recessed lower midrange, and an enhanced mid range, after which the upper midrange, lower treble, and upper treble fall steeply to a 25dB lower level than the main midrange and the bass. This means that they sound musical, warm, smooth, happy and playful, but they lack sharpness and treble bite, being a really relaxing IEM tuned for those who like to lean in their armchair and just enjoy the music without much excitement of treble symbols and cymbal crashes. For low-fi music, hip-hop, jazz, and trip-hop, they are a perfect match, but for metal music they sound overly smooth and calm, being something that you might like, if you prefer your metal music to be presented in a calmer and more friendly way. 

At the end of the day, we're talking about a 35USD IEM that really outshines its price point, and we really can hardly fault, considering its build quality and package, and since the detail levels are really good for 35USD, we can't say that their colored sound is a downside necessarily, just a matter of your subjective preference. The smooth and relaxing way they convey music will surely satisfy and be a delight to those listening to a lot of Hip-Hop, Trip-Hop, Low-Fi, Jazz and other quaint music styles, and it will be a true revelation for those who like their music with very little treble as well, like say those who are easily fatigued by too much treble. 

Don't worry, we're also working on a review on their D6, so you'll also have a good idea how both their IEMs sound like, especially compared to each other.



If you're looking for a very impressive and durable IEM for 35USD, be sure to check out Alpha Delta D3, and if you like your music warm, smooth and relaxing, this might be your best choice, and with their beautiful design, they'll surely make a nice addition to your portable listening arsenal. 

Product Link
You can purchase the Alpha & Delta D3 from www.amazon.com here: https://www.amazon.com/s?k=ALPHA+DELTA
---
---
--- Please remember to stay safe, and always have fun while listening to music!---
 - If you have a dime to spare, and donate, to help us with electricity and work expenses, it would make my day much brighter, as it would help me improve things around the website and increase the frequency of my posts - 
---
Full Playlist used for this review
We listened to more songs than those named in this playlist, but those are excellent for identifying a sonic signature.  PRaT, Texturization, Detail, Resolution, Dynamics, Impact, and overall tonality are all revealed by those songs. We recommend trying most of the songs from this playlist, especially if you're searching for new music!
https://www.youtube.com/playlist?list=PL_cjBXGmwSHSdGcwuc_bKbBDGHL4QvYBu
--- Contact Us ---






---
---