Mee Audio Pinnacle P2 – The Sound of Passion
Mee Audio has a reputation for making an excellent IEM on the cheap. We're going to test this reputation, and see what their P2 is capable of. We're also going to look into some other Mee Audio Products, like M6Pro and their Mee M6Pro Second Generation, and their Professional Balanced Cable. 

Introduction

Mee Audio is a friendly company from USA which is known to have produced some of the best IEMs while on a budget, and we even received a lot of recommendations directly to look into their products, as they have proven to really have been worth to buy for many of our readers and fans. We can guarantee that Mee Audio will solve issues if any are to arise, and we're sure they will be around for a long time, tinkering with new products, and refining their existent ones. In all fairness, it is a really nice company, which has a lot of potential to grow and expand into other new territories in the upcoming years. 

It should be noted that I have absolutely no affiliation with Mee Audio , I am not receiving any incentive for this review or to sweeten things out. This review is not sponsored nor has been paid for by Mee Audio  or anyone else. I'd like to thank Mee Audio for providing the sample for this review. The sample was provided along with Mee Audio request for an honest and unbiased review. This review will be as objective as it is humanly possible, and it reflects my personal experience with Mee Audio P2. Every opinion expressed is mine and I stand by it, the purpose of this review is to help those interested in Mee Audio P2 find their next music companion. 
Product Link
You can order the Pinnacle P2 Earphones from www.amazon.com here: https://www.amazon.com/MEE-audio-Audiophile-Headphones-Detachable/dp/B074JFRP35
Packaging

First things first, let's get the packaging out of the way:


Starting with the outer package, P2 is made very well. They have a nice outer package, which has all the information one could desire about their new purchase, and it is made well to protect P2. The IEM shells are seated in a foam cutout, without their cables attached. 
There is a large number of tips underneath the foam cutout which holds the IEM shells, and there are even foam tips, for those who like the kind of buttery smooth sound those provide. The number of silicone tips is 6 pairs in total, and the code for the comply foam tips, if you need a replacement, is T200. The cable has a microphone on it, in case you want to pick up a phone conversation using Mee Audio P2.



There is a cable, and a carrying case included with them. The carrying case is especially nice, this is not your average carrying case for IEMs, it is covered in what seems to be leather on the outside, and it feels sturdy, providing protection and support for P2. Even with their cables attached, they fit nicely in the carrying case, and it will protect them against impact and pressure, gaining our love for having such a great accessory included from the factory. The cable is Oxygen-Free-Copper and it feels quite good.



There's a shirt clip included with P2, but it wasn't really necessary, given that they are not quite that microphonic, or rather, they are not microphonic at all. 
All in all, with the package composition, Mee Audio wins our hearts and we can say that for their price tag of 100USD, they are what we'd consider a golden package. 


Technical Specifications

driver type – moving coil (dynamic) with copper-clad aluminum voice coil
bass driver – 10 mm moving coil (dynamic)
frequency response – 17 Hz to 20 kHz
Impedance – 16 Ohms at 1K
Sensitivity – 100±3 dB (1mW at 1KHZ)
ear coupling – intraaural (in-ear)
cable length – 51 inches (1.3m), MMCX detachable
cable connector – 3.5mm, right angle plug
weight (without cable) – 0.1 oz (4 g)
Weight – 0.7 oz (21 g)
included accessories – audio cable with headset, shirt clip, silicone eartips (6 pairs), Comply foam eartips, carrying case, ¼" adapter, user manual



Build Quality/Aesthetics/Fit/Comfort

The build quality is quite excellent, they are made from hard plastic, they are black in color, and they are slightly glossy, giving them a nice modern look. The IEM shells are on the small to medium size, thing which works well for them, they not only fit well, but they are also very light. The cables are rubber-covered, so they are flexible, but they aren't very soft. This means that they are ever so slightly springy. 



The cable quality is quite good, the cable has a microphone on it, which works very well for phone conversations, and the cable itself loops nicely around the ears. 

Fit for P2 is over-the-ear only, and they fit well, one thing which comes in really handy for their fit, being that the entire cable part that loops around the ear is soft, so you don't have to deal with hard ear guides, which for some users can be uncomfortable, especially if the IEM didn't require it.
The cable is a bit springy, but this doesn't affect their portability in any way, they are very portable, they sit nicely they do not have any kind of driver flex, being one of the most comfortable IEMs we had the chance of testing in the past few months. The fit is medium to deep-fit, so they also provide a good amount of isolation from the outside noise. 

Cables are detachable, and they connect to the IEM with a MMCX connector, thing which comes in handy when you also have the MMCX Balanced cable from MEE Audio, which pairs really well with P2. 

Mee Audio P2 manages to receive a golden level for their comfort as well. 



Sound Quality

The sonic quality of P2 is most impressive. Like most of our readers have told us, Mee Audio produces high-quality items with a value higher than their price point, thing which is proven true with P2 as well. They have a commendable detail level, comparable with the detail level of 300USD – 350USD IEMs, thing which is quite nice. They tend to be on the analytical side, revealing details well, but they are also on lighter side, having a snappy, quick, lighter, and more detailed sound. Given their enhanced bass, and enhanced treble, one could say that they are a healthy V-Shaped Signature IEMs, with good analytical and revealing abilities. 



The bass is deep and goes as low as one could ever desire, but it is also fairly fast, especially for this price point. One could say that it has a normal speed on the overall level, it has a good texture revealing ability, and the bass doesn't feel overwhelming at any time. The sub-bass is larger in amount compared to the mid-bass, which is slightly larger in amount compared to the midrange. This means that the sub-bass, the part which gives most tactile impact, is enhanced, leading to an impactful overall sound, but the mid-bass being on the lower-than-the-sub-bass level, means that they aren't boomy nor very thick. 

The midrange is not quite that thick, being on the lighter side, which is nice for acoustic music and for female vocals, which fly with a unique naturalness, although male voices and certain instruments relying on the mid-bass can be a bit on the light side, especially compared to how good the female vocals are rendered. The textures in the midrange are rendered quite nice, and although we noticed very different results with other Alu based voice-coils, we can say for sure that all of them were quite interesting, P2 being no exception. If you like your violins to sing that passage with a passion, then P2 is one of the best choices you can make. 

The treble is on the happier side, bright, being enhanced, especially compared with the midrange, being a bit enhanced even compared with the bass. The treble reaches high, but its bite is not quite that high, at around 7-9kHz, where it gives a bit of bite to cymbals and makes acoustic music much more worthwhile. This means that certain music which has a bad master might sound sibilant, since P2 will reveal sibilance, along with other issues, if those were in the recording, but it doesn't add it where it wasn't already present, so you don't have to worry about this too much, and especially if you use to listen to high quality music recorded very well, you'll have a blast with P2. 

All in all, their signature works well with electronic, acoustic, metal, rock, and most music you can throw at them, being rather universal and versatile, as most V-shaped signatures usually are. Just be careful with records which have a bad mastering, because P2 can surely shed some light on those. 



Soundstage

Mee Audio P2 is quite nice in its soundstage, being rather open and large, especially for a pair of In-Ears at the price of 100 USD, but the biggest surprise comes from the instrument separation, which is quite good, revealing certain instruments in the background, which most IEMs at 100 USD will blend together with the background. 



ADSR / PRaT

The ADSR and PRaT (Texturization) is slow to natural, meaning that textures are generally rendered smooth and songs like those of Mindless Self Indulgence have their textures rendered generally natural with the micro-textures being extremely smooth, and the macro-textures being easier to notice, but still pretty smooth. This works very well with music like hip-hop, and it helps with instruments where textures can sound a bit hard, like trumpets for example, making jazz liquid and soft, but with music like metal, it can make certain guitars a bit too smooth, and especially rough and aggressive metal can feel friendly. 


Portable Usage

The portable usage is quite good. 

In fact, to put it simply, P2 is so comfortable, that it mostly disappears from your ears while wearing them. The shells are extremely ergonomic, really manufactured for actual usage, and the cables combine well with both the IEMs and with going around the ear, so that you really feel like you're not wearing an IEM at all. 



P2 is easy to power, very sensitive, and it is one of the few IEMs that work really well straight out of my Xiaomi Mi Max 2. They will sound better with a better source, but you're looking at a 100 USD IEM which can sound great from any source. 
They isolate quite well, enough to be able to take a walk through noisy streets, and they don't leak much either. 
There are no microphonics or any other issues, and all in all, P2 makes itself remarked as an awesome portae IEM, being a golden IEM when it comes to portability. 

Now, when it comes to their cables, Mee Audio also has a custom cable they are creating, which is a real treat. It is basically an MMCX cable, which combines really well with both MEE Audio M6Pro Second Generation, and with P2, and which has terminations for both Single Ended 3.5mm plug, but also 2.5mm Balanced, and 4.4mm Balanced plugs. This means that you can virtually connect this cable to anything you have, and mind none, it will work really well regardless what you're doing, being a heaven for those who want a more versatile cable. We're going to do a lengthier article on the cable, but the short version is that it really doesn't add anything to the sound, being very neutral in its response, compared to the original cable, sounding mostly the same, the biggest difference coming from the fact that with it, you can use the balanced outputs of your Player and Amplifier, making listening to music more fun. 



Comparisons 

Now, Pinnacle P2 has a lot to fight in this price range, and all the contentenders here are fierce fighters, so we're quite enthused to see how it will stand its ground.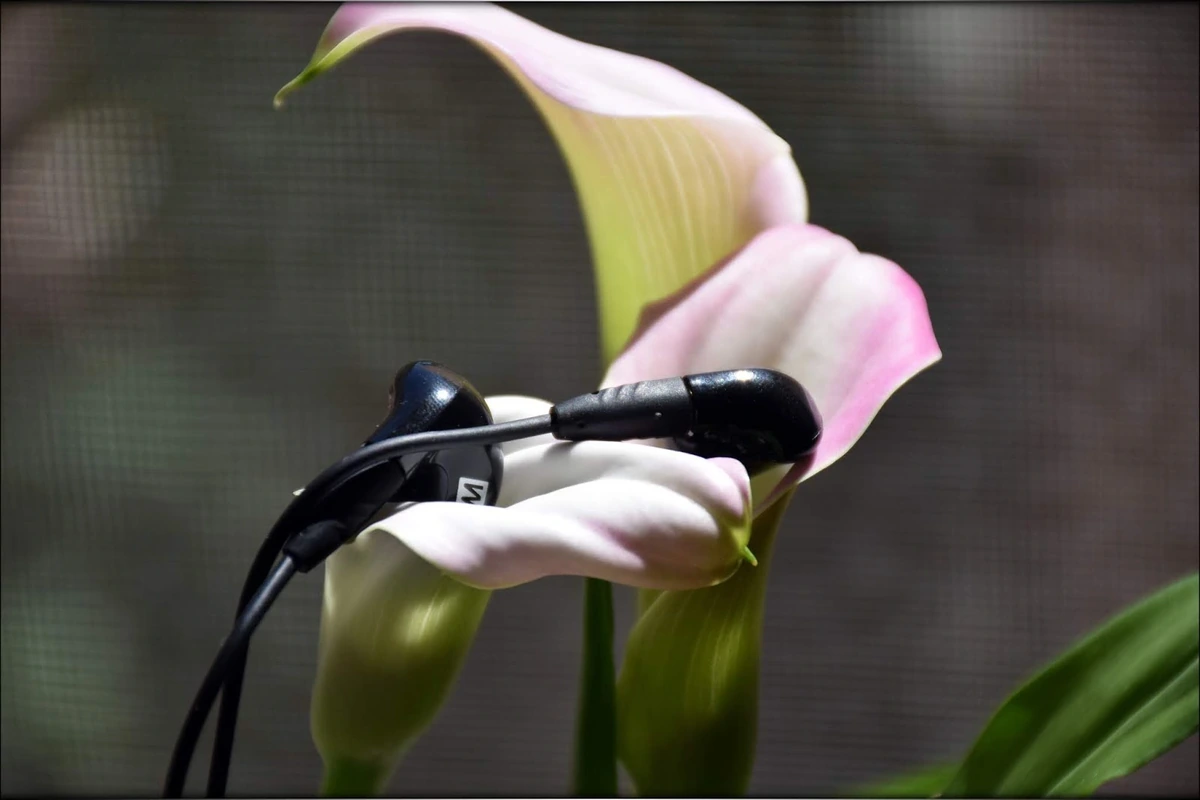 Mee Audio Pinnacle P2 vs FiiO F9 – Now, FiiO F9 Pro would have been interesting to compare to, but its price is a little out of P2's, so we're going to compare P2 with FiiO F9, which will be quite an interesting comparison to see. Starting with the package, P2 has an excellent package, but so does F9. F9 has a case made of plastic, in the Peli style, which is one of the best there are, while P2 goes for something, resilient, not quite as resilient, but better looking, since P2's case is a leathery case covered in leather which looks pretty nice. FiiO F9 comes with two cables, one of which is Balanced, they come with six sets of tips in total, two flavors, and they come with ear guides embedded into the cables. P2 comes with a single cable, but they also have a large number of tips, including Comply, they come with their carrying case, and their cables do not have ear guides, which, depending on how you prefer your fit, can be for the better. F9 has a similar fit and comfort, similar build quality, and both IEMs are just excellent in the technical aspect. Now, when it comes to their sound, F9 is a bit brighter, more neutral, and has a bit less bass, along with a slightly more revealing sound. By comparison, P2 has a warmer sound, with more bass, more bass emphasis, its midrange is pulled back by quite a bit, the treble is similarly bright as the one on F9, and they have a larger soundstage with more instrument separation, which is helped quite a bit by the V-shaped sound, so the midrange being a bit recessed, opposed to F9's midrange, which can be described as not-so-recessed. 
Mee Audio Pinnacle P2 vs Mee Audio M6Pro Second Generation – M6Pro Second Generation is also made by Mee Audio, and it comes at a lower price than P2, but until we manage to finish writing an official article on it, we thought people might be curious how it stands to its bigger brother. We received M6Pro Second Generation in its carrying case, so we're not sure how the main package looks like. As far as build quality goes, M6Pro2 is a bit stiff, there are ear hooks on the cable, which are pretty stiff and you need to use those for fit, although the IEM itself is well built. M6Pro2 is transparent and you can see its inner parts, which is interesting if you're into this type of design, but it can be a bit tacky if you were looking for a more professional design. The sound of M6Pro2 is actually very interesting for its price point, it is also aggressively V-shaped, with a strong sub-bass and mid-bass, a recessed midrange, and a pretty strong treble, with good revealing abilities. By comparison with P2, M6Pro2 sounds a bit crude, with P2 revealing considerably more detail, having better overall depth and dynamics, and being more comfortable. The two are not at the same price point, but in perspective, if you have the money for M6Pro Second Generation, it is a good deal, but P2 makes a much more compelling purchase, if you can save enough to afford it.  
Mee Audio Pinnacle P2 vs iBasso IT01 – This review would be incomplete if at this price point we wouldn't mention IT01, which are quite the titan. One thing one notices from the start, is the quality of the cable included with the two IEMs, with P2 having a pretty nice cable, but IT01 having a really awesome cable, thicker, more resilient, and even softer, so you can be sure it will last a long while. IT01 has a carrying case exactly like the once included with HIFIMAN RE2000, so quite the thing, while P2 has a leather covered, portable carrying case, which is quite nice as well. The construction quality of the IEM bodies is excellent on both, and so is the comfort, both IEMs being over-the-ear style, both having no microphonics and no issues with their build quality. As far as the revealing abilities of both go, they are similar. They have a similar amount of details with IT01 having a smidgen more detail, but P2 being quite good as well. Now the tonality, and the way they both portray music is quite different. IT01 is warm, and its bass enhancement lasts way more than P2, up until the upper mid-bass, so there is a certain warmth and thickness to the sound. By comparison, P2 has less of their bass enhanced. The speed of the bass, though, is quicker on IT01, so they have a tad more revealing power, although P2 is not far behind either. The midrange is similar, although it is a bit more recessed on P2, where it is a bit more forward on IT01. The treble, is a bit spicy on both, with good expression and extension, and with a similar presentation for both. The largest difference is in the thickness of the sound, IT01 being thicker, where P2 is thinner sounding. Both are excellent choices really, and you can't go wrong with either, but if you prefer a generally thicker sound, you can go with IT01, while if you prefer a lighter sound, you can go with P2. 



Recommended Pairings

P2 is not quite that dependent on the source it is being paired with, although some sources do enhance their sound by quite a bit. Basically, they are revealing enough to reveal differences between different sources, so if you can pair them with something a bit better, it will be rewarding to do so. 



Mee Audio Pinnacle P2 + Cayin N5ii – N5ii is actually a great source to combine with almost any IEM. It is a great little DAP, now it is on sale, and you can enjoy quite a few functions with it. IT has a good battery inside, and it also provides wifi and Bluetooth, in case you wander into Streaming or other kind of features. N5ii's sound is a bit warm, but mostly neutral, they have good extension both ways, and they pretty much leave P2's sound unchanged compared to most neutral sources, maybe adding a bit of warmth to it. 

Mee Audio Pinnacle P2 + FiiO M7 – FiiO M7 is another great choice at this moment, being part of an special package sold by FiiO. It has Radio, Bluetooth, and a very similar design to Cayin N5ii. The one thing that is a tad different between the two DAPs, is the fact that M7 doesn't have Wifi like N5ii does, so you can't Stream music using M7, while you can using N5ii. OF course, M7 is also quite a bit less expensive. In its sound alone, M7 is a really amazing DAP, with an almost pure neutral signature, so no coloring of the sound of what is connected to it, making P2 sound pretty strongly V-shaped, with a sparkly treble and a strong bass, making up for a fun and engaging listen. 

Mee Audio Pinnacle P2 + Shanling M2s – Shanling M2s is now almost entirely replaced by Shanling M0, but this also means that you're going to see some M2s units left with a really amazing price. The main change in sound compared to N5ii and M7, is the fact that M2s has a thicker sound, with a smoother treble, so it changes the signature of P2 making them smoother and thicker, in case you wanted them to sound like this. All in all, it is quite the amazing option, if you're on a budget and if you're looking for something modestly priced, but effective. 



Value and Conclusion

Mee Audio Pinnacle P2 sells for about 100 USD at this moment, and they are a very compelling purchase at this price point. 

They come in a good package, surrounded by a good amount of accessories, and especially a very nice carrying box. That carrying box alone is worth quite a bit, and it will keep P2 safe during transport, or if thrown in a bag or pocket. 



The build quality of Pinnacle P2 is exemplary, they are made of hard plastic, their cables are a bit springy, but they fit well around the ears, they have no microphonic noise, and they are light enough to not be felt while in usage. The tips included with P2 are of good quality, and while they're not spinfit tips, they fit similarly well. 

P2 disappears in your ears while you're wearing them, would be the best way to describe their comfort. There's nothing more you can ask of their comfort, and they surely can isolate you from the noise outside while walking on a busy week day, trying to focus on the music, instead of the new buildings being constructed all over Bucharest. 

Another aspect you can consider is how easy they are to drive. They need very little power, so any smartphone, even those with a very weak signal, can drive P2 very well, but if you already have a high-end source, don't worry, you're going to feel the better quality of your source when connecting P2 to it, as it can reveal a better source from a weaker one. 

The sound is V-shaped, with a strong sub-bass, a strong bass, and a weaker mid-bass, with the midrange being pulled a bit back compared to the rest of the sound, and with the treble being sparkly, expressive, and happy, with a lot of emotion and enough air between the instruments to make even the picky listeners happy for this price point. The detail levels of P2 are in line with other really good 100USD IEMs, and they surely satisfy in terms of instrument separation as well. 



If you're looking for a IEM that's well built, isolates well, and which has an engaging, V-shaped sound, with a strong bass, and with a touch of sparkle in its treble, then P2 is surely worth checking out, being a really good choice for this kind of sonic signature. 
Product Link
You can order the Pinnacle P2 Earphones from www.amazon.com here: https://www.amazon.com/MEE-audio-Audiophile-Headphones-Detachable/dp/B074JFRP35
---
--- Please remember to stay safe, and always have fun while listening to music!---
 - If you have a dime to spare, please donate, and help us! It would make the day brighter for me and my wife- 
---
Full Playlist used for this review
We listened to more songs than those named in this playlist, but those are excellent for identifying a sonic signature.  I recommend trying most of the songs from this playlist, especially if you're searching for new music! The playlists are different for Spotify, Tidal and Youtube, and based on the songs I enjoy and are available on each!
https://www.youtube.com/playlist?list=PL_cjBXGmwSHSdGcwuc_bKbBDGHL4QvYBu
https://open.spotify.com/playlist/5J3oloz8Riy9LxEGenOjQ0?si=979ba4f082414be7
https://tidal.com/browse/playlist/330fd544-8e5b-4839-bd35-676b2edbb3d5
--- Contact Us ---





---