IMR Acoustics R1 – Customizable Enjoyment
IMR acoustics is one heck of a little IEM that comes with tunable sound with both filters and an option to change its design from closed to open. We'll look into what it does best and what its downsides are today.
Introduction

We haven't had the chance to review any IEM from IMR acoustics before, and we aren't sure if there's been any, but the creator of IMR acoustics is a respected engineer who has vast experience with designing and tuning IEMs, so he had an excellent base start for IMR R1. As the company is new, we don't have a large amount of data regarding its customer interaction, but our preliminary data shows that IMR acoustics is from UK and will be very helpful with your purchase decision and will provide high-quality after-purchase assistance. 

It should be noted that I have absolutely no affiliation with IMR Acoustics, I am not receiving any incentive for this review or to sweeten things out. This review is not sponsored nor has been paid for by IMR Acoustics or anyone else. I'd like to thank IMR Acoustics for providing the sample for this review. The sample was provided along with IMR Acoustics request for an honest and unbiased review. This review will be as objective as it is humanly possible, and it reflects my personal experience with IMR Acoustics R1. Every opinion expressed is mine and I stand by it, the purpose of this review is to help those interested in IMR Acoustics R1 find their next music companion. 
Product Link
You can purchse IMR R1 from www.amazon.com here: https://www.amazon.co.uk/IMR-Generation-Monitor-Interchangeable-Filters/dp/B077V7HQ3H
Packaging

First things first, let's get the packaging out of the way: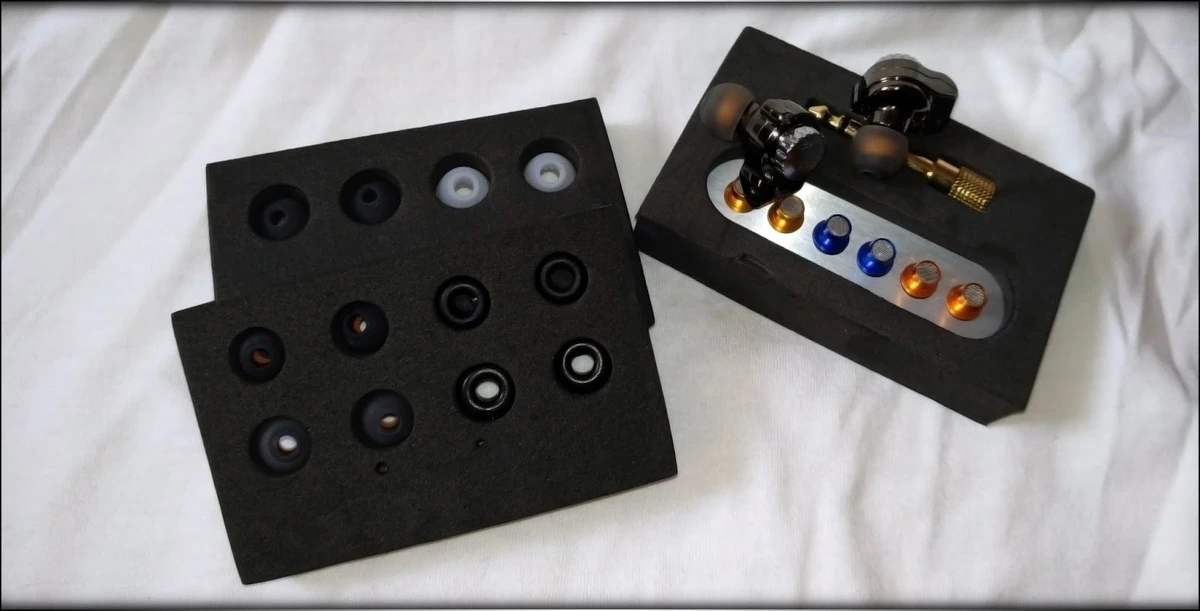 IMR R1 comes packaged in a high quality, pretty weighty cardboard box. It is fun to open the package, and IMR Acoustics placed a good amount of care into designing an excellent first interaction between the customer and R1. 

The outer package is black and it has a very sleek large logo on the front, which slightly reminds us of a sci-fi movie. On the back of the main package, you can find the main specifications for IMR R1, which are quite impressive as well, as it features a 13mm Dynamic Driver along with a ceramic BA driver. 

The box within is used to store the R1, and it is red in color. All materials used are thick cardboard and they all provide an excellent amount of protection for R1. 

Inside the main box you can find R1 seated in a foam cutout, without their cables attached. After removing the first layer of foam cutout, you can discover the rest of the accessories sitting comfortably just below. There is a professional cable, with what seems to be high-quality connectors, placed inside a small hard carrying case that also wears the logo for IMR Acoustics. We noticed a sufficient collection of tips, and although IMR R1 doesn't feature our favorite tips, Spinfit, they do feature a few high-quality tips which offered us a very efficient and pleasurable usage. 

Box contents: 
– The IEM Body
– 1.4m cables
– Hard Transport Case
– 6.3mm Adapter
– Tip Selection
– 5 Audio Filters
– Filter Holder

All in all, the box contents are good for their price and usage, there aren't any accessories we really found missing from the package, unless you want to count Spinfit tips, which would be the best selection of tips for a IEM. 

Technical Specifications

13mm driver featuring Neodymium motors with beryllium diaphragm + Ceramic driver
IMR Open and close porting system
5 Audio filters
2 Pin detachable cable
Impedance: 32 Ohm
Sensitivity: 108 +/- 3DB
Frequency response: 14 – 40000Hz
24ct Gold plated 3.5mm Jack



Build Quality/Aesthetics/Fit/Comfort

Get ready for the little trip!

Starting with the build quality, IMR R1 is made out of very high quality metals, and this makes them ever so slightly heavier than similarly sized IEMs. The plate on which the filters rest is also made out of a large piece of metal, machined with care, and the filters are made of metal, some of them with material inserts for the best acoustic dampening.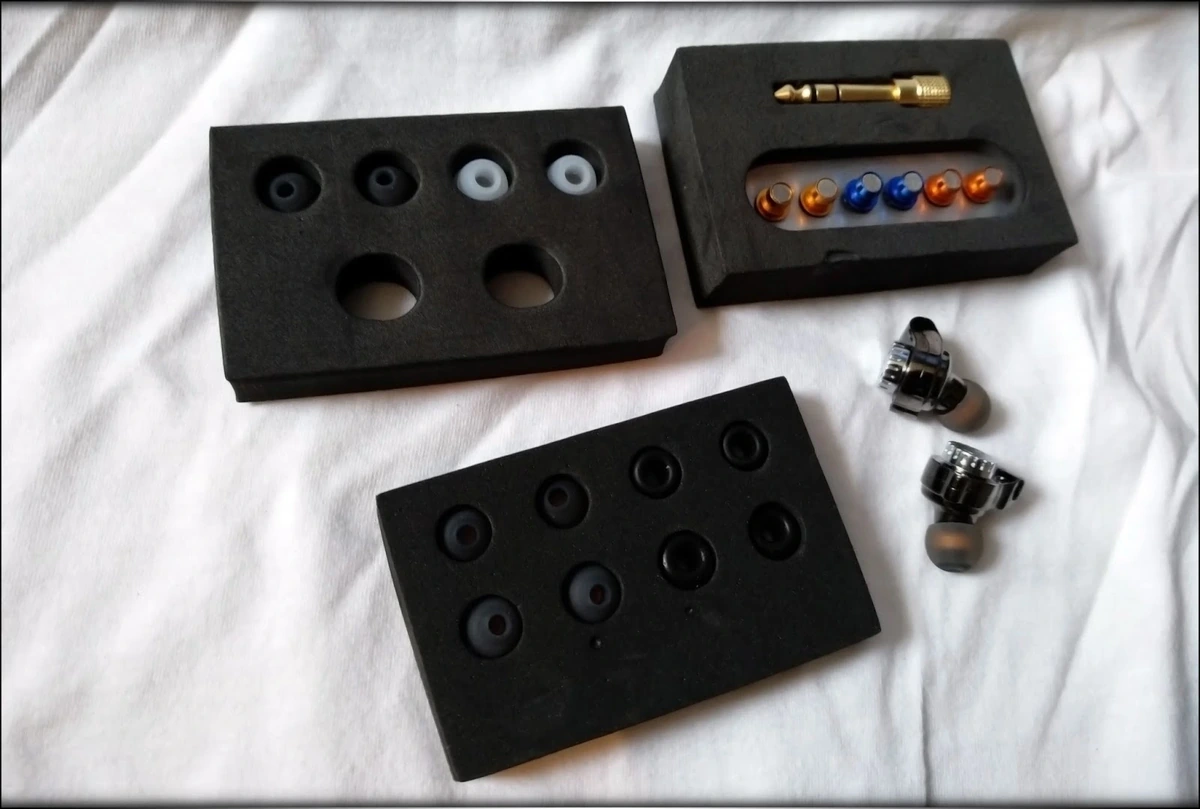 The IEM bodies seem to be carefully machined, and while the IEM bodies are larger than what we've seen to date in most cases, they surely look sleek and sturdy. There are actual screws placed on the IEM body, and while we didn't open the IEM body itself, we're sure that IMR acoustics made those to be easily serviceable, so they can provide a large number of years of flawless usage to the one purchasing one. There is a Open/Closed dial on the back of the IEM body, which, when moved, will provide a more open or a more closed sonic character. The Open position will give the sound more soundstage in size, but it will also increase the bass resonance, similar to the mechanism we've noticed in Sennheiser IE80. 
There are also a set of interchangeable filters included with IMR R1, each with a sound signature of its own. The sonic changes are not exactly small, but they are not as high as going from a different IEM to R1. Each Filter is made of metal and is connected to the IEM body with a metallic thread (screwed). The whole thing is made of metal and feels extremely solid, we can't detect any plastic in the build of the IEM bodies, and we're quite enthused with the findings so far. 
The cables are connected to the IEM body via one of the most loved connectors, which is 2-pin. The cables are quite thick, and they seem to hold an excellent overall build quality and thickness. 

The cables also have metal insertions, and albeit we feel like it might be overdoing it a little, it does provide a sense of well-made and high-quality. 

The 3.5mm TRRS jack is angled and gold plated. 

We're crazy for the build quality of R1. When it comes to their comfort, they are on the larger side of things, being a rather large IEM, with large IEM bodies, a normal to larger bore and over-the ear wearing style. The overall comfort is good, but those will not disappear in your ears, and the metallic materials included in the build should be considered for comfort reasons. The tips included provide excellent comfort and wearing, they do not get slippery with usage, and R1 can be used for very long periods of time with literally no fatigue. 

When it comes to their style, they are on the slightly industrial side of things, with a larger wheel on the back, a larger physical size, and with screws included in the build. 

All in all, we are amazed by the build quality of R1, and we feel those are IEMs that can last you for a lifetime, we like their comfort, and we feel that their aesthetic style will fit just fine with many customers. Of course, the fun part will be the sound. 



Sound Quality

IMR R1 is the type of IEM that makes you think "Now here's a warm IEM with a really engaging signature!"



In a few words, they are warm, with a strong sub-bass and mid-bass, they bear an excellent midrange that is very vivid, energetic and very detailed. The treble is engaging and energetic, with a good amount of sparkle and with the area after 10kHz smoothing out a bit, but staying fairly present and energetic. 

The sub-bass is one of the most interesting aspects. Along with the mid-bass, the sub-bass of R1 can change when you use the wheel on the back of the IEM, as the IEM features a closeable acoustic chamber. This compresses the bass for quicker, less in amount and more precise response in the "closed" position, and a slower, more natural and much bigger in amount response with the wheel positioned in the "open" position. The trick here is that you can fine tune the IEMs to your tastes, and you can go anywhere from really bassy to pretty tight and quick bass response. Anything in between is doable and R1 is here to bring that to you. 

The midrange is one of the most vivid, energetic and detailed we've seen on a IEM in the 500£ area. It can render male and female voices with excellent depth and emotion, it can show a juicy guitar solo in the songs of Metallica, and it can make you cry when you listen to the sad songs of George Enescu in classical music. In fact, the key word here is their versatility, R1 sounds good with classical, R1 sounds amazing with pop and electronic, and R1 sounds bloody sweet with metal music. There's no genera they really lack in, and if you require one IEM to do all musical styles, R1 and its sweet midrange sure can do any music genre you throw at it. 

The textures of R1 work well with the textures of a violin, the textures of a guitar, and they seem natural and feel just right even with both male and female voices. 

The treble is sparkly, it is firey and it becomes smoother as it goes higher. There's no serious roll-off to be discovered, but the treble climbs nicely with strength and expression / emotion until the 8-9 kHz area, after which it becomes slightly softer, all whilst keeping an excellent amount of air and separation between the instruments, defining an interesting stage and a good amount of high-end details. 

All in all, the overall signature is very versatile, it simply works well with almost any music style you like to listen to, there's nothing R1 doesn't do well, and if we are to pick something that they do best, we'd say that they do similarly well in everything. Vivid, detailed, energetic, forward, and well-textured are just a few of the words we'd use to describe the sweet sound of R1. 

A lot of those descriptions apply to R1 regardless of the filter they are used with, but some of the filters can change the sound to the point where those descriptions might not be accurate. We've tried using the filters that seemed the most natural and reference via IMR Acoustics description. We tried Black, Pink and Blue filters to provide the review for the Sound Quality part. 



Soundstage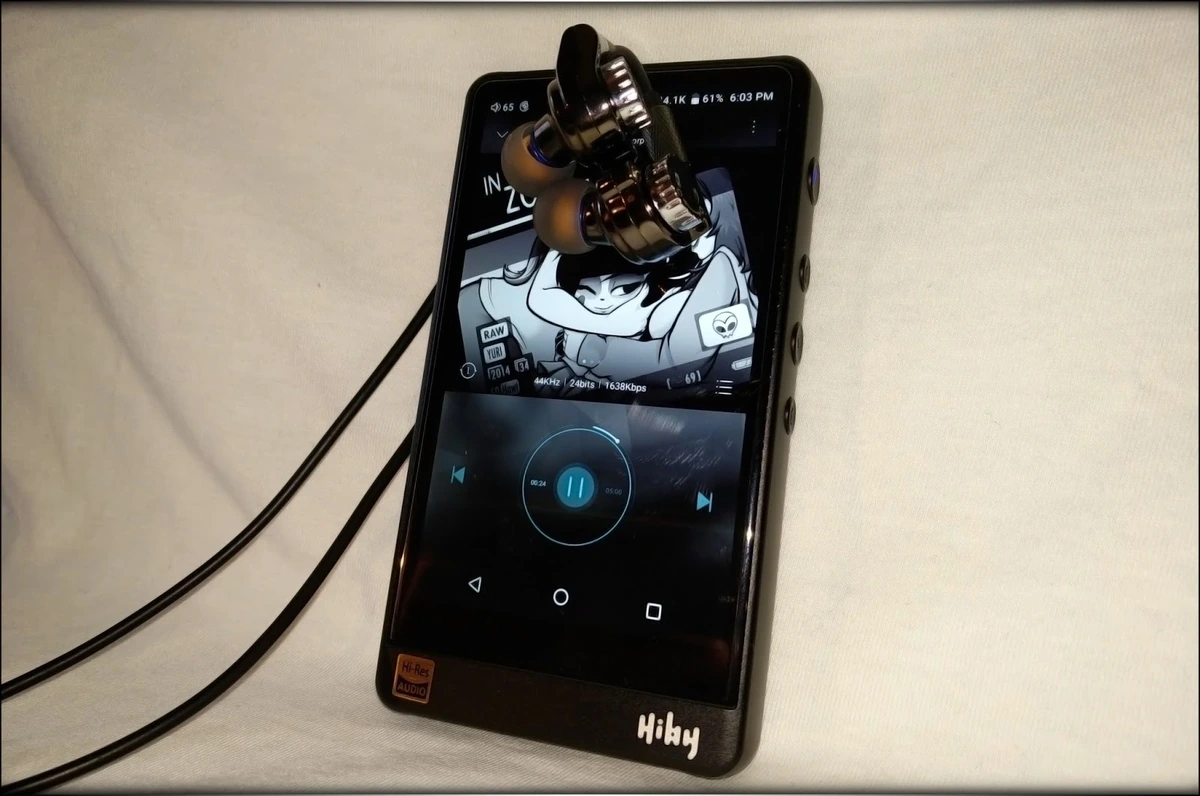 The soundstage of R1 is variable in its way, every filter and the wheel on the back also changing the soundstage size and type R1 has. There's some instrument separation lack in certain combinations, but if you like your music blended together rather than well-separated, then R1 sure is one of the best IEMs to do that, along with providing a large soundstage, provided you select the right combination of tips, filters and vent position. In all honesty, we could get to sound well-separated, wide, and even narrow if we wanted to, it is a really interesting thing to have and play with. 



ADSR / PRaT

The ADSR and PRaT (Texturization) of the sound stays fairly consistent across all filters used, but it changes with the position of the vent. Things are best defined and clearest with the vent in "closed" position, and using it in "open" position will slowly make the transients go from good to rather natural all the way to rather slow. In all fairness, the texture definition is still rather good with the vent in fully open position, but compared to it in closed position, it tends to render textures less enhanced and smoothed out. For Jazz we strongly recommend the vent to be kept in open position, while for EDM / Electronic music in the "closed" position. Other musical styles can be experimented with, but those would be our picks so far. 


Portable Usage

When it comes to their portable usage, we were quite impressed with R1 and their portable usage. They are actually very svelt and their cables never gets in the way of listening to music. Even if it doesn't fully work for you, you can happily change the cable with any of the 2-pin connector cables that can be bought from a third party seller. 

When it comes to their isolation from the outside noise, it is extremely good, you are separated from the outside noise, and even while gaming, it is impossible to find the noise of our workstation, even at full load, if there is a little music playing. Taking a walk through the noisy streets of Bucharest is no issue for R1, as it separates the listener from the environment, and on this note, please pay attention while walking with music! 

There is no microphonic noise that we can detect while wearing R1. 

R1 can safely be driven from a smartphone, and provide excellent results, but we'd recommend using a stronger source so you take full advantage of this amazing IEM. 

There are many sources that can really drive them, but the best results will be the best with a high-end source like Opus #2, DX200 and FiiO X7mkii/FiiO Q5. 



Comparisons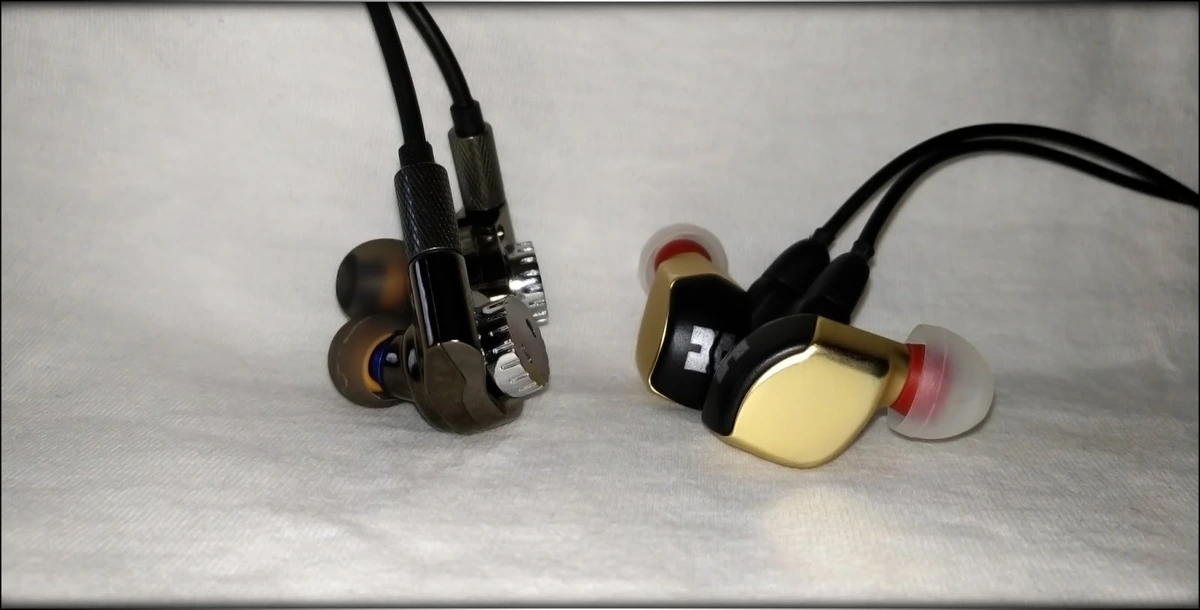 IMR R1 vs Dunu DK-3001 – This is probably the most interesting comparison given their price and overall build quality, as both are really solid IEMs, made really well by good companies. DK-3001 is slightly larger, and it comes with Spinfit tips, which is a plus, but their shape, especially the inner part of it, is slightly less ergonomic for some folks, where R1 doesn't come with spinfit tips, but it is very ergonomic for most ears, although they are slightly large. The sonic abilities are outstanding on both, and the overall detail retrieval and overall sonic quality is similar for the two, although R1 has the upper hand in customizability, and although it reveals the same details as DK-3001, R1 is fully customizable and can change with the taste of the listener until it can fit almost any bill. By default and with most filter combinations, R1 is warmer and provides a slightly thicker sound, but this shouldn't turn anyone away from them, as they are quite good like this. It doesn't quite take the place of DK-3001 in terms of everything else, especially soundstage size, where DK-3001 tends to extend more, but it has its place as a competitor for DK-3001 in this price area. 
IMR R1 vs Sennheiser IE800 – IE800 is quite a bit more expensive than R1, and they are slightly more revealing, but they make a fair competition given that IE800 has been slowly growing less expensive, with the release of IE800S. Now that both can be found more or less at the same price, they should both be considered by a buyer. Starting with the build quality, no one can fault Sennheiser or IMR Acoustics, both standing on similar grounds, but R1 has detachable cables straight from the base of the IEM, while IE800's cable cannot be detached from any other point than from below the Y split. The size of Ie800 is smaller, but R1 manages to win our hearts in ergonomics because the tips of IE800 still get slippery after a while and need to be taken out and washed when they get, while with R1 we haven't noticed this. The sonics are quite different, IE800 being strongly U-shaped in its sound, with a very thick, enhanced and extremely satisfying bass that is sure to please any rock / metal / pop / acoustic music listener, while R1 doesn't get quite this strong in the bass with any combination of filters and vent position. The midrange is actually more revealing and has more detail with IE800, but it is more forward with R1, thing which means R1 works better with Jazz, Vocal and other voice-oriented music where the midrange needs to be presented forward. The treble is considerably more forward on IE800, having more sparkle, more shimmer, more impact and more extension, but those all come at the price of very easily sibilance reveal, meaning that IE800 will show sibilance extremely easily, and if your music was sibilant, IE800 will show that, IE800 being not recommended with music that needs to be laid-back and relaxing, and being much better in electronic, pop, rock, metal, where laid-back music works better with R1, like downtempo, Jazz, and other types of music that need to be played in a laid-back and relaxing fashion. On this note, R1 still is extremely versatile. 
IMR R1 vs Beyerdynamic Xelento – Xelento is another interesting IEM to compare to IMR R1, as the price of the two can be close, and because one might be considering both. On the outside, the aesthetics are in favor of Xelento as they have a sleek and rounded body vs the similarly shiny, but featuring-screws body of R1. On the comfort part, R1 can be slightly more comfortable, especially as it has a more universally sized bore size and it will work with Spinfit tips and other third party tips. The sound is vastly different, with Xelento being much bassier, much thicker, much more focused on the bass and midrange, where R1 feels more balanced over the whole spectrum. Here, R1 works better with Rock, Metal and Pop / EDM, where Xelento is much better with Jazz, Classical, Downtempo and other laid-back music types, or for those who want their music to sound laid-back. There is a good sense of space and instrument separation in both, but the treble of R1 feels more natural, compared to the overly smooth and friendly treble of Xelento. Of course, for those looking for the ultimate forgiving IEM, Xelento is quite forgiving, being good at letting the music shine with albums that have large amounts of sibilance and such. The two IEMs feel like they are geared towards different types of customers, R1 being quite good for those who want a versatile and customizable IEM, which sounds mostly balanced with a warmer sound, while Xelento is geared towards those who are looking for the ultimate relaxation and ultimate music experience with a smooth sound. 



Recommended Pairings

IMR R1 seems to respond very well to being paired with a higher quality source, like iBasso DX200 or FiiO X7mkii. While it works with smartphones, those don't reveal the full amazing sonic performance of IMR R1. 



IMR R1 + iBasso DX200 (AMP5) – Combining IMR R1 with a true high-end DAP like DX200 paired with its AMP5 module sure is a blast as DX200 offers one of the best sonic performances there are. The transients and detail revealing abilities of R1 are instantly improved when compared to them being driven from a smartphone, and there is an excellent sense of depth and width to all music played through the combo. Everything is placed where it should be, the music feels emotional and enthusiastic, and we can safely say that this combo will be a favorite for almost anyone who wants the ultimate experience from their IMR R1.
IMR R1 + FiiO X7mkii (AMP5) – FiiO created something very competitive in their X7mkii, and it is really close to DX200 with its AMP5, sometimes comparable, depending on the IEM or Headphone. As AMP5 for X7mkii makes things much better for this little DAP, we surely recommend our fans and readers to look into this specific combination for the best results. X7mkii with AMP5 provides an excellent depth and width to music, a ferocious impact and dynamics, that not to be taken lightly. Transients offer music a better texturization and everything feels snappier when compared to less expensive sources. The power and abilities of X7mkii are quite similar to those of FiiO Q5, and if both are running the same AMP module, we feel that one would be really happy with either. 
IMR R1 + Hiby R6 – Here, R6 is a little on the thicker, warmer and less detailed side, when compared to X7mkii or DX200, but it is much better than any smartphone we could find to pair with R1. The transient reproduction and dynamics from R6 to R1 are quite incredible. The highlight of using Hiby R6 is how fluent its whole firmware is, being a true pleasure to use and experience. We felt, however, that we could name this combo R7, in light of the names of both devices. 



Value and Conclusion

IMR R1 is a new thing for us, coming with adjustable and configurable sound, and with an impressive performance, form a company that we don't know quite that much about. We did our investigations, and it seems that the director of IMR Acoustics is an outstanding acoustic engineer named Bob who was previously involved in many successful projects. 

With R1, there are many things to love about it. First, they have a really good build quality. It is rare that we see a IEM assembled using actual screws or including actual metals in its build. While it isn't quite that light, it sure isn't heavy for the quality of the materials used.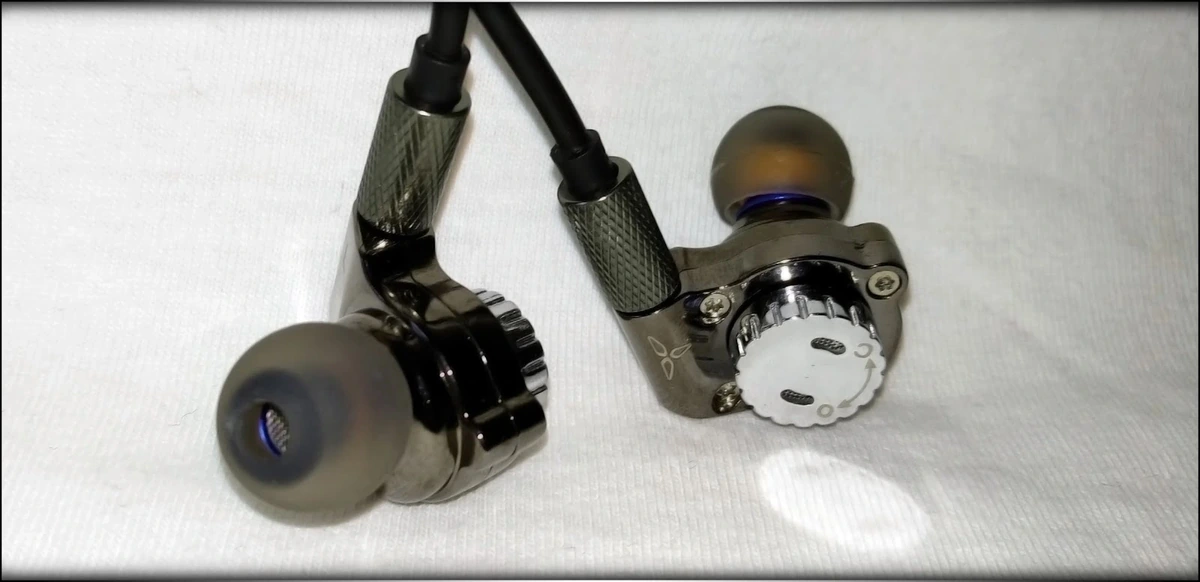 IMR Acoustics made sure to also use some of the highest quality cables we've seen to date, and while this seems to still be a rarity, R1 comes with detachable cables, and even with 2-pin based connectors, thing which is rare, but well respected as 2-pin connectors provide one of the highest quality connectors there are. 

The aesthetics are good, IMR R1 looks like an excellent IEM to take with you regardless of your personal style, and they'll surely fit with almost any environment you're in, but they really shine when it comes to looking slightly aggressive and slightly industrial. The comfort, on the other hand, is quite good. We found excellent comfort in them although they are on the slightly larger size.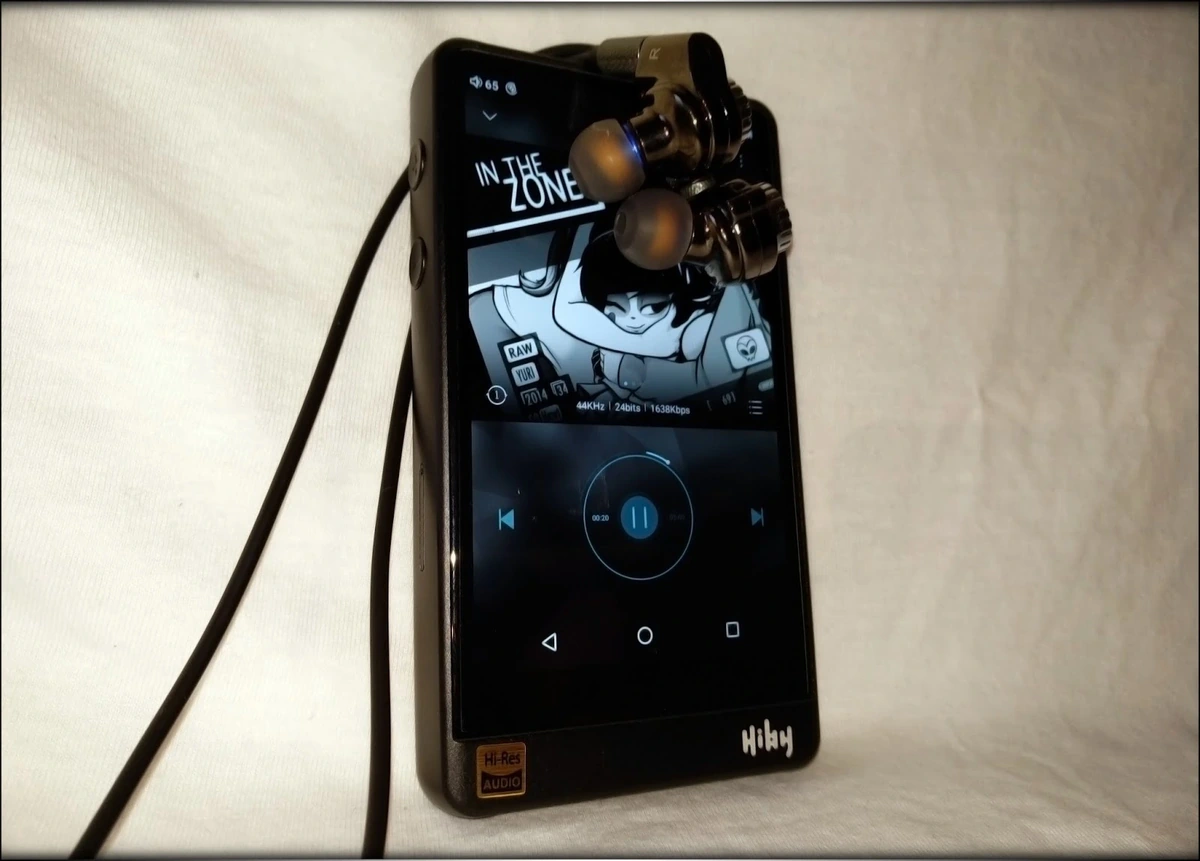 The sound, the most important aspect of any high-quality audio purchase, is quite outstanding. The removable filter design found on IMR R1 is not only well-made but also works very well. We're really happy that IMR Acoustic included a large number of filters in their package, along with a really well-thought venting mechanism that lets you really customize the sound. From brighter to warmer signatures, from relaxed to tight and energetic signatures, IMR R1 can do a lot more if you take the time to tinker with them. Their detail retrieval is very good for the money, and at 500£ they surely are a nice deal, as you're getting an entire package of signatures. 

If you're looking for something really interesting, comfy and well-made, we urge you to check out IMR Acoustics R1 as those are some of the most impressive IEMs we've seen at 500£, especially in build quality and customizability options. 
Product Link
You can purchse IMR R1 from www.amazon.com here: https://www.amazon.co.uk/IMR-Generation-Monitor-Interchangeable-Filters/dp/B077V7HQ3H
---
---
--- Please remember to stay safe, and always have fun while listening to music!---
 - If you have a dime to spare, and donate, to help us with electricity and work expenses, it would make my day much brighter, as it would help me improve things around the website and increase the frequency of my posts - 
---
Full Playlist used for this review
We listened to more songs than those named in this playlist, but those are excellent for identifying a sonic signature.  PRaT, Texturization, Detail, Resolution, Dynamics, Impact, and overall tonality are all revealed by those songs. We recommend trying most of the songs from this playlist, especially if you're searching for new music!
https://www.youtube.com/playlist?list=PL_cjBXGmwSHSdGcwuc_bKbBDGHL4QvYBu
--- Contact Us ---






---
---