Unique Melody Martians – Otherworldly Experience
Unique Melody designed a IEM that features two Dynamic drivers per ear! They promise to bring a beast that will challenge the status quo, a IEM that will have a tight and well-textured bass, to impress and romance the listener. We are going to test their claims and report on how well Martian compares to other IEMs on the market!
Unique Melody is a large company from China that emerged a while ago, and which had a lot of success in Asia and Asian Markets, including Japan, but which only recently got proper recognition in other parts of the world as well. They specialize in High-End custom IEMs (CIEMs), but they also make a few Universal versions of their CIEMs. Everyone who heard them was dazzled and told stories of the greatness that Unique Melody is, but I only recently got to taste their sound myself. They are quite friendly with all their fans and customers, and I haven't received anything from UM, so my experience is purely as a fan.
The Experience with MusicTeck is quite excellent, and they provide extensive assistance in picking the perfect IEM for one, along with excellent service and support.
It should be noted that I have absolutely no affiliation with Unique Melody, I am not receiving any incentive for this review or to sweeten things out. This review is not sponsored nor has been paid for by Unique Melody or any other company. I'd like to thank Andrew from MusicTeck for providing the sample for the review. The sample was provided along with MusicTeck's request for an honest and unbiased review. This review will be as objective as it is humanly possible, and it reflects my personal experience with Unique Melody Martian. Every opinion expressed is mine and I stand by it, the purpose of this review is to help those interested in The Martian find their next music companion.
I received UM Martian quite recently actually, and it has been long since I had the surgery, so it caught me in a moment when my health has actually been recovering.
It was a late Autumn day when I went to pick up UM Martian from the Romanian Postage. I spent the last few days refreshing the tracking page, full of curiosity and eagerness to hear an IEM from a company, about which so many people talk about. With my work and life schedules getting back to normal, I was actually looking forward to getting out of the house for a little walk. The Metro in Bucharest is always silent and cozy, and the little surface train I had to take to the Postage center was, as it always is; a little rusty, but still in great working condition. The weather was white outside, no sun, no clouds, just a white sky peering the humans under it, as they went ahead about their lives.
The sound coming from the Martian first impressed me, then it left me searching for more. It was a quick, tight, detailed, yet somehow romantic melody that exalted my ears and brought a little tear to my eye as I started slowly moving through my room, in a motion that loosely resembled dancing. One who might have seen this scene from the outside could probably think that I went mad, but I was merely charmed by the gentle melody that UM Martian provided. After listening to a few songs to satiate my hunger for this new sound, it was time to look deeper into their sound and to start analysing it, as UM Martian really dazzled me with its level of detail.
The unboxing experience is quite unusual for an item in this price range. UM didn't try to create a box that is large, or which leaves an impression with its size, but instead they tried to see how well they can manage the space in the box, and how much content they can place in a small package. To be fair, when I first opened the box, I wasn't expecting the level of quality of the items that were in there, but once again, UM managed to impress me.
The little box includes a metal carry case, which has a layer of rubber on the inside, to protect UM Martian during transport. The case has a very thick metal build, looking and feeling extremely sturdy, from its outer shell, to its fillet. The cap of the travel case has another rubber part on the inside, helping making it water resistant.
Within the case you can find the UM Martian IEM and their cables.
The case also includes a few manuals, and spare tips for the Martian, but the tips they originally come with work very well for my ears.
Connector – 3.5mm SE, Gold Plated
Frequency Response – 10 Hz – 18.000Hz
Driver Technology – 2 BA + 2 Dynamic
Housing – Acrylic Housing
Driver Features – 6.8mm Dynamic Driver, 3-Way crossover
Fit Type – In-Ear, Shallow Insertion Fit
Low Magnetic Emissions – Yes (Inherent)
Build Quality/Aesthetics/Fit
UM Martian mean business from the first moment one opens their package, being a very sturdy looking IEM, one of the best Acrylic IEMs out there. They rely on a 2-Pin connector to connect their cables, but with a slightly different approach than most IEMs, the pins being on cable rather than on the IEM body, like other IEMs (for example Kinera H3). Although this means that one has to acquire special aftermarket cables for them, it seems that this is slowly becoming a new standard, offering a pretty high level of confidence with the connection.
The cables come with a built-in hard ear hook guide that helps keep the IEM bodies in places, taking away a very large part of their weight. The cables are glossy black in color, and they are quite supple, but once again, they inspire high levels of confidence. The 3.5mm connector feels and looks pretty well-made, being gold plated.
When it comes to their aesthetics, UM Martian looks like a professional CIEM that's been made into a universal fit, but that is too little said, to fully describe their appearance. Their black and glossy bodies remind of magical ethereal objects coming from the outer space, and they have the words "Unique Melody" engraved on the outer part of their bodies, in a highly reflective and shiny, silver color. There are no acute angles, and there are no angles at all in Martian's body, the IEM shell featuring mainly smooth surfaces and curves, for improved ergonomics. They look like they are fit for almost any background, starting with the professional studio of a music band, to the ears of a free  and wild metal music lover, to the ears of a busy business man who is looking for a moment of freedom to enjoy his favorite music.
UM Martian comes with a very specific signature of its own, being quite the enthusiastic performer, with a slightly V-shaped signature, a pretty tight, yet fairly well extended bottom end that has good impact when it needs to, a slightly recessed yet crystal clear and revealing midrange that has an exceptionally natural tone, vibrant textures and a lot of instrument separation, and an uplifting, bright and happy treble that extends up to the highest octaves. The signature is remarkable in how open and vibrant it sounds, along with how much detail the Martian can extrapolate from a song, being an In-Ear Monitor that will surely give others a run for their money in the detail department.
The bottom end is fairly tight and very well-controlled, being here to be precise rather than to explode. As Unique Melody states, the two dynamic drivers are here to create an exceptionally precise bottom end rather than to rattle the listener, and to this end, UM Martian delivers fairly well, having a very quick, precise and well-textured bass that reminds of the studio quality bass that very high-end studio monitors have. The bass is usually placed less forward than the midrange and the treble, but it doesn't disappear from the sound, being there when it is called for. In this sense, UM Martian will most probably be best for those who want a high-quality but tight and conservative bass rather than for bassheads.
Brokencyde – Diz Iz a Ranger Dude –
The song starts with a quick and quiet intro leading to the full song, which is presented lively, airy and uplifting. The bass is extremely deep yet quick, the midrange is detailed and vivid, while the treble is slightly less forward than the midrange. The cymbals last for the perfect amount of time, and the two dynamic drivers show real impact with this song. Bass feels well textured and tactile, while the screamed parts of the voice have the perfect amount of crispiness to sound real. The message about holding parties, having fun and doing all kind of silly yet fun activities is illustrated well and with good uplifting emotion that reminds one of a teenage party.
Dimmu Borgir – Gateways –
The song starts strong with a forceful intro, after the atmospheric one. The bass can be felt quick and deep, but not overly forward, with the midrange and the top end being presented forward. Voices are extremely clear, and there is a very good sensation of space throughout the whole song. Orchestral instruments are well defined and stay the background, while voices have rich textures, being presented forward. Brass instruments sound natural and bear the right amount of impact. Cymbals crashes have a good duration and are bright enough to make the song feel energetic. The dark message of the song, about the awakening of the self conscious being, but with a dark twist, is transmitted as it should be, dark yet musical.
Brokencyde – 2Drunk2Drive –
The song starts with a strong and thick bass, and a forward midrange. The song feels playful and uplifting, with every electronic instrument and effect being presented with good clarity and vividness. Voices feel natural in their tone, providing excellent detailing. The song itself doesn't have much information in the higher registers, and UM Martian exposes this pretty well, presenting the song as a smooth and playful composition. Background voices are easily distinguishable from the forward ones, and there is a good sense of air throughout the whole song. The message about the protagonist who is drunk and doesn't want to drive, but rather asks his girl to do it for him, all ending in a romantic ending, is illustrated with good emotional attachment and excellent vividness.
Unique Melody Martian provides one of the cleanest and most clear midranges there are, supported by a high-quality BA driver, which is able to render fine textures and micr-details exceptionally well. Given that they are a closed-back IEM, they sound exceptionally open, and even when compared to fully open IEMs, they still provide a very open sound, sometimes even comparable full-blown open-back headphones. The tonality is pretty much spot-on, guitar solos reaching just the right octaves to sound sweet and to hit the right spot emotion-wise, and voices sounding always very natural.
The detailing is out-of-this world, as is instrument separation, and this is easily noticeable with complex songs, like metal music, where you can easily distinguish multiple guitar notes played at the same time, or in electronic music, where multiple synth notes and effects are intervowen, but still can be distinguished from each other.
Escape The Fate – Gorgeous Nightmare –
The song starts with a selection of vivid guitar notes and snappy drums playing together. The cymbals that follow shortly are a welcome and lively addition to the mix. Voices feel vivid and realistic, while the guitars feel vibrant and well-textured. Some electronic instruments feel a bit hot, as they were painted in the mastering process, UM Martian being excellent at revealing all the intricate details about the mastering. The solo feels lively and vivid, well-detailed, and although it isn't the longest solo out there, it serves its purpose very well. The message about the protagonist's love is painted with an excellent amount of details and vividness.
Deadmau5 – Professional Griefers –
The song starts with a strong, vibrant and vivid presentation. Voices feel well-textured and fun to listen to, as they were painted in the mastering process. The sound has a very large soundstage, and an excellent instrument separation, being easy to distinguish unique effects and instruments in the busy and complex composition. The message is painted in bright and vivid colors, with both enough bottom and top end. The message of the song is painted like an uplifting party featuring a lot of random but fun elements.
Age Of Days – I Did It For Love –
The song starts with a playful guitar woven with a snappy and explosive drum set. The cymbals and the voices are forward elements, with the guitars playing right behind them. Bass notes feel pretty forward this time, with a good amount of impact. The guitars can reach well in the higher registers, feeling unleashed. The whole song feels musical and uplifting, a truly energizing experience to witness. The song about the protagonist who loves his other half, despite her shortcomings, is presented in a lively and lovely fashion with the right amount of emotional emphasis as well as the right amount of energy, for it to feel energetic rather than smooth.
The treble of UM Martian is, like their Midrange, a very strong point of theirs, extended up to the last octaves most listeners will hear, and they are tweaked to have their highest energy point higher than most IEMs out there, resulting in a very clean and airy sound, with just the right amount of brightness for music to sound clean, well-extended, detailed and enjoyable.
Cymbal crashes last for the right amount they have to, and the sound is never fatiguing or too bright, but UM Martian has a high amount of life and energy in the higher registers, providing quite an uplifting sound, so they make everything sound lively, from metal music, all the way to Cabaret.
Children of Bodom – We're Not Gonna Fall –
The song starts with a long yet quick and energetic intro of guitars woven skillfully with snappy and quickly played drums. The song has a fair amount of detail and the guitars have very nice textures, sounding open and musical, while the voices have the right textures and tone to sound natural. The solo feels very vivid and tonally spot-on, with multiple layers of guitars presented skillfully to the listener. The soundstage extends very wide for this song. The message about the protagonist who will always win and outlive the hardships of life is painted in a happy and energetic manner.
Katy Perry – Who Am I Living For –
The song starts slowly, but with excellent depth. The voice feels close and it has a very natural presentation. The bass has a fairly good depth and impact, while the background instruments are well detailed and presented with good presence. The song has a good depth and width in its presentation, with a lot of air between instruments and between instrument layers. The message about the girl who is in love with the alien form, an impossible love she yearns for, is presented in a musical and vivid way, with good emotional emphasis.
The Offspring – The Meaning Of Life –
The song starts quickly, with a speedy and breath-taking intro. The voices feel fairly close to the listener, presented with good emotion to them. The cymbals have a bright and open presentation, without sounding harsh or sibilant. The guitars are presented vividly, sounding very musical and rich. The whole song is energetic and uplifting, with the message about the meaning of life, and how one should always hold tightly on his personal meaning, being painted in a vivid light.
The Soundstage of UM Martian is very wide and open-sounding, with a lot of air and space between instrument, an excellent instrument separation, and a fairly good depth that separates the more forward sounding instruments from the background ones. UM Martian is quite good at giving every single instrument an edge of itself, increasing the enjoyment one gets when analysing complex composition to notice more cues and details the original song had.
The soundstage can be said to extend well in all spatial axis, without any inherent weakness in its spatial presentation, UM Martian presenting the user with an open experience, similar to open-back headphones, even though they are closed IEMs.
The ADSR and PRaT (Attack, Decay, Sustain, Release, and Pace, Rhythm and Timing) characteristics of UM MArtian are quick rather than neutral, leading to a tight and precise experience, UM having a very revealing signature that will rather expose the intricacies of a song instead of glossing over the micro-details. This means that UM Martian has excellent revealing properties for both details in the music, and for mistakes that are present in the original track, making difference between an album that is recorded and mastered well and one that isn't.
UM Martian is extremely portable, being not only extremely easy to drive, having a small impedance and a high SPL, but also being one of the best isolating IEMs I heard to date, featuring levels of isolation comparable to the mighty Etymotic isolation. The fit is usually pretty tight, UM Martian being the Universal version of a custom IEM, so its body is made to work ergonomically with most ears, leading to excellent levels of comfort and isolation. There is a little void to speak about while using UM Martian, as they are pretty much closed in their design, as opposed to vented or open designs, but there is no driver flex for me. The included foam tips make portable usage especially sweet, without affecting the sonic signature in a negative way.
Listening to UM Martian while wandering through the noisy streets of Bucharest isn't only possible, but quite enjoyable, UM Martian being able to nullify even most of the annoying noise in a busy shop during the holidays, this even without any music playing. This makes UM Martian an excellent tool to use while performing music as well, especially if one isn't interested in having a CIEM, but prefers a universal fit. If there is any downside to mention, with those levels of isolation, you don't really hear anything from the outside, so better caution is advised while wearing UM Martians on-the-go.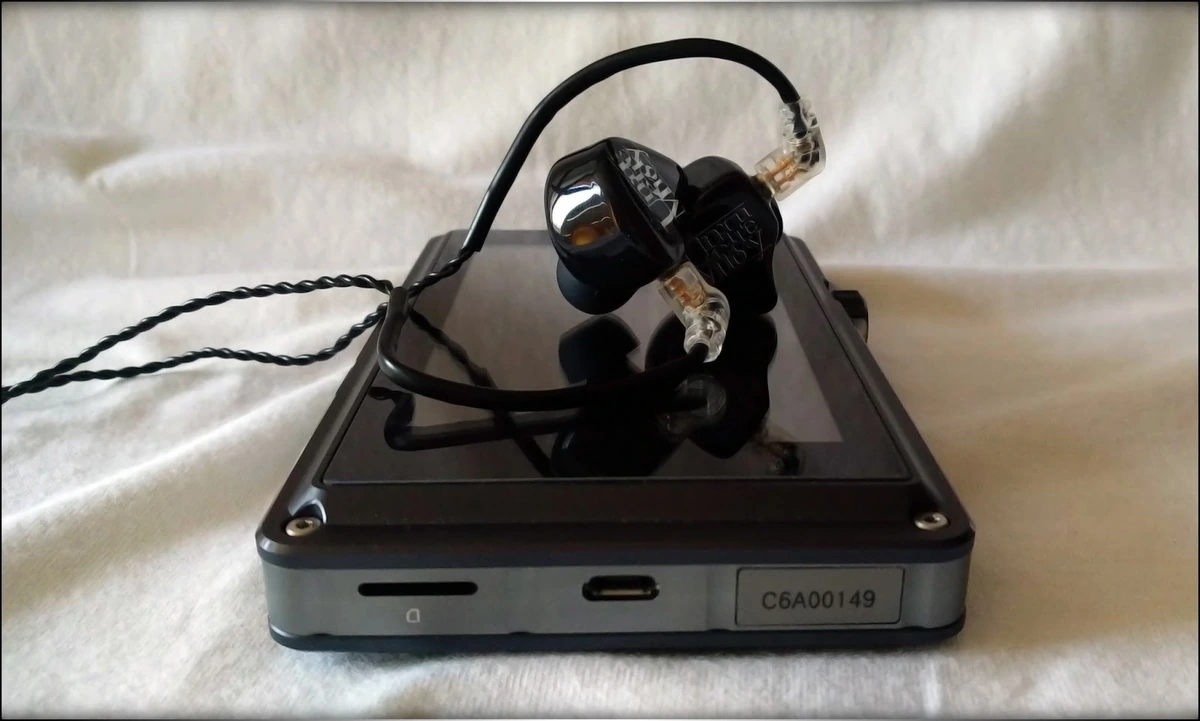 UM Martian + iFi iDSD Black Label –
An excellent combination, iDSD BL providing both enough power but also enough detail and gentleness to make UM Martian truly sing. iDSD BL tends to enhance both the width and the depth of soundstage of UM Martians, making them sound really open. iEMatch is needed since UM Martians are quite sensitive and power efficient.
UM Martian + FiiO X7mkii –
One of the pairings I've been using the most actually, X7mkii is excellent at giving UM Martian am enthusiastic top end and a more realistic and thicker bass, enhancing the width of their soundstage pretty nicely. The sound is pretty natural and vivid.
UM Martian + iBasso DX200 (AM1) –
DX200 is once again an excellent DAP at giving UM Martian an even better transient response, along with even better detailing and instrument separation, all while making them very musical. DX200 tends to give UM Martian a more intimate soundstage, but enhances their instrument separation fairly well.
UM Martian + Opus #2 –
Although their character is quite analytical and revealing by its nature, Opus #2 manages to make UM Martian sound considerably organic and musical, giving them both a very good width and depth to their soundstage, and making them more natural, all while still leaving on their ultra-revealing nature.
UM Martian + Shanling M2s –
Shanling M2s is good at driving UM Martian power-wise, and if you prefer a more relaxed sound, M2s actually relaxes their sound a bit, smoothing out their sound. The soundstage is slightly more intimate with M2s being the driving force behind UM Martians.
UM Martian + HiFiMAN Megamini –
Megamini provides excellent tonal qualities and sound with M2s, providing a clear, uplifting and wide sound, but it should be noted that it tends to hiss a bit with them, so if you're hyper-sensitive to hiss, it might not be the best pairing out there.
Unique Melody Martian vs Sennheiser ie800 –
UM Martian is quite similar in its detail retrieval and instrument separation abilities, but has a considerably different signature than ie800. Starting with the bottom end, UM Martian is considerably tighter, while ie800 is thicker-sounding and it has a considerably larger amount of bass and sub-bass. The midrange is pushed back on ie800 when compared to UM Martian, but the treble is actually similar between the two, ie800 and UM Martian both having a bright, and uplifting top end. The main difference would be the width and frequency of their top end enhancement, ie800 sounding a bit more liquid and a bit splashy in the top end, while UM Martian sounds more solid.
Unique Melody Martian vs Beyerdynamic Xelento –
Xelento is a very romantic IEM which has an excellent musicality and an analogue-like sound, while UM Martian is quite revealing and detailed, yet still being quite musical. Starting with the bottom end, Xelento has more bass quantity than UM Martian, UM Martian being quite tighter. The midrange is considerably thicker, more forward, and it has a warmer general presentation on Xelento, while it is revealing, quite detailed, uplifting, but slightly recessed on UM Martian. The top end is very smooth and relaxed on Xelento, while it is quite enhanced, uplifting, bright and well-extended on UM Martian.
Unique Melody Martian vs
DK-3001
–
Starting with the bottom end, DK-3001 tends to have a thicker and natural bass, while UM Martian is considerably quicker and tighter. The midrange is more forward on DK-3001, while it has a bit more clarity and instrument separation on UM Martian. The treble is relaxed and detailed on DK-3001, while it is energetic more forward, and vibrant on UM Martian.
Unique Melody Martian vs  RE800 –
UM Martian tends to be slightly less V-shaped than RE800, but with less bass as well. Starting with the bottom end, RE800 has a similarly quick bass as UM Martian, but it has more amount and raw impact. The midrange is slightly more forward on UM Martian, and the top end is quite similar, between RE800 and UM Martian, with the only difference being that RE800's most energy is around 7-9 kHz, while UM Martian's is above 9kHz.
Unique Melody Martian vs Oriveti New Primacy –
Oriveti New Primacy has a smoother sound, with a thicker and a larger bass, a more forward midrange, and a smooth and relaxing treble, while UM Martian feels rather tight and quick in the bass, has a slightly recessed midrange, and a forward treble with a lot of energy and detail, especially when compared to ONP.
Unique Melody Martian vs ER4-XR –
ER4-XR sounds considerably more mid-forward than UM Martian, with the bass levels being bigger on UM Martian, with more impact and bass body, the midrange feels considerably more forward on ER4-XR, and the treble feels considerably more forward on UM Martian, while it is smooth on ER4-XR. ER4-XR is very revealing in the midrange, but UM Martian isn't quite behind, providing a very similar level of detail, but with a much less forward approach to their midrange.
Unique Melody Martian vs HiFiMAN RE2000 –
The sound of RE2000 is probably one of the best there is, when it comes to faithfully reproducing music as it sounds live. Starting with the bottom end, RE2000 has more bass quantity, while UM MArtian is tighter and oriented to reveal bass textures quicker, with RE2000 having a more natural approach. The midrange is similar between the two, and while the top end has similar amounts of energy, it is presented quite differently, UM Martian having more energy above 9kHz, while RE2000 has more energy around a bit lower, leading to a sound that is fairly airy and which has enough brightness on both.
Unique Melody created a unique IEM with the Martian, giving a new definition for what "having two Dynamic Drivers in a IEM" means. The value of this UM Martian is quite good, and although it comes packaged in one of the smallest boxes I've seen, it is always the contents that matter, not the size of the box, UM having managed to place a lot of extras in a tiny, cozy box. UM Martian features one of the best (thickest and most sturdy) transport boxes featured with IEMs, which has rubber on the inside for the protection of their IEM. Unique Melody also sports enough tips, including foam tips, and two cleaning tools for their UM Martian, both a wax removal plastic tool, and a cleaning cloth.
The IEM Shells are made of Acrylic and they look and feel very sturdy, while the cables are also pretty high-quality, with a supple yet sturdy construction, providing an excellent usage scenario.
Priced at 700$, UM Martian is not a cheap IEM, but rather it has a good value for a high-end IEM.
The sound of these extraterrestrial IEMs is worth their asking price very well, as they perform well for their price point. UM Martian features extreme detail levels, a large soundstage size and excellent instrument separation, on par with IEMs priced even higher
Whether you're looking for an IEM that will reveal all the details in songs you've known for ages, or an IEM that will keep you company as you perform while on stage, UM Martian should be high in your list, as it will most surely make its way into the collection of many music lovers and music creators.
A very good package for a fair price, UM Martian is a totally recommended buy if you like tight, revealing and bright signatures!
---
---
--- Please remember to stay safe, and always have fun while listening to music!---
 - If you have a dime to spare, and donate, to help us with electricity and work expenses, it would make my day much brighter, as it would help me improve things around the website and increase the frequency of my posts - 
---
Full Playlist used for this review
We listened to more songs than those named in this playlist, but those are excellent for identifying a sonic signature.  PRaT, Texturization, Detail, Resolution, Dynamics, Impact, and overall tonality are all revealed by those songs. We recommend trying most of the songs from this playlist, especially if you're searching for new music!
https://www.youtube.com/playlist?list=PL_cjBXGmwSHSdGcwuc_bKbBDGHL4QvYBu
--- Contact Us ---






---
---