Sennheiser M2 IEBT – Excellent BlueIEM
Sennheiser M2 IEBT – Sennheiser's decided to take on the world of Bluetooth IEMs and make a statement there. An excellent sound akin to a wireless ie800 in miniature
Sennheiser is one of the best-known headphones and microphone producers across the world, and they are the ones who created some of the world's most well-known and most enjoyed headphones, like Sennheriser HD600 (which were previously known as HD580, and which have later known a new version named HD650), as well as my daily used TOTL IEM, Sennheiser ie800. I owned quite a few Sennheiser products in the past (HD 380 Pro, ie8).
Bluetooth products have always been shunned by the audiophile communities across the world as many people prefer using high-fidelity portable players and even dedicated amplifiers to drive their IEMs and headphones. I haven't really considered BT devices to be good before as I've been quite disappointed with what I heard from other offerings, but I really wanted to hear how a professional one sounds, and even more, how a BT device made by Sennheiser sounds like.
Sennheiser has an elegant marketing approach and a very good customer care and customer support. They generally solve any issues that may arise with their devices, and I had one of the best experiences with Sennheiser as they usually found nifty solutions to my unsettling quandaries. The top-of-the-line Sennheiser offering has impressed me in the past, but I always wanted to spend more time with their momentum series, curious to know how they fare against other headphones and IEMs in the same price area.
I have absolutely no affiliation with Sennheiser at the moment of writing this review, I am not receiving any kind of incentive to sweeten things out. My review will be as objective as it is humanly possible and it is a description of the general experience with Momentum In-Ear Wireless (M2 IEBT) as a device, every opinion expressed is mine and I stand by it.
First things first, let's get the packaging out of the way: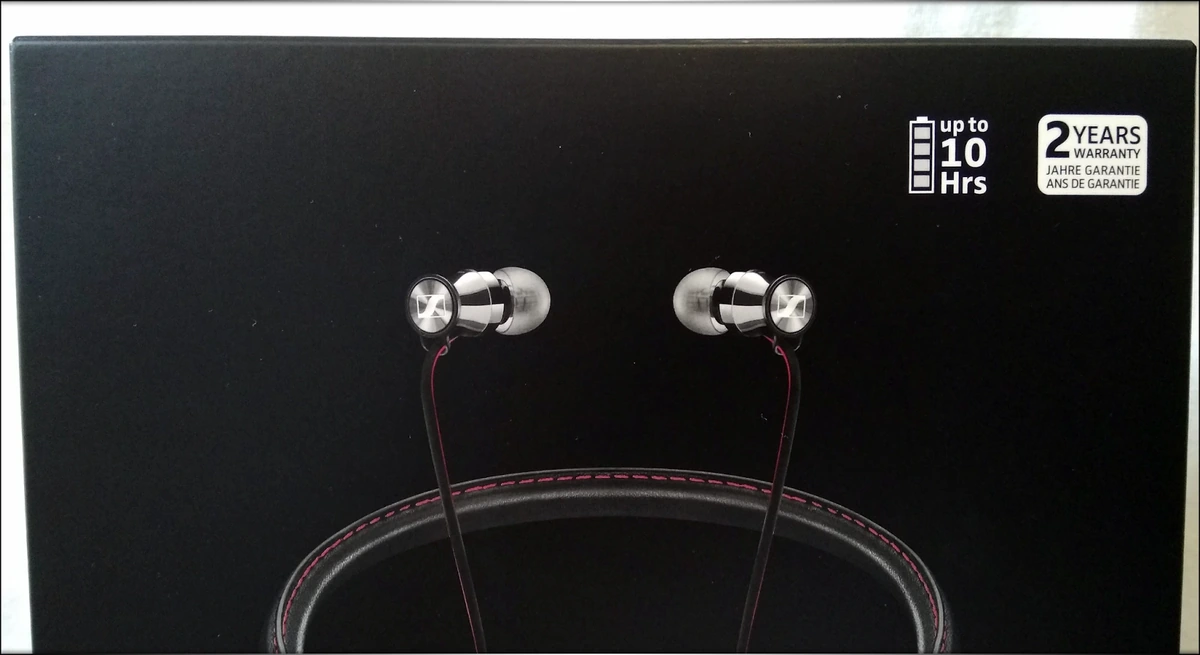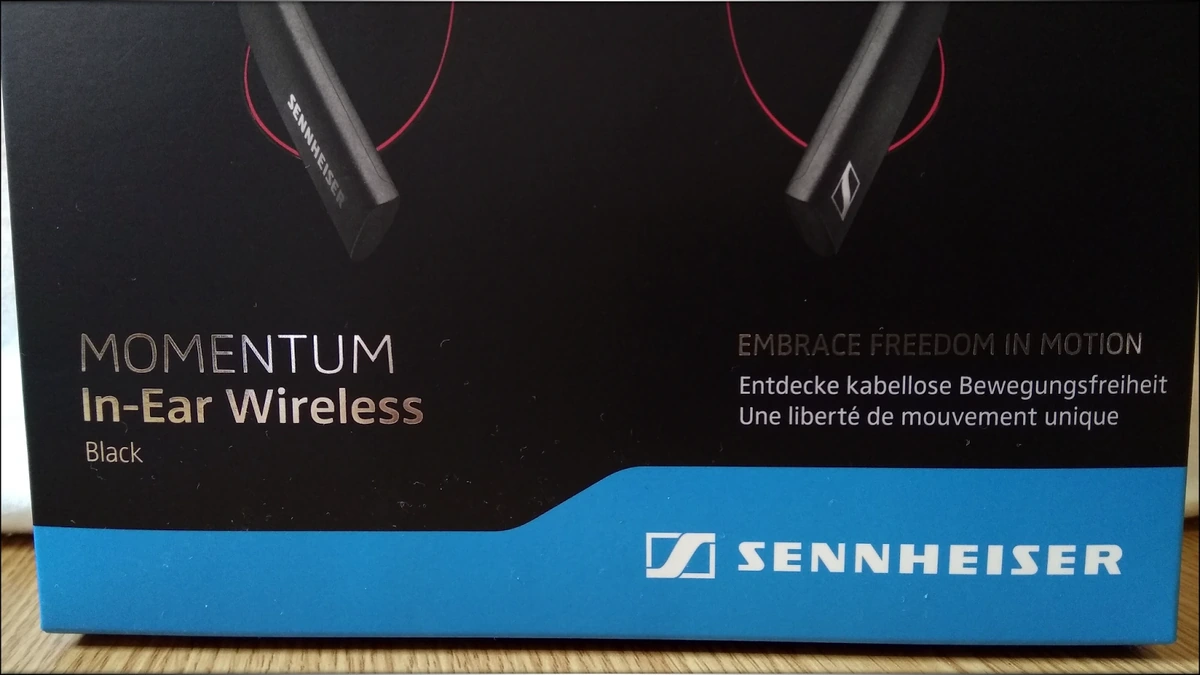 Sennheiser M2 IEBT comes packaged in a thin and sleek black cardboard box which includes some information about M2 IEBT. The box states that they include vibration for incoming calls notifications, and while I was not absolutely sure how that would work in real life usage, the vibration notification for calls has proven to be one of the best things with M2 IEBT. I sometimes ended up wearing them around my neck without them plugged in my ears as I had to take care of some work, and the vibration did its job very well at alerting me of incoming calls.
The carrying case for M2 IEBT is a hard case designed to carry and protect M2. It features a sleek and elegant look and is very sturdy as it results from wear tests. I found that the case can be safely placed under books and other heavy objects as it will keep its shape. I am happy that Sennheiser thought this through as I tend to place my gear in its carry case and throw it in my bag with other stuff. The zipper has a smooth action and looks very durable, but the highlight is that it features a beautiful red stitching line that gives M2 IEBT an energetic and vibrant overall impression. 
The surface of the carry box is different from most other carry boxes for headphones I have around and it is smooth to the touch but it didn't get scratched from being in my backpack with pointy objects. The inside of the carry box is extremely smooth and will protect M2 IEBT against all kind of scratches and injuries, having a velvety feel to it and being nice to the touch. 
Even after unpacking M2 IEBT, there is enough space left in the carry case to store spare tips, the cable and the moisture control bag while storing M2 IEBT as well. The carry box is an elegant but very practical solution for M2 IEBT.
| | |
| --- | --- |
| | |
| | Bluetooth, Apt-X, SBC, AAC |
| | |
| | |
| | |
| | |
| Total Harmonic Distortion | |
| | |
| | |
| | |
Sennheiser M2 IEBT is built well and it looks more like an accessory for a rich business CEO than an audio high end device. The headband is made out of leather or pleather, and does not degrade with usage. It feels fairly comfortable when worn, and the Sennheiser logo has a silvery glow to it, making the whole headset look astonishing. 
The IEM bodies are similar to the momentum In-Ear IEMs in their outer look. The cable connecting the BT necklace to the IEM has two colors, red and black, while the IEMs themselves have a nice and shiny body that feels sturdy and smooth to the touch.
The back part of the IEM body has a silvery Sennheiser logo that fits well with the rest of the design.
The neck band includes some information about M2 IEBT, and it also includes 2 dots for indicating which side is left for blind usage.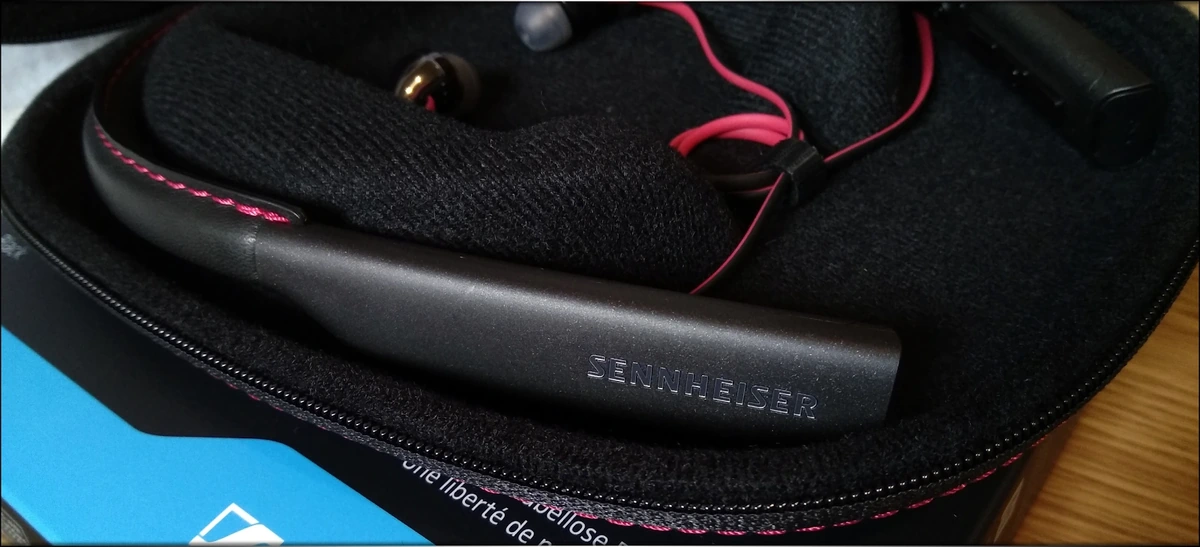 There is a LED indicator on the inside of the neckband that indicates the on/off status as well as how much battery M2 IEBT has left. It is a practical decision to place the LED on the inside, it looks elegant and it makes it easy to check M2 IEBT's status without having everyone else see the LED.
Next to the LED is the power button, volume + button, Play/Pause/Call button and Volume – button. All in all, M2 IEBT includes a good number of buttons and can execute most functions with ease. I am glad to report that it is possible to use it efficiently after reading the manual once as the button configuration is intuitive.
There is a flap cover attached to the left side of the neck band that protects and hides the charging port on M2 IEBT, giving it a unified and smooth design. The only moment when the charging port is uncovered is during the charging process.
Testing
I have used M2 IEBT with Clevo P775, and Xiaomi Mi Max, P775 having support for APT-X. M2 IEBT pairs flawlessly with any device it has to, the process takes less than a minute and it works as intended.
I have noticed that Foobar2k is a great Android APP to feed music to M2 IEBT. The call app works natively on Android and there are no problems in usage, there have been no disconnects caused by M2 IEBT and I could say that the portable usage is very good.
When used with P775 (laptop), it is possible to enable APT-X for a better audio quality. The difference in the audio quality is easily audible, especially in the instrument textures and in the general details. M2 IEBT works flawlessly for playing games, for watching movies and for listening to music.
I have not made an endurance test for M2 IEBT because it exceeded my usage patterns and its battery lasted longer than my typical test, M2 IEBT being one of the longest lasting devices I tested to date. The charge times are also incredibly short considering its batter life, M2 IEBT being an incredibly good portable device.
M2 IEBT's isolation is pretty good, and it is possible to use M2 IEBT while on-the-go without having to crank the volume up to the highest levels.
Since M2 IEBT is a Bluetooth device, it is necessary to keep in mind the quality of its microphone and the quality of a voice call while using it.
I had to receive quite a few calls using M2 IEBT and the people on the other end were always amazed by the quality M2 IEBT as they described my voice as clearer and more natural, especially when compared to the typical quality of my smartphone's microphone.
The microphone found in M2 IEBT records a much cleaner vocal tone, a much more natural timbre and a much better vocal texture. The way most people described my voice when using M2 IEBT was as much livelier, much closer to a natural tone and they always stated that it is easier to understand the emotion in each word while I was using M2 IEBT.
All in all, it is easy to recommend M2 IEBT as a great call device and I am glad to notice that Sennheiser sprinkled M2 IEBT with their great microphone technology and knowledge.
M2 IEBT has a very specific signature that would be defined as bassy, V shaped and sparkly on the top end. Their general tendency is to sound pretty lively and fun, making them a great IEM to listen to music, even on the go and in busy/noisy environments. There is a slight similarity between M2 IEBT and Sennheiser ie800 in their signatures and Frequency responses as Sennheiser ie800 also features an enhanced bass with a sparkly top end.
This is one of my favorite types of signatures as it provides a lot of life and agility when it comes to the sound. It is possible to alter the sound of M2 IEBT with certain DSPs, but it is impossible to add an amplifier or different DAC for the same purpose. Given its Bluetooth nature, it is best to judge M2 IEBT's signature as it is out of the box.
Happily, M2 IEBT works well with EQ on both Android and Windows, but for the most part its signature is good enough to not really need any EQ. If anything, I found myself lowering the bass a bit at times, but the original signature of M2 IEBT would make one of the best guilty pleasures of a basshead music lover.
The instrument texture is also very good, the guitars having a nice bite and featuring a vivid presentation.
The bass of M2 IEBT is one of the deepest and strongest I heard on a IEM. It hits, it slams and it explodes with amazing strength. This makes M2 IEBT one of the best IEMs for Hip-Hop, Pop and Electronic music, but I found myself enjoying punk and metal a lot on M2 IEBT, especially as bass guitars sound very meaty with M2 IEBT's strong and clean bass.
To describe the bass, it is far from being neutral, it is large and has the power to satisfy the inner basshead of any avid bass lover. It doesn't really intrude on the midrange, leaving a clear and juicy midrange to discover, but it does season and drive all the other elements in music.
The bass is fast and has enough speed to sound natural, but it is not tight. The best way to describe it is as "natural" and well-defined as I had the pleasure to hear even very fine texture in the bass.
Knife Party – 404 –
The first few bass notes / hits come with their intended slam and go deep enough to leave a very good impression. The song starts well and continues to impress with an extremely clear presentation and a vivid detail level. Every electronic effect and instrument has a great texture and the top end extends to impress with the glimmer in the upper registers. The bass has fast decay but it is also enhanced resulting in a natural and clean overall presentation. The soundstage is great and the whole song sounds multi-dimensional, playful and enjoyable. There is enough depth to each hit and enough warmth to the whole song to make a great experience for the listener. The journey through the universe created by Knife Party in the song is excellent and I couldn't pause the song to write the impressions the first time I heard it play on M2 IEBT.
Infected Mushroom – Send Me an Angel –
The song starts clean and every early bass note hits very low, goes down and is there to take names. The voice sounds natural and the drum patterns are rendered fast and precise. It is possible to hear the fine texture of the bass layers and it is possible to hear all cymbal crashes and small effects that are going on in the background. All effects and instruments are rendered in separate layers and they don't smear on each other while the transient reproduction is impressive. At times, I forgot that I was wearing a BT IEM, the sound being really good, especially when using P775 which has APT-X support.
Gorillaz – Feel Good INC – Each bass note at the start of the song has an impressive depth and natural tone to it. The thickness of each bass note can be felt throughout the song and gives the whole presentation a thick and deep feeling to it. The guitar tones in the background are also very clear and it is possible to hear each time the hand slides over the chords. Voices sound clean and natural and the lyrics are easy to understand. There are many micro details that are easy to notice while listening to this classic through M2 IEBT, especially fine textures of the electronic instruments.
Outline in Color – Another Nightmare – M2 IEBT plays this song very well, the top end in special having an excellent extension and the voices having great impact and textures to them. The cymbals are crisp and clear and the guitars are (shockingly) clear. Every scream carries the right amount of emotion and involvement to it, every drum hit carries a good amount of life with it. The tonality of the whole song is spot-on and comparable with the way it plays on Sennheiser ie800.
The midrange of M2 IEBT has also been a big surprise considering the price point and the BT technology involved in M2 IEBT. In every classical song, every piano note carries the right crispiness and texture to it and the voices always come with a spot-on tonality while guitars play with amazing melody and emotion.
To describe the midrange of M2 IEBT, it is slightly recessed in comparison to Bass and Treble, but it is not recessed per se, being one of the sweet types of Midranges that makes a guitar solo tasty and the voice of a singer truly sing. Female voices are a beauty to behold while using M2 IEBT and male voices sound crisp and emotional, and lively.
The whole sound is lively and playful. It is possible to easily understand the emotion that every song carries and it is possible to clearly hear even very tiny detail using M2 IEBT.
Haggard – Chapter III – La Terra Sancta –
The song starts clear with the violins and the piano entwining with each other in a sweet symphony that opens the presentation to a dazzling universe painted in Haggard's composition. The voices are crisp and they always carry a superb texture. The drums are played mostly forward, featuring a vivid and clear presentation. All background instruments, like the harp, are kept awake and afloat, playing with ease in their own layers. All female voices carry a great emotional depth to and their timbre is spot on compared to the live version of Haggard's work. The guitars are impressive as well, and while they don't play exactly in the foreground, they are easy to spot in the whole arrangement. The slow segments of the song shine aglow and they are able to evocate the right sceneries in the mind of the listener while the soundstage is large enough to create a whole landscape in the mind of the listener. The medieval sceneries painted by Haggard are always a most impressive sight to behold, especially when a IEM/Headphone is able to play them well.  
Iron Maiden – Dance of Death –
The acoustic guitar weaves with the electric guitar and they play together, yet, each in its own layer and well-defined space. The story starts with voices that are very clean and crisp, while the bass guitar comes through with good strength without taking the spotlight. While some Iron Maiden song can be a bit sibilant with certain equipment, Dance of the Death is clear of any sibilance or harshness, but the treble and the cymbal hits are vivid and keep the song alive and lively. The trip through the "Dance of Death" is an experience that I am amazed by every single time I hear, especially on equipment that is able to play this song with the right emotion. Closing my eyes, I can imagine all the sceneries vividly explained in the lyrics.
Maroon 5 – Not coming home –
The live experience of this song is painted well by the people's erratic screams in the background and the clapping that can be heard through the intro of the song. The enthusiasm is transmitted to the listener and it is possible to live, if only for a few moments, the insanity of a Maroon 5 concert. The groovy guitar notes take nimble walks through the 3D stage, running around and impressing the listener with their agility. The bass guitar, like a director of an orchestra, is the forward instrument, but it doesn't take the spotlight from any of the other instruments. It accompanies the whole song and gives it the perfect groove and playfulness, all while being one of the most empowered versions of the bass I heard with this song. Although the song is dynamically compressed, it sounds pretty vivid and lively with M2 IEBT, just like a fair live experience.
System of a Down – Nuguns –
The guitars come forward at the listener, like the waters of an agitated river. The chorus features one of the most convincing presences this song can get. There is a nifty reverberation of each guitar note and the strong bass makes the solo part of the song very exciting. While the rhythm guitar stays in the right ear, singing its own song, the lead instrument plays in its own space, with the drums playing somewhere behind the listener.
Ken Arai – I Am –
The song starts with clear violin notes and stretches while the synths weave into play as the bass notes begin to hit one after another, shaking the earth around the listener. Each note is agile and precise, the decay is spot-on and the song features a nimble yet agile driving force behind it. Cymbals and high-register symbols are clear and forward while the bass doesn't take a step back either. The texture of the whole song is impressive and doesn't take any second places when it comes to the bass or the synth symbols, giving the whole composition a life-like presentation.
M2 IEBT impresses the listener with a clear and dazzling top end. The glimmer that the top end of M2 IEBT has is a nice surprise since many IEMs and devices in this price range tend to be rolled off or too polite, many times masking out details or textures.
With a sparkly and energetic top end, M2 IEBT carries excellent energy and expression with it, making all music sound enthusiastic through it. The treble is detailed and has a good amount of grain to it, leading to the possibility of hearing all details and tiny events that happen with the cymbals. M2 IEBT is an excellent choice for both Electronic and Rock music, the top end being enhanced well enough to satisfy the thirst of any music lover.
When it comes to music that relies heavily on the top end to sound good, like acoustic music, M2 IEBT provides an exquisite experience as it is able to render the fine textures and ribs on the metal strings of guitars and other stringed instruments. It is a pleasure for me to hear the specific metal pinches of guitar strings. As a guitar player, I am very sensitive to treble roll off that can dull guitar notes, but happily M2 IEBT doesn't suffer from such problems. Trumpets sound vivid and violins carry an excellent emotion to every string pinch and gentle touch.
Jill Tracy – Torture –
Jill Tracy is a master of Dark Cabaret, a true beautiful voice who can summon the darkest of sceneries in the listener's mind. The song starts with the lone violin playing a lonely melody which is soon accompanied by the large stringed bass, together with the gentle piano notes. Jill Tracy's voice is as sweet and melodic as ever, her words send shivers down the spine of the listener as she sings about "Torture". There is a clear distinction between the instruments singing in the left and right area of the 3D space and the piano notes play with energy and agility while the cymbals create an excellent seasoning for an already strong-emotional composition. The gentle chime sounds that are softly played in the distance, coming like a cool sprinkle on the listener's ears. I am moved by the experience of listening to Jill Tracy using M2 IEBT.
Muse – Resistance –
Muse is a Brit-Pop band that's well known within the audiophile communities for their innovative sound and excellent recording qualities. I have always been a fan of their "The Resistance" Album as some songs really defined my youth. Their song Resistance starts with a peaceful synth sound that leads to the exposition of the song as a few drum hits present us with what is to follow. The piano notes that follow are intriguingly clean and make the listener dream away before the lyrics start. The soundstage is large and the drums are panned in the distance during the build-up, while during the chorus the drums are forward and panned close to the listener. The fuzzy guitars are juicy and their tonality is warm and playful. The fine texture of the song is woven by multiple textures and multiple voice tracks playing at the same time, but each of them staying in the same layer, yet all combining harmoniously in the end.
Grey Daze – Morei Sky – Grey Daze is known for their excellent Dynamic Range and rock music composition. The song starts with a musical and playful guitar composition which is accompanied by a clear and vivid drum pattern. The impact is extremely good as the song is originally uncompressed dynamically. The voice carries an exceptional amount of emotion and detail while the recording's soundstage plays the drums as the forward instrument, the voices in the middle and the guitars come as a background woven all the way through the 3D space. The bass guitar is incredibly crisp and detailed and it is far more playful than in most songs which are dynamically compressed.
M2 IEBT's soundstage is astonishing for an IEM and especially for a Bluetooth IEM. The size of its soundstage is large and the precision / instrument separation is very good as well. M2 IEBT's soundstage is pretty round and it features both a very good depth and width. This being said, the Frequency Response and signature of M2 IEBT will often place the drums in the foreground and push certain instruments in the background, effect which is very welcome with most music, from Cabaret to Metal to Rap to Pop. It is easy to mentally follow a sound which is moving thorough the 3D sonic space and it is facile to mentally define the area from which a sound is coming from.
What is most impressive about the soundstage is how precise it is. Each instrument comes with its own limited bounds and those bounds are drawn as exact lines rather than fuzzy extensions of that instrument. With M2 IEBT, as with Sennheiser ie800, it is possible to tell multiple guitars apart in very complex songs like those of Dance Gavin Dance and Wintersun.
ADSR/PRaT (Attack Decay Sustain Release / Pace Rhythm Timing)
Since M2 IEBT is a Bluetooth device, I had many questions about its ADSR and PRaT characteristics before testing it since it cannot take advantage of a professional DAC/AMP and the user cannot change the ADSR characteristics of M2 IEBT at all.
After much testing, M2 IEBT sounds good for its price range and its sound is not artificially compressed.
Albums that are dynamically compressed will inherently sound dynamically compressed, and albums that have a good dynamic range will also have a good dynamic range when played through M2 IEBT.
In a complex composition, soft instruments are played soft and loud instruments are played loud. Textures and micro-textures are played well and it is possible to tell two types of guitars apart with ease as easy as it is possible to notice micro-details in a well-put recording.
Portable Usage
I have tested M2 IEBT for both inside and outside usage and I have also tested it connected to multiple devices.
M2 IEBT performs very well in real-world usage and I have found its isolation to be good, good enough for M2 IEBT to be suited for the crowded streets of Bucharest and low-volume listening.
The battery life of M2 IEBT is amazing as over a month of typical usage, I have not been able to completely deplete the battery once. Typical usage means that M2 IEBT has been used for 5-7 hours a day, including outside usage, and it was charged at the end of the day. I couldn't use M2 IEBT more through a single day even if I wanted and I am happy to report that it does its job very well when it comes to its portability.
The comfort in usage is excellent as the neckband is comfortable and the leathery material sits very well even if it in direct contact with the skin, but there is some driver flex in the IEMs themselves. To avoid driver flex, it is possible to gently pull the ear with one hand, while slowly introducing the IEM with the other. M2 IEBT has a halfway through fit, being neither extremely shallow nor a deep fit-IEM and it sits very comfortable in the ear, the only minor inconvenience being the driver flex.
Their closed design permits a dazzling sound, but since there is a bit of driver flex and the pressure of the ear changes while wearing M2 IEBT, it is quite important to never pull M2 IEBT fast out of the ears. The manual states this as well, and Sennheiser recommends to always place M2 IEBT gently and to always take them out with care.
M2 IEBT works well for taking calls while on-the-go as well. The vibration mechanism works well and I have been able to get in contact with the people calling me, even after the quick press of a button, and the default ringtone is not too loud, even if M2 IEBT was being used at maximum volume.
The maximum volume is pretty loud and it is doubtful that someone would need a higher volume, but it is good to keep in mind that the maximum volume is limited by the Bluetooth setup. For the sake of testing, I managed to increase the maximum volume way above M2's intended maximum volume and noticed that (shockingly) this didn't cause a lot of distortion, but the maximum default volume is already pretty loud.
M2 IEBT handles low volumes with nimbleness and elegance as I actually enjoyed listening to M2 IEBT at low volumes quite a lot, the combination between its good isolation and good clarity makes low volume listening a real pleasure.
M2 IEBT is not a typical IEM, but a Bluetooth IEM and this means that it doesn't require any kind of DAC or Amplifier, but it requires a Bluetooth signal. The case of M2 IEBT indicates that it can use Bluetooth Ver. 4.1 and it can take advantage of AAC and APT-X codec types.
After testing, M2 IEBT will connect with anything that provides a compatible Bluetooth signal, but it needs a device with Apt-X to sound its best.
Comparing the sound of M2 IEBT driven from a typical smartphone that lacks Apt-X to a device that is Apt-X enabled, has proven that Apt-X provides a considerably cleaner sound, much better overall sonic definition, better extension and control in both treble and bass, and a better instrument separation.
There are many devices that are Apt-X enabled out there and it is heavily recommended to look for this codec if buying M2 IEBT.
Comparisons 
Since I don't own other Bluetooth devices, it would be slightly unfair to compare M2 IEBT with other IEMs considering that they cannot be driven from the same DAC/AMP.
The only IEM that M2 IEBT would be comparable to is Sennheiser ie800 since they both go for a very similar signature, and the best way to describe M2 IEBT relative to Sennheiser ie800 is that "M2 is like a miniature Sennheiser ie800, it keeps many of the intriguing characteristics of ie800, and it can be considered a truly interesting mini – Bluetooth alternative to ie800."
Sennheiser M2 IEBT vs FiiO F5 – FiiO F5 is considerably less expensive than M2 IEBT and it generally focuses on another type of sound as F5 employs a very strong low end, and a very polite top end, where M2 IEBT employs both a strong low end and a strong top end. Both F5 and M2 have a very good soundstage and both feature an impressive instrument separation. Each is an excellent choice for their price range and while their basic design is different (F5 is a typical IEM and M2 IEBT is a Bluetooth IEM), each makes a great purchase
Sennheiser M2 IEBT vs Simgot EN700 – M2 IEBT features a more enhanced top end and low end, being rather V-shaped or even U shaped in its signature, while EN700 is considerably more linear / neutral. EN 700 relies on an over-the-ear fit while M2 IEBT features a straight-down fit between the neckband and the IEM body. Both are extremely comfortable and both feature an excellent soundstage size and instrument separation, EN700 being another excellent IEM to pick in its price area. EN700's price point is at about half of M2 IEBT's, but the performance of each is impressive for their own price point.
Sennheiser M2 IEBT vs Sennheiser ie8/ie80 – This is a very interesting comparison since nowadays ie8/ie80 are priced somewhat similarly to M2 IEBT and they are labeled as fully blown audiophile-grade IEMs. After careful and throughout testing, if Sennheiser ie80 are driven from a typical smartphone, M2 IEBT features a considerably more energetic top end, a tighter low end and a better level of clarity and detail. All in all, I actually prefer M2 IEBT over Sennheiser ie80, if ie80 is driven from a typical smartphone. When ie80 is driven from a high-end DAC/AMP, like iFi iDSD Black Label, their sound becomes considerably better, ie80 being one of the IEMs that scale really well with the source.
Sennheiser M2 IEBT costs about 200$ at the time of release and taking into account that it can take phone calls and that it can sound better than IEMs priced at ~300$, even better than their own bigger brother in certain conditions, M2 IEBT has an excellent value. M2 IEBT comes with a beautiful carrying case and while most users won't be able to use the case for something else, it is still a valuable bonus to speak about.


M2 IEBT also comes with a Data cable that is offered for charging, and while it doesn't add a lot to the value, it shows a lot about how much thought Sennheiser puts into their products.
The Apt-X coded also adds to the value of M2 IEBT since it brings a lot to the sound quality.
After reading the manual, my understanding is that it is possible to replace the batteries within M2 IEBT, so its usage life isn't limited by the life of its batteries either.
All in all, M2 IEBT is a very good quality for its price and there is nothing to complain about when talking about its value.
It has been a great experience getting to know more about M2 IEBT and listening to it, and it will be a great experience in the future. Regardless whether you're looking for a Bluetooth device to take incoming calls and listen to a few songs or if you're looking for an audiophile setup that is simple and has a great default hardware configuration, M2 IEBT makes a great headset.
Sennheiser includes only the necessary with M2 IEBT, but the carry box is very elegant, and there aren't other accessories that I would had really liked included with M2 IEBT. The fit is excellent and while there is a tiny bit of driver flex, M2 IEBT has very good isolation from the outside noise.
All in all, M2 IEBT is the first Bluetooth IEM that impressed me so much and it is my favorite Bluetooth IEM at this point. The clarity and engagement of its sound, the energetic treble and the deep bass, the large soundstage and great instrument separation are just a few of the reasons I like M2 IEBT. If you're considering buying M2 IEBT, I totally recommend it as the best Bluetooth IEM I tested to date and as a mini Sennheiser ie800 that will surely make an interesting acquisition!
Product Link
You can get Meze 99 Classic from www.amazon.com here: https://www.amazon.com/Meze-Classics-Walnut-Headphones-Black/dp/B018VZBH5M/
---
---
--- Please remember to stay safe, and always have fun while listening to music!---
 - If you have a dime to spare, and donate, to help us with electricity and work expenses, it would make my day much brighter, as it would help me improve things around the website and increase the frequency of my posts - 
---
Full Playlist used for this review
We listened to more songs than those named in this playlist, but those are excellent for identifying a sonic signature.  PRaT, Texturization, Detail, Resolution, Dynamics, Impact, and overall tonality are all revealed by those songs. We recommend trying most of the songs from this playlist, especially if you're searching for new music!
https://www.youtube.com/playlist?list=PL_cjBXGmwSHSdGcwuc_bKbBDGHL4QvYBu
--- Contact Us ---






---
---