HIDIZS DH1000 – Glistening Gem
HIDIZS created a new interesting product with a very good price, amazing compatibility and with improved support. Hidizs DH1000 is a DAC/AMP unit which comes to bring us lots of musical joy, even if we want to use our smartphones for keeping our libraries and such. 
Introduction
Hidizs is a pretty well-known company from China, being the creators behind AP200, an interesting and well-priced DAP. We took a few photos and had a look into their AP200, but our final verdict on it is still not fully decided, as Hidizs told us that they are still refining the firmware, and we consider it would be unfair to judge it as an unfinished product. DH1000 (Also previously named Sonata), on the other hand, is a very mature and finished product, being a DAC/AMP (Digital to Analogue Converter / Amplifier) which is supposed to be connected to a transport (usually a smartphone or an iPhone). Whether it will stand its ground against other amazing DAC/AMP units and whether it is worth its asking price, we'll find out today, and we'll also let you know whether we consider it a good idea to back up their Kickstarter campaign for this same product. 

It should be noted that I have absolutely no affiliation with Hidizs, I am not receiving any incentive for this review or to sweeten things out. This review is not sponsored nor has been paid for by Hidizs or anyone else. I'd like to thank Hidizs for providing the sample for the review. The sample was provided along with Hidizs's request for an honest and unbiased review. This review will be as objective as it is humanly possible, and it reflects my personal experience with Hidizs DH1000 (Sonata). Every opinion expressed is mine and I stand by it, the purpose of this review is to help those interested in DH1000 find their next music companion.
Product Link
You can purchase HIDIZS DH1000 from www.amazon.com here: https://www.amazon.com/Portable-Headphone-Amplifier-HIDIZS-Computers/dp/B07DDDMKSY
First Impression

I just received DH1000 recently, and it was a pretty interesting experience. Since I recently build a computer, and I'm still making tweaks to it, I am still receiving a few packages and sorting things out. I did already receive one package that day, with a HDD reader, and I was actually just starting to install it when the DHL delivery people called me and told me that I have a package to pick up.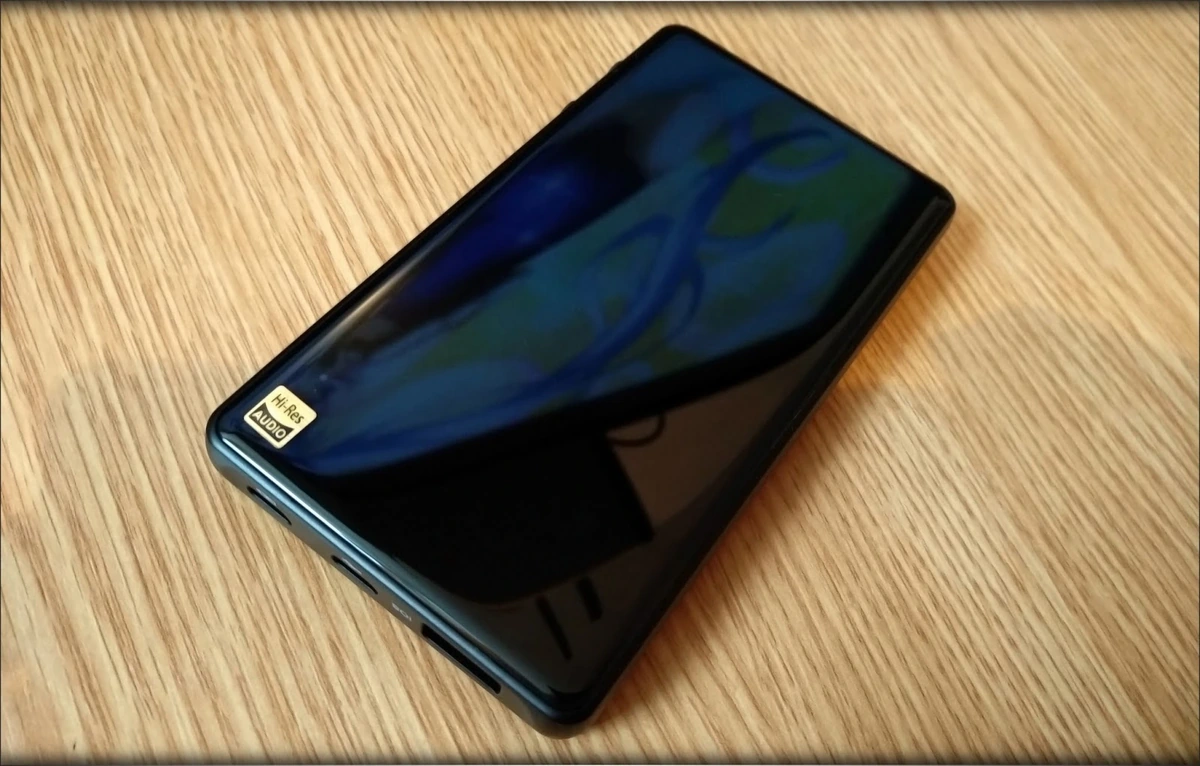 At first, I wasn't even sure what they were talking about, as with the rather harsh winter weather lately they weren't able to deliver it sooner, and I was already waiting for at least one more package from them. 

With the gray clouds guarding the mighty tall buildings of Bucharest, I was actually happy that I got to get out for a few minutes, as the morning fresh air was quite energizing and the people around still had their morning coffee smiles. 

The delivery people were quite friendly and handled the package quickly, then went on to deliver more things to people around the area. 

I looked for a second at the might of the glass constructions that are rapidly decorating the neighbourhood which just a few years ago looked like ruins of a golden era of the past. "Seems that the world is always evolving and new beautiful things always await in the shadows for those ready to explore them…", I thought to myself, then slowly took a walk back to my room. 

I began opening the package of Sonata (DH1000) and the first thing that crawled in my mind was that it is packaged in a rather elegant and tiny package for the device that's supposed to be within. 

I connected it to my smartphone, plugged Audeze LCD-MX4 in, then pressed play…



Packaging

First things first, let's get the packaging out of the way: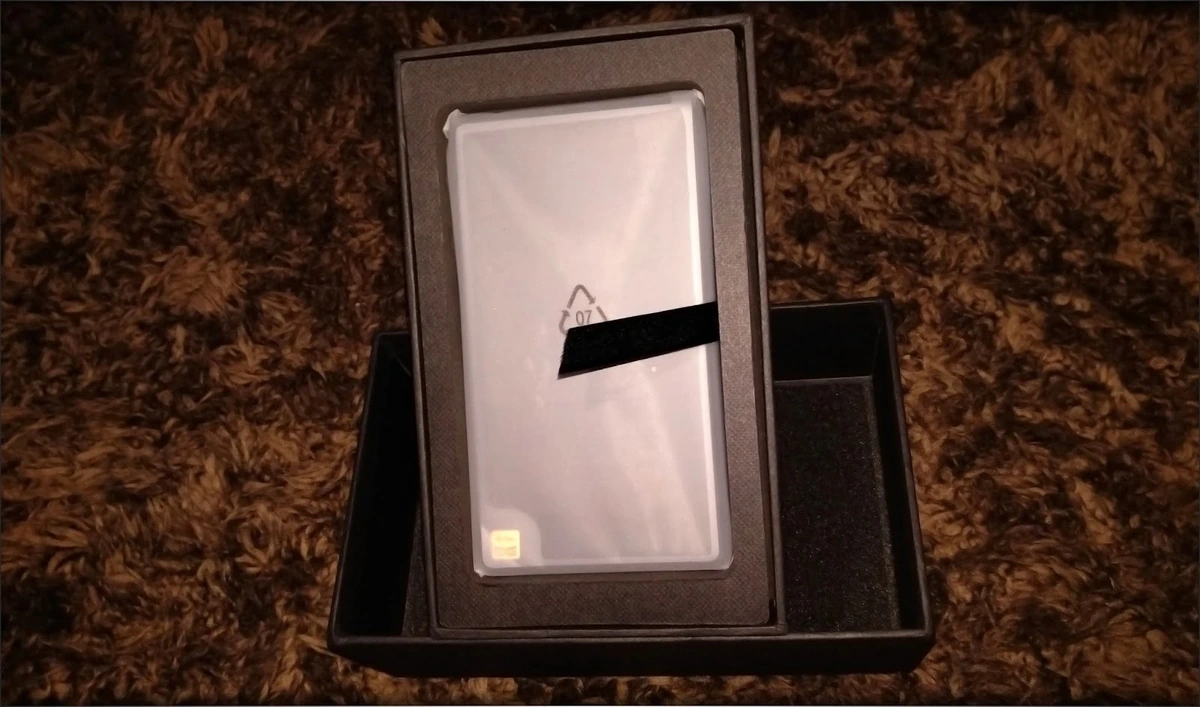 The package of DH1000 is rather small for the size of the device, but it has a few interesting things within. You are greeted by a black package, with silvery writing decorating the main box, and describing the wonders that lie within. The actual technical specifications of DH1000 are amazing, describing, at least technically, one of the best DAC/AMPs one should meet with in his audio journey, the dynamic range and the other specs being way out of what a typical device should do. Hidizs even wrote the Frequency response as starting with 0 Hz. While we can chuckle a bit at this statement, we are happy to know that they trust their products a lot. 

The package includes a few things, like DH1000, a USB to MicroUSB cable, a MicroUSB to MicroUSB cable and a USB Type-C Cable to Micro-USB cable. 

DH1000 doesn't come with a protective cover, which, considering its looks, might have been welcome. 

The manuals are pretty nice, and DH1000's package is pretty fit for a product in this price range. 


Build Quality/Aesthetics/UI/Firmware

Starting with the build quality, DH1000 is extremely well-built, and Hidizs is showing massive improvements in this area, starting with the glossy front and back, and to the metal frame of DH1000. The main thing that amazed us is that Hidizs applied screen protectors on both the front and the back of DH1000, thing which is hard to tell from looking at it directly, so they did an amazing job. If it weren't for a very little dust particle caught between the screen protector and the DAC/AMP's body, we wouldn't even know that there is any protector applied.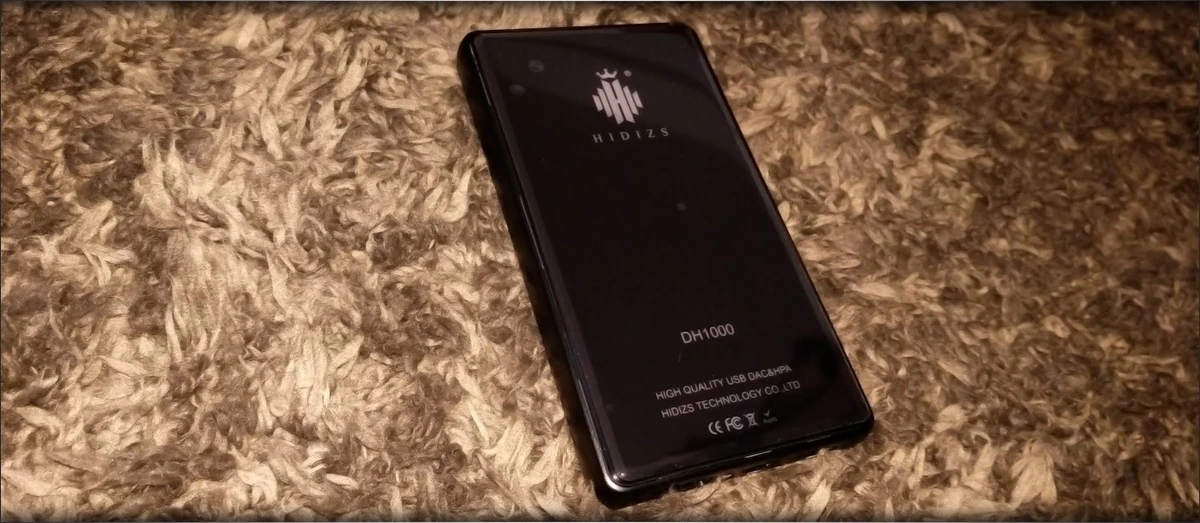 The whole device feels extremely solid in hand, there is no bending, creaking or any kind of build quality incoherency. The buttons are clicky and there is very little button wobble, the whole device leaving a very high-end overall feeling. 

The face and the back of the device are extremely smooth and well-done, with a cold feeling to the touch, indicating high-end materials being used (Glass / metal) instead of plastic, thing which made us pretty happy with DH1000. 
On the top of the device you have the power button with a Green LED next to it, to indicate when it is turned on, the 2.5mm Balanced Headphone Jack, and the 3.5mm Headphone Jack. On the right side, there are the volume buttons, and on the bottom, there is a microUSB port used for charging the device, a microUSB port used for feeding data to the device from an Android or Windows device, and a larger USB port, which can be used for other devices. 

One thing that disappointed us a bit is that there is no volume indicator with DH1000. The bright side is that the volume resets on each device shut down, so there is no chance on it blowing up someone's ears or IEMs / Headphones. 
We were delighted to notice that both the 3.5mm and the 2.5mm jacks can be used at the same time. This is actually pretty rare, as most devices can only use one of the jacks at the same time. We used FiiO F9Pro to test the Balanced and the SE jack against each other, by connecting the left earpiece to the Balanced cable, and the Right Earpiece to the SE cable, then plugging each earpiece with its cable in DH1000. This feature will come in handy in a large number of scenarios for many users, so we consider it a big plus. 
Another thing we'd like to mention is that DH1000 connects to any Windows or Android device flawlessly. It has less lag than most DAC/AMP devices, being flawless for playing games or watching fast-paced videos. There is no software needed for either Windows or Android, and it is detected natively by both Windows 10, and all our Android-based devices.

We'd like to add that DH1000 does not charge from the same port it receives signal. This means two things, one rather positive, and one which can be a slight inconvenience. First, this means that you can use it while charging, and that you will be able to use it with a large number of devices and that it doesn't eat away your transport's power (be it smartphone or something else). Excellent news for anyone rocking a smartphone. On the other hand, if you're using it as a stationary DAC/AMP for a windows machine, it needs to be connected with two cables, one for power and one for data, so you either need to use two USB ports, or one USB port and a wall charger. On a more positive note, it works with all our smartphone chargers including quick chargers, so there's no need to worry about its compatibility with chargers either. 

Overall, the device has an excellent feeling and its usage is quite awesome, and besides a few things one has to keep in mind before getting one, DH1000 is pretty solid in both construction quality, and functionality. 



Sound Quality

Hidizs DH1000 (Sonata) has a fairly neutral tuning, with a very linear response, being rather transparent instead of warm or bright, adding almost nothing to the original signal, thing which makes it quite ideal for most usage scenarios. A transparent device tends to leave the coloring to the transducers (headphones or IEMs), thus it will work better with a wider range of them.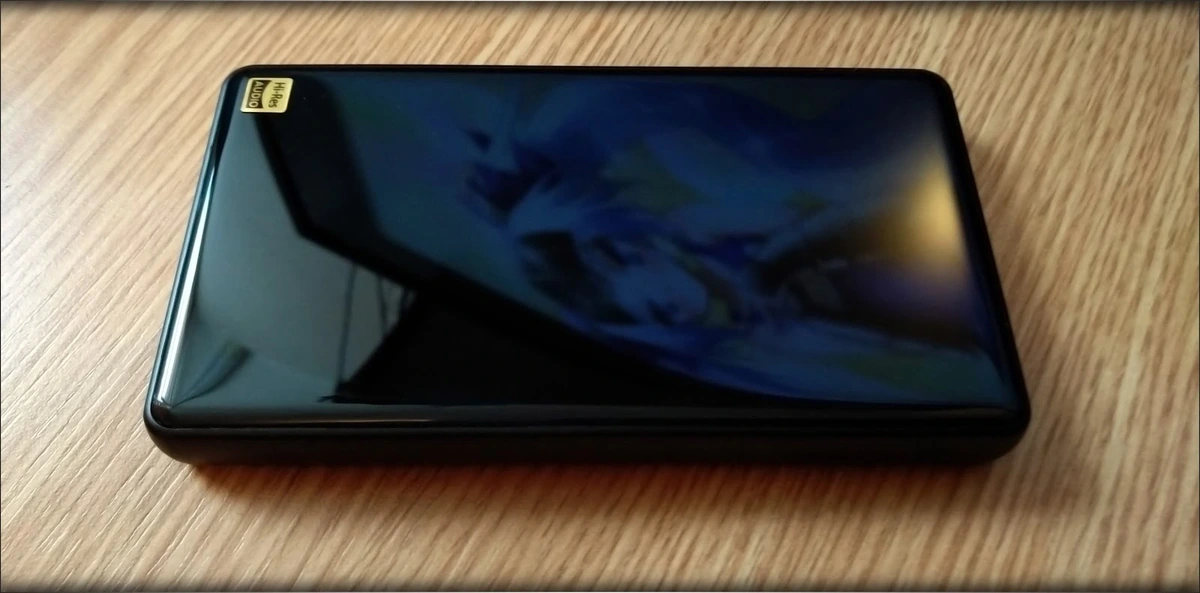 Bass

Now, the bass is not warm nor enhanced, but it is not lacking in any way. Impact is really good and the detailing in the bass is quite excellent, with the impact being quick and solid, and the tactile feeling being rather good. Even when connected to a pair of self powered speakers, we can admire the qualities Sonata's bass has.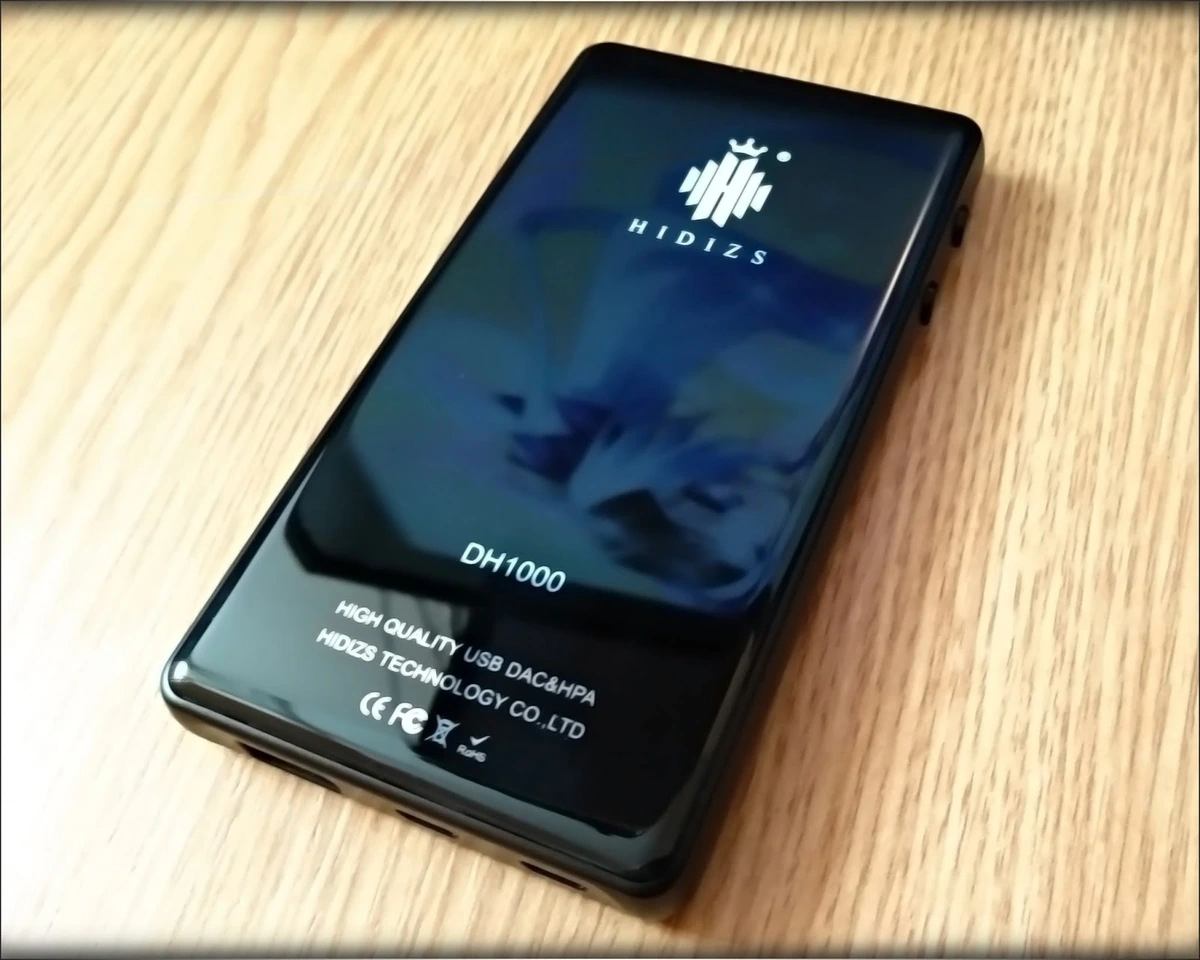 With songs like Pegboard Nerds – Hero, you can feel the bass going down to the lowest registers and hitting, then quickly recovering, uncovering a complex set of textures that makes the whole song feel quick and playful. The voices are clear and natural, while the whole song feels quite dynamic and vivid. Details and micro-details, especially background instruments, are present with a rather excellent presence to them, and DH1000 proves to have a rather revealing nature to its sound. 



Midrange

The midrange of DH1000 is on the rather neutral and uncolored sides, with a presentation that is forward when it should be forward, like in electronic and vocal-forward music, and which is laid-back when it should be laid back, being excellent and revealing the original recording as it should sound like. Detailing is quite good and we're happy to hear many micro-textures which we're only used to hearing with more expensive DAPs and DAC/AMPs, as well as certain instruments we consider details. Vocal tonality is spot-on and the general feeling is that of vividness and that of a large dynamic range with all instruments feeling different from each other.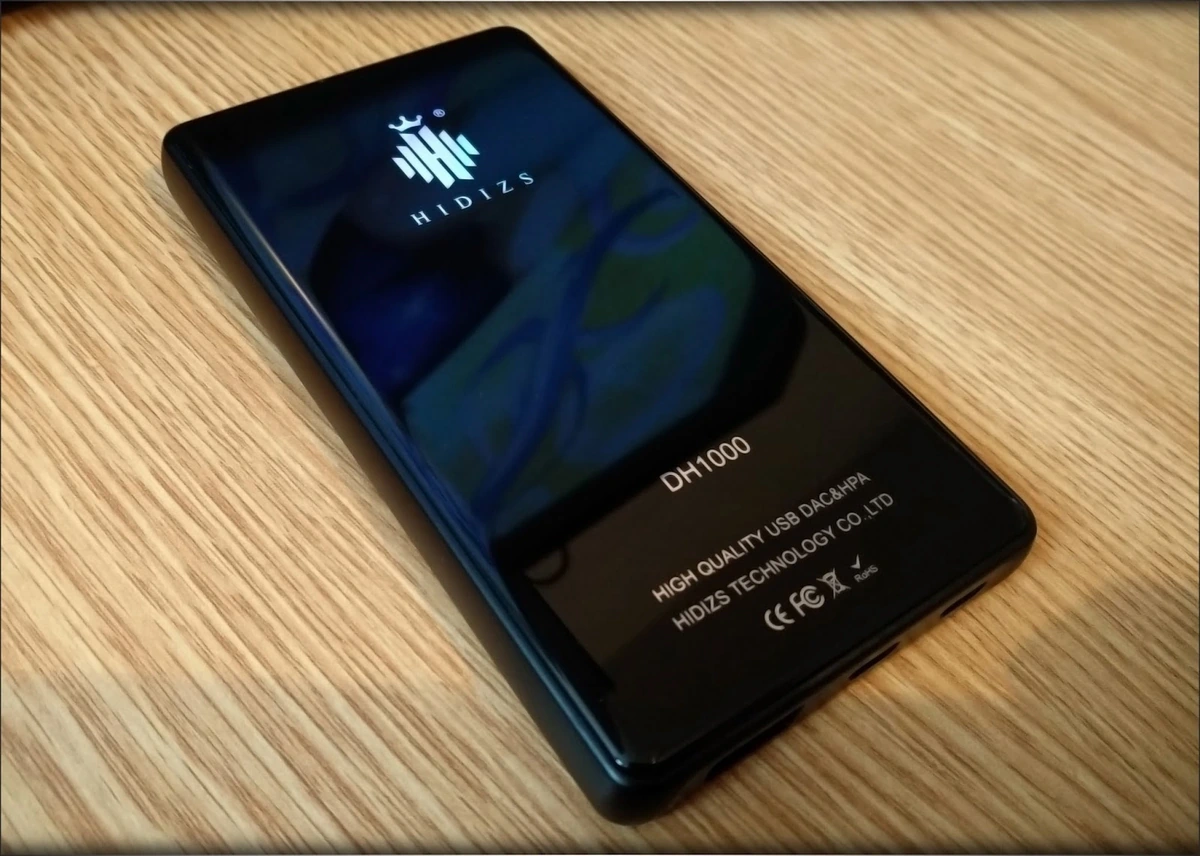 With songs like Morgan David King – Weeble Wooble, one can certainly feel each bass note at the beginning of the song. Effects can be heard walking and running through the Stereo Landscape, and the voices, although very few of them in the song, feel rather well-textured and naturally presented for what they were meant to be. The treble is nice and has a good presence, while staying on the smoother-textured side rather than being grainy. Keys and Synths surely have one of those excellent definition to their textures that reminds of of how bit-perfect should sound like. 



Treble

The treble of DH1000 is the type of treble one falls in love with, energetic, lively, healthy, all without being too smooth or harsh or dissonant. The basic way to describe it is very well extended, climbing all the way to the highest registers, and feeling rather natural to the way a Cymbal should sound like, having the right amount of texture to feel realistic rather than smooth, but without passing in the grainy or harsh territories, being like an idea treble. Engaging is a good way to speak about its treble, as well. Airy is another good word to define the treble of DH1000, as, especially for its price, the airiness of its treble is quite good.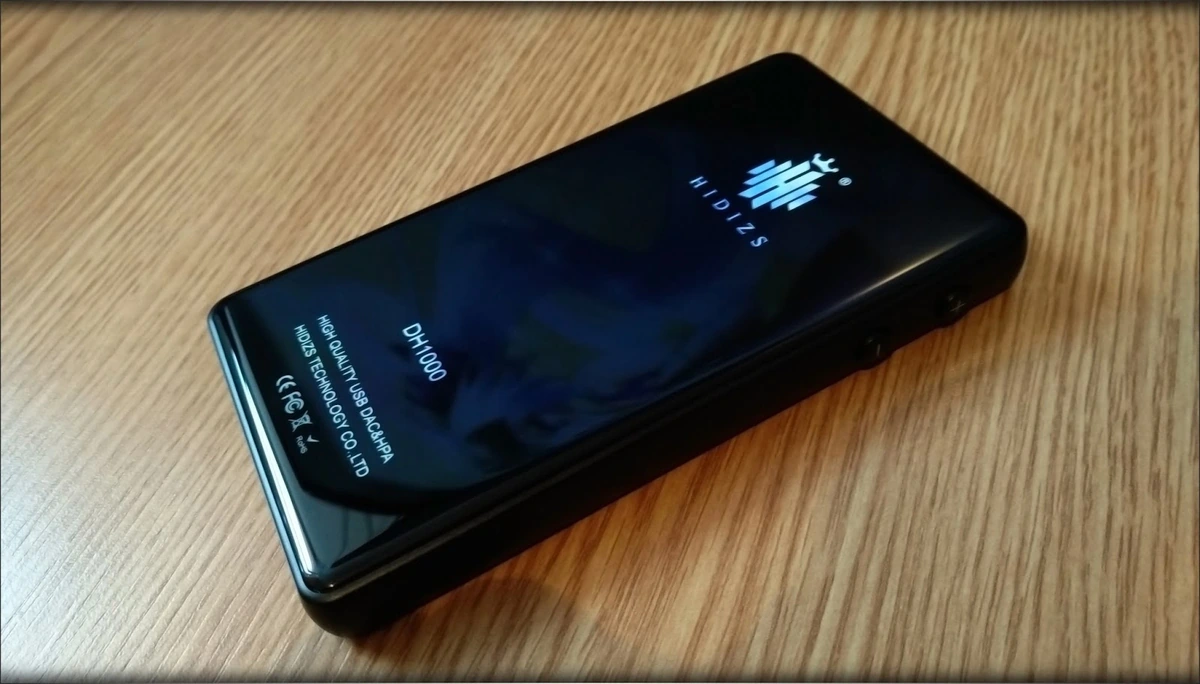 On songs like Obisidia – Another world, it is possible to notice the rather excellent treble extension, along with its engaging presentation. The bass notes are exactly where they should be, creating a good amount of impact for this song, while the treble presents itself in a vivid and engaging matter, defining the scene for the young and natural-sounding voice, along with the composition of synths and musical instruments. Multiple layers of instruments are audible, all along a wide and well-defined soundstage. 



Soundstage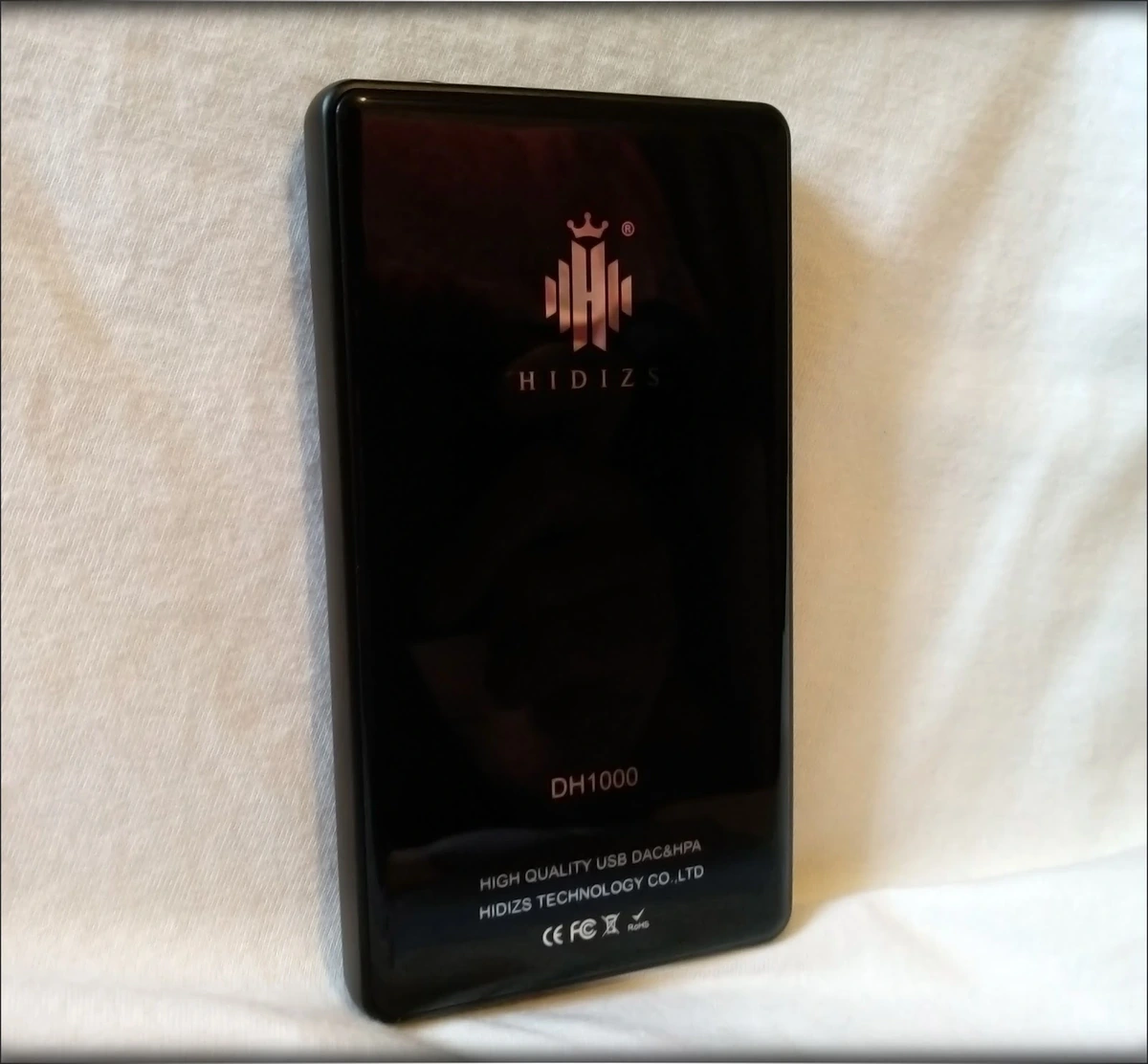 The soundstage of Hidizs DH1000 is pretty good, rather large and well defined, with an excellent separation between the instruments and layers of instruments, along with a pretty nice definition of each instrument alone. The depth of the soundstage is good as well, but the size and especially the good treble extension are what makes it quite special. The stereo imaging is amazing as well, especially when used with our standalone speaker setup. Spatial cues point to the right directions, and there's nothing to speak ill about its soundstage. 


ADSR/PRaT

The ADSR / PRaT of DH1000 are actually quite good, and we were able to hear some interesting renderings of textures in music like that made by Mindless Self Indulgence. The speed is rather natural, and for a DAC/AMP, DH1000 does a good job at keeping things in check for all music played through it. 


Portable Usage

This is an interesting aspect, because lately we don't consider any DAC/AMP to be truly as portable as a standalone DAP (Digital Audio Player). DH1000 is roughly the same physical size as a FiiO Q5, with a slightly slimmer body and a few millimeters in difference here or there. The overall device is smaller than all of our smartphones. The fact that DH1000 works flawlessly with all our Android devices means that it also works with our tablets for watching movies and music videos, thing which led to a very satisfying Tablet Media Consumption. 




DH1000 is able to drive Audeze LCD-MX4, but that is the upper limit to its driving power, and even then, it might be a bit of a stretch. We'd recommend our readers to use DH1000 with headphones that are easier to drive in general. Although it is rated at "up to 600 OHM" for its driving power, even for satisfying listening volume alone, we'd recommend going with headphones up to 150 OHM for best satisfaction (we like to listen very loud, so if you're a quiet listener, it will surely work with higher impedance headphones). 

Its sound is above AP200 from Hidizs, making the stacking of the two an excellent idea. Our understanding is that there will be a firmware update sometime soon, which will allow AP200 to act as a transport for DH1000, so please be noted that it doesn't work at the moment. 

The battery life is fairly good, stated around 9-10 hours, and in was quite large in our tests, although we didn't have time to format it or place it through a more serious test, we got around 8-9 hours of continous uisage so pretty close to the specification. We'd like to note that DH1000 does not get hot during usage, even if used while it is charging. Arguably, it is Winter in Romania, and we have a very cold weather along with rather low testing environment temperature, but this is still pretty good news. 

All in all, DH1000 is as portable as a DAC/AMP unit will be, the positive side being the rather huge battery life, stated to be at 12 hours, and the beautiful aesthetic, along with the extreme compatibility with other devices.  


Select Pairings

Please note that for any pairing, the IEM has more impact on the final result than the DAP / DAC / AMP, the best DAP / DAC / AMP being one that is as transparent as possible.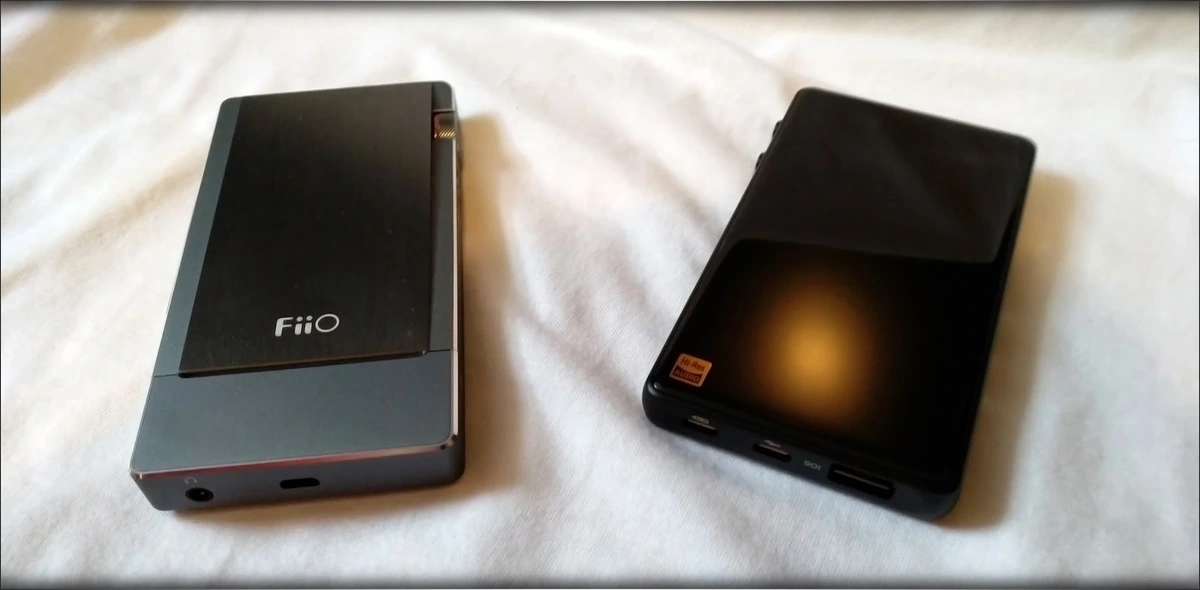 Hidizs DH1000 + Dunu DK-3001 – DH1000 makes Dunu DK-3001 sing with excellent ability, making the bass feel very natural, with a natural decay, the midrange being presented with a light yet somewhat smooth nature, and the treble being natural and relaxing, yet keeping a lot of detail. The soundstage is very wide, and every detail and micro-detail is presented fairly well. 
Hidizs DH1000 + Unique Melody Martian – DH1000 makes the Martians sing with an excellent technical ability, a very precise IEM with no politeness added to a song, exposing the details within with a rather good introspection. 
Hidizs DH1000 + Ultrasone Signature Studio – Ultrasone Signature Studio is driven fairly well, although it is starting to be on the edge of what is driveable by DH1000, as the actual maximum listening volume is starting to be the limit. The bass is impactful and has amazing speed, the midrange is crystal clear and presented with a large amount of details and amazing textures, while the treble is vivid, engaging, but with a rather smoother nature.  
Hidizs DH1000 + Meze 99 Classics – Meze 99 Classics is driven quite well by DH1000, being presented with an amazing amount of impact and dynamics, being a warm and smooth experience that one can easily relax to for hours in a row. 
Hidizs DH1000 + iBasso IT01 – IT01 is presented with excellent dynamics and vividness, being one of our favorite IEMs to combine with DH1000 as they receive a bit of extra engagement to their already engaging signature, resulting in a very impressive experience. 
Hidizs DH1000 + Beyerdynamic Amiron – Beyerdynamic Amiron is actually not fully drivable by DH1000, the limiting factor being the maximum listening volume, which isn't quite enough for our typical listening levels. Even so, the experience while using this combination is quite amazing, with a deep and precise bass, a clear and well-defined midrange, and a very clear and well-extended treble. Amiron surely sings well, but a tad quiet from DH1000.
Hidizs DH1000 + Audeze LCD-MX4 – Audeze MX4 is driven quite nicely by DH1000, being on the superior limit of what we consider satisfying as an experience with DH1000. They are made to sing with an excellent extension to their bass, an excellent definition to their midrange, with a lot of detail and dynamics, and with a very well extended and engaging treble.


Comparisons

Most comparisons have been taken with Edifier S1000DB, Audeze LCD-MX4, Cleartune SV4, Dita Truth, Hifiman RE2000, Ultrasone Signature Studio, Hifiman RE800, Sennheiser ie800, and Dunu Falcon-C. Hiss is usually very hard to notice and I tend to not notice it at all, but I tried my best to compare how DAPs perform relative to each other in this aspect, as well as other aspects that might come off as relevant. 

We only have a few DAC/AMP units that are close to DH1000 in both price and sonic performance, so we'll try to explore the overall differences between those. 

Since DAC/AMP units can have a different behavior, we'll also need to talk a bit about the differences in the physical sizes and general unit behaviors of those units.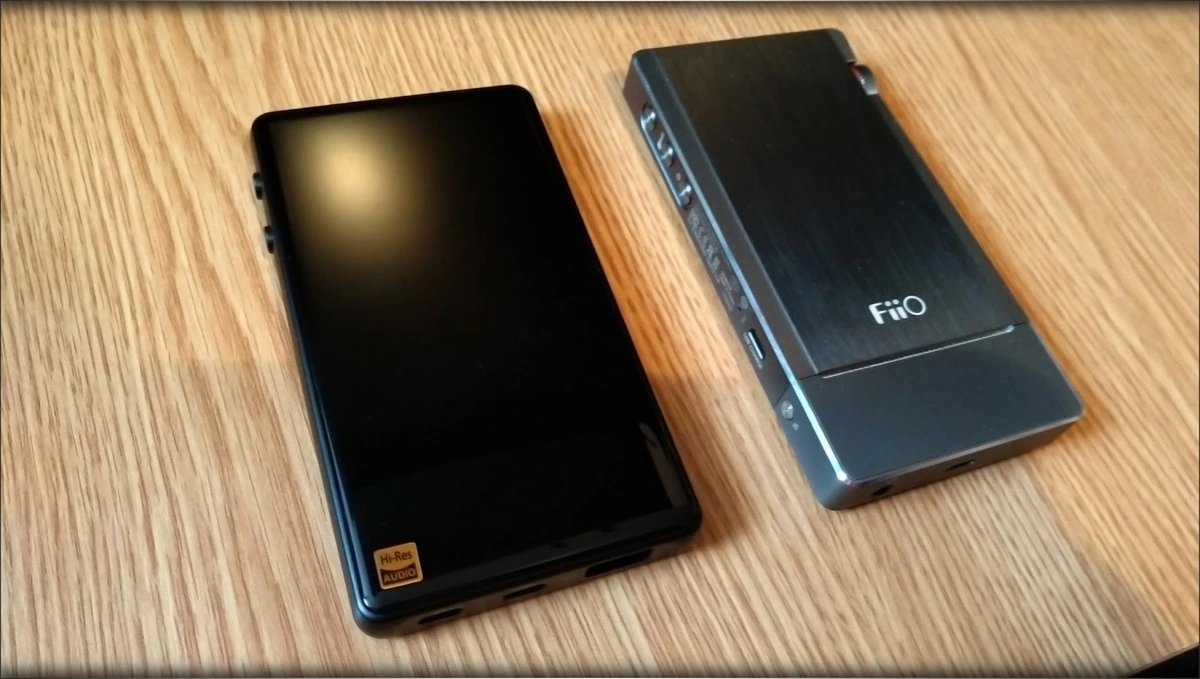 Hidizs DH1000 vs FiiO Q5 (AMP5) – With Q5 using AMP5, the main AMP module we are using Q5 with, the difference in sound can be noted as DH1000 feeling less warm and more neutral, with a tad more sparkle in the treble. The soundstage can be perceived as wider on DH1000, but deeper on FiiO Q5 + AMP5, with a better definition to each layer of instruments on Q5. Instrument separation is also a little better on FiiO Q5 + AMP5, but this is probably to be expected considering the price of both. DH1000 feels a tad more forward overall, with Q5 + AMP5 feeling more laid back and effortless in its presentation. Now, when it comes to the actual device, both are beautiful devices. Both work really well, and neither doesn't have a considerable amount of delay. Both work with our test devices out of the box, but Q5 requires a driver for Windows 10, while DH1000 is recognized natively on our Windows 10 machine. Q5 has a bass adjustment tool which we actually use quite a bit, along with a gain setting, which we almost exclusively leave on Low Gain. Q5 has a way of telling the current volume, via its volume wheel, while DH1000 does not. FiiO Q5 has more inputs, and can also be used with multiple amp modules but this adds to its price. FiiO Q5's recommended price is around 350$, with at least another 50$ for its AMP5, while DH1000 should cost around 270$ as its recommended price, with many discounts currently being offered as part of their Kickstarter campaign. 
Hidizs DH1000 vs iFi iDSD BL Nano – Starting with the sonic differences, iDSD BL Nano feels smoother and more laid back in general, with a less forward sound and a more relaxed approach, while this makes DH1000 feel more vivid, energetic, and a bit more forward. iDSD BL Nano was already quite engaging, but DH1000 is at least as engaging as iNano BL. iFi iDSD Nano BL is recognized by all our devices and has zero lag while being used as a USB DAC, same for DH1000. There is a way to tell the current volume on iDSD Nano BL, via its volume wheel, and it also has certain filter effects. The prices are quite similar, with iDSD Nano BL (200$) being cheaper than DH1000 outside of DH1000's KS campaign (220$ to 270$). DH1000 has a more lively sound going on for it, along with the fact that it can power two headphones at the same time, via its two headphone outputs, one of which is 2.5mm Balanced and one of which is 3.5mm SE. The physical shape of the devices makes DH1000 more transportable and stack-prone, being longer, wider but thinner, providing a more flexible usage scenario for those who want to stack it with their phone or DAP. iDSD BL Nano is a thicker and shorter. We do feel that iDSD BL Nano has a bit more driving power, so if you plan on powering a headphone that requires more power than DH1000 can handle, it might be an interesting option. Qlthough iDSD Nano BL looks pretty nice, DH1000's aesthetics surely do take things one step ahead, being extremely sleek and elegant, while iDSD Nano BL still is a rather industrial-style device. DH1000 is an interesting option for those who want a more forward sound, with more treble sparkle, with a sleeker design, and with a dedicated 2.5mm and 3.5 Balanced ports, along with separated power and microUSB inputs.
Hidizs DH1000 vs AP200 – We want to point some basic differences between the two devices from Hidizs. First, the sonic differences, AP200 is smoother sounding, with a more constrained soundstage and with less engagement and dynamics for its overall sound. DH1000 is much much better in all of those aspects, and it sports a better treble extension, along with a much more vivid general tuning. The other key difference we'd like to mention is the purpose of each device, AP200 being a music player which can act as a transport, while DH1000 is a DAC/AMP which can be paired with AP200. The third point we wanted to mention is that DH1000 is flawless in its software. Since we mentioned earlier that AP200 is not quite finished yet, we want to mention that DH1000 is a very finished and mature device, and we didn't ran into any single software issue with it, it simply works flawlessly with anything we threw at it, so we can recommend it to everybody. Where AP200 is still evolving in its software, DH1000 is really ready, Hidizs having shown major improvements at this level. 


Value and Conclusion

Things are a little tricky this time, as we are talking about a company which ran a Kickstarter campaign already, and even more, thius happened quite recently. 

Hidizs had a KS campaign for their AP200 before, and we do want to mention that although they were slightly overwhelmed with e-mails and might not have answered every mail the next day, they did answer most questions and we've noticed a steady and honest interaction with their fans. They have taken a very low time limit for that campaign before, but they actually delivered on their promises and on the Kickstarter-backetd AP200 units, and although maybe they still have to deliver a few units, the general campaign has not been forgotten and Hidizs is fairly able to deliver on their promises. The software on AP200 is still being updated and it still didn't reach a final stage, but the software on DH1000 is as final as it can be, being extremely stable and DH1000 connecting flawlessly with all sources we tried to connect them with. Although it doesn't currently work with AP200, Hidizs released a statement that they know about the issue and will fix it in the upcoming weeks. 
Having established that Hidizs can be trusted to deliver on a Kickstarter campaign, the nest question is whether DH1000 is worth its asking price. That is also quite tricky to answer as there are a lot of amazing products even in this price area already, and they are running against some hard-to-beat titans, like iDSD Nano BL. 
DH1000 finds its place in the audio world, even against other titans, as it comes with a set of innovations, like offering 2.5mm balanced output, along with a 3.5mm single ended output, which can work at the same time, having a good battery life, and having one of the most beautiful aesthetic designs we've seen on a DAC/AMP unit. The only real drawbacks we've noticed so far are that it isn't possible to tell what volume it currently has, and that it requires two cables to charge and play, but we feel that the later will actually be seen as an advantage by many people, while the first is mitigated by the fact that the volume is reset on each device power cycle.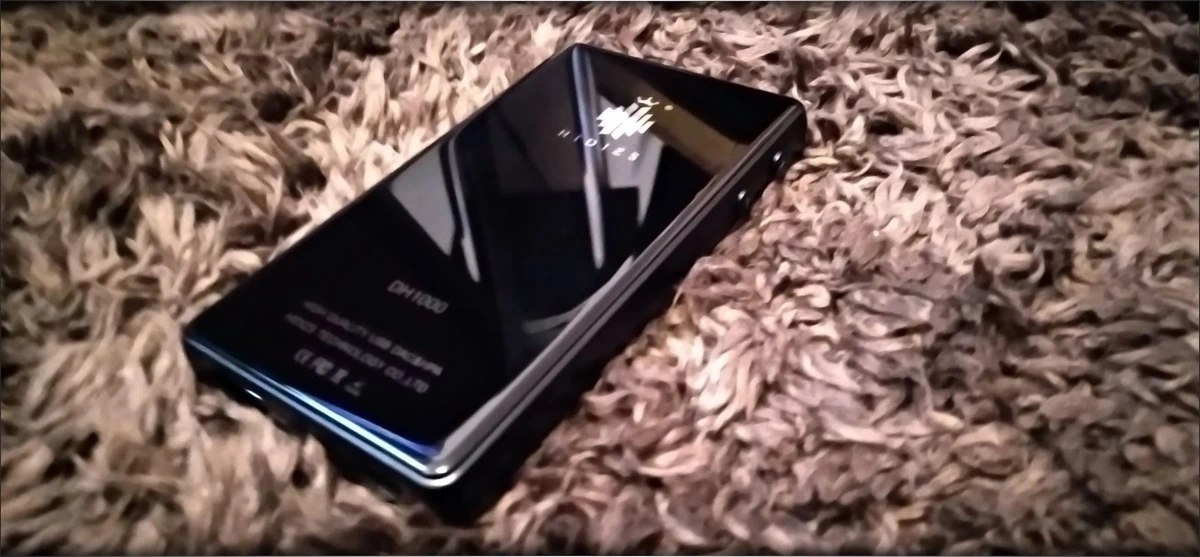 At the end of the day, Hidizs DH1000 is an amazingly beautiful DAC/AMP with a vivid, energetic and rather engaging sound, really good build quality, and a healthy battery life. It can be connected to almost anything one wants to connect it with, doesn't have one bit of lag, so it can be used for gaming or music videos and other media consumption, and it can drive portables rather well. We do like what we're seeing, and we consider that DH1000 will make its way into the homes and pockets of many music enthusiasts, being a rather portable and nifty little DAC/AMP that is sure to please those who own and use it. 
Product Link
You can purchase HIDIZS DH1000 from www.amazon.com here: https://www.amazon.com/Portable-Headphone-Amplifier-HIDIZS-Computers/dp/B07DDDMKSY
---
---
--- Please remember to stay safe, and always have fun while listening to music!---
 - If you have a dime to spare, and donate, to help us with electricity and work expenses, it would make my day much brighter, as it would help me improve things around the website and increase the frequency of my posts - 
---
Full Playlist used for this review
We listened to more songs than those named in this playlist, but those are excellent for identifying a sonic signature.  PRaT, Texturization, Detail, Resolution, Dynamics, Impact, and overall tonality are all revealed by those songs. We recommend trying most of the songs from this playlist, especially if you're searching for new music!
https://www.youtube.com/playlist?list=PL_cjBXGmwSHSdGcwuc_bKbBDGHL4QvYBu
--- Contact Us ---






---
---