KZ AS10 – Improved Budget Performance
We reviewed KZ ZS10 recently, and we thought it would be a good idea to also look into AS10, which is supposed to be a tweak signature from its bigger brother, this time the IEM on a super budget running on an all-BA configuration. We're going to give you the detailed report on how it performs in this Audiophile Heaven review.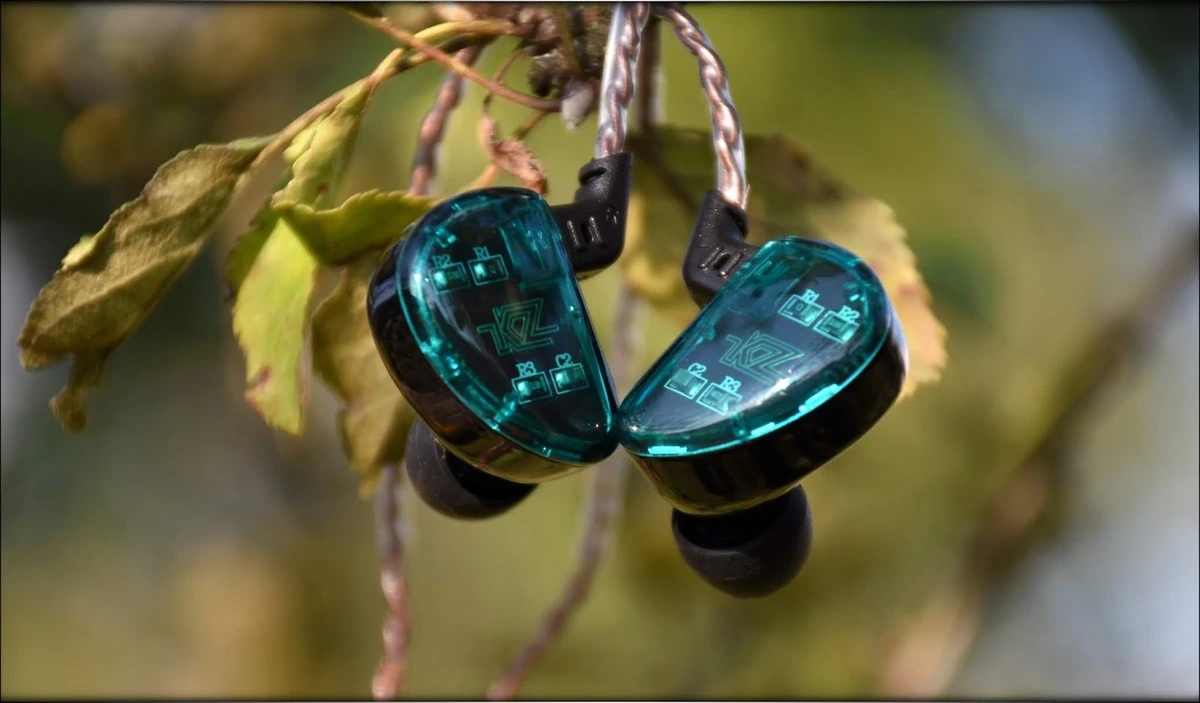 Introduction

We don't know who KZ is exactly, but we know that they are from China, and they do not directly respond to mails, instead most of the aftersales service being taken care of by stores who sell them. Happily, Linsoul Audio, the store who sent us the review sample, is a very friendly and reliable place, and you won't have any issues getting errors fixed, especially with their super friendly customer policy, and of course, they also sell those on Amazon, so you're in for a treat in terms of customer satisfaction. 

It should be noted that I have absolutely no affiliation with KZ or Linsoul, I am not receiving any incentive for this review or to sweeten things out. This review is not sponsored nor has been paid for by KZ or Linsoul or anyone else. I'd like to thank Linsoul for providing the sample for this review. The sample was provided along with Linsoul's request for an honest and unbiased review. This review will be as objective as it is humanly possible, and it reflects my personal experience with KZ AS10. Every opinion expressed is mine and I stand by it, the purpose of this review is to help those interested in KZ AS10 find their next music companion. 
Product Link
You can purchase KZ AS10 and other KZ IEMs from www.amazon.com here: https://www.amazon.com/stores/KZ/page/E2D8B8A8-CA3D-43F6-83F8-DB6C9885DA27/
Packaging

First things first, let's get the packaging out of the way: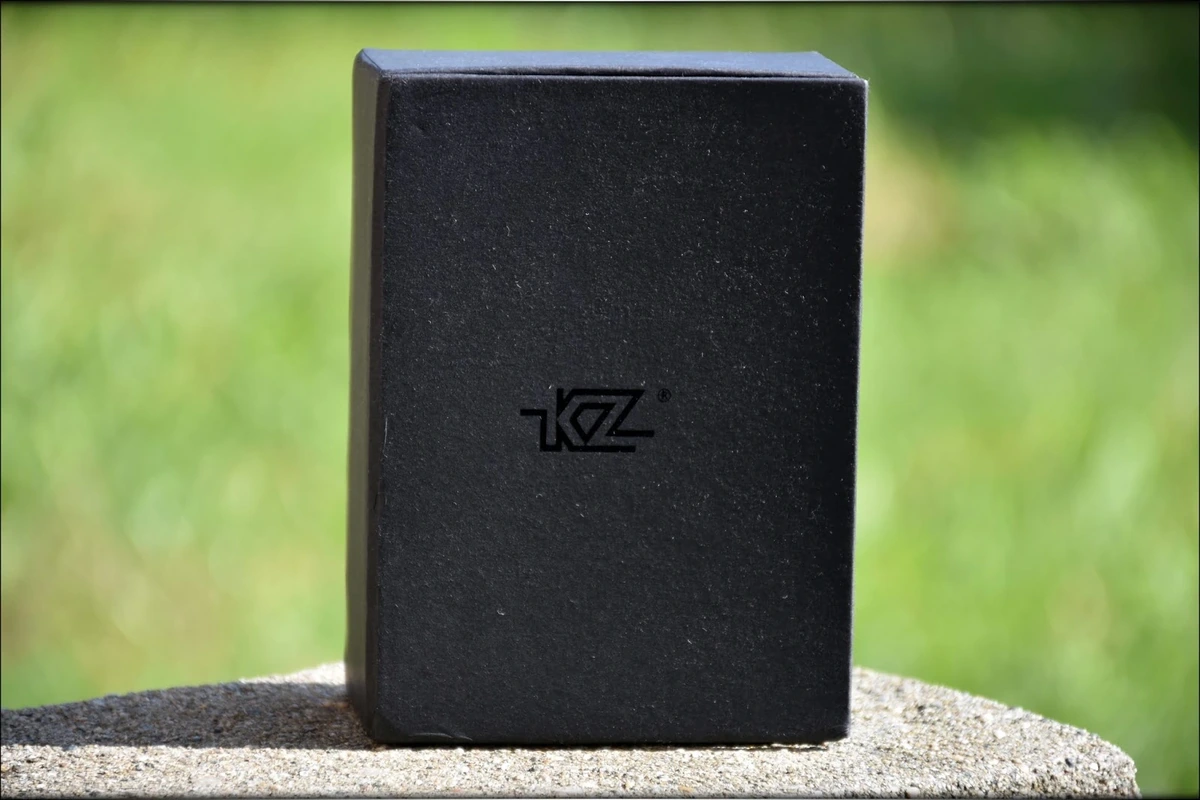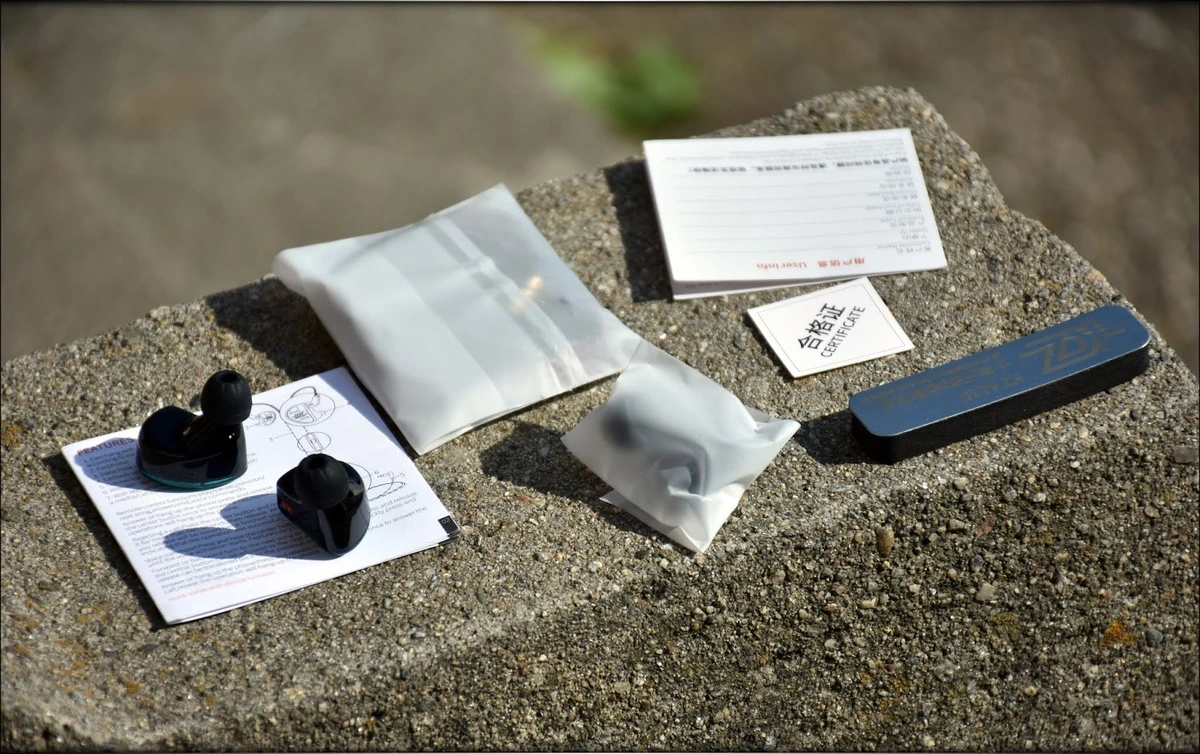 The package is simple, tiny, but it includes a fair amount of accessories for the price paid. 

You get a larger package than with ZS10, which still holds the record for the smallest package we ever received, but this shouldn't be that important, considering that you're purchasing it for the contents rather than the package.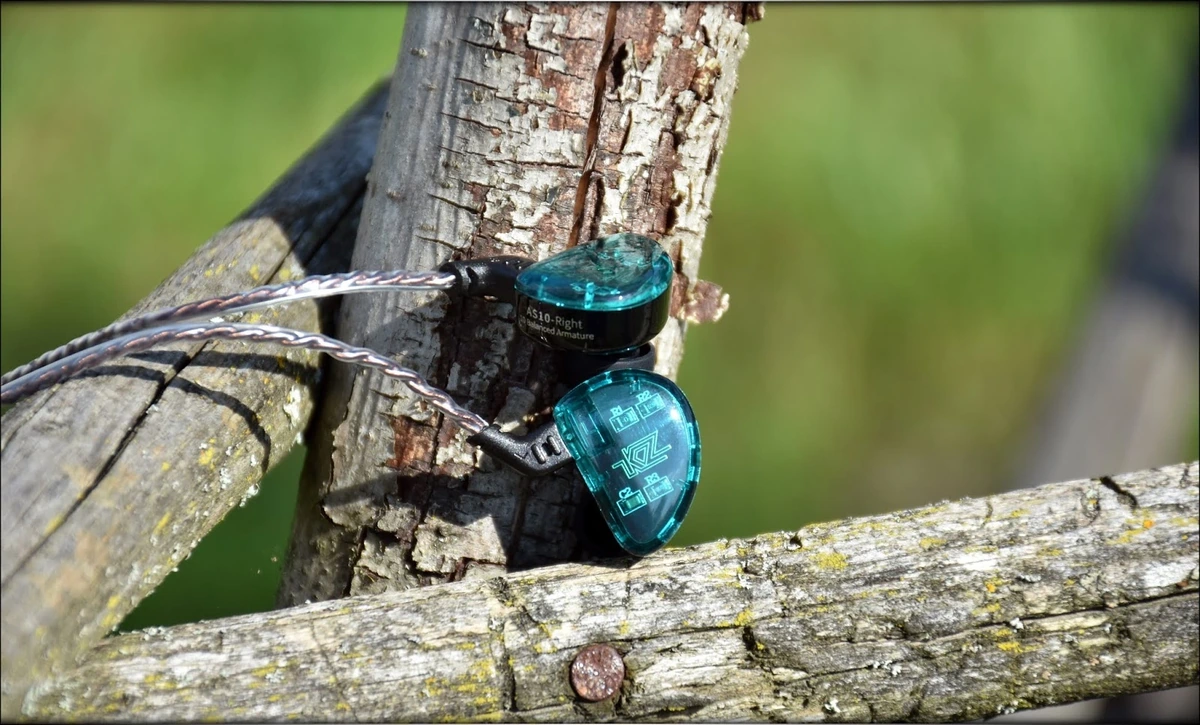 The package includes AS10, the cables for them, and a selection of tips to be able to use them. 

The metallic design part is also removable, but we couldn't find any usage for it outside of giving the package a more fun design. 

All in all, AS10 costs around 70 USD, so we could have expected a carrying box to be included as well, but otherwise, the selection of tips is good enough, and the cable is of high quality, so we can't complain. 


Technical Specifications

  1. Product Name: Original KZ AS10 In-ear Earphone
  2. Brand: KZ
  3. Model: AS10
  4. Earphone type: In-ear
  5. Impedance: 32Ω
  6. Earphone sensitivity: 105dB/mW
  7. Frequency range: 20-22000Hz
  8. Interface: 3.5mm Gilded
  9. Plug Type: L curved
  10.Cable Length: 1.2m±3cm
  11.Color: Black, Cyan
  12.Whether with cable: Yes
  13.Earphone interface: 2 Pin
  14.Whether with mic: Optional
  15.Detachable cable: Yes
  16.Driver unit: 5 Balanced Armatures Per Side


Build Quality/Aesthetics/Fit/Comfort

The main IEM body is made out of plastic, with a transparent outer shell that showcases its inner components, especially the crossover board. The transparent shell is an aqua blue in color, making AS10 look quite sexy in person.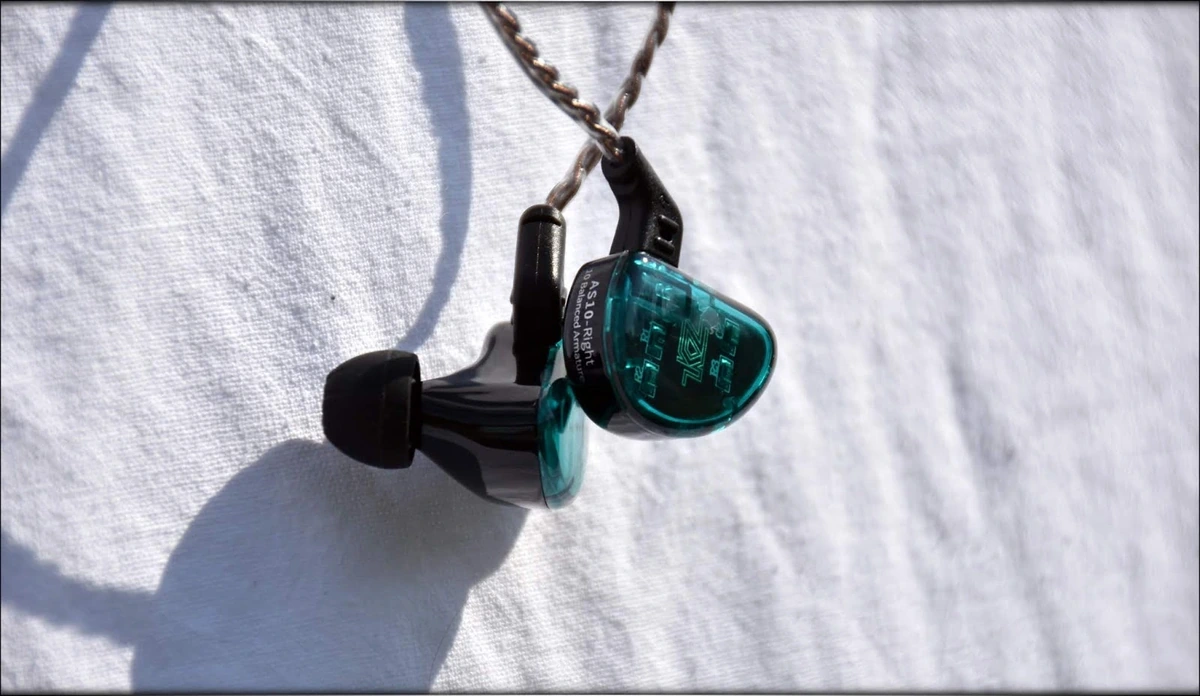 The IEMs have detachable cables based on the 2-Pin connector, which is quite awesome to see on a budget IEM. The main cable is a little tangle-prone, but it is not awful, the cables has ear guides which help with the fit and comfort, and the cables are rather resilient, so you shouldn't worry about wearing them while on-the-go. 

There are no microphonics with AS10. 

The comfort is rather good, and isolation is on the really good side of things. The IEM does create a void and has no ventilation, being an all-BA setup, so we recommend pulling them slowly out of your ears and inserting them slowly to avoid any ear damage. 

Now, the IEM itself will flaunt its number of drivers, thing which we don't really fancy as the number of drivers isn't always connected to the sonic performance and quality of a IEM, but we can't really complain about the fact that they managed to place in 5 BA drivers per ear for just 70 USD. 

All in all, KZ AS10 is well build, well put together, it is comfortable and isolates well, the only drawback there being the cables, which aren't of the highest quality. The cables being replaceable though, you can always swap them for a higher quality ones, if you desire so. 



Sound Quality

The sonic presentation of AS10 is much better than that of ZS10. We had quite a bit to complain about ZS10, as they had an iffy midrange and it was too colored to really recommend to most music fans without trying them first, but we also praised ZS10 for their absolutely amazing detail and texture presentations. 

Now, AS10 is quite a different story, they have a moderately bass and midrange-centric sound, with a really strong sub-bass, thicc midrange, and with a really smooth and not overly present treble.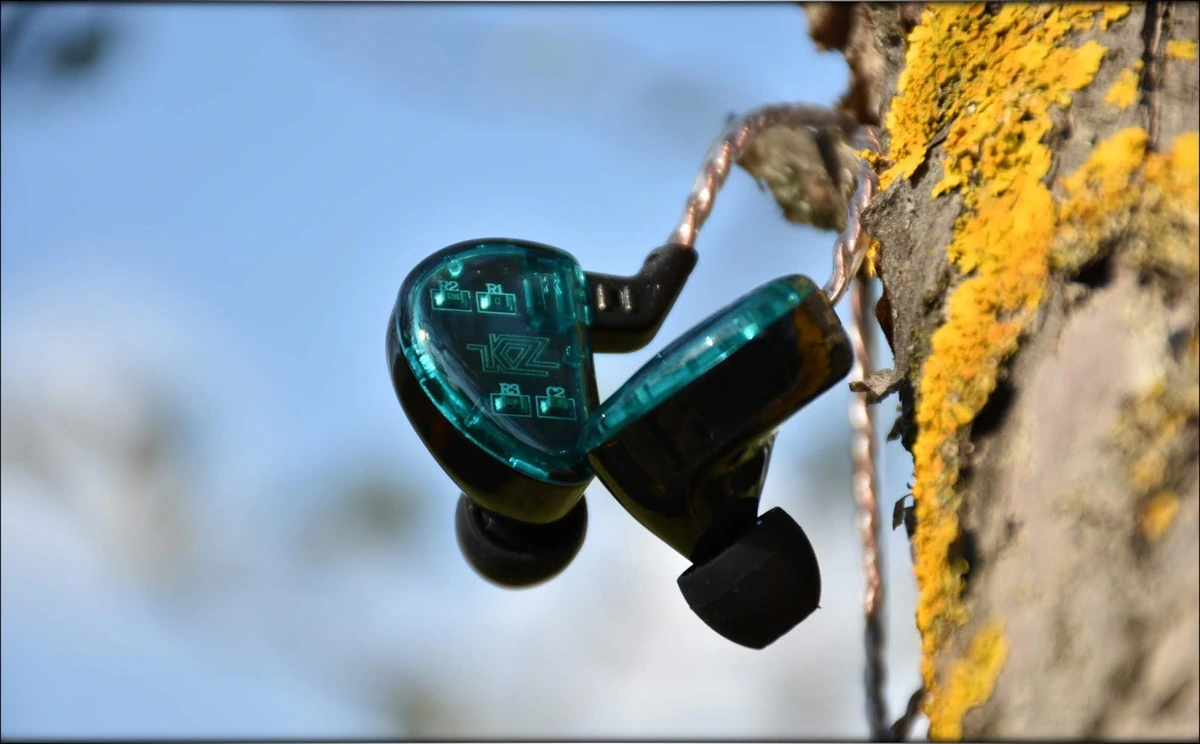 Starting with the sub-bass and the bass, the bass is most surely enhanced, and it feels like the centric part of the sound. It is a natural to slightly quick sound, somewhat uncharacteristic of an all-BA driver setup, but we feel they did a great job on the bass quantity, AS10 being able to satisfy even most bassheads, only the most diehard bassheads yearning for even more. 

The midrange is characterized by two things, its fluff thiccness and its incredible texturization, which is given by the large number of BA drivers KZ fit in there, as the midrange is generally quite natural, without any oddities like ZS10 had, rather being quite natural in its overall tone. All in all, if you like a thicc and textury midrange, for 70 USD, the amount of detail and texture AS10 has is a real treat. Depending on the song, the midrange tends to be a little more forward than the bass, leading to a slightly mid-centric sound more than a bass-centric sound. 

The treble would be their weakest point, as it is smooth and relaxing, without much bite or presence. Those won't work so well with Rock and metal, but they will do an awesome job with pretty much anything else, like Electronic, Jazz, Pop, etc. Describing the treble is quite complicated, as it is barely there, a really smooth, smoothly textured, friendly and overly relaxed presentation that doesn't necessarily make them boring, but they surely aren't edgy or treble-happy. 



Soundstage

The soundstage of KZ AS10 is on the large size, at least when it comes to its width. They are basically quite wide sounding, without much height, and with a fair amount of depth. This kind of width combined with the thicc midrange and with the deep bass create quite an engaging overall presentation that helps them gain some ground when it comes to being fun. 



ADSR / PRaT

The ADSR and PRaT (Texturization) is natural to quick, characteristic of BA-drivers. Both the bass and the midrange are characterized by quick speeds, overly detailed textures and micro-details, along with a slower, smoother treble presentation. 


Portable Usage

The portable usage is pretty good.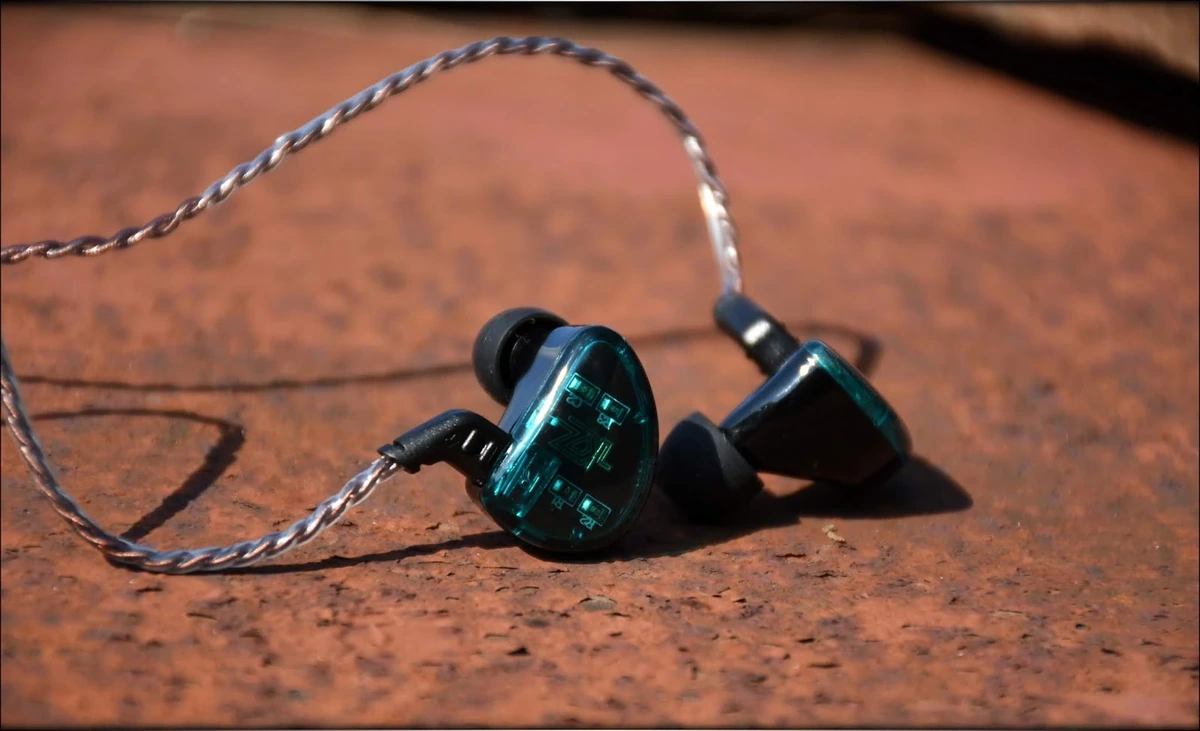 KZ AS10 doesn't require any special conditions to be enjoyed, they sound good out of anything, except for hissy sources, as those are quite sensitive to hiss. Otherwise, they are a fair performer, they isolate well, they sit well in one's ears, and they don't get very slippery. 

In terms of portability, they lack a carrying solution, so we can't say they are perfect, as you'll need to either get a third party carrying solution, or place them in your pocket, which, together with their tangle-prone cables, may result in a little mess. 

The comfort while walking and jogging is quite good, although they are on the larger side, they tend to sit well fixed in one's ears thanks to the tips's surface texture, along with the ear guides, especially after properly adjusting them. It is possible to run with them, but a smaller IEM may be preferred. The other thing you need to consider while jogging with AS10 is their cable, which is light, but may get in the way sometimes. 



Comparisons 

We tried selecting the most relevant IEMs to compare KZ AS10 with, considering their price and performance.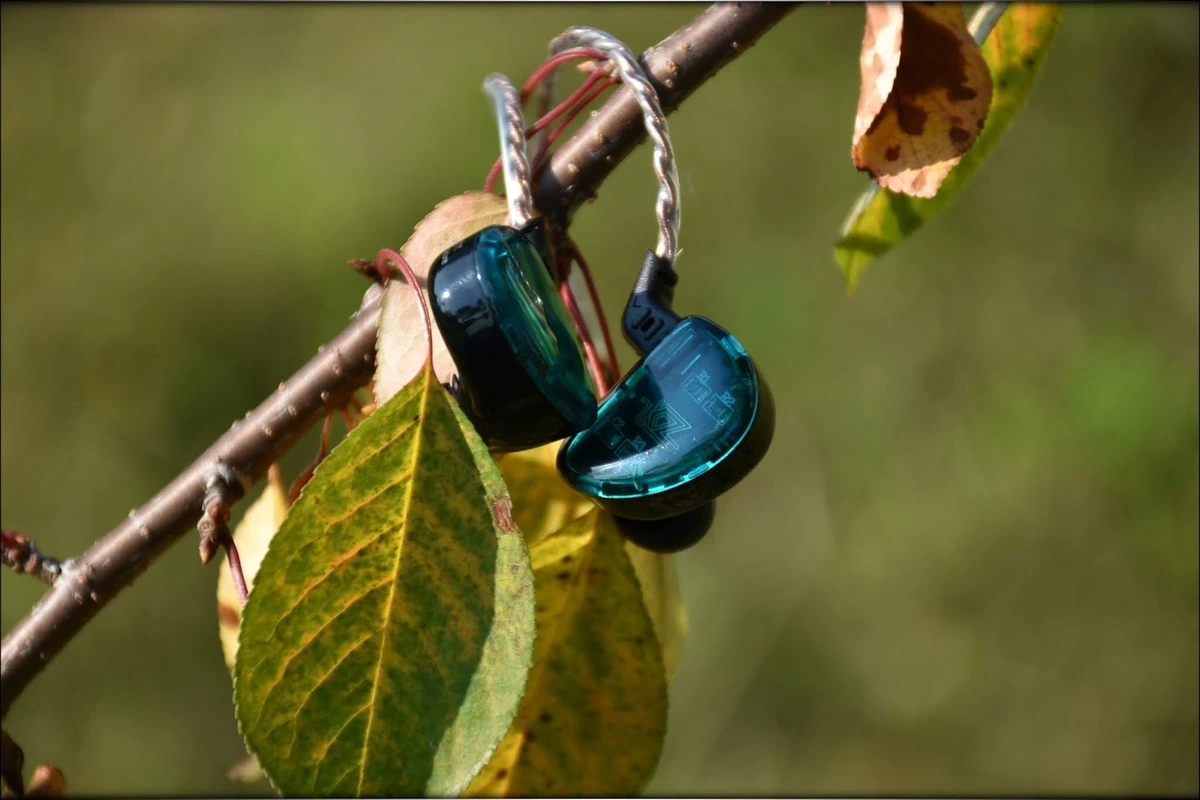 KZ AS10 vs KZ ZS10 – The comparison to ZS10 is quite easy, as the two are quite different. The most basic version is that KZ made AS10 as a response to ZS10, as AS10 doesn't have that Dynamic Driver as the ZS10 does, but this bears quite an impact on the overall sound. The package, accessories, and most important things, being the same, we'll only dive into the sound. The most major difference is in the midrange, where AS10 has a very neat and clear midrange without any hops, dips or peaks, and ZS10 has a rather colored midrange that can be described as strange. It is no doubt that some people will prefer ZS10, but we feel that most people who are going for a IEM from KZ will go fro AS10, as they provide the more balanced, more linear and natural midrange.  
KZ AS10 vs iBasso IT01 – This review wouldn't be any fun if we compared AS10 only to IEMs less expensive than itself, so we'll try to doing this with a real performer. Starting with the package, IT01 has a better cable, comes with a carrying case, and it has a larger number of tips included in the package. Of course, it also costs more. The comfort is similar, and maybe even better with KZ AS10, since IT01 does have driver flex for some users, where AS10 can't have any driver flex, no matter what one does. Now, onto the sonic performance, the most major difference is in the tonality, where IT01 is clearly a V-shaped IEM, with a recessed midrange, an enhanced bass and treble, a nice bite, nice sparkle, and nice bass, being a good fit for any kind of musical style, as long as you like a little sparkle, where AS10 is more of a smooth performer, with a forward midrange, a strong bass, but with almost no treble to speak about, making it more of a relaxing IEM, so if you're looking for this kind of signature, the decision should be rather simple. We'd also like to note that on an overall level, AS10 has a little more textures and a bit more detail in the midrange, but it lacks the treble part almost entirely compared to the sparkle of IT01, so the choice will be rather simple between the two. 
KZ AS10 vs FiiO F9 – FiiO F9 is also another competitor interesting to compare AS10 to. The F9 we reviewed before was more expensive than AS10, but again, this is a big part of the fun, comparing them to something that is at least as expensive or more. The package is clearly better for F9, it comes with better cables, better carrying solution, more tips. The build quality is comparable, but F9 is well-vented, smaller in size, and even more ergonomic, making it a more comfortable IEM as well. Now, onto the sound, it is rather different. F9 is one of those balanced-neutral IEMs, with a bright sound, a slower bass, a slightly recessed midrange, and a slightly hot treble, making it a neutral-signature-lover's dream, while AS10 is much more smooth in the treble, has more texture in the midrange, more bass impact, deeper bass reach, although it has nowhere near as much treble or sparkle, in the treble F9 being worlds better than AS10. The detail and texture levels are better on AS10, of course, in the bass and midrange, since F9 has a considerably better and more present treble. All in all, we feel that our readers will go for F9 if they want a neutral-balanced IEM, and they will go with AS10 if they want a smoother-treble, midrange-forward, more bassy IEM. 


Recommended Pairings

KZ AS10 isn't quite that dependent on a good pairing, but they tend to respond fair to better sources, due to their quick drivers, so a better source may provide better textures, and a more refined overall sound. They are quite sensitive to hiss, meaning that they will reveal the hiss from a hissy source like Hiby R6.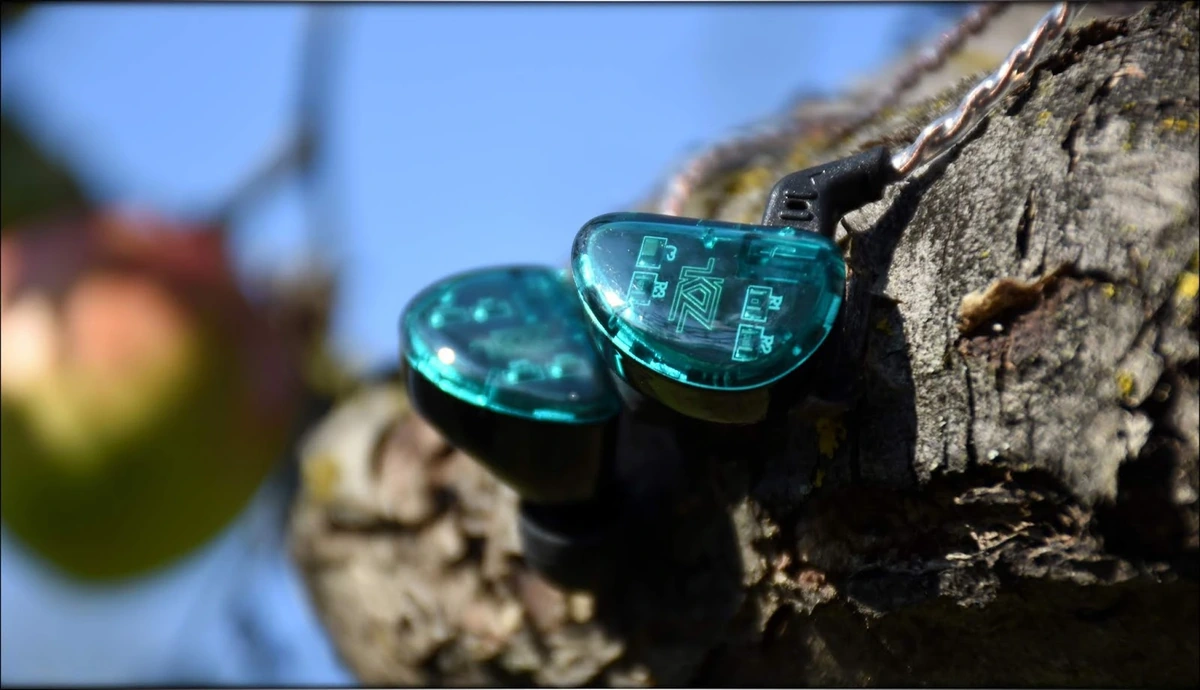 KZ AS10 + HIDIZS AP80 – HIDIZS AP80 is an excellent source when it comes to its price-performance ratio, as it provides a quick, neutral to warm, fun sound to them, with a nice width, without cutting away too much of their already smooth and relaxing treble. AP80 can also do a few tricks on its own, which make it a great purchase, but most important, it has a really impressive sound, it has a nice UI, it works nicely, and it is not quite that expensive, if you want to stop using your smartphone for music (AP80 will sound better than most smartphones for sure).

KZ AS10 + FiiO M7 – FiiO M7 is even better than AP80 in terms of texture and detail, it has an even better overall User Interface, but it costs quite a bit more, so if you're looking for a really portable solution, but if you're not budget constrained, we feel that FiiO did an awesome job with M7 and it is totally worth looking into, especially if you may later get some bluetooth headphones that will be able to take advantage of M7's amazing BT abilities. 

KZ AS10 + Shanling M0 – Shanling M0 is the direct competitor of AP80, and it makes just an awesome of a deal, providing a similar sound, similar performance, but with an even smaller body, and with a slightly more grippy volume / selection wheel. On the other hand, the design is more cool and edgy with AP80, making the choice between them be more of a choice in terms of aesthetics, as well as a few other abilities they have, which we'll explore in our upcoming reviews on both. Still, you can't go wrong with either, and M0 will also provide a neutral to slightly warm sound with AZ10, and will give them a wide and impressive overall soundstage and presentation. 


Value and Conclusion

We need to remind you that we're reviewing an IEM costing about 70USD, being quite inexpensive for a IEM that sports 5 BA drivers per ear. Still, it isn't like it is below 25 USD, so we expect quite some performance for it, and we can't excuse lack of performance based on a low price at this price point. 



Starting with the package they come in, KZ AS10 have a nicely designed package, and they do have high quality tips, and a cable that is fairly good included with them, but they don't come with a carrying solution, which is a little questionable for them. 

The build quality is really good, basically the best we'd expect at this price point, with a medium-large plastic shell, a transparent aqua-colored top, and with a rather nice-looking overall design. The cables are connected to the IEMs by a 2-pin connector, there is no driver flex, and they don't have cable microphonics. 

The comfort and isolation is also quite good, the isolation is almost in the levels of extreme, while the comfort is quite good, except if you have small ears. The good comfort is given by good-grade tips, which don't get slippery, and by a very ergonomic shell body shape. 

The sound is mid-centric, with a strong bass, and with a smooth and relaxing treble. They do have a lot of detail and texture, thanks to their all-BA design, and they do play really well with almost any music style, besides rock and metal, where you may want a little more brightness and sparkle. 

All in all, for 70 USD, this is an amazing IEM, especially if you like a smooth treble, or a strong bass and midrange, and if you prefer your music to be well-textured in the midrange, with a quick but large bass.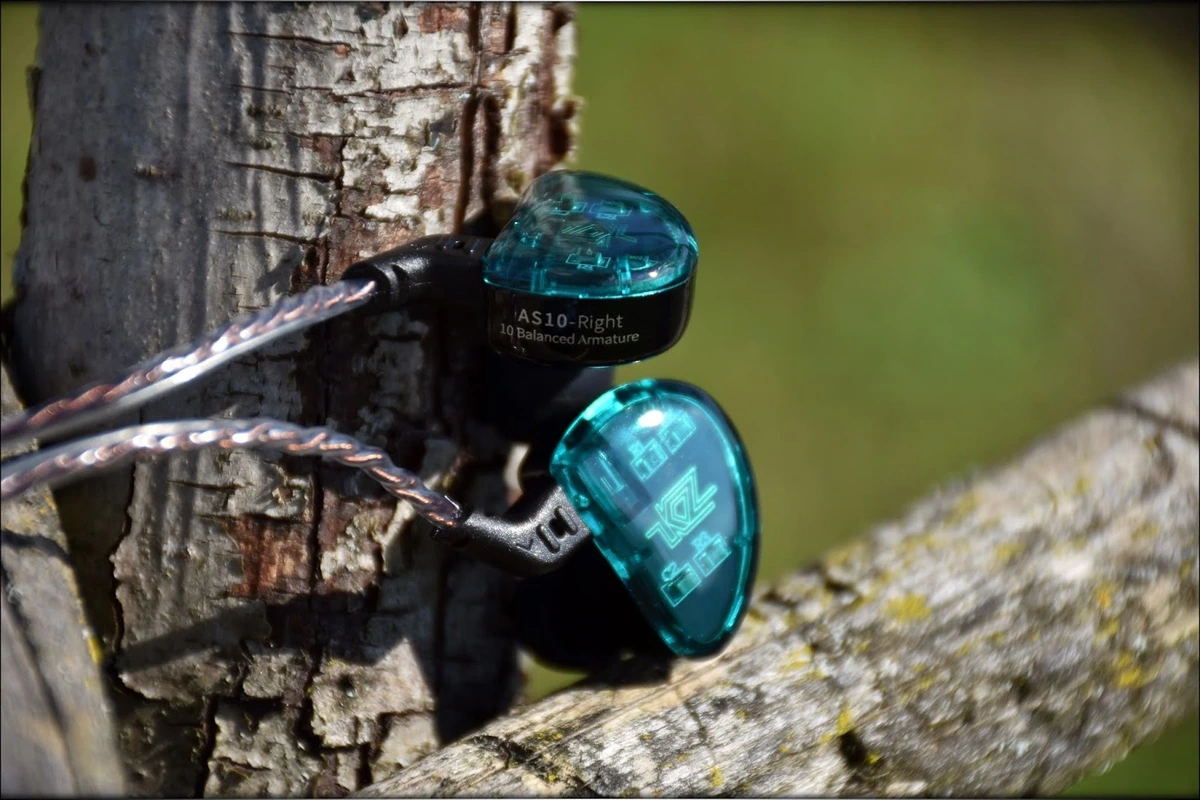 If you're looking for a IEM that will surely impress you at a really low price, this is one of them, and especially if you're a bass and midrange fan, but if you like a smoother treble, we feel you should totally add them to your short list. 
Product Link
You can purchase KZ AS10 and other KZ IEMs from www.amazon.com here: https://www.amazon.com/stores/KZ/page/E2D8B8A8-CA3D-43F6-83F8-DB6C9885DA27/
---
--- Please remember to stay safe, and always have fun while listening to music!---
 - If you have a dime to spare, please donate, and help us! It would make the day brighter for me and my wife- 
---
Full Playlist used for this review
We listened to more songs than those named in this playlist, but those are excellent for identifying a sonic signature.  I recommend trying most of the songs from this playlist, especially if you're searching for new music! The playlists are different for Spotify, Tidal and Youtube, and based on the songs I enjoy and are available on each!
https://www.youtube.com/playlist?list=PL_cjBXGmwSHSdGcwuc_bKbBDGHL4QvYBu
https://open.spotify.com/playlist/5J3oloz8Riy9LxEGenOjQ0?si=979ba4f082414be7
https://tidal.com/browse/playlist/330fd544-8e5b-4839-bd35-676b2edbb3d5
--- Contact Us ---





---