Advanced Model 3 – Bluetooth, Bass, Go
Advanced Model 3 is a bluetooth IEM from Advanced, a rather large and consumer-friendly company with a slightly fun name. They have produced good stuff in the past, so we're eager to hear how a pocket-friendly model like Model 3 sounds like.
Introduction

Advanced is a friendly and reliable company from USA, experimented in producing IEMs and Headphones. They have more recent and more expensive models out there, but for now we're taking a look at their Model 3, a really interesting headphone just released, that should prove to be pretty fun. With Bluetooth and a very portable fit, they promise to bring some fun to their users. Advanced, as a company, is trustable and very supportive to their customers, at least this is what we'd say from our interaction with them so far. 

It should be noted that I have absolutely no affiliation with Advanced, I am not receiving any incentive for this review or to sweeten things out. This review is not sponsored nor has been paid for by Advanced or anyone else. I'd like to thank Advanced for providing the sample for this review. The sample was provided along with Advanced's request for an honest and unbiased review. This review will be as objective as it is humanly possible, and it reflects my personal experience with Advanced Model3. Every opinion expressed is mine and I stand by it, the purpose of this review is to help those interested in Advanced Model3 find their next music companion. 


Product Link

You can purchase your Advanced Model 3 from www.amazon.com here: https://www.amazon.com/Advanced-Headphones-Earphones-Musician-Detachable/dp/B07FYQ5KP2


Packaging

First things first, let's get the packaging out of the way: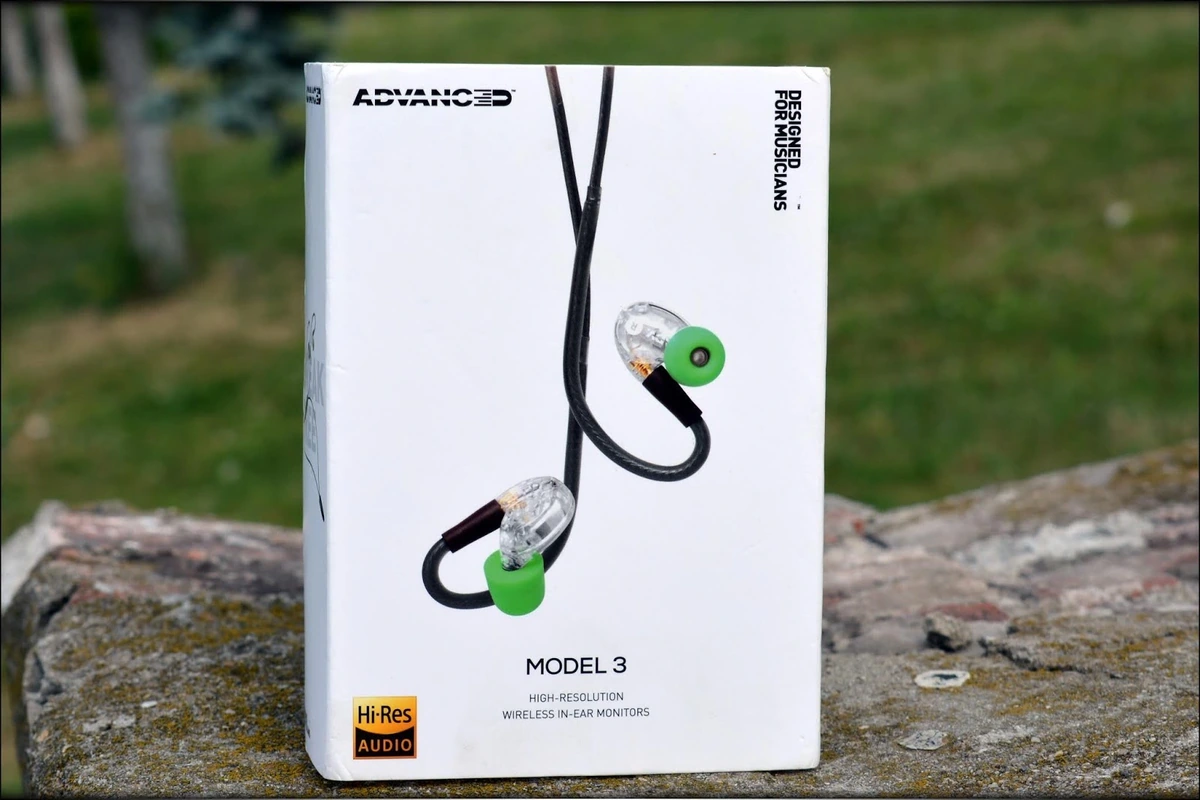 The package is fairly consistent and provides good support and protection for Model3. Contrary to most budget-oriented IEMs and Headphones we reviewed lately, Model 3 comes with quite a few accessories in the box. 
For beginners, they are a Bluetooth IEM, so they have a Bluetooth Module included in the package. They also have two sets of cables, detachable cables via MMCX connections, and a USB cable for charging the Bluetooth Module.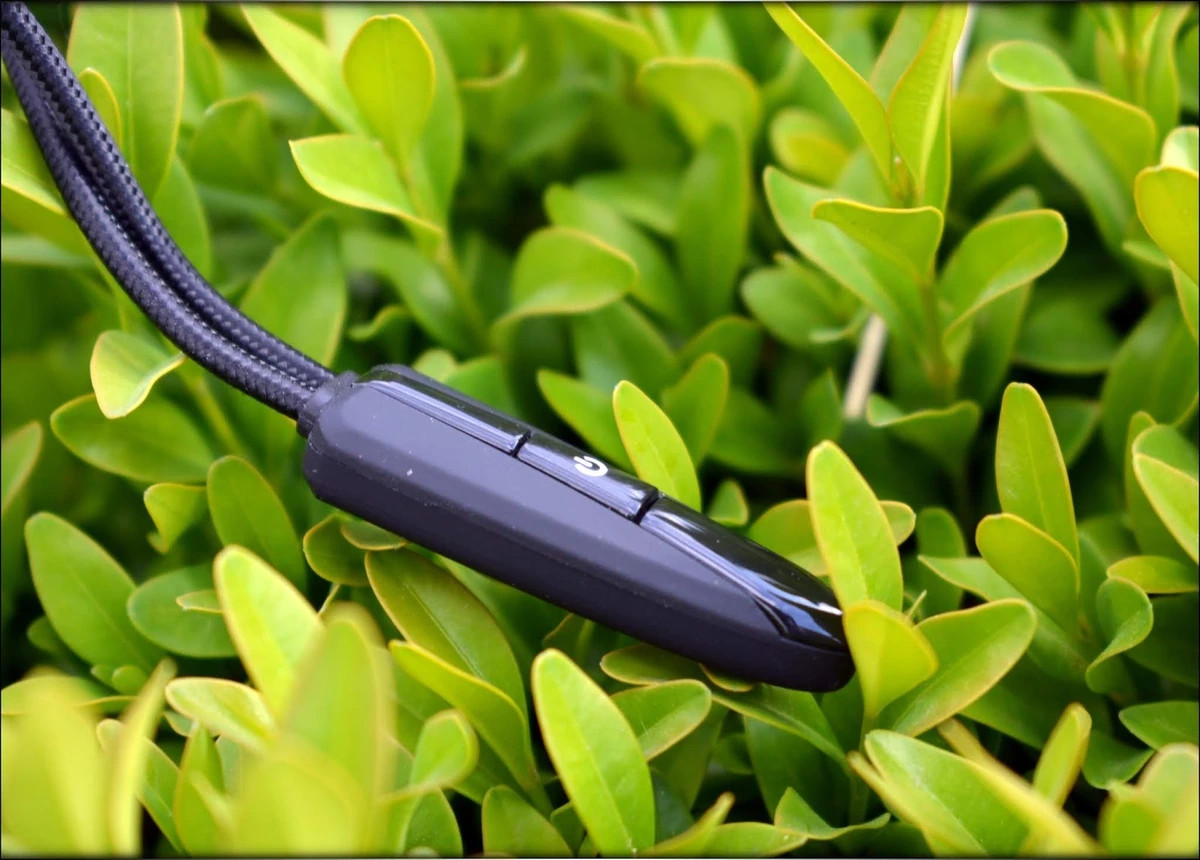 Of course, there is also a normal cable, single ended, 3.5mm, which works with virtually anything. This cable is very nice because it has good quality and seems to be free of microphonic noise. 
The Bluetooth module is pretty useful and trendy, it locks behind the neck, so all its weight rests on the neck instead of resting in one point and dragging your IEMs. 

There are tips, both silicone and foam tips, in the same package. The foam tips are green in color, a bright green, while the silicone tips are black. They are no Comply and no Spinfit tips, but they are really good in quality, and much better than most budget IEMs come with. 

It is hard to give Model 3 any rating but golden for their package, it feels really well-thought and all-inclusive, and it has a very pocket-friendly price. 



Technical Specifications


Driver unit – Custom-tuned single dynamic driver
Impedance – 16ohm+/-15%
Sensitivity – 100dB+/-3dB at 1kHz
Frequency response – Super Wideband 20Hz – 40kHz
Music/talk time (Wireless) – Up to 5 hours
Charging time – 1.5 hours
BT version – 4.1 + aptX®
Connection distance – 10m (33ft)
Input port – MicroUSB, DC 5V/60mA
Working current – 10-19mA
Voltage – 3.7V
Cord length (Wired) – 1.2M
Plug (Wired) – 3.5mm Gold Plated



Build Quality/Aesthetics/Fit/Comfort

The main IEM body is made out of plastic, with a plastic shell and it is mostly plastic all-around. In fact, it is hard to say that it has anything that isn't plastic, except for the drivers and the connectors, which are metallic. This is nothing bad, since the plastic is transparent and looks pretty modern, along with looking a bit geeky. The outer shell has a model on it, but it still lets you see inside the IEM, although the drivers do sound much more impressive than they look like.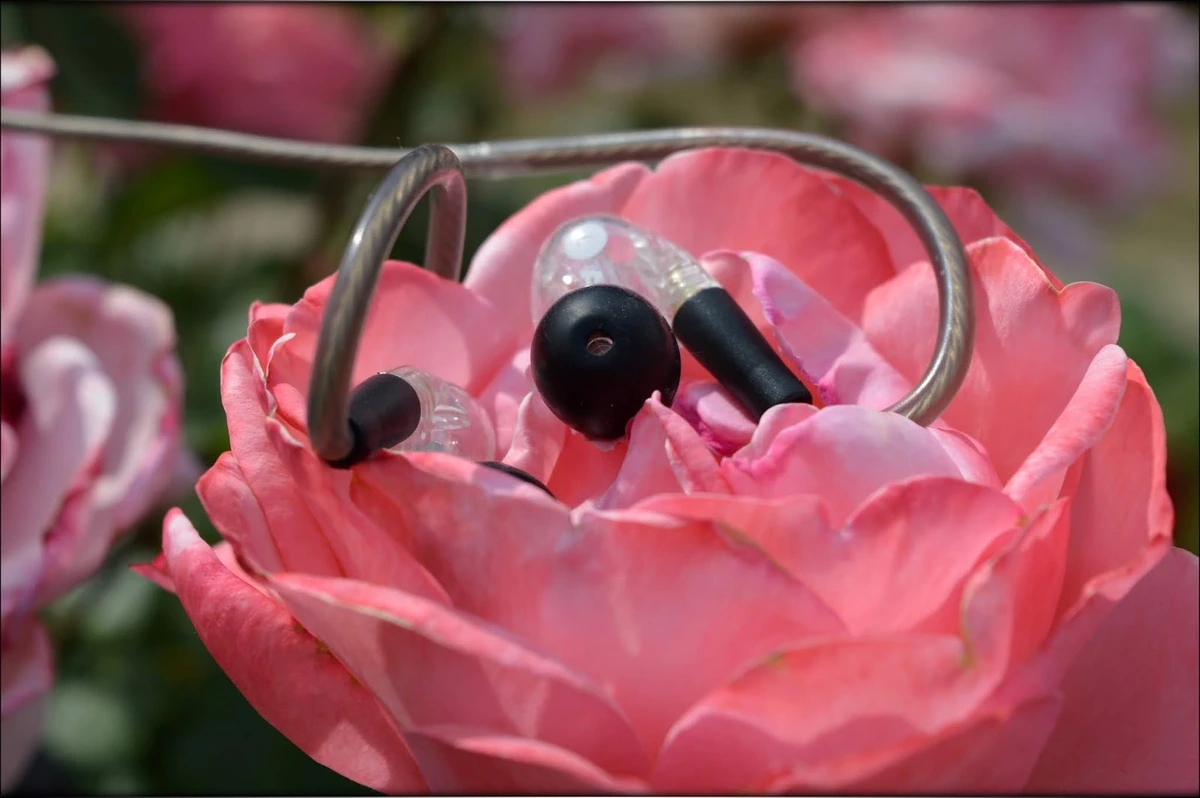 Let's start with the Aesthetics, Model 3 looks like a geeky – trendy piece of equipment made of transparent plastic, which would sit well with all audiences, be it metalheads, rappers or even those who might consider themselves hipsters. The aesthetics simply fit well with everything because the design is simple, yet cool and effective. 
The IEM shell is connected to a cable via an MMCX cable, and you get two cables, one that is based on a Bluetooth Module, and one that is Single Ended, which connects to virtually anything that has a 3.5mm output. 

The build quality is quite good, the MMCX connectors are neither too tight nor too loose, the IEM shell is impossible to scratch or break (at least with normal usage), the cables are thick enough to feel trustworthy, they are neither too springy nor too loose, they both have good lengths for their intended usages, there are no microphonic noises, and the earphones work well. 
When it comes to fit, Model 3 is an earphone that can be worn only over-the-ear, thing which means that you get the increased noise isolation and comfort that comes with this wearing style. In fact, those are as good as Shure Top-Of-The-Line IEMs when it comes to their comfort and fit, they have a deep ift that feels incredibly comfortable, and if you don't like silicone tips, you can always use the foam tips included in the package. The foam tips are soft, but have good build quality, and they seem to be able to last you even more than Comply tips usually last a user (which is on average a few weeks).The main downside to comfort can be the driver flex, which happens sometimes when using Model 3. It doesn't happen after they have been inserted, and all companies whose IEMs had driver flex in the past have stated that it does not damage the IEM, but it should be taken into account. 
The comfort is complimented by the noise isolation, which is also excellent, you are cut off from the outside world, and exploring the suburban areas near Bucharest feel like fun as you're surrounded by music and no distractions. 



Sound Quality

The title gives this one away, but Model 3 is a basshead's IEM. The highlight of this little IEM is the bass. The bass is also the shadow, and everything in between. There's so much bass that the bass gets super bass-tastic!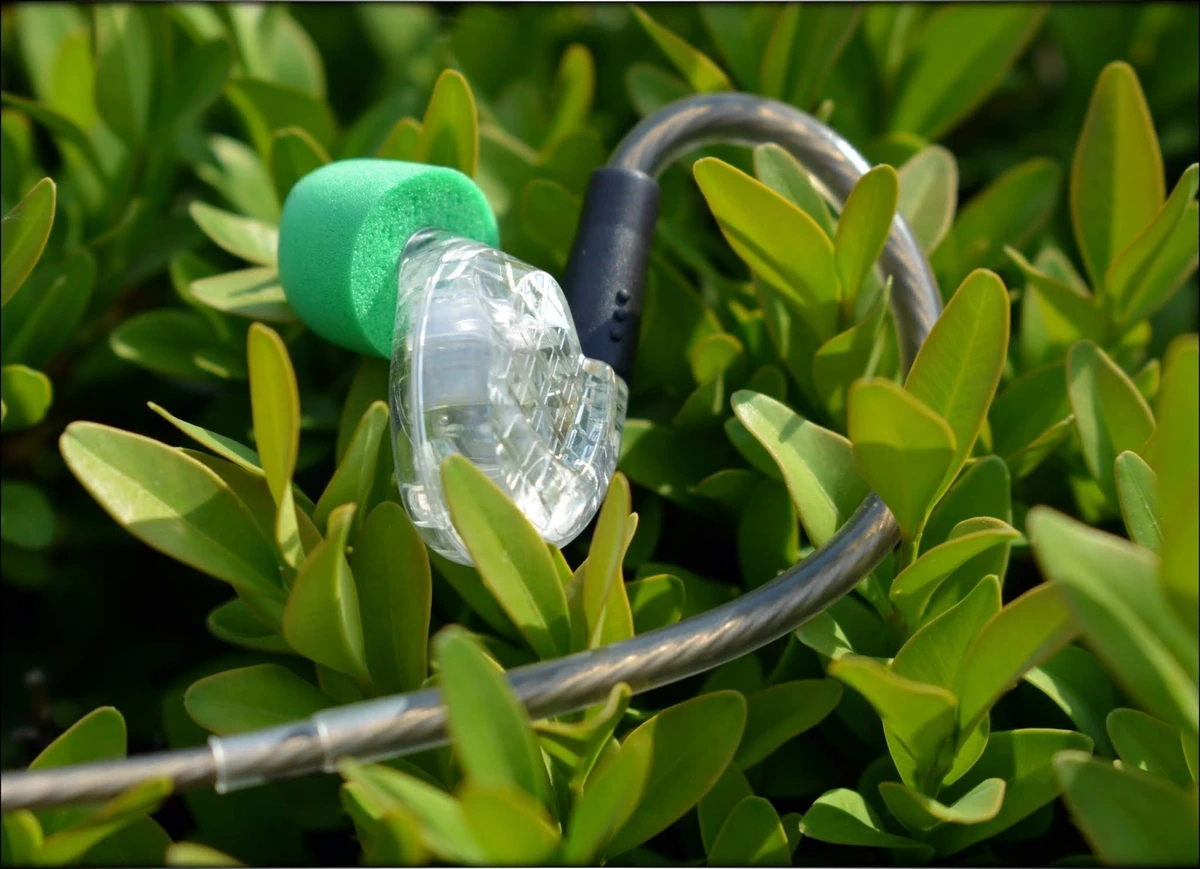 On a more serious note, since it is a IEM that doesn't look quite that imposing, we weren't exactly expecting it to be so bassy. The good part though, is that it isn't just a little bassy, it explodes. The whole sound is quite dynamic, has excellent detail, and overall, it is extremely enjoyable. 

Let's start with the bass. The bass is deep, it is natural-to-slow, and it is very very impressive. The quantity of the bass is higher than the quantity of the midrange and the treble, but somehow it manages to not darken the midrange too much, and one can most certainly say that the midrange is clear, although less in amount, but it stays free of bass's influence. One thing that does happen though, is that the whole sound is pretty thick. The bass is also rather thick, so its decay is natural to slightly slow, bass notes feel long-lasting, they feel deep, and they feel impressive. The bass extension goes as deep as one can imagine and want, and overall, it is a clean and high-quality bass. Its resolution is also in line with other IEMs priced similarly. 

The midrange, is thick, clear, detailed and pretty vivid. The dynamics are really good, mostly thanks to the bass, but the midrange tonality is not spot-on, it tends to be slightly thick in nature, so some female vocals feel a bit underexposed, especially compared to thicker and lower male vocals. This seems to be true for most upper midrange instruments and voices, piano and violins also being slightly less in volume, than a guitar is for example. While this is not a very big issue for most music, and most people might actually prefer this type of presentation since it lets one ramp up the volume pretty high, and listen quite loud, this can be an issue if you prefer to listen to overly emotional tracks, especially if you prefer sad music. 

The treble is pretty smooth and recessed, slowly rolls continuously, until the highest cymbal crashes and splashes end up being smooth and calm rather than energetic and explosive. This also translates to a wonderful experience for those who prefer to listen to smooth music, and for those who don't want a bright signature, as Model 3 is pretty opposed to what we'd call bright, it is a smooth, dark sounding IEM with a lot of bass and a tasty midrange, and with a very well-mannered treble. 

The other thing you should notice about it is that it works really really well with almost anything you throw at it. Model 3 simply sounds pretty interesting with a wide variety of music, and as long as the song isn't sad, almost anything goes for them. The thick bass helps quite a bit with this, as it makes most music impactful. 



Soundstage

The soundstage of Model 3 is fairly good. It extends well and doesn't feel constrained, or in-your-head, but it doesn't go quite that much out of it either. To put it simply, it sounds fair and natural. 

The good part about this is that the instrument separation is fairly good. In fact, it is so good that we'd be happy to listen to them for long periods of time without complaining that instruments cross each other, they basically separate well. The smoother top end limits the width expansion on the soundstage size, but the instrument separation, especially when it comes to bass notes and the midrange based instruments, is really good. 

While not as shocking as Dragon2+ was, because we expected less from it, Advanced Model 3 has a good soundstage that is quite enjoyable. It can be named larger than IEMs focusing on separation more than soundstage width, thing which should work well with a varied music selection. 



ADSR / PRaT

The ADSR and PRaT (Texturization) is slow to natural, meaning that textures are generally rendered smooth and songs like those of Mindless Self Indulgence have their textures rendered generally natural with the micro-textures being extremely smooth, and the macro-textures being easier to notice, but still pretty smooth. This works very well with music like hip-hop, and it helps with instruments where textures can sound a bit hard, like trumpets for example, making jazz liquid and soft, but with music like metal, it can make certain guitars a bit too smooth, and especially rough and aggressive metal can feel friendly. 


Portable Usage

The portable usage is excellent. 

Not only there is nothing to complain about Model3, they are actually some of the best IEMs in the world when it comes to their portable usage. 




Starting with their shape, they are deep-fit IEMs with an excellent overall comfort, they have a very ergonomic shape, they are small enough to fit well in most ears, and they come with good cables. 

The cables are two in number, and one of them is even Bluetooth! This feature alone makes Model 3 a pretty amazing purchase, you can run, and you can to strength training with those IEMs, without ever having to worry that they'll fall out of your ears or that they might break or scratch. They simply sit there without an issue, and the bluetooth cable is pretty well designed, it can lock around your neck, providing a good method for keeping it in check, via a small magnet. 
Neither cable has any kind of microphonic noise, and both cables are good in their build quality. The cable connectors are both MMCX-based, which means that you shouldn't experience any issue when changing cables. 

The IEMs themselves isolate well to very well from the outside noise, providing an excellent experience while outside, even in the noisiest places in Bucharest. 
The battery life for the BT module is in line with other similar products, around 5 hours, give or take, and given the really tiny size of it, we're quite happy to say that we're pretty satisfied. 

The other thing you might need to consider when using Model 3 is that it actually has APT-X. This is unbelievably good for a product that costs as little as Model 3, which is around 80 USD, so we're very impressed with it. With APT-X, music sounds much better, and all on an ultra-portable device. 

Advanced Model 3 is not very picky with its source, so you can safely use it with your smartphone and get an excellent experience, it has good synergy with almost anything, unless that thing is extremely warm or smooth, situation in which its smooth and warm character together with the source might become too much. 



Comparisons 

We only reviewed a few IEMs with similar price and abilities as Advanced Model 3, so we'll try to compare it to relevant IEMs.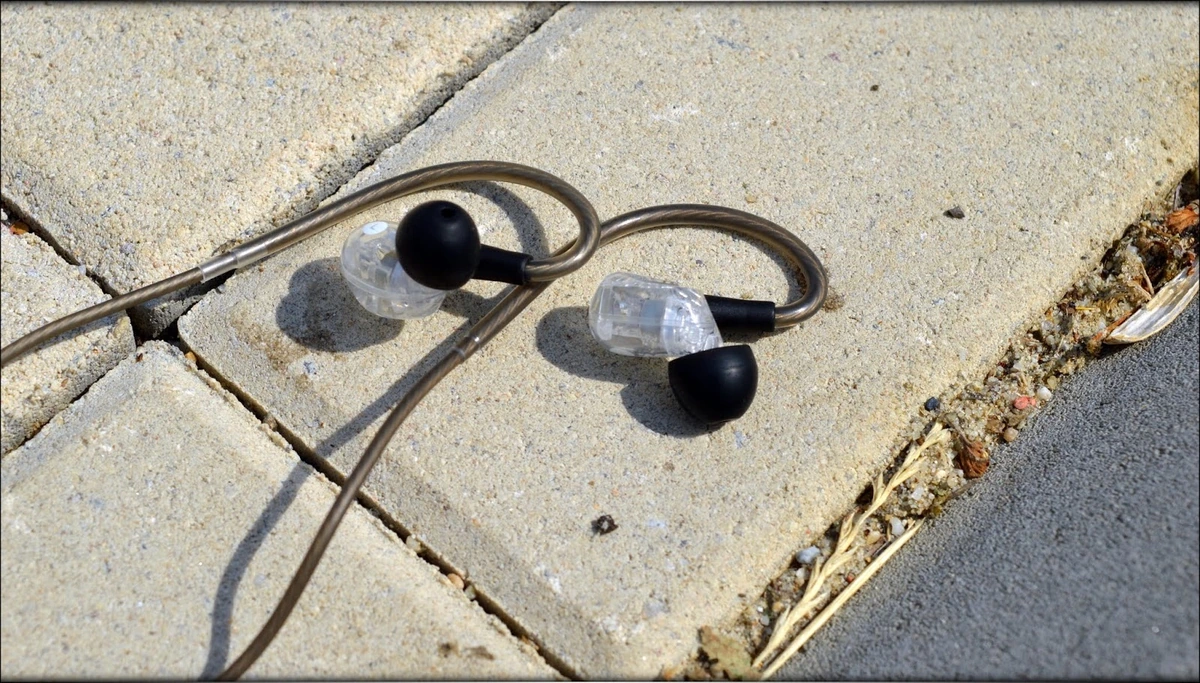 Advanced Model 3 vs Westone WX – This is probably a decision most people will have to make when it comes to it, as Westone WX has a very similar build quality, psychology, bluetooth, and even fit type, but not price, WX being almost twice the price of Model 3 at the moment of writing this review. Starting with their packages, both are similar, both come with a good amount of accessories, but Model 3 comes with a better carrying case for protecting the IEMs. When it comes to their bluetooth modules, where most of the differences are, WX has a more compact bluetooth module, which connects in a different way, both have APT-X, and both are really well made. Both have similar bluetooth working ranges, and both react similarly, but Model 3 tends to have a battery life closer to 5 hours, while WX tends to have a battery life closer to eight hours, so almost double. The sonic performance is quite similar, with WX having a bit more definition for each musical note, and a slightly quicker driver, resulting in a cleaner sound, but as we said, it has the same baseline tuning, the main differences between WX and Model 3 being that Model 3 has a slightly better sonic performance and a considerably better battery life. Westone WX has a smaller IEM body, so it may provide better comfort, especially for those with smaller ears and looking for a slight better fit, but both IEMs are champs in comfort. 
Advanced Model 3 vs Kinera Seed – From the start, those two IEMs are fairly different. Kinera Seed is a wired IEM, with a V-Shaped sonic signature, while Advanced Model 3 is a Bluetooth IEM with a bassy and smooth signature. The package is better on Advanced Model 3, having a larger number of tips, and a bluetooth cable. The comfort is quite similar, although Model 3 has a smaller IEM body, so it provides better comfort in the long run. The build quality is better on Model 3 because they have a particular cable made for them, while Kinera Seed's cable is an OEM that doesn't fit entirely with the IEM shell. Other than those differences, both IEMs sound similar in detail and soundstage, but Kinera Seed has more treble, and its midrange is pushed back, while Model 3 is bassier and has more bass, mid-bass, and midrange presence. Both IEMs have good overall clarity and both have similar transient response. In all fairness, both are great choices for someone looking for a fun experience, and both are good value, but Kinera Seed is actuall 30 USD cheaper than Model 3, being roughly 50 USD at the moment of writing this review. 
Advanced Model 3 vs Shozy Hibiki – While Kinera Seed was 50 USD, Shozy Hibiki is around 60 USD. Shozy Hibiki is actually very different when compared to Model 3 in terms of sound, but let's start with the build quality and the package. In package, Hibiki doesn't come with any carrying solution, and has very few tips included in the package, but happily, the tips that are included are pretty good in quality. Hibiki has a good build quality, and it is comparable to Model 3, everything fits in perfectly, and they look great. Hibiki is larger in size and might not be as comfortable for small ears, but other than that, neither IEM doesn't have microphonics, and while Hibiki doesn't driver flex, Advanced Model 3 has some. The sonic performance is similar in quality, but Hibiki has a slightly wider soundstage, with Model 3 having slightly more instrument separation. The largest difference comes from the way each presents music, Hibiki being a pretty mid-centric IEM, where Model 3 is a pretty bassy IEM. This means that Hibiki will sound like the bass and treble are less in amount when compared to the midrange, leading to a more forward and aggressive sound, while Model 3 will sound thicker, with a more prominent bass, with a clear taste for making music thick and lush. Each is a great option, and here, the choice will depend on more factors than on the inclusion or exclusion of the Bluetooth module, as those two IEMs are quite different in sound as well. 



Recommended Pairings

Advanced Model 3 is very independent when it comes to its sound, it doesn't scale very much with different sources, and generally, it will sound great with a lower end source, without much gain being possible with higher end sources. Especially if you're using Bluetooth, it is possible to just pick the most inexpensive solution that can play APT-X codecs, as it should provide very similar results to other sources when it comes to Bluetooth.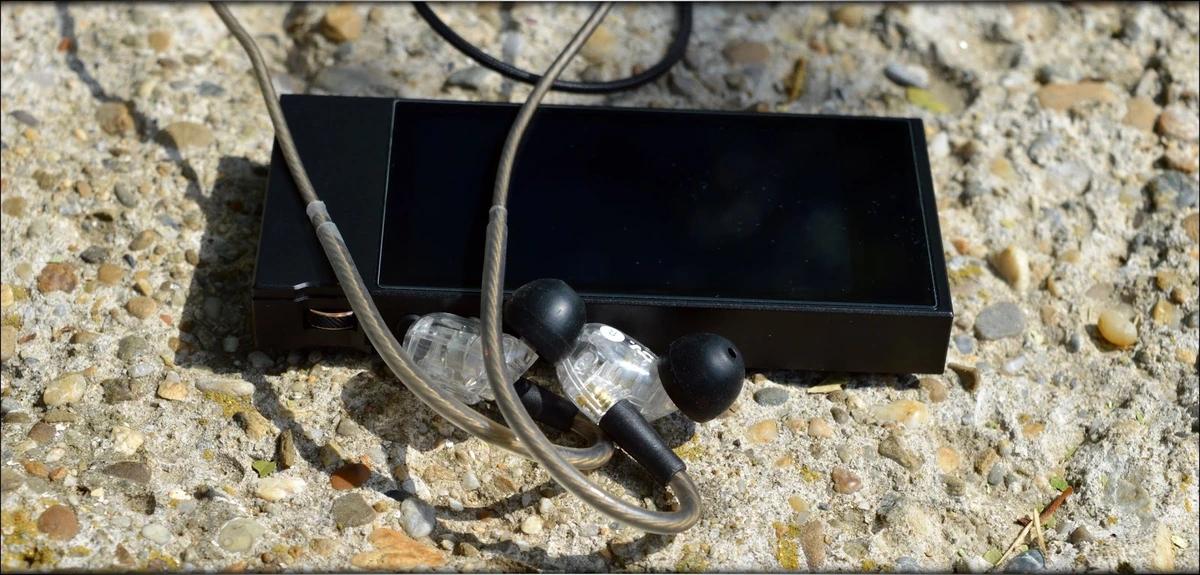 Advanced Model 3 + Cayin N5ii – N5ii is actually a great source to combine with Advanced Model 3. N5ii has all the bells and whistles one can wish for, including bluetooth, and it can help you stream your music, it has two microSD slots, and its sonic signature works great with Model 3. With N5ii, regardless whether you want to use the bluetooth module, or if you want to use Model 3 in wired mode, you're still getting an excellent experience. The only downside is that N5ii does not support APT-X, but in return this means that the connection is more reliable, as APT-X's wider bandwidth sometimes result in a more fraily connection that is easier to break. 

Advanced Model 3 + FiiO M7 – FiiO M7 does actually support APT-X. And APT-X HD. And a few other very exotic bluetooth modes that we still don't know very much about, as they are not very present in products on the market at this moment. M7 has a single microSD slot, and it doesn't allow for installation of third party apps, but it is a great device through and through, and its more neutral signature helps even out Model3's bassy sound. 

Advanced Model 3 + Shanling M2s – While Shanling M2s is slowly being replaced by its successor, and by M0, it still makes a compelling purchase to use with an ultra-portable listening rig, especially now that it will be going on sale. M2s has APT-X, and it is very inexpensive, providing an excellent overall listening solution for those curious to enjoy a little IEM with a little DAP. With a single microSD slot, no streaming, but with a fluid UI, especially if you don't require a touchscreen, M2s is a favorite ultra-portable, especially as it can make a really neat jogging and running setup together with Advanced Model3. 


Value and Conclusion

Advanced Model 3 has been slowly growing on us, and for a really inexpensive Bluetooth in-ear monitor, it has a good reason to. Priced at roughly 80USD at the moment of writing this review, it is clearly aimed at the budget-conscious consumer who wants to make the best with the lowest budget.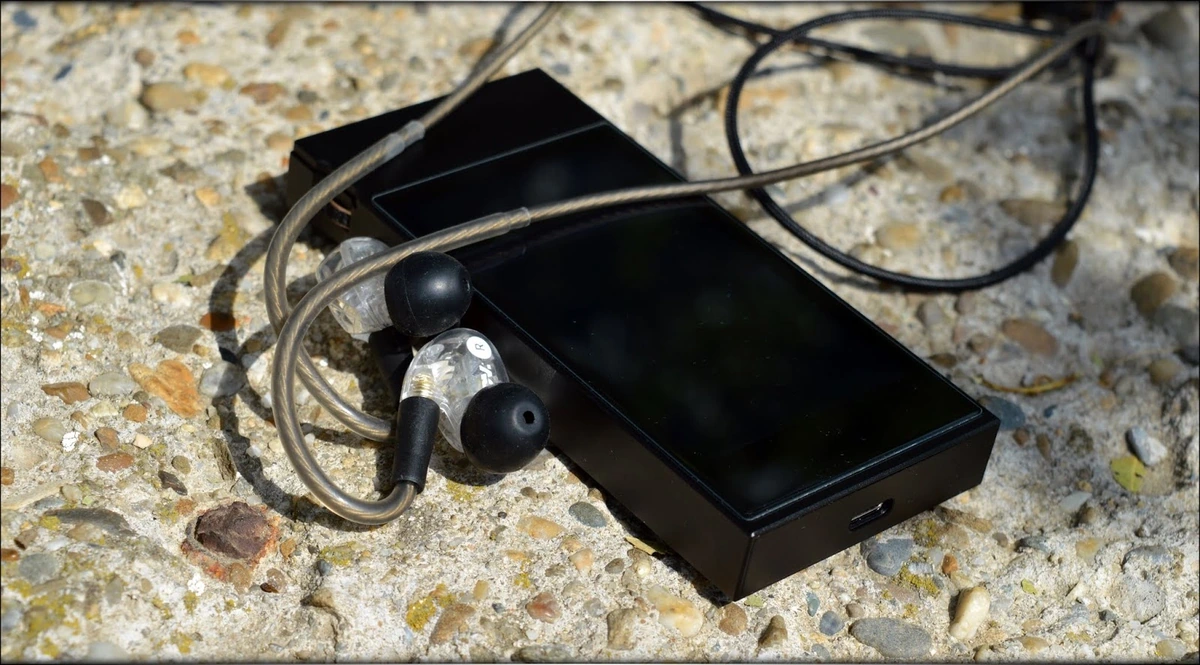 In this aspect, Advanced Model 3 delivers very well. For such a tiny package, and for a really affordable price, it comes with multiple tips, with a custom Bluetooth cable, with a single ended cable, and with a charging cable. They rely on MMCX connectors, which should do a pretty good job at keeping the IEMs safe, and they provide an excellent amount of fun to the user, by having APT-X Bluetooth abilities, along with a fair battery life of 5 hours. 

If you have a smartphone, you can take advantage of Model3's amazing sound right away, by using their bluetooth cable, and since they don't scale quite that much with sources, you don't need an ultimate DAP before you can consider that you squeezed the last drop of performance form them. 

The truth is, at this price, we didn't expect them to be build this well and to be so rich in contents, but here they are, with Advanced deliver very nicely on their product.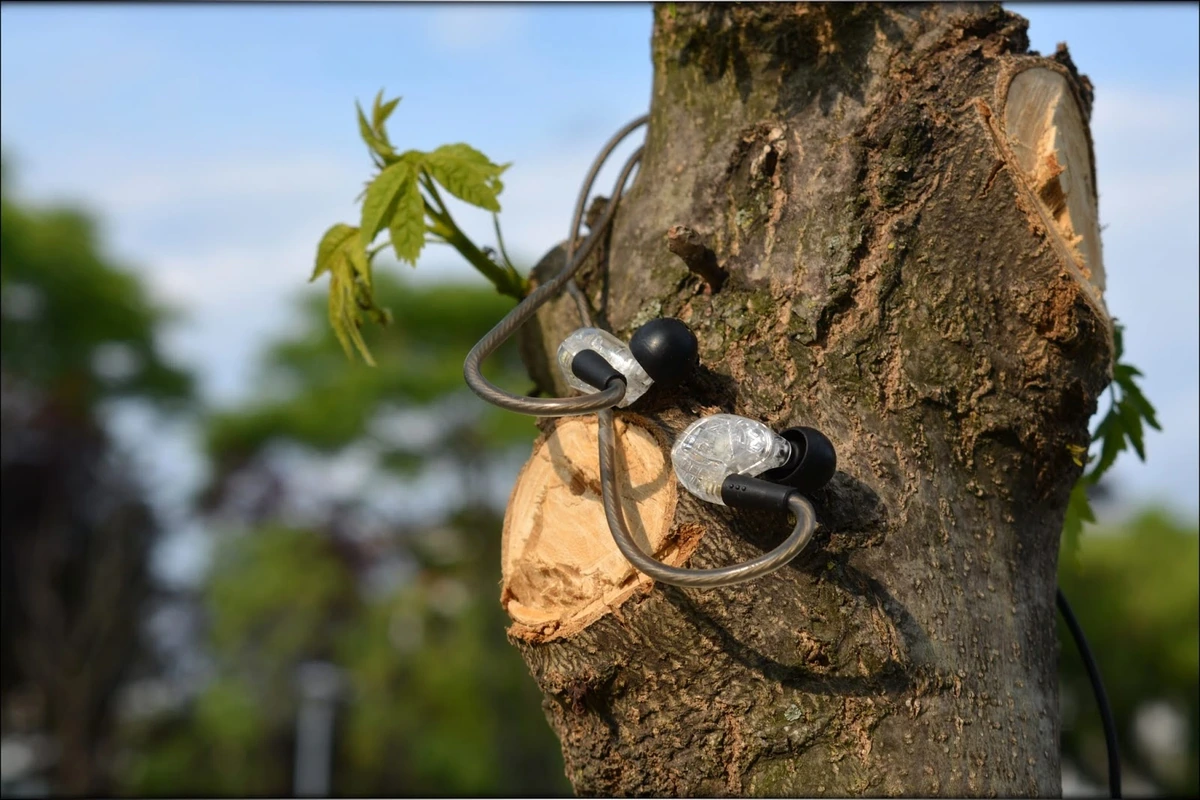 If you're looking for a warm, thick and bassy IEM, with a clear midrange, and with a smooth treble, which will work with a wide variety of music, and if you're looking for that experience on-the-go, with Bluetooth, and even foam tips, then you should check out Advanced Model 3, a really well-priced IEM with a lot going on for it, and with a really nice fit and comfort. 

Product Link
You can purchase your Advanced Model 3 from www.amazon.com here: https://www.amazon.com/Advanced-Headphones-Earphones-Musician-Detachable/dp/B07FYQ5KP2
---
---
--- Please remember to stay safe, and always have fun while listening to music!---
 - If you have a dime to spare, and donate, to help us with electricity and work expenses, it would make my day much brighter, as it would help me improve things around the website and increase the frequency of my posts - 
---
Full Playlist used for this review
We listened to more songs than those named in this playlist, but those are excellent for identifying a sonic signature.  PRaT, Texturization, Detail, Resolution, Dynamics, Impact, and overall tonality are all revealed by those songs. We recommend trying most of the songs from this playlist, especially if you're searching for new music!
https://www.youtube.com/playlist?list=PL_cjBXGmwSHSdGcwuc_bKbBDGHL4QvYBu
--- Contact Us ---






---
---