SoundMagic P22BT – Small, Quick, Deep
SoundMagic is a rather well-established company with a lot of interesting products with very friendly prices, and we will review their P22BT On-Ear headphones today. It is a pair of headphones that doesn't come with many bells and whistles, but it comes with Bluetooth and a cabled mode as well.
Introduction

While SoundMagic is not a very known company in the audiophile community, it is actually pretty known with the general public, and they seem to be quite loved as well. It was interesting to notice that there are actually a few SoundMagic users on the streets of Bucharest, so at least in Romania they are something of a respected company(they are not Romanian). We haven't had any kind of interaction with SoundMagic yet, but we had lengthy conversation with the main sellers in Europe, Hifiheadphones.co.uk, whom we can recommend working with and trusting with your audio purchases as a good audio seller.

It should be noted that I have absolutely no affiliation with SoundMagic or Hifiheadphones.co.uk, I am not receiving any incentive for this review or to sweeten things out. This review is not sponsored nor has been paid for by SoundMagic or anyone else. I'd like to thank Hifiheadphones.co.uk for providing the sample for this review. The sample was provided along with Hifiheadphones.co.uk's request for an honest and unbiased review. This review will be as objective as it is humanly possible, and it reflects my personal experience with SoundMagic P22. Every opinion expressed is mine and I stand by it, the purpose of this review is to help those interested in SoundMagic P22 find their next music companion. 
Product Link
You can purchase the Soundmagic P22BT Headphones from www.amazon.com here: https://www.amazon.com/SoundMAGIC-Bluetooth-Headphones-Isolating-Headphone/dp/B079H141JW
Packaging

First things first, let's get the packaging out of the way: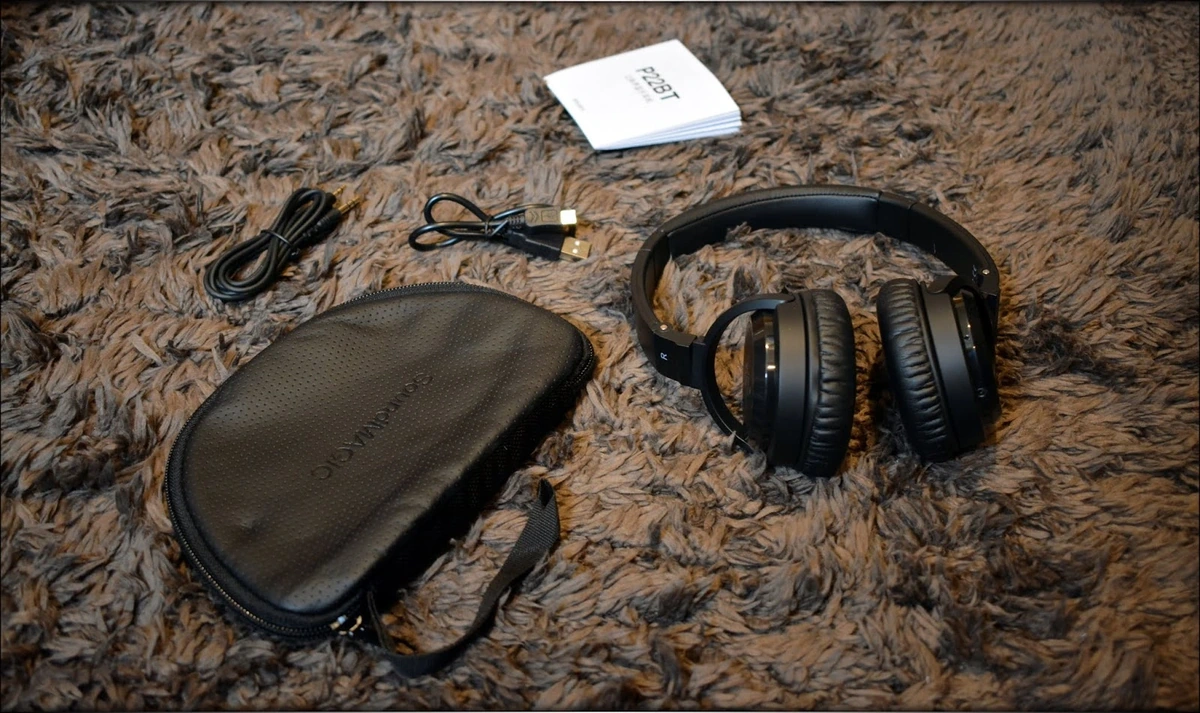 The packaging is not half bad, they come in a cardboard box, within which is a plastic support. In that support you can find the headphones, along with a few other accessories. The box has a rich content, with a USB cable for charging, a 3.5mm single ended cable for using P22 in cabled mode, and a carrying pouch. 
The pouch won't offer any kind of protection, it is a leathery kind of pouch that looks stylish, and given their ultra-portable nature seems like a natural addition. 

All in all, the package content is fair, and we are satisfied with the selection of accessories SoundMagic includes with their headphones. 



Technical Specifications

Driver: Dynamic 40mm Neodymium
Frequency range: 30Hz – 20kHz
DC Resistance: 32Ω
Sensitivity: 95dB
Maximum input power: 100mW
Weight: 85g
Bluetooth version: v4.1
BT frequency range: 2.4 – 2.4780 GHz
Range: 13m
Energy Consumption: Class 1
Music playback time: 18-20 hours
Talk time: 13-15 hours
Standby time: 640 hours
Audio output: CD sound quality, 44. 1.48 kHz 16bit stereo


Build Quality/Aesthetics/Fit/Comfort

Starting with the build quality, they are pretty much all you'd expect from a 40GBP BT headphone, plastic all around, although the headband has metal insertions to be more rigid and to be more reliable. The headband adjusting mechanism is quite smooth and features a metering system so you can set both cups in the same position. The headband has some padding covered in leather. The cups feel solid, there is very little to no creaking when playing with the headphones (at this price this might be a genuine concern). 



The ear pads are made from pleather, and they might get hot easily, but that's probably a price to be paid for having something this portable. 

Now onto the aesthetics, those look stunning. The headphones seem to be sized well, they look slightly industrial but sleek and reliable. The buttons on the cup look and work well. 
The jack for the 3.5mm cable is positioned at the bottom of the cup, thing which is good, and the cable included has a fair quality to it. The charging cable is quite short though, and that should be taken into account. 

They fold into place, which is also quite good, they are very portable, and the folding mechanic seems well made and reliable. 

Now the fit and comfort, both are pretty much subjective, but in my personal experience, they were not very good. 
The fit is absolutely on-ear, there's no way those will come over-the-ear for anyone, so there's full contact between the ear and the pleather pads at all times, making them somewhat hot and sweat-prone. The headband has a hotspot in the top of the head for me, although it has padding to alleviate the issue. On the bright side, they isolate exceptionally well from the outside noise, thing I found shocking, considering how strange they fit compared to my to-go headphones which at this moment are large, comfy and thick-padded Audeze Headphones. 

Of course, at the end of the day, the full plastic build might be a bit plasticky, but honestly, this is not bad for their price, and clearly not bad for an on-ear headphone. 

The Bluetooth connection is quite reliable, at least on the sample we have. They are rather hard to drive on Cable, Samsung T580 couldn't keep up well, and couldn't make them sound loud enough, their BT connection doesn't seem to have this issue. Since they are rated at 95dB sensitivity and 32 OHM, the hard to drive nature is consistent with their specification (95dB is a pretty low sensitivity rating for a 32 OHM impedance headphone).



Sound Quality

As much as we aren't sure about the fit and comfort, those P22BT sure sound good. 



By good, we don't mean just good, but they sound amazingly good, for a 40 GBP Headphone made by a company we just learned about. Of course, they won't be at the quality of a 500 GBP Headphone, but let's see what impressed us so much. 

The bass is clear and deep. The upper bass / midbass is actually a little more enhanced that the sub-bass resulting in quite a bit of thickness in the sound, but it comes through as a satisfying type of sound, which would make a colored-sound fan happy with it. The midrange is pushed back, but clear, although it isn't laid back nor smooth or lean, it is the more textured kind of midrange. The treble is enhanced, resulting in a healthy V-shaped style sound that compliments most music that's supposed to sound ubpeat and energetic. The treble has the most presence starting with about 8kHz and starts to go down at around 10 kHz, at 13 kHz rolling out of the picture. This isn't necessarily a bad thing, given their signature, and the sound still manages to have a good amount of air between the instruments. 
The distortion is quite low, especially for this price range, and the soundstage is quite large and airy, with a fairly good instrument separation. Compared to most other 40GBP Headphones, they really shine in those aspects. 

The thing that impresses the most about their sound is the impact. While the dynamics are ok, the impact is quite impressive, metal music, dubstep and electronic have lots of impact and are quite engaging, the treble which gets energetic around 8-10 kHz is very welcome to the mix and results in an energetic and fun overall presentation. They aren't quite bassy enough to be basshead headphones, but they are quite colored and fun to listen to, and the electronic / trance / metal / rock experience with them is quite good. We probably wouldn't recommend them as a headphone for classical music, or for Jazz and laid-back music given their tuning. 



Soundstage

The soundstage is rather large and airy, with a good amount of instrument separation. It is shocking because for 40 GBP, we were expecting more of an intimate, or even congested sound, but they sound actually good, music comes from outside of the listener's head, and the overall presentation is quite enjoyable. We didn't notice instrument struggling to separate form each other, and there was no place where we could complain about the overall soundstage at this price point. 


ADSR / PRaT

The ADSR/PRaT (Texturization) of P22BT is quite impressive as well. They are quick, light and express textures in a vivid way. For the price, they are quite good. Meze 99Classics with proper EQ, for example, will be better in this department, but P22BT is pretty great for just 40 GBP. 


Portable Usage

Here's a point where they excel, their portability is at sky-levels. 



This is a very lightweight, foldable, small, Bluetooth, On-Ear headphone. All the factors linking to it indicate that it will be a great portable headphone, and it is. 

It is small and light, you can tuck it in a pocket even, if you're courageous. Their metal insertion from the cups should help them if they are being stored in a pocket, but we wouldn't recommend it. Since it folds, the space it takes is quite small. 
They are not exactly driveable from any source on the 3.5mm cable(shockingly), but they are driveable from any bluetooth enabled device, thing which is great actually. They don't have APT-X, thing which means that the data stream is lower than on an APT-X device, so the connection is quite reliable, instead of the better sounding, yet more frail APT-X connection. All in all, if you have almost any audiophile source, from FiiO X5ii and upwards, those will be more than driveable on the cable, and they are compatible to their full potential with any Bluetooth enabled device. We couldn't test NFC because none of our NFC enabled devices aren't quite that good in their NFC to begin with, so we got mixed results with it. Pairing was hassle-free and quick without NFC though, so you shouldn't worry too much about it. 
The battery life on Bluetooth for music is around 16 hours, so pretty good in practice. They will last more than most smartphones. There's not much more you can ask from a portable in this sense, given the space a battery needs to take for a larger capacity. 

They isolate quite well from the outside noise, thing which we found pleasing, although their fit wouldn't indicate this, they really are a great headphone to take even in the noisy environments of Bucharest's streets. They can get a bit hot if it is 30C and Summer outside, but otherwise you shouldn't feel any issue with them and their fit. 

Pretty much all aspects of their portability are great, there's a great deal going on for P22BT, and if you need something portable that is not in-ear, then those are a great choice. 



Comparisons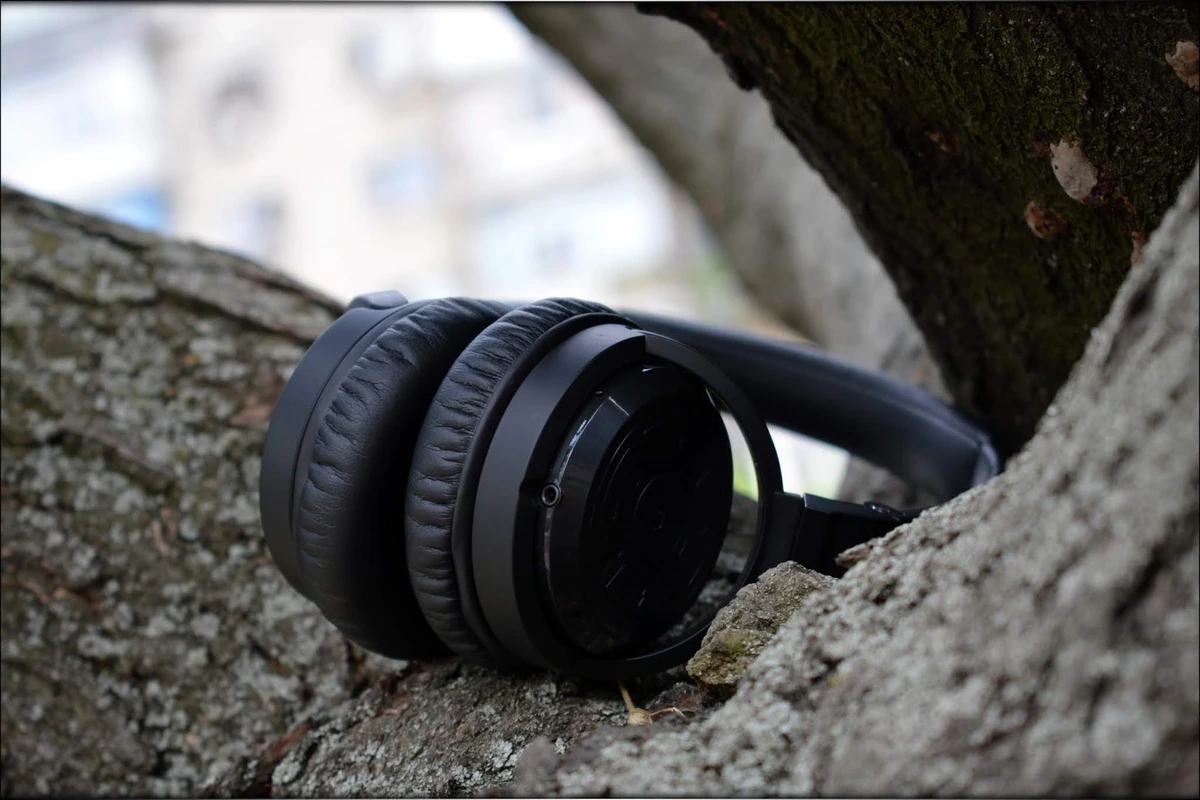 SoundMagic P22BT vs MOOH BE00BT – MOOH BE00BT is probably the headphone we reviewed that is most comparable to SoundMagic P22BT, although it costs almost twice the price of P22BT. The build quality is better on MOOH BE00BT, especially at the cups level, where they are larger and feel more reliable. The fit is much better, with MOOH BE00BT having soft and comfortable cups that feel natural, the clamping force is just right, and with no hotspots. On the other hand, P22BT is much more portable, and can go in places where MOOH BE00BT probably wouldn't. The Bluetooth reliability feels more reliable on P22BT actually, with the signal being quite reliable on MOOH BE00BT, but even better on P22BT. The sonic is quite different, P22BT sounds really energetic and engaging, with a strong V-shaped signature that will please most people with most music, while MOOH BE00BT is a much thicker, much leaner, much more relaxing and more rolled off experience. P22, in comparison feels less bassy, clearer, more textured, brighter, more detailed, especially in the upper midrange and treble, where BE00BT feels too smooth for metal and other music styles. Both headphones feel like great choices for the right people, and P22BT is really the more portable option of the two, if this is your main factor when purchasing a headphone, but BE00BT is the more comfortable option in the long run. 

SoundMagic P22BT vs Bluedio T3 Plus – Our review of T3Plus will be coming soon as well, but basically, they are a unique kind of headphone. They are very heavy, and with a lot of metal in their construction, but we're unsure whether they feel much more solid than P22BT.  The comfort is marginally better on T3Plus, but admittedly, only marginally better, as they have a very unique fit that will be very personal to some users, yet still they are over the ears, so that should be taken into account. T3Plus is made in China, and it is a bit more expensive than P22BT. On the functionality side, T3Plus seems much more versatile, as they can even play music from a microSD card, bluetooth and even connect with a 3.5mm TRS Single Ended cable. The sound is quite different, T3Plus is similar in detail and soundstage with P22BT, but they are much bassier, up to basshead levels, and they have a thicker, considerably darker, less engaging, but more explosive, more laid back, more relaxing, and leaner overall sound, with less treble than P22BT. They sure work well if you like a thick and fun colored sound with tons of bass, but P22BT feels more universal, especially for rock and metal. Given their price, the choice should be mainly made based on whether you need a portable headphone. P22BT is more portable, while T3Plus is not quite as portable, it is much heavier and harder to carry around compared to the small and lightweight P22BT. 

SoundMagic P22BT vs Westone WX – Maybe a less relevant comparison given the price and the difference in what they do, Westone WX is a IEM also sold by HifiHeadphones.Co.Uk. Westone WX is a IEM with a thick and lush sound, very comfortable, and with a pretty reliable BT connection. By Comparison, P22BT is not an in-ear, but an on-ear headphone, they are not as lush, not as thick, but they have a brighter and more revealing treble, have more texturization to their sound, sound better with rock and metal, and for most users, with electronic music, but WX sounds leaner and better with Jazz, Classical and relaxing music. 



Recommended Pairings

They are mainly a BT Headphone, without APT-X, so P22BT should combine well with virtually anything that sports BT. There's no difference in the way BT sounds between devices, so the only limitation there is the BT implementation. When used on the wire, they eat some power, so the wired connection works well only with stronger DAPs that can pack a punch. 



Soundmagic P22BT + iBasso DX200 (AMP5) – Let's start with the driving power, DX200 + AMP5 sure has enough to play well with P22BT. It also has a good BT module inside, so it will make them play when they are not in wired mode as well, but then again, this is one of the best DAPs there are, so it is expected from it to work well with them. The sound is pretty V-shaped, feels natural in the textures, has a good impact, and good dpeth to it. Soundstaging is fairly good and dynamics are pretty good as well. 

SoundMagic P22BT + X7mkii/FiiO Q5 (AMP5) – FiiO X7mkii or FiiO Q5 with their AMP5 are both another excellent choice to power up a harder to drive headphone, since they have a lot of power, and a clean, dynamic, detailed and wide sound. The instrument separation is quite excellent, the impact and the dynamics are also quite good. FiiO X7mkii also has APT-X abilities, but will work with normal 4.1 BT with P22BT as the headphone itself does not have APT-X embedded within. 

SoundMagic P22BT + Samsung T580 – T580 is a tablet that's quite useful for watching movies and for doing some light work, like Sharing photos on Social Media. Its sonic abilities are interesting, as it is very clean, detailed, and sounds quite wide, but it lacks in the power deparment and it is barely able to drive something like Sennheiser Ie800, and it clearly struggles in driving P22BT to be loud enough for typical listening. Even so, it can pair with P22BT in Bluetooth mode, situation in which you have a stable connection and a fairly good experience without having to take into account its driving power. 



Value and Conclusion

We have been reviewing a 40 GBP Headphone, and so far, it is a good one. Of course, this is a very attractive option if you're just entering the audiophile hobby, or if you are very constrained by your budget, otherwise being limited by the budget, but if you need a headphone that is on-ear, and which will simply do the job, and more, for 40 GBP, there are very few that will be this good. 

The main highlight is their pretty reliable Bluetooth connection, along with their energetic, impactful and engaging sound. If you're mainly listening to rock, metal and electronic music, this headphone will take you on a pretty fun and engaging trip and will satisfy you pretty well. 



The build quality looks trustable to last for a while, and if on-ear designs tend to be comfortable on your head and ears, those really don't make a bad choice, but if you tend to be picky about the fit, then there are over-the-ear or in-ears that might provide a more comfortable fit, but if portability is important for you, and if you don't want to use in-ears, P22BT makes a compelling choice. 

With an energetic overall sound, an enhanced bass, a recessed, but clear, dynamic and impactful midrange, and with a vibrant and energetic treble, those are sweet to listen to, they are colored, V-shaped and fun, they keep you in the music they are playing, and there is enough air for instruments to breathe, along with enough soundstage to feel natural and not congested, making a really fun musical experience. 

Whether there are any better 40 GBP options is hard to say since this market is quite crowded and fast evolving, but P22BT is actually popular in Romania and we noticed a few people wearing those on the street, and they had smiles on their faces, so we trust they are having a good experience. P22BT is also one of the least expensive headphones that we tested at Audiophile Heaven, and felt fun, and we can actually recommend, if your budget requires something less expensive, and if you're looking for something quite portable. 

If portability is your most important deciding factor, those are not a bad headphone in any way, and are in fact, impressive, for 40 GBP. You'd be hard pressed to find something that does exactly this type of signature better, for this price, so unless you're looking for a different signature, P22BT is a great choice. Fit and comfort will always be subjective, and we know quite a few people who were very comfortable with them, so you don't need to let the comfort part of our review scare you from them, especially if you had good comfort with on-ears before (since we're quite spoiled by the perfect comfort of Audeze, Sennheiser and Ultrasone expensive and high-end/flagship headphones and we have a high bar for naming something truly comfortable). 



In all honesty, for a first pair of headphone, or for a lightweight walk/travel headphone that is affordable and you won't need to worry about, P22BT is a great choice, and we totally recommend you consider them when shopping for on-ear headphones in this price range. 
Product Link
You can purchase the Soundmagic P22BT Headphones from www.amazon.com here: https://www.amazon.com/SoundMAGIC-Bluetooth-Headphones-Isolating-Headphone/dp/B079H141JW
---
--- Please remember to stay safe, and always have fun while listening to music!---
 - If you have a dime to spare, please donate, and help us! It would make the day brighter for me and my wife- 
---
Full Playlist used for this review
We listened to more songs than those named in this playlist, but those are excellent for identifying a sonic signature.  I recommend trying most of the songs from this playlist, especially if you're searching for new music! The playlists are different for Spotify, Tidal and Youtube, and based on the songs I enjoy and are available on each!
https://www.youtube.com/playlist?list=PL_cjBXGmwSHSdGcwuc_bKbBDGHL4QvYBu
https://open.spotify.com/playlist/5J3oloz8Riy9LxEGenOjQ0?si=979ba4f082414be7
https://tidal.com/browse/playlist/330fd544-8e5b-4839-bd35-676b2edbb3d5
--- Contact Us ---





---